The Untold Truth Of Thomas And Ashley On Southern Charm
Southern Charm has quietly becoming one of Bravo's most popular television shows despite not featuring a single desperate housewife, washed-up C-list celebrity, or the smiling mug of Andy Cohen. Perhaps it's so popular because it offers a glimpse (if not a lingering, unflinching stare) into a world rarely seen on TV or in pop culture at large: the rarified social circles of Charleston, S.C., and the prominent families and massive wealth that make them hum.
Of course, Southern Charm's "characters" also bring viewers back week after week, including good-guy chill-master Shep Rose, den mother Cameran Eubanks, Margaret Mitchell-character-come-to-life Patricia Altschul, and disgraced former politician and dynastic scion Thomas Ravenel. Much of the show revolves around Ravenel's personal life — he and his ex, Kathryn Dennis, have two kids together and have fought contentious custody battles and their own personal demons. In Season 5, Ravenel's new lady love, Ashley Jacobs, joined the cast and stirred things up, particularly with Dennis. 
Here's pretty much everything we know about this reality show power couple, who, at press time, were still together somehow.
Ashley: she's not even Southern
Throughout her tenure on Southern Charm, Ashley Jacobs has struggled to fit in with the rest of the cast, which has noticeably put a strain on her budding romance with Ravenel. Perhaps it's because she starts fights every chance she gets, or maybe it's because she's very different from the rest of the pack. For the most part, the other Southern Charm-ers are all old friends, all from the South, all seasoned reality TV veterans, and are used to living off trust funds. 
Jacobs is pretty much the diametrical opposite of Kathryn Dennis or Patricia Altschul. She's from Southern California, and she didn't meet Ravenel at a hoity-toity Charleston social function. They met at a bar. Jacobs called Ravenel over, and he came a runnin'. As far as her livelihood is concerned, Jacobs doesn't seem to pay the bills with family money. She's a nurse, or at least before the reality TV bug bit her, she was a nurse.
His political future is in the past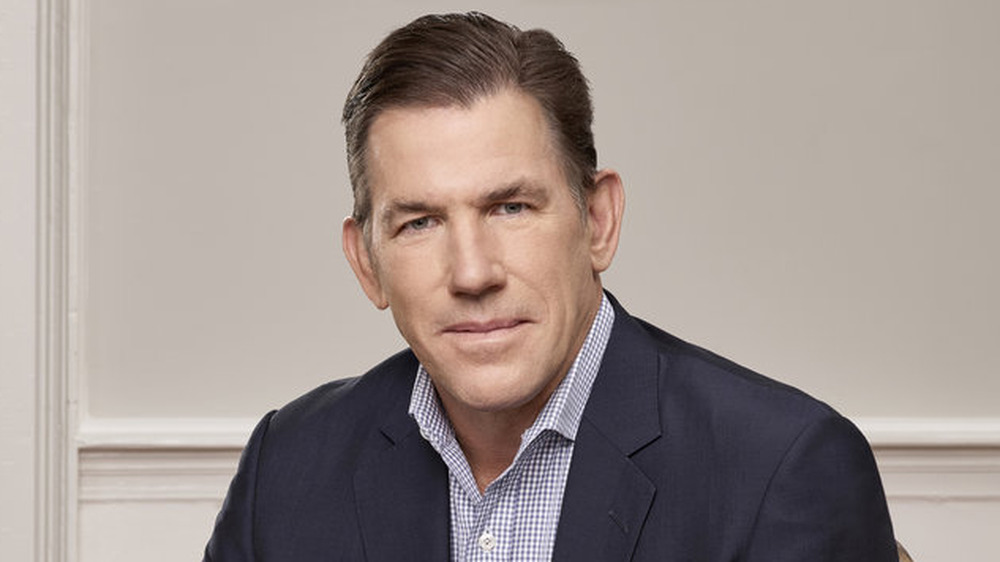 NBC Universal
Within the context of Southern Charm, Ashley Jacobs seems to unabashedly have huge, specific plans for her future with Thomas Ravenel. Nary an episode goes by where she doesn't bluntly prod Ravenel about proposing and engagement rings. If Jacobs had her way, she and Ravenel would get married, he'd get back into politics, and they'd become the next Donald and Melania Trump. 
Ravenel was once a big player at the South Carolina statehouse ... until he got busted for cocaine possession in 2007, forcing him to resign his position as state treasurer. In 2014, he unsuccessfully ran for the Republican nomination for a U.S. Senate seat, and then he ran as an independent in the vernal election, where he received just 3.9 percent of the vote. 
Accepting that the public service period of his life is probably over, Ravenel stated in a Season 5 segment of Southern Charm that Jacobs' apparent desire that they'll one day become president and first lady is "not gonna happen."
He was accused of brutally assaulting a Tinder date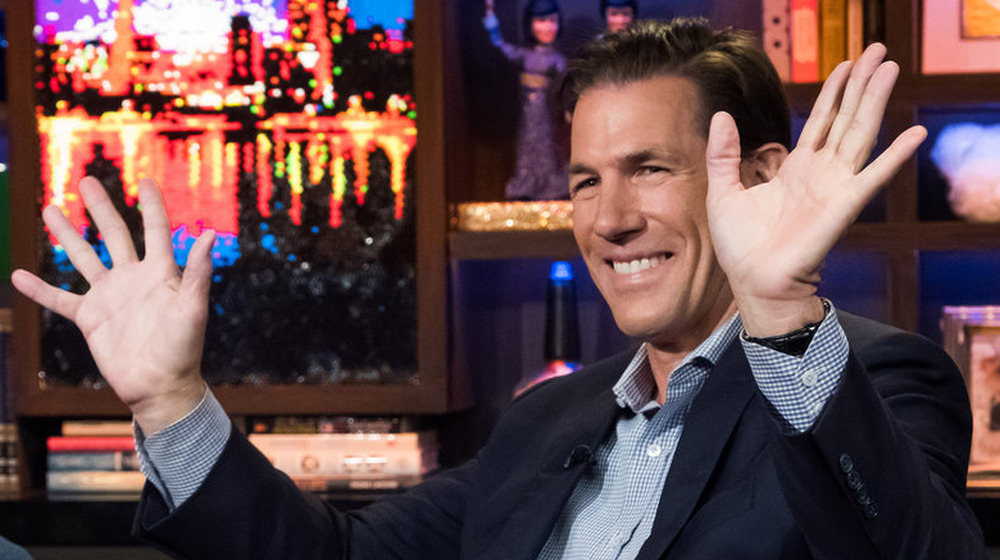 NBC Universal
Ravenel could charitably be described as a playboy, a man who on Southern Charm has demonstrated a great love of drinking, partying, and romancing women decades younger than him. Such ladies include the mother of his children, Kathryn Dennis, and his subsequent girlfriend, Ashley Jacobs. His lascivious behavior may have veered into the criminal and wicked, which just may cast a dark cloud on Ravenel and Jacobs' relationship.
In May 2018, a woman named Ashley Perkins told Fox News that Ravenel was accused of sexually assaulting her mother in 2015. According to Perkins, he swiped right on Debbie Holloway Perkins when her photo came up on Tinder in October 2015, and on Christmas of that year, the pair went on a date. It was during that night out that Ashley claims Ravenel "grabbed [Debbie] by the wrist and held her down," before exposing his genitals and digitally violating her." He allegedly stopped only after Debbie called him "a rapist." Ashley Perkins gave Fox News photos of her mother's bruised wrists. 
Ashley Perkins said her mother sued Ravenel and, with the help of famed attorney Gloria Allred, negotiated a settlement in June 2016 to the tune of $200,000. Debbie reportedly signed an non-disclosure agreement preventing her from talking about the case, but her daughter clearly did not.
Did he sexually assault a nanny?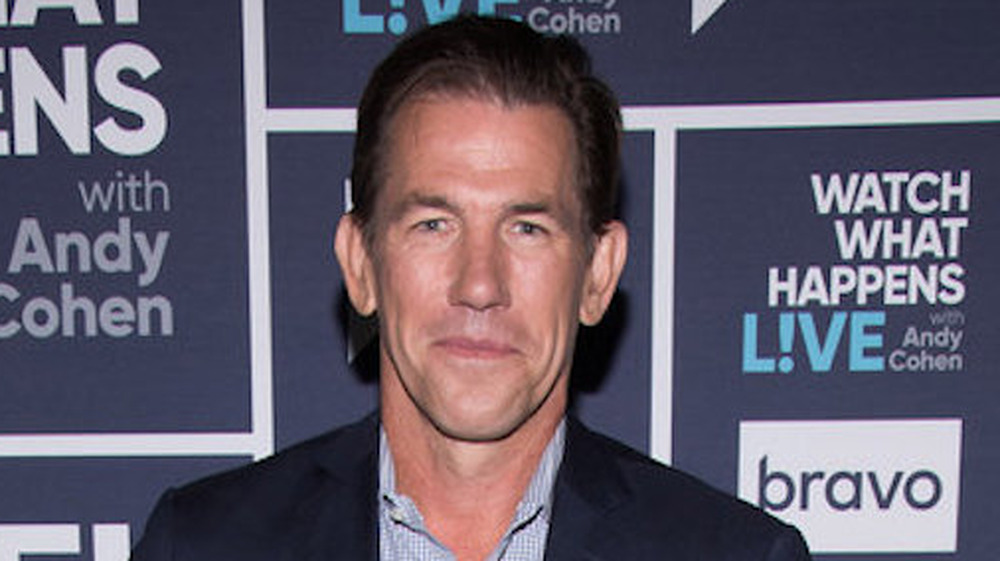 NBC Universal
According to a police report obtained by the Charleston City Paper, a woman alleged that Thomas Ravenel sexually assaulted her at his home in January 2015. The official charge, should Ravenel be indicted, is "sex offense/forcible rape." In a text message to a Charleston TV station, Ravenel called the allegations "absolutely false." 
The woman chose to be identified only as "Dawn," but Southern Charm fans will recognize her as "Nanny Dawn" — she appeared on-screen as Ravenel's hired childcare provider. She came forward in May 2018, telling People: "Although I believe he should be in jail for his crimes, the reality according to statistics is that he will go unpunished," Dawn told People. 
She also provided details about what allegedly happened on the night in question. After returning home after an outing with friends, Dawn said she was making baby food when Ravenel came into the kitchen and tried to kiss her. Dawn deflected that into a hug, only for Ravenel to suggest they take things further, and then he allegedly applied force. "I was corralled into the master bedroom and he shut the door behind me. I turned around and he had his pants dropped, not wearing underwear," she said. Ravenel then allegedly blocked the door and "proceeded to rip [her] her clothes off." She said she managed to escape without further incident.
They've been hot and cold and hot again
In May 2017, Patricia Altschul introduced Thomas Ravenel to Luzanne Otte, finding them to be a proper match. In addition to — or in spite of — being childhood friends with Kim Kardashian, Otte is a Harvard grad who attended Notre Dame law and serves as general counsel for the Catholic Church's Los Angeles archdiocese. 
Ravenel was already dating Ashley Jacobs, but broke it of to pursue Otte, or as Otte told the Daily Mail, he said he "dumped Ashley like garbage." Otte supposedly started to look for an exit when Ravenel started trashing his substance abuse-troubled ex, Kathryn Dennis, quipping at a cocktail party that he'd "be better off if she overdosed." Later that night, Ravenel supposedly discussed rumors that he'd had consensual relations with "Nanny Dawn." Otte claims Ravenel implied that Dawn wasn't attractive enough for his tastes (this was long before those rumors became a rape investigation). After a paranoid rant in which Otte says Ravenel accused her of being unfaithful, she broke it off ... and he went back to Jacobs.
Patricia Altschul does not approve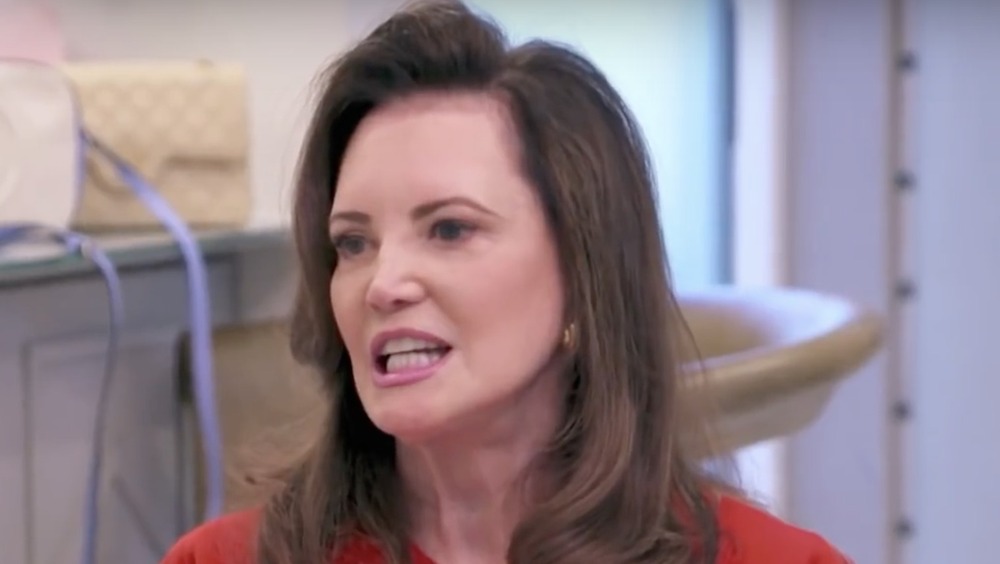 YouTube
Patricia Altschul is the presiding grande dame and respected matriarch of Southern Charm (as well as the mother of cast member/producer Whitney Sudler-Smith). She conducts herself with dignity, pride, and grace ... while somehow also appearing on a basic cable reality show, a genre for which those qualities generally have no place. She stays above the fray, except when she absolutely has to get down in the dirt with the others, and the relationship of Thomas Ravenel and Ashley Jacobs was apparently just such an occasion. 
Ravenel reported on Instagram (via Reality Blurb) that Altschul, "the queen of Southern gentility," blocked him from Twitter and Instagram. It would seem that Altschul had enough of the on-screen antics of Ravenel and Jacobs, particularly how nasty they were to Kathryn Dennis during Season 5 of Southern Charm. Altschul referred to the couple's behavior as a "smear campaign, character assassination, lies and purposeful defamation." She tweeted, "It made me reassess everything Thomas said to me about Kathryn Dennis who has clearly turned her life around while they are on a downward spiral."
His relationship with Kathryn? It's complicated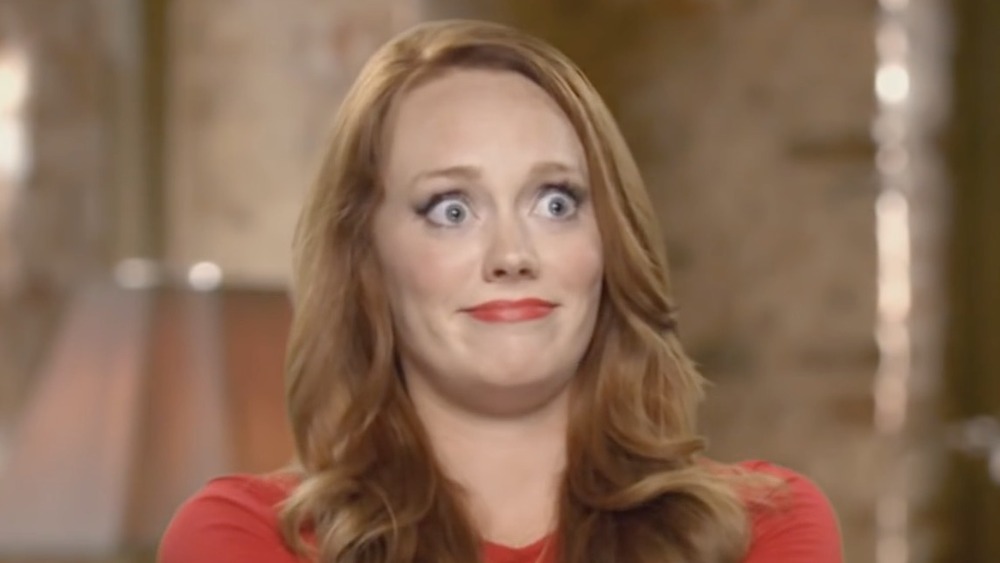 YouTube
Thomas Ravenel and Kathryn Dennis are still involved in each other's lives to some extent — after all, they have two kids: Saint and Kenzie. They've also waged a custody fight that has been messy and contentious, owing to Dennis's substance abuse issues (Ravenel made her submit to frequent alcohol consumption tests) and Ravenel's criminal record (in addition to the aforementioned assault allegations, Ravenel was previously busted on a federal cocaine charge.) Ravenel won full custody of the kids.
Tensions between the former flames had eased considerably by May 2018, when in an interview with Extra, Dennis said she and Ravenel were "in a really good place." She added that "he asks me for advice on things. It makes me feel like finally he respects me in that sense." They also managed to celebrate Kensie's fourth birthday as one big happy family. 
However, just a few weeks after that Extra sit-down, Dennis was reportedly back in court to ask a judge for full custody of the kids following the sexual assault allegations against Ravenel. Dennis also wants child support, reversing the court-ordered $100 that she has had to pay him, despite his demonstrated wealth.
He might already be gone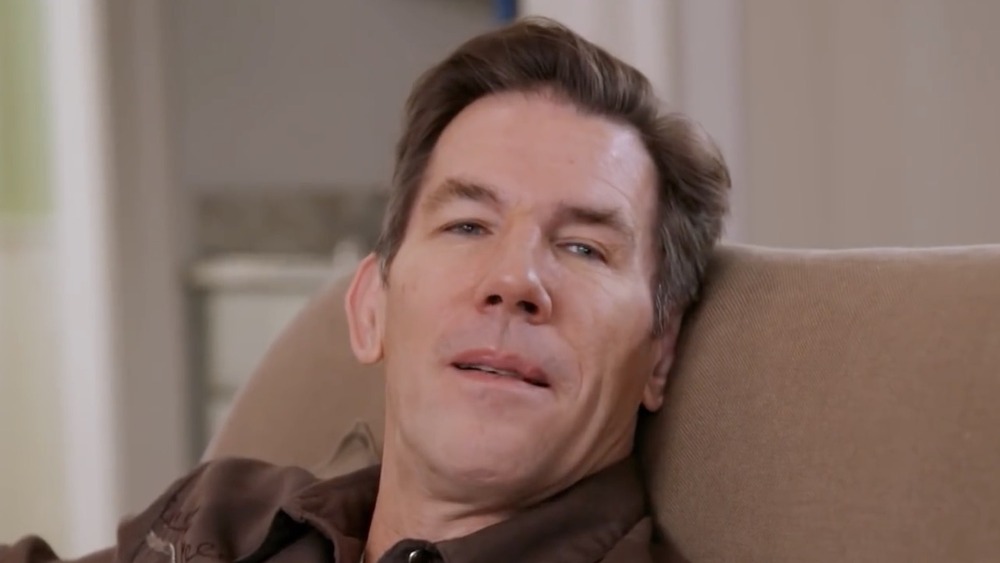 YouTube
The assault allegations against Thomas Ravenel came to light well after the fifth season of Southern Charm had been produced and started airing, but that situation may threaten his future with Southern Charm and his relationship with Ashley Jacobs. As of June 2018, Ravenel had not been nixed from Southern Charm. 
"No decision has been made yet and the investigation is still ongoing," a Bravo source told People. However, Radar Online reported Ravenel was barred from the show's reunion episode. FITSNews reported that at least two other cast members vowed not to show up for the reunion if Ravenel did, and sources for gossip site Tamara Tattles claim he won't be back for Season 6. If Ravenel is no longer on the show, that doesn't bode well for Jacobs' continued presence either.
Is this true love even real?
Is the addition of Ashley Jacobs to Southern Charm just a little too perfect? She's embodied the classic reality show villain archetype so perfectly from day one that some viewers wonder if she's a ringer, introduced by producers to create ratings-boosting drama on a show that, up to now, didn't feature a whole lot of Real Housewives-style lady-fights.
Maybe Ravenel and Jacobs didn't really have a meet-cute in a bar. According to Heather McDonald on her gossip podcast Juicy Scoop (via Good Tea), Southern Charm co-star Landon Clements introduced Ravenel and Jacobs — whom she apparently knew when they both worked as call girls — and that's when Ravenel allegedly decided to hire Jacobs to pose as his lady. According to Tamara Tattles, that was an item on Jacobs' bucket list — insider scuttlebutt claims Jacobs auditioned for the show in the past but lost out to Chelsea Meissner. Who knows if any of this is true, but it's definitely some interesting dirt.
His ex gave Ashley rave reviews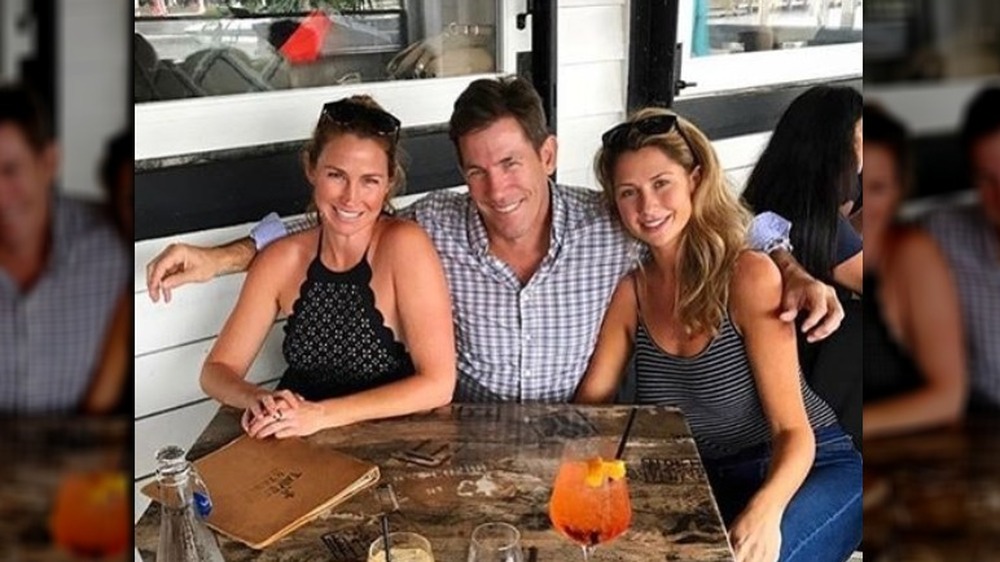 Instagram
Southern Charm is like the Taco Bell of reality shows — somehow it comes up with a seemingly endless array of products made with the same six or seven ingredients. Which is to say that there have been a lot of romantic couplings formed out of the same core cast of a few people. One of the oddest: Ravenel and real estate developer Landon Clements. 
Spoiler alert: Their relationship fizzled, a fact made clear during Season 4 in 2017. Clements posted to Instagram (via the Inquisitr) a photo of her, Ravenel ... and Ashley Jacobs. A friendly night out? Nope. When a follower commented that Ravenel and "the blonde in the pic, Ashley" were an item, Clements confirmed it. She also said Jacobs was "rad" and Ravenel should "put a ring on it" real fast. 
Ashley was criticized for her weight
In May 2018, Jacobs posted a picture in a floral jumper to Instagram with a caption addressed to all the haters out there. "One of the biggest things I have been judged on, as of recently, is my weight. I'm not sharing this post for any kind of sympathy ... If there's one thing I've learned, and can share with all of you — Learn to love yourself and screw what anyone else has to say about you!" Had trolls been criticizing Jacobs for putting on weight? Nothing of the sort — she'd apparently been told she's too thin. (Fun fact: You can't win in our looks-obsessed society.)
Nevertheless, on that very post, the comments continued about Jacobs' weight loss over the course of the fifth season of Southern Charm. Jacobs explained that she has a medical condition called hyperlipidemia, a dangerously high concentration of fat in the blood. She said the condition led to "massive heart attacks at a young age" for her father and grandfather, so she likes to keep her weight down to help make sure she lives "a long, healthy life." 
All things must pass
Are Thomas and Ashley a real couple whose dirty laundry and ever-increasing alienation from one another was captured by Southern Charm cameras, or is this all a put-on that also seems doomed. Regardless of the true nature of the couple's relationship, word on the street is that Ravenel and Jacobs might no longer be together by Season 6 of Southern Charm. 
On June 18, 2018 — just before the season-capping Southern Charm reunion was set to air — an insider told Radar Online the romance was over. The breaking point was apparently when Ravenel was not invited to attend the reunion episode — on account of the ongoing investigation into his alleged sexual assault of his former nanny — but Jacobs went anyway. "Thomas is a gentleman, so he's not going to humiliate her when they break up," the source said. "But he is at his breaking point and ready to end things." 
Ashley may be ready to move on, but not move out
NBC Universal
While the split of Thomas Ravenel and Ashley Jacobs appears to be inevitable, that doesn't necessarily mean Jacobs won't be around for future seasons of Southern Charm. In fact, she may fit right into the show's incestuous, round-robin-style romantic entanglements. It seems like everybody on that show has dated everybody else on that show, and if things don't work out with Ravenel, Jacobs apparently has other guys in mind: specifically, cast member Craig Conover and cast member/show creator Whitney Sudler-Smith.
According to a Southern Charm "aftershow" video, both Conover and Sudler-Smith claimed Jacobs said she'd date them if not for Ravenel. She allegedly told Conover that she'd be into him if he were "a few years older," even though they're roughly the same age. She supposedly said Sutler-Smith was her second-choice, after her beloved Ravenel. Conover doesn't appear to be all that interested, and Sutler-Smith said Jacobs holds zero romantic appeal for him, so we'll have to wait and see.