What To Expect From Joe Giudice's Prison Stay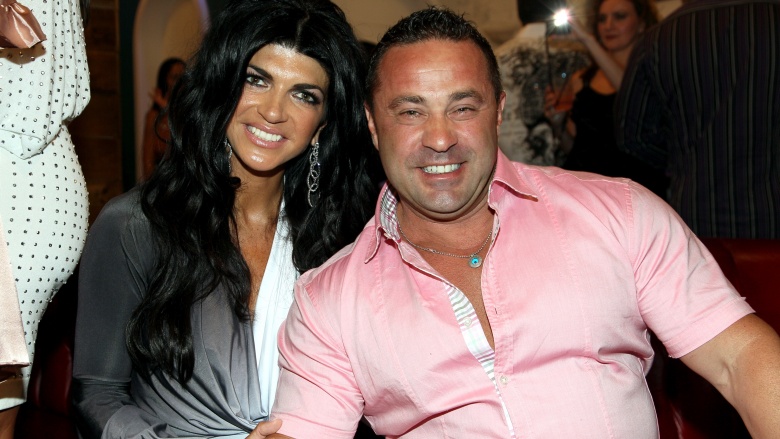 Getty Images
In March 2016, Real Housewives of New Jersey star Joe Giudice began his 41-month sentence in a federal prison in New Jersey. What can we expect from his time behind bars? We've got the scoop on yet another long road ahead for the Giudice family. Here's what we know so far.
He won't be there for as long as you think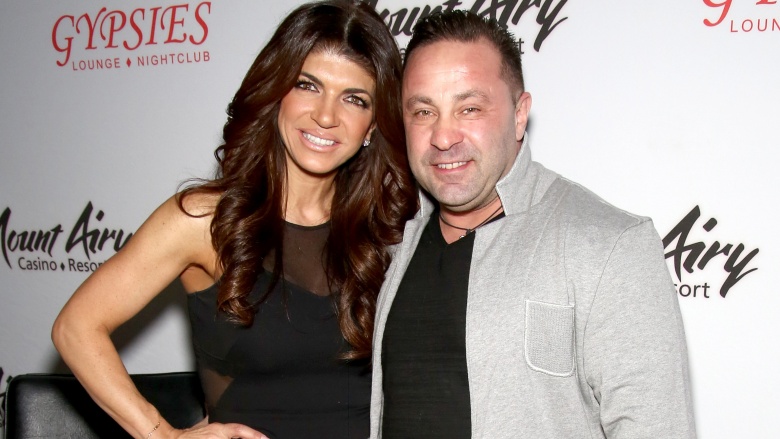 Getty Images
In October 2014, Giudice was sentenced to 41 months in prison on conspiracy and bankruptcy fraud charges. Giudice's wife, Teresa, received a lighter sentence of 15 months, which she began serving in January 2015. Days after entering prison, Teresa got her sentence reduced by about a few months; she eventually served only 11. Thus far, Giudice appears to be following in his wife's footsteps. According to reports, Joe—who entered prison on March 23—has already gotten five months knocked off of his sentence. Was it over anything special? Not really, according to the family's lawyer. "In the federal prison system, inmates typically serve 85 percent of their sentence," James Leonard Jr. told The New York Daily News. So when your [sic] looking at a projected release date, what your [sic] looking at is 85 percent of the actual custodial sentence." At the time of their sentencing, a judge allowed the couple to serve separate sentences for the sake of their four daughters.
He's going to treat it like rehab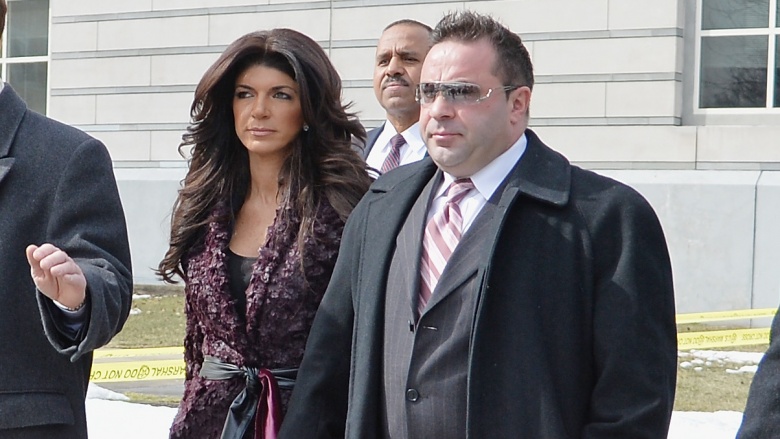 Getty Images
While his wife was behind bars, Giudice revealed to People magazine in the lead-up to his own sentence that he used wine to cope with the stress and sadness of it all. In fact, things got so rough, he said he was looking forward to going to jail to get some much-needed rehabilitation. "I am not going to be able to drink for a while, which is good because I don't even know when it's been since I haven't had a drink," he told People. "It's been a long time." Joe added that he would drink "a couple of bottles" of wine at night to help him sleep. "For a solid year with all this TV crap and socializing with people every day and going here and there you are constantly drinking, so it will probably do me good [to stop]," he added. Teresa, for her part, has been nothing but supportive. "He's gonna get into—God willing—the right alcohol program," she said. "I want him to do a program, let's just leave it at that. He's not abusive or anything, thank God, but he drinks every day. That's not good. It's not good for your liver."
He's going to have to obey a lot of rules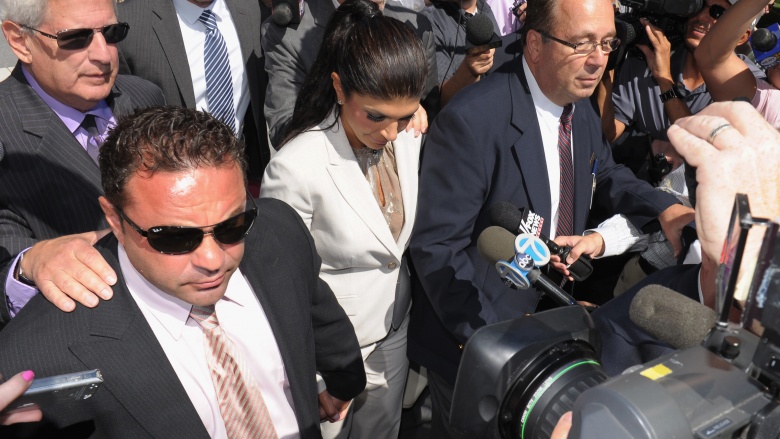 Getty Images
ABC News obtained the handbook for FCI Fort Dix, the New Jersey correctional facility in which Giudice will serve his term, which detailed a rather strict list of rules that Giudice must obey during his stay. Wake-up is at 6 a.m., the same time breakfast is served, ABC News reported. Lunch and dinner follow at 11 a.m. and 4 p.m., respectively. "A typical lunch would include baked fish with macaroni salad and green peas, and dinner might be chicken fried rice with steamed broccoli and bread," ABC News wrote. Other highlights include: 300 minutes of phone access each month; five days worth of visiting hours; and a TV that comes equipped with Bravo, according to the report. Phew...he won't miss a single Real Housewives episode.
He's going to follow Teresa's lead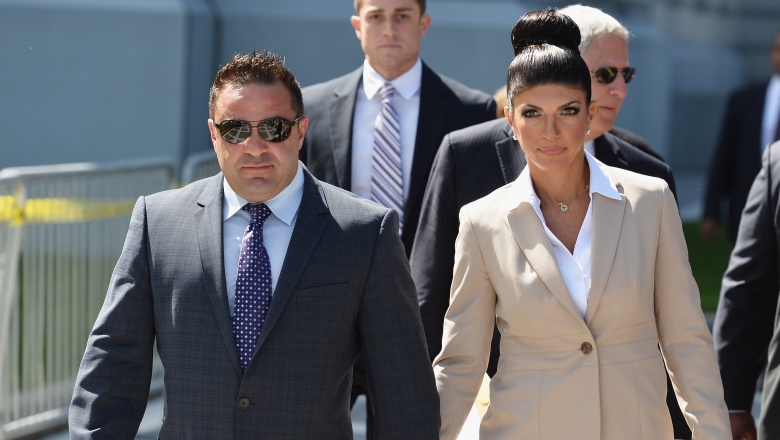 Getty Images
What's one of the very few advantages of serving time in jail immediately after your wife gets out? The opportunity to get schooled on what do when it's your time to go behind bars. According to Giudice, his wife's advice was simple. "[Teresa told me to] stay low key and do your thing," Guidice revealed in a pre-prison interview with People. "Nobody wants any problems in there," he continued. "[I'm going to] work out. I'm going to get as many programs in as possible. Whatever they have available. It's like everything else; time does go by." As People points out in its report, Teresa witnessed or overheard a lot of crazy things during her stint in prison, from inmates having sex to having to clean the floor using a maxi pad.
It's already taking a toll on his family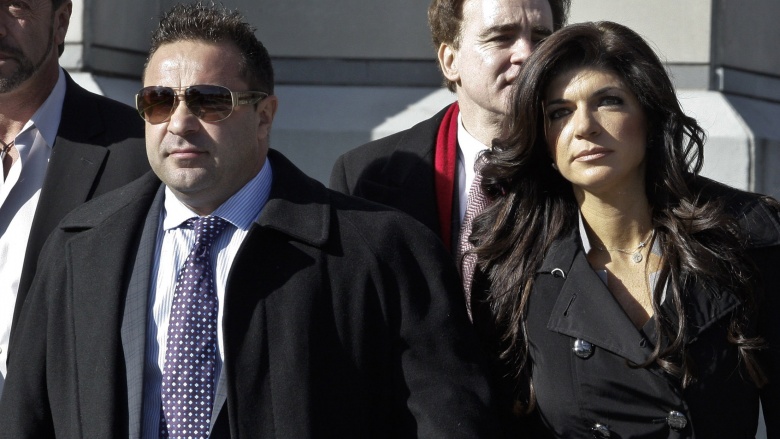 Getty Images
Speaking out for the first time since her husband went to prison, Teresa revealed in a quick video for Bravo's Daily Dish that it had been "a difficult week" for her and her family. Meanwhile, sources for People magazine said Teresa's doing her best to focus on trying to adjust to life as a single mom. "Teresa and the girls are sad that Joe's gone, but they're doing their best to adjust," the source said. "Her life centers around taking care of them and making sure they get to their activities to keep [...] life as normal as possible for them." Even before Guidice's prison sentence began, the family began to experience the emotional weight of life without their father. "I had a little meltdown the other night with my daughter Gabriella talking to her," Giudice told People at the time, "but we will be all right we will get through it." Teresa expressed similar sentiment in her video for The Daily Dish. "We're making it through, thank God," she said, thanking her fans for their support in the process.
Prison is only the beginning of Giudice's legal headaches
Getty Images
When news first broke of the Giudices' financial troubles, word got out that Joe could ultimately face deportation, as the Italian-born reality TV star is not actually a citizen of the United States. Whether that will actually happen remains unclear. The only real clue we've gotten so far came from a judge in Guidice's 2014 driver's license fraud case, who claimed his deportation was "a virtual certainty." For their part, the Guidice family is taking a "we'll deal with that when it comes" approach. "Anything can happen, you know?" Giudice told Entertainment Tonight. "There is nothing in life that is certain." Added Teresa: "We're just taking it day by day." Given everything that's already happened to them, that's probably wise.