Who Is Succession Star Jeremy Strong's Wife, Emma Wall?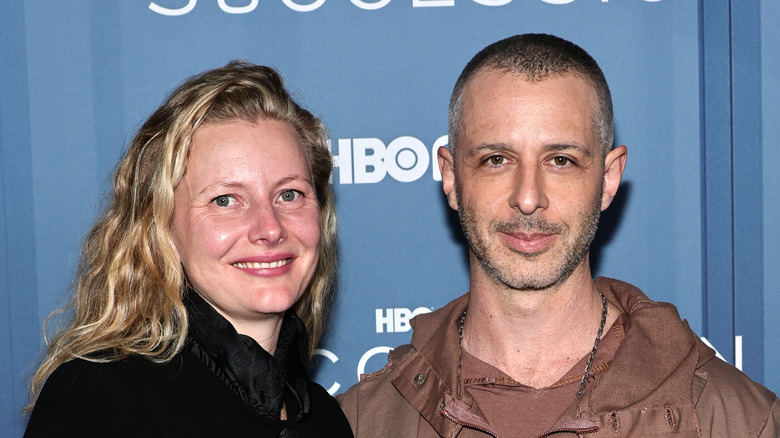 Jamie Mccarthy/Getty Images
Jeremy Strong has made a huge splash starring as Kendall Roy on HBO's satirical hit "Succession," which premiered in 2018 and is now in its fourth and final season. The actor plays the troubled son of media titan Logan Roy (Brian Cox) and the second eldest of the power-hungry, backstabbing Roy siblings. While Strong has become synonymous with his role in the show, he told GQ in 2019 that his personal life is quite different from his character's. "I have a lot more love in my life than he does," he said. "I feel very supported in my life — he doesn't have any of that." 
Strong has been happily married to his wife, Emma Wall, for years. Recalling their love story to The Telegraph in 2019, Strong said he and Wall first met at a party in New York on the night of Hurricane Sandy back in 2012. "I lost power and wandered out into the city, and we met at a party at a mutual friend's loft in Soho at 3 a.m., in the middle of a hurricane," he told the newspaper.
After dating for a few years, he and Wall exchanged vows at a castle called Dragsholm Slot in her native Denmark in 2016, according to The New Yorker. They have since welcomed three daughters — Ingrid, who was born in 2018; Clara, in 2019; and Agathe, whom they welcomed in 2021. But what else do we know about the "Succession" star's wife of seven years? Here's more about Wall and her marriage to Strong. 
Emma Wall is a Danish-born doctor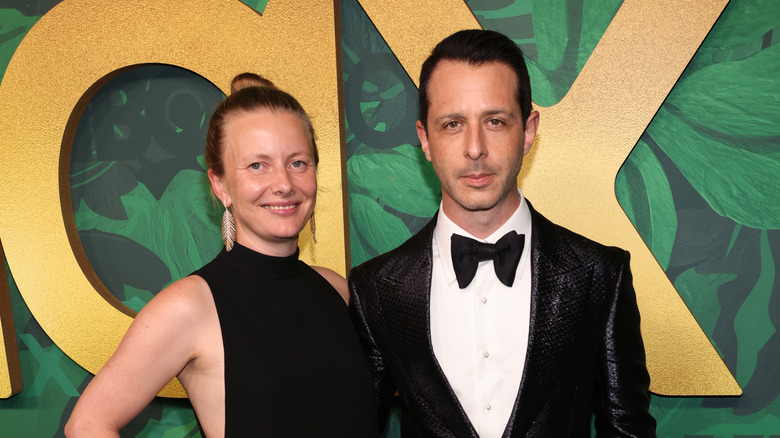 David Livingston/Getty Images
Emma Wall is a doctor — specifically, a child psychiatrist. She earned her bachelor's degree in psychology from Brown University, attended Oxford University Medical School, and completed her residency and fellowship at Columbia University and at Cornell University. Born in Denmark, the doctor-wife of Jeremy Strong has worked with countless of refugees and volunteered in hospitals across the globe, including Kyrgyzstan and South Africa. Most recently, she worked in the Los Angeles foster care system and served as an educator and clinician at the University of California, Los Angeles (UCLA). 
Aside from being a medical practitioner, Wall has also dabbled in filmmaking and is a documentarian. She is the co-founder of the film outfit Guest House Productions, and co-director of the documentary short "Guerilla Habeas", about two lawyers working together to help immigrants facing the threat of deportation in America. Speaking with Deadline, Wall explained what compelled them to make "Guerilla Habeas." "We started this in the beginning of 2019, following the Muslim ban, following Trump's zero-tolerance policy that was separating families at the border," she said. "And we — as so many people ... in this country — were feeling incredibly helpless and hopeless. It felt like these grave injustices, these human rights violations, and we didn't know what to do about it." "Guerilla Habeas" premiered on MSNBC and Peacock on February 5.
She is incredibly supportive of Jeremy Strong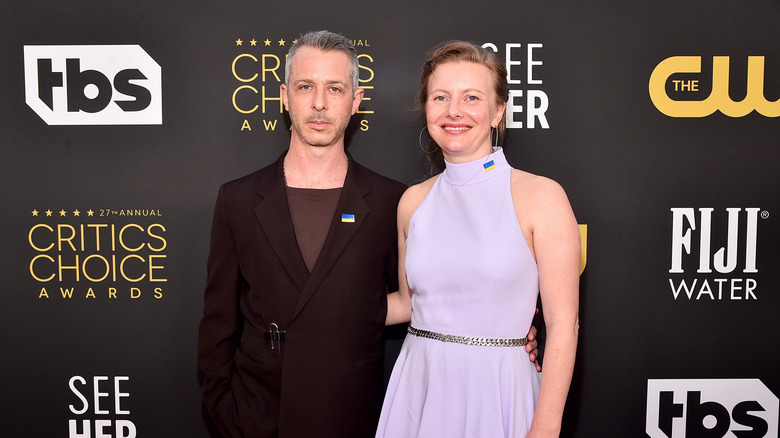 Alberto E. Rodriguez/Getty Images
In an interview with The New Yorker, Emma Wall gushed about her husband Jeremy Strong and how devoted he is as a family man and an actor. When asked whether she sensed a shift in Strong since he took on the role of Kendall Roy in "Succession," Wall sang her husband's praises. "He does a really good job of maintaining what he's doing, but also creating a space for the family and a normal life," she said. Currently, she and Strong live in New York, but also have a home in Copenhagen, Denmark, where Wall was born. In a chat with The Guardian, Strong said he loves being in Denmark, describing his wife's home country as a refuge. "I find it a very sane and gentle place," he said. "It feels like a refuge for me, and it's great to have somewhere that's a docking station after all this work, which I find very enervating and scary and stressful."
Meanwhile, the "Succession" actor has also opened up about fatherhood, saying being a dad has made his life more stable. "I never had that before," he told GQ in 2019. "I was always just kind of a transient and work was the only thing. And that feels different now, in a very good way." These days, Strong and his wife are often seen together during red carpet premieres and events, such as the Season 4 premiere of "Succession" in NYC last March, as reported by People.