Celebs You Didn't Know Went To High School Together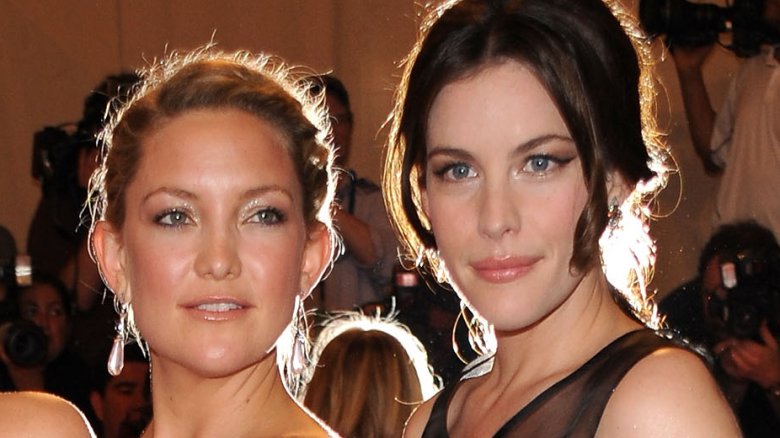 Some celebs go way back — like all the way back to their high school days.
It makes sense if you think about it. Although it might sound a bit cliché, Hollywood is a small town. From the tiny dating pool in Tinseltown to the fact that many celebrities are neighbors (Ellen DeGeneres lives next door to Oprah, remember?), it seems like all famous people know one another. And we have to admit that it's pretty fun to imagine our favorite celebs cutting class together and taking each other to school dances.
Understandably, the topic of celebrities who went to the same high school is a juicy one. For starters, it's interesting to consider that some famous former classmates don't really hang out with each other anymore as adults. Take singer Lauryn Hill and actor Zach Braff, for instance. While Hill and Braff maintained a friendship during their school days in New Jersey, the two went their separate ways upon graduation. Of course, it's fair to wonder if the celebrities had a falling out or if they simply drifted apart. Hmm...
So, which celebrities knew one another way back when? Let's take a look at the celebs you didn't know went to high school together.
Nicole Kidman and Naomi Watts go way back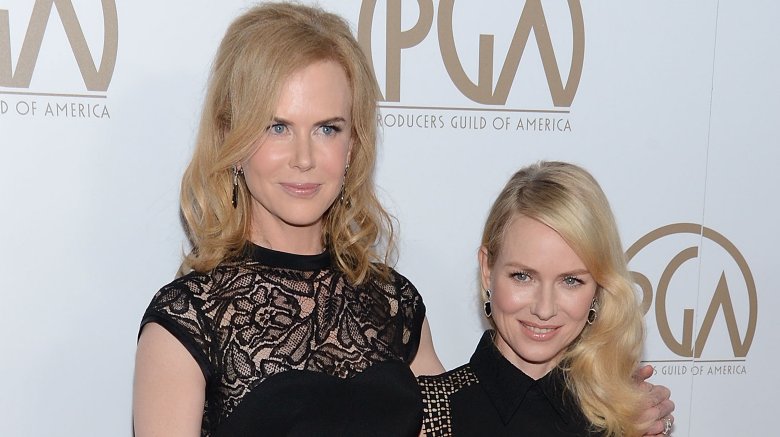 Getty Images
It's no secret that Nicole Kidman and Naomi Watts have one of the strongest friendships in Hollywood. From hanging out to supporting one another through motherhood, Nicole Kidman and Naomi Watts have an extremely close relationship. Of course, it's no surprise the two are tight when you consider they share the same hometown in Australia. Aussie girls have to stick together, after all.
Most fans, however, don't know the actresses attended high school together at North Shore Sydney Girls High School. While it's fair to assume Kidman and Watts were as thick as thieves back then, that wasn't the case. Apparently, the two only became close when they both starred in the 1991 movie Flirting. "We already knew each other but that's when our friendship forged," Watts explained on The Jess Cagle Interview (via People).
Still, it's Kidman and Watts' teenage years that led to their strong friendship as adults. "We've gone through a lot together over a significant amount of time," Watts added. "That history binds you. We have a strong respect and love for one another." Aww.
Barbra Streisand and Neil Diamond's days in Brooklyn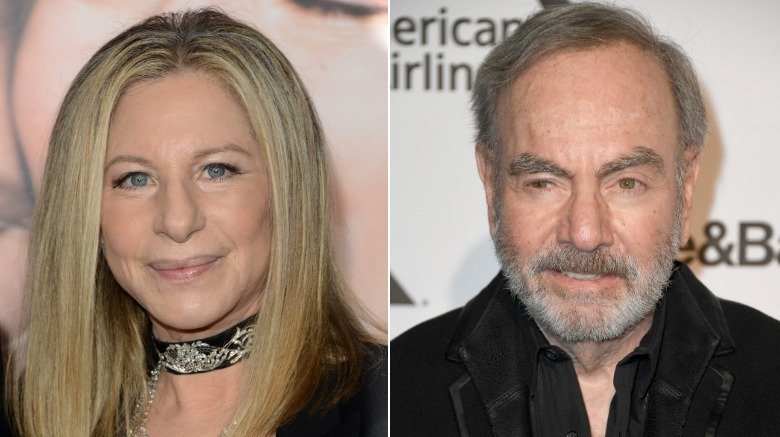 Getty Images
Although it's difficult to imagine that one school could produce two of the greatest musical legends of all time, it happened at the Erasmus Hall High School in Brooklyn, N.Y. As it turns out, Barbra Streisand and Neil Diamond both attended the public high school. 
Oh, and if you're wondering whether Diamond and Streisand hung out, the answer is yes. "We were two poor kids in Brooklyn. We hung out in the front of Erasmus High and smoked cigarettes," Diamond said about Streisand (via the Mirror). Way to keep it real.
Those "two poor kids" later went on to collaborate on "You Never Bring Me Flowers," a single that reached the top of the Billboard Hot 100 chart in 1978. Diamond and Streisand went on to perform the hit at the Grammys in 1980, a moment which is often described as one of the most iconic duets of all time. Talk about a pair of legends.
Busta Rhymes and Jay-Z's rap battles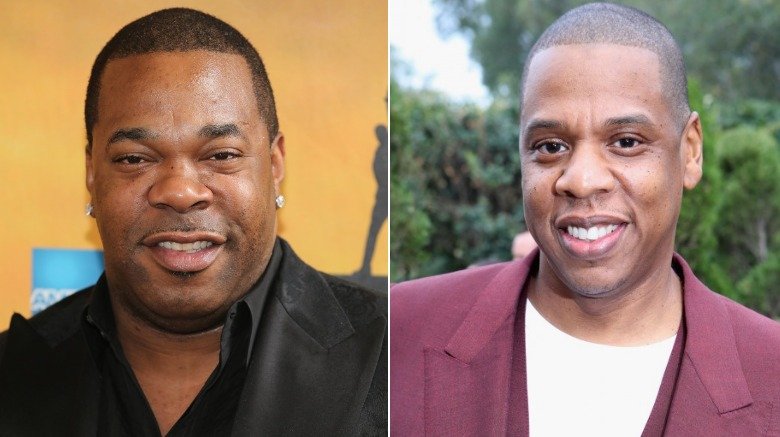 Getty Images
Jay-Z and Busta Rhymes — two of the most prolific rappers to come out of New York — were classmates at Brooklyn's George Westinghouse Career and Technical Education High School in the '90s. Making matters even cooler is that the two honed their rapping skills with rap battles in the school cafeteria. "Me and Busta Rhymes actually had a rap battle in the lunch room," Jay-Z confessed to Jimmy Kimmel in October 2015 (via Rolling Stone). Wow — imagine witnessing a rap battle between a teenage Jay-Z and Busta Rhymes! We envy their former classmates.
Oh, and if you're wondering who won these battles, the answer is Jay-Z. "I knew Jay-Z was rhyming 'cause me and Jay-Z battled in school, speed rapping," Busta Rhymes recalled during an interview with SKEE TV. "He had finessed the speed rapping phenomenally at that time and I was new with the speed rapping, but losing that battle to Jay in speed rapping is what made me one of the most dangerous speed rappers today ... Jay know he can't see me in no speed rapping today." We love the icons' friendly rivalry.
Lauryn Hill and Zach Braff's random friendship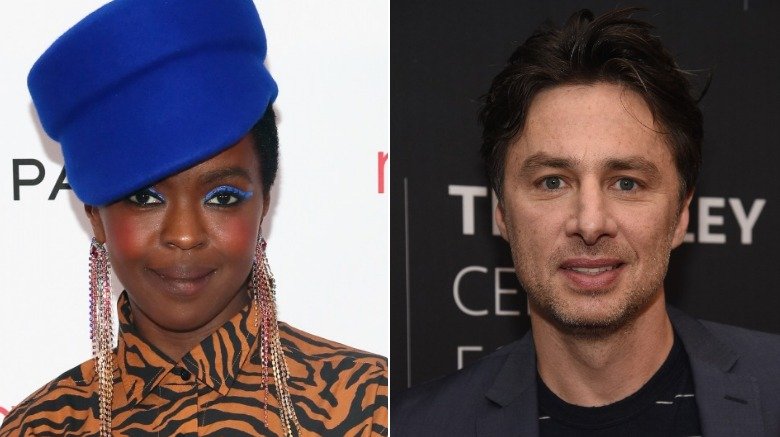 Getty Images
When you think of Lauryn Hill, the name Zach Braff doesn't necessarily come to mind. Not only have the two found success in different mediums — music for Hill and comedy TV for Braff — but they run in completely different circles. Interestingly enough, however, Hill and Braff were once friends during their days as students at Columbia High School in Maplewood, N.J. Go figure.
Although Hill has remained tight-lipped about this connection, Braff has discussed it in interviews. "There was a game called Coke and Pepsi: You'd have a partner, and one person was Coke and the other Pepsi," Braff revealed about a game he played with Hill at his bar mitzvah. "Depending on what the DJ would yell, you had to run and get on that person's lap. And Lauryn was my Coke and Pepsi partner." What a random yet cute memory. 
But wait — that's not all. Braff told radio host Howard Stern that he and Hill would travel to acting auditions together and that they took all the same classes. Braff, who gushed about Hill's likable high school personality, also shared that the Fugees star ignored him after graduation. "She really acted like she had never known me," Braff once said about running into Hill at a charity event years later. Ouch.
At least Braff can make light of the situation. Playing off of Hill's famous album, Miseducation, Braff joked to fan, "I'm the reason she was 'miseducated.'"
B.J. Novak inspired John Krasinski's career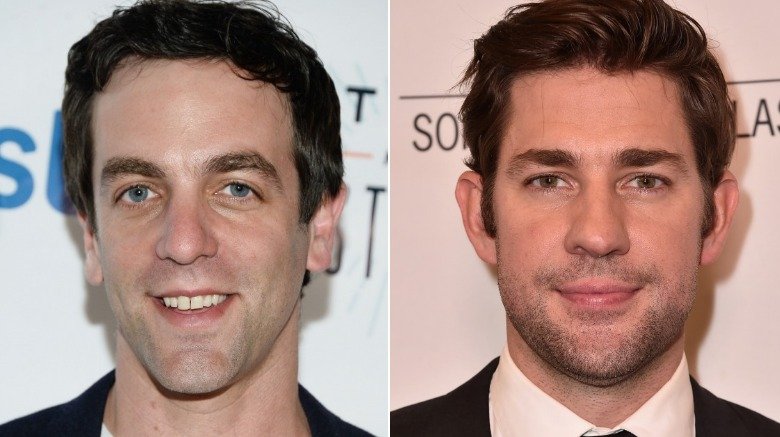 Getty Images
You never know when someone will have a profound influence on your life. This is something John Krasinski knows all too well. In an interesting twist, Krasinski caught the acting bug after his former high school classmate, actor B.J. Novak, invited him to star in a school performance. 
The friends — who grew up outside of Boston and attended Newton South High School together — first met through Little League. "B.J. and I had known each other since we were 13, when we played on the same Little League team — the Orioles," Krasinski explained, according to The Patriot Ledger. 
As for how Novak inspired Krasinski to get into acting, that was a twist of fate. After Krasinski made the decision to give up high school sports, Novak asked him to participate in an annual parody of their high school and faculty. "He asked me to be one of the leads," Krasinski recalled. "I remember saying that I couldn't act, but B.J. said, 'Just trust me,' and then he said, 'I think you're funny.'" 
Later on, when Krasinski was studying at Brown University to become an English teacher, he decided on a new career path after coming across an audition flier for a sketch comedy troupe. "It was because of that high school experience that I thought, 'Maybe this will be fun, too,'" Krasinski said. "And it was." 
The best part about this whole thing? Krasinski and Novak later co-starred on The Office together. 
Cameron Diaz and Snoop Dogg's interesting connection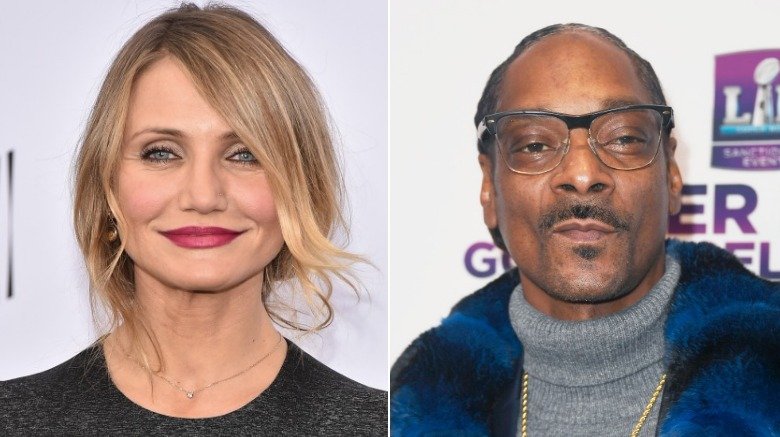 Getty Images
Once upon a time, actress Cameron Diaz and rapper Snoop Dogg attended Long Beach Polytechnic High School in California. While one would think the two never crossed paths due to the school's huge size, the truth is they bumped into one another a few times. "We went to high school together," Diaz revealed in January 2011 interview on Lopez Tonight (via E! News). "He was a year older than me ... I remember him, he was very tall and skinny. He wore lots of ponytails." Yep, it sounds like Snoop Dogg hasn't changed very much.
Diaz — in an amazing twist — also admitted to buying marijuana from Snoop Dogg. "I'm pretty sure I bought weed from him," Diaz joked. "I was green even in high school!" 
As for Snoop Dogg, he had nothing but nice things to say about Diaz. "She ran with my homegirls, all my little cheerleading homegirls," Snoop Dogg told Yahoo! Music in March 2013. "She was in [their] little crew. She was fly and she was hip. I never got at her like that because she was younger than me." Thanks for clearing that up, Snoop Dogg.
Adam Levine and Jonah Hill got in trouble together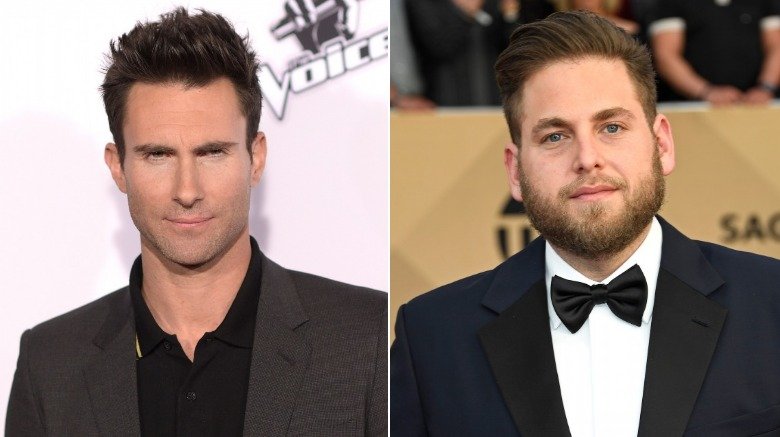 Getty Images
At first glance, it might not seem like Maroon 5 frontman Adam Levine and actor Jonah Hill have anything in common. Levine is a rockstar with a lot of swagger, while Hill is a humble guy with a knack for humor. But as unlikely as a friendship between these two might seem, it turns out they're best of buds. As for how their epic bromance blossomed, look no further than the principal's office at their junior high school. "Our dads met in the principal's office in junior high. We were in carpool, we lived at each other's houses," Hill joked about their friendship to The Howard Stern Show.
The celebs later attended the elite Brentwood School in Los Angeles, Calif., a lucky coincidence that further cemented their bond. The two were so close, in fact, that Hill's brother, Jordan Feldstein, was Maroon 5's manager until his death in December 2017. Additionally, the pair's mothers — Patsy Noah and Sharon Feldstein — started a charity together. "Our kids grew up together, almost like brothers and sisters," Noah told People about her bond with Feldstein. 
Yep, I think it's safe to say Hill and Levine will be best friends forever.
Liv Tyler and Kate Hudson keep the love alive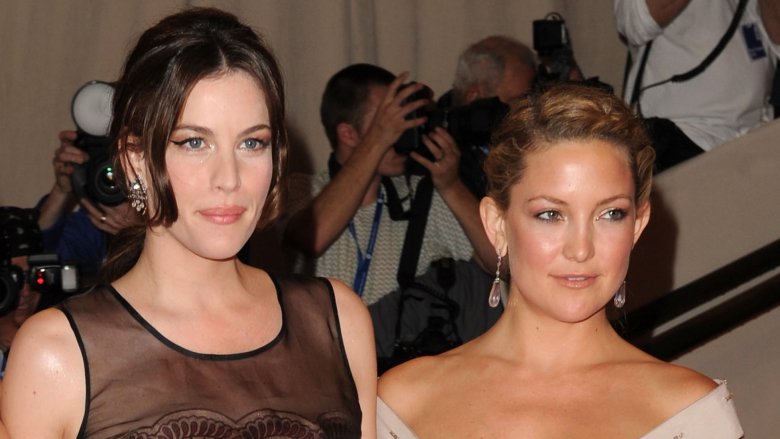 Getty Images
Cool girls Liv Tyler and Kate Hudson both attended the Crossroads School for Arts & Sciences in Los Angeles during the '90s. The two became close friends during their time at the school, and they later costarred in Dr. T & the Women — a movie in which they shared an on-screen kiss.
Interestingly enough, Hudson has also developed a bond with Tyler's famous dad, Aerosmith frontman Steven Tyler. Shortly after Hudson announced her third pregnancy, she shared a snap of Steven cradling her bump. "Baby girl got some good hugs from Papa Tyler this weekend," Hudson captioned the April 2018 Instagram post. How adorable!
Of course, Hudson makes it a point to hang out with Tyler too. In June 2016, Hudson shared a sweet pic of herself with Tyler. "Got to catch up with this beauty in the city," Hudson wrote to fans on Instagram. Aww, clearly Hudson and Tyler really love each other.
Jessie J, Adele, and Amy Winehouse's musical beginnings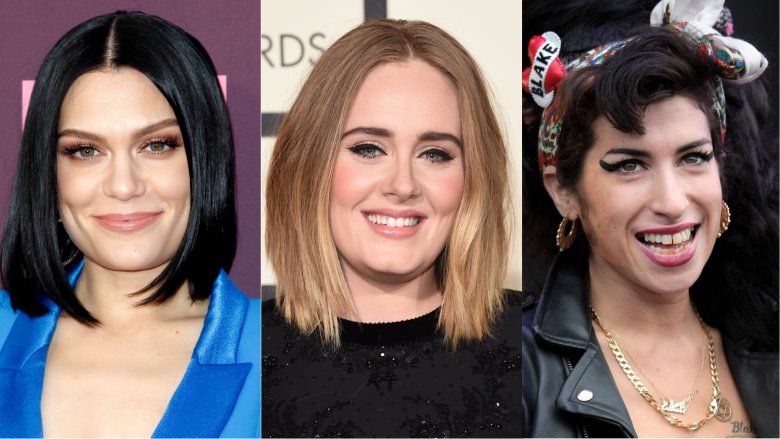 Getty Images
It's not uncommon for a group of talented people to share the same high school. Case in point: celebs Adele, Jessie J, and Amy Winehouse all attended The BRIT School for Performing Arts and Technology in London, England. Sounds impressive. 
As for how deep this cool connection runs, Jessie J opened up about singing with Adele during lunch hour. "We were in the same year! We used to sing at lunchtime together," Jessie J recalled of her days with Adele (via People). "Obviously at that time we didn't realize that we'd both [eventually] have music out. But she's amazing. She was always that really bright energy at school." Well, we can't say we're surprised about Adele's bright energy — the girl is definitely a shining star. 
Although Adele and Jessie didn't hang out with Winehouse, their admiration for her ran deep. In fact, Adele has credited Winehouse's album, Frank, as inspiration for her music. "Contrary to reports, me and Amy didn't really know each other, we weren't friends or anything like that," Adele revealed to i-D magazine. "I went to Brit School and she went for a little while. But a million per cent if I hadn't heard Frank this wouldn't have happened. I adored her." How sweet.