The LFO Curse: The Tragic Timeline Of The Band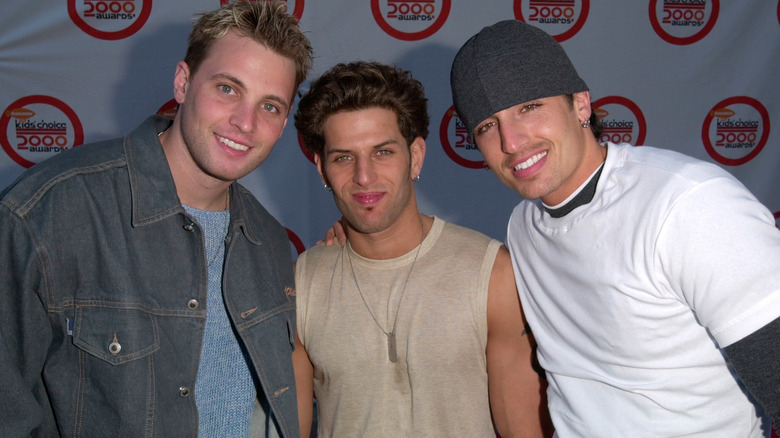 Featureflash Photo Agency/Shutterstock
LFO, short for Lyte Funkie Ones, was a popular American band that formed in the late 1990s, during the pinnacle of the boy band era. Who remembers the frosted tips trend? During the late '90s and early 2000s, teenage "fan-girls" could not get enough of groups like LFO, Backstreet Boys, 98 Degrees, and N'SYNC, to name a few. Lyte Funkie Ones consisted of Rich Cronin, Devin Lima, and Brad Fischetti — plus former founding member Brian Gillis (who dropped out of the band before the group achieved mainstream success), and was replaced by Lima. 
It's safe to say that LFO's catchy songs ("Summer Girls," anyone?) and sweet boyish charm helped define the era known as Y2K, or the "new millennium."  Despite their success, LFO faced difficulties over the years. Cronin was diagnosed with leukemia and had to take time off from touring to receive treatment (we'll get to that later), and their second album didn't exactly make the Top 10. The pop group was seemingly "cursed" — between the deaths of their keyboard player, producer, record label head, and actual band members. Shockingly, Brad Fischetti is the only surviving member of the band today, and still tours the country to honor the LFO legacy.
Fischetti tells a Nicki Swift staffer exclusively, "It's my unfortunate honor to be left to nurture the LFO legacy. My mission in LFO is to honor Rich, honor Devin, honor the legacy, and bring the fans back to a simpler time." We're not crying — you are!
LFO peaks in 1999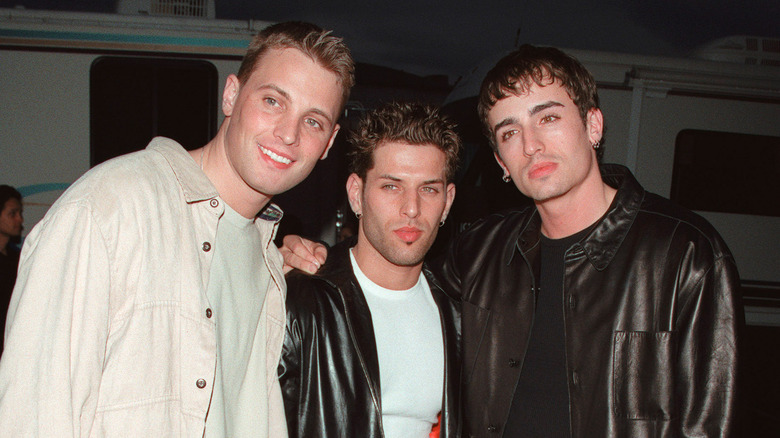 Featureflash Photo Agency/Shutterstock
By 1999, LFO was touring with the princess of pop herself, Britney Spears, who was also rising to stardom at the young age of 18. This gave LFO an opportunity to perform in front of large audiences and gain exposure to new fans, becoming even more of a household name. The tour was a massive success, selling out arenas across the USA, helping cement the boy band's place in the pop music scene. This allowed them to contend with the likes of their competition — it was all about the boy bands! Their popular hit "Summer Girls" topped the Billboard Hot 100 charts at No. 3 in 1999, boasting unforgettable lyrics like "Chinese food makes me sick, you look like the girl from Abercrombie and Fitch." The song charted over singles from top artists like Destiny's Child, Jennifer Lopez, and the Backstreet Boys. Rich Cronin even got to flex his amazing rap and hip-hop skills, making all the teenage girls fall head over heels in love.
Following the 1999 tour, LFO released their self-titled debut album, which unsurprisingly also charted on Billboard. The album included the hit single "Summer Girls," of course. The single sold over 1.5 million copies in the U.S. and received a Billboard Music Award for top selling single of the year. The group's debut album also included hits such as "Girl on TV" and covers like "If I Can't Have You." Things were going amazingly well for the group.
Rich Cronin dates Jennifer Love Hewitt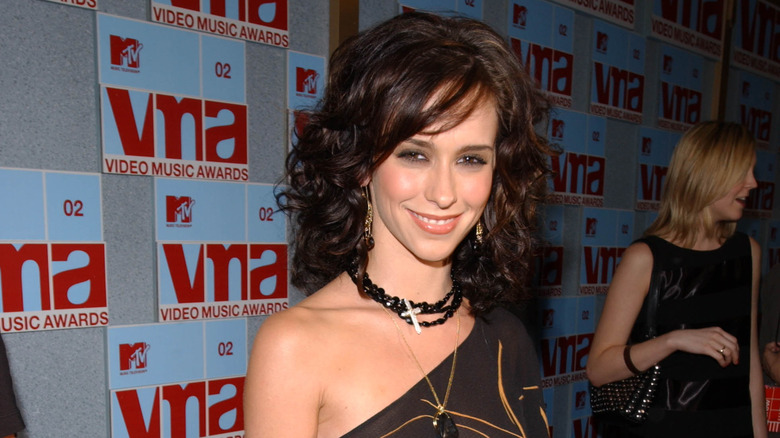 Frank Micelotta Archive/Getty Images
Rich Cronin and popular '90s actor Jennifer Love Hewitt met backstage at an awards show in 1999, and began dating shortly thereafter. It was only a matter of time before Hewitt became the inspiration of LFO's hit single "Girl on TV."  The lyrics included sweet rhymes like, "Met her at a counter affair, she wore a green dress and everybody was there, felt out of place, till she looked into my eyes."  Awwwww, who could resist? Hewitt even made an appearance in the "Girl on TV" music video, which came in at No. 13 on the popular MTV show, "Total Request Live." Talk about a throwback– hi, Carson Daly!
Cronin and Hewitt eventually ended things. It appeared that it was Hewitt who wanted out, not Cronin. He told the San Francisco Gate, "It went from 'I love you' every day to, literally, within a week, 'I hate you, don't ever call me again.' The last time I talked to her, she said, 'I've got to go. You've hurt me too much. I don't want you to make me upset again.'" Cronin goes on to say that he left Hewitt many messages, which she never returned. He later learned that she made a few public appearances with actor Patrick Wilson, and the two were seemingly a new couple. The singer admitted to being jealous, thinking, "When I see him, I'm going to knock him out." Thankfully, Cronin and Wilson never crossed paths!
The group disbands in 2002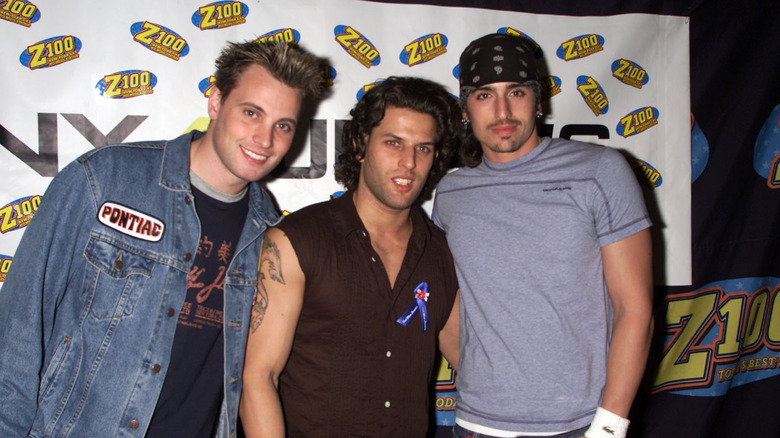 Gabe Palacio/Getty Images
With every success story, there's always the pitfalls. There were some obvious issues within the pop group that ultimately led to their disbandment. Their second and final studio album, "Life is Good," was considered a flop. Brad Fischetti admits that perhaps they weren't being totally authentic to themselves. "We were so desperate to be respected by people who respected, like, Sugar Ray or 'All Star,'" Fischetti tells The Ringer.  "We went a little too far on trying to be more rock-y, you know what I mean?" This appeared to be the main reason that led the band to take a break in 2002, with every intention of reuniting in the future. With that, the three singers went their separate ways.
Devin Lima went on to pick up some small acting roles in films like in "Longshot" and "American Pie Presents: Beta House." Brad Fischetti made headlines for his activism in participating in anti-abortion protests after tweeting about it himself (tweets have since been deleted), and continued to try and make music with Lima. Sadly, Rich Cronin was diagnosed with leukemia in 2005 as he began working on his first and only solo album, "Billion Dollar Sound," which was eventually released in May of 2008. Jeff Timmons of 98 Degrees also recalls working with Cronin in 2007 and getting to know him on a "silly reality show" for VH1 called, "Mission Manband," which he exclusively shared with a Nicki Swift staffer.
Rich Cronin dies from cancer at the age of 35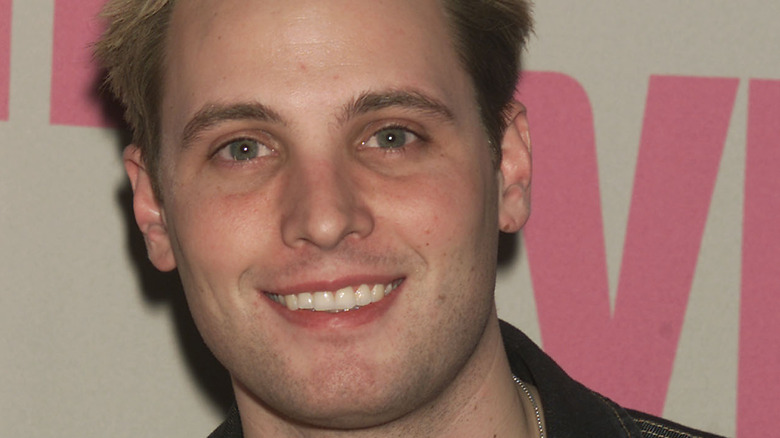 Scott Gries/Getty Images
On March 28, 2005, Rich Cronin was diagnosed with acute myelogenous leukemia, the most common type of acute leukemia in adults. Cronin first started experiencing symptoms like weight loss and fatigue, and thought he may have mononucleosis. It was his family that urged him to see a doctor after witnessing his gaunt appearance. "I just know that four hours before I got that phone call, I was just some dude with mono, then all of a sudden I was a cancer patient," he told Boston.com. Cronin began chemotherapy shortly after receiving the diagnosis and was admittedly afraid. For the next five years, Cronin would continue to perform, release his solo album, and work to the best of his ability. He even donated all the proceeds from his solo album to the Leukemia & Lymphoma Society. "I'm scared to death at this point. It is a nightmare of a situation to be in, but I really want to make something positive out of this." 
Rich Cronin died on September 8, 2010 at the age of 35, after suffering a stroke in the hospital while being treated for the cancer that never went away. Cronin's close friend Jeff Timmons exclusively told a Nicki Swift Staffer, "He was quietly one of the most talented people I've ever encountered. A true genius who I think of often and deeply admired. Rich was a breath of fresh air." 
Brad Fischetti and Devin Lima write LFO's last song in 2017
Brenda Chase/Getty Images
In 2017, the final LFO song was released by Devin Lima and Brad Fischetti, titled "A Perfect 10," an upbeat and catchy pop song where the duo describe their "perfect girl." Fischetti made it clear that he and Lima aimed to make their best friend and late bandmate, Rich Cronin, proud. "We're sincerely thankful and excited to have the opportunity to create new music and tour again. We miss the presence of our late great brother bandmate Rich Cronin. We will do our best to make him proud, carry on his legacy, and to usher LFO into the future," he told Entertainment Weekly.  
Fischetti also stated that Cronin truly never wanted the group to end, as he spoke to him 10 days before he died in 2010. "He said, 'Listen man, people still care about us,'" Fischetti remembered.
"I know Rich loved LFO, and when you love something, you don't want to see it end," Fischetti stated to The Ringer. "We just wanted to keep the name alive, and go out there and bring some joy to the fans." With the release of their 2017 song, Fischetti and Lima had plans to tour before their aspirations were cut short with even more devastating news — Fischetti was about to lose another bandmate and close friend to cancer.
Devin Lima dies from cancer in 2018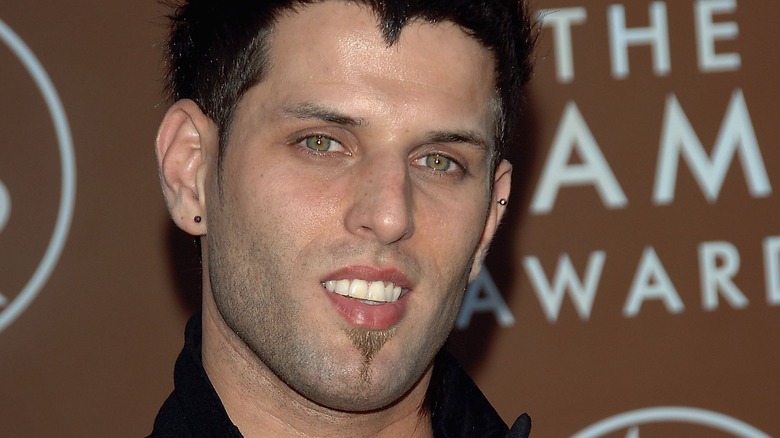 Stephen Shugerman/Getty Images
It came as a shock to many that cancer would come after not one, but two members of LFO. In 2018, Devin Lima died from stage four adrenal cancer, after a 2017 diagnosis. Fans thought Lima would pull through after he and Fischetti posted a video on YouTube of Lima post-surgery after the removal of a large tumor, where the two appeared to be laughing and joking. "Tom Brady called me up, he said I'm going to pass it around," Lima joked of the football-sized mass, to which Fischetti replied, "You're minus one kidney, but you're still beautiful." Unfortunately, Lima's cancer spread and was ultimately too much to overcome.
On November 21, 2018, the world lost another member of LFO. "My son has passed away," Filomena Lima (Devin's mother) told Us Weekly. "His fiancée was living with him and let us know that he passed at 2:45 in the morning. He was struggling for 13 months since his cancer diagnosis. The family is not good."  Devin Lima sadly left behind his fiancée and six children. According to a statement by Brad Fischetti, "A few days before he passed away, he said to me, 'Bro, when it's over, just tell them I disappeared.' My friends — Harold 'Devin' Lima has disappeared."
Founding LFO member Brian Gillis dies in 2023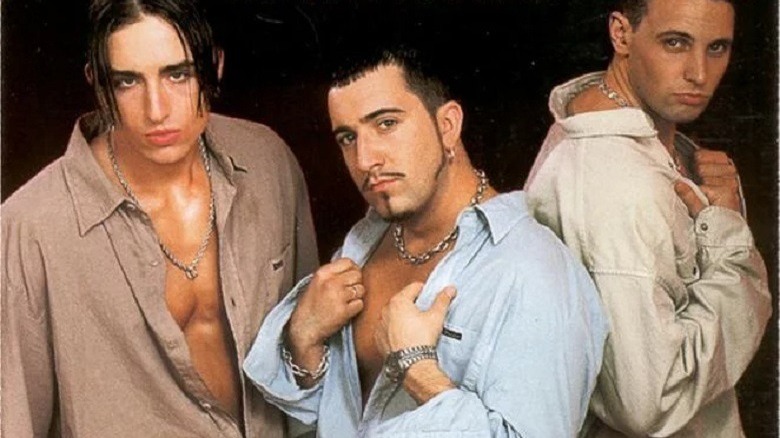 BMG
The LFO tragedy continued in 2023 when founding member Brian Gillis (pictured on album cover above, center) died at the age of 47. It must have felt like true deja vu to lone member Brad Fischetti, as he took to his Instagram to mourn yet another loss of a bandmate and friend. "Every story is made up of chapters. Some develop naturally. Some you have to cut up in your mind. The first two chapters of the LFO story lost a main character yesterday. Brian 'Brizz' Gillis passed away." 
Gillis' cause of death remains unclear, but Fischetti went on to state he is still processing another unfathomable loss. His last statement on the Instagram post truly pulled at the heartstrings. "I know that soon or maybe already, Brizz will be greeted by Rich and Devin. And I hope that together, they will make some sweet sounds. I would really like that." Instagram users expressed their sadness and shock in response to the post.
Fischetti also kindly attributed much of LFO's success to Gillis' hard work and dedication from the early days of LFO, stating that if it wasn't for him, the group couldn't have existed. Rest in peace, Brian.
Brad Fischetti says he's not afraid of the so-called LFO 'curse'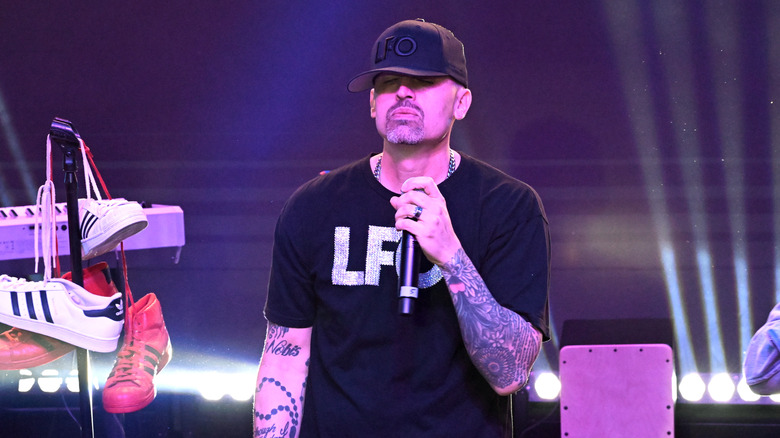 Michael Kovac/Getty Images
Brad Fischetti has been open about his willingness to continue making music and perform despite the so-called "LFO curse." Despite losing three of the original LFO band members all before the age of 50, along with having a corrupt manager (who also happens to have died), Fischetti remains determined to keep the LFO legacy alive. He has continued to tour with other boy band members like Jeff Timmons (98 Degrees) and Erik Michael Estrada (O-Town) and has even released new music under the LFO name. Fischetti told TMZ, "Is there an LFO curse? I hope not. I hope I get to live a long life. I don't think we'll understand why this happened until we reach the next life." He goes on to list the many other people affiliated with the group who also abruptly passed away.
In the end, it's clear that Brad Fischetti is not afraid of the supposed curse. He remains dedicated to his craft and to the memory of his bandmates. Through his music, Fischetti is keeping the spirit of LFO alive, and his fans are grateful for it.