Did Nicole Kidman Come Between Tom Cruise And His Ex-Wife Mimi Rogers?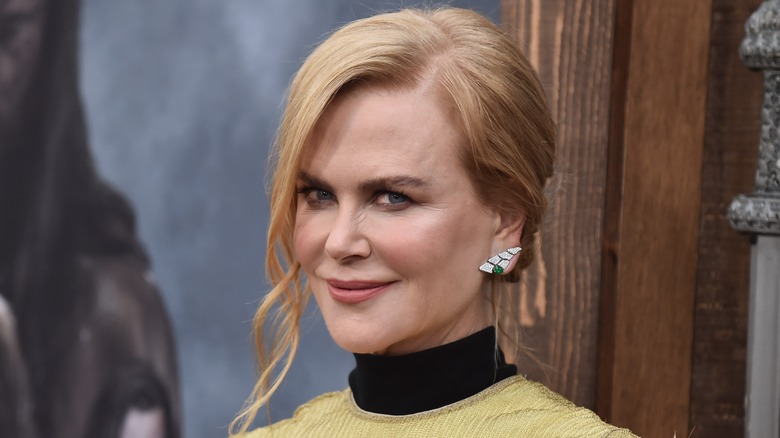 DFree/Shutterstock
Tom Cruise and Mimi Rogers were married for three years before splitting in December 1989. Per the Chicago Tribune, Rogers was the one who introduced Cruise to Scientology, and everyone knows how that played out. Still, not everyone knows why Cruise and Rogers divorced in 1990 and what part, if any, his second wife, Nicole Kidman, played in the split.
In his wild oat-sowing youth, Cruise wasn't just another hot young Hollywood wanna-be struggling to make it big — he was also quite the ladies' man by all accounts. Cher admitted to Andy Cohen that Cruise lived with her for a while and ranked among her top five best lovers ever. However, all that ceased after Cruise and Rogers wedded secretly in 1987. The new groom suddenly performed a 180 and became unwilling to fill his bride's love tank.
"Tom was seriously thinking of becoming a monk. At least for that period of time, it looked as though marriage wouldn't fit into his overall spiritual need," Rogers told Playboy (via E! News). "And he thought he had to be celibate to maintain the purity of his instrument." However, "My instrument needed tuning," she explained. However, it appears Cruise's instrument was thoroughly purified and ready for action when he met Kidman in 1989. He told Entertainment Weekly that it was "pure lust" at first sight and that their early days together were "totally physical" — begging the question, did Nicole Kidman come between Tom Cruise and his ex-wife Mimi Rogers?
A hazy timeline and a lightening fast marriage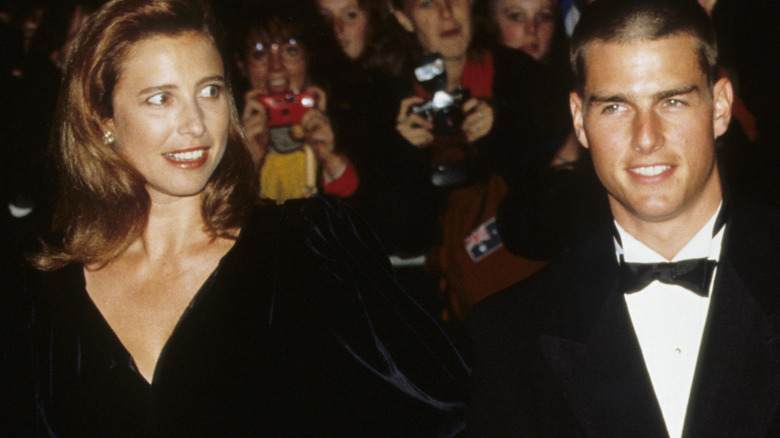 Georges De Keerle/Getty Images
The timeline between Tom Cruise breaking up with his first ex-wife, Mimi Rogers, and hooking up with his now-second ex-wife, Nicole Kidman, is somewhat hazy. According to Andrew Morton's unauthorized biography of Cruise, despite it taking until January 1990 for him to officially file for divorce, Cruise told Rogers he was dumping her on December 9, 1989.
By his own admission, the actor had fallen in lust the second he first set eyes on Kidman — which was at her reading to play Cruise's "Days of Thunder" love interest. "I walked into the [audition], and [Tom] was the one that stood up and shook my hand. And I just remember . . . electricity going through me," she told BBC (via Us Weekly). Principal photography on the film began on December 11 — two days after Cruise had informed Rogers they were over. Ten months after the divorce was finalized, Cruise and Kidman got married on Christmas Eve, 1990.
"I was so young when I got married. I look back now, and I'm like, 'What?'" Kidman told Red magazine. "I had two kids by the time I was 27, and I'd been married for four years. But that's what I wanted," she continued. Despite the questionable timeline and their self-professed hot and steamy instant sexual attraction, neither Cruise nor Kidman ever admitted to anything inappropriate happening between them before his marriage to Rogers was over.
Onwards and upwards as another one bites the dust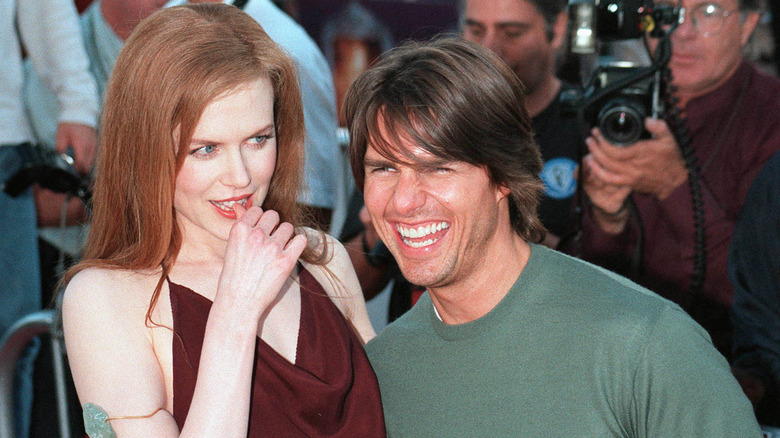 Featureflash Photo Agency/Shutterstock
As is often the case, there were several factors behind Tom Cruise's decision to divorce Mimi Rogers — whether Nicole Kidman was one or not. "Before Nicole, I was dissatisfied, wanting something more," Cruise admitted to Talk magazine, per Today. "It was just two people who weren't meant to work, and it wasn't what I wanted for my life. But it wasn't Mimi's fault; it was just the way it was."
Meanwhile, Andrew Morton — author of the unauthorized biography on Cruise – had his own opinion on why the actor split from Rogers. "Of course, the sexual chemistry between Tom and a younger woman," he wrote as being one of the motivators. Morton also blamed "their fiercely demanding work schedules, Tom's stated desire to start a family, [and the influence] of his new faith." Whatever the reasons were, Cruise's claims about his feelings for Kidman were definitely more convincing than his "Far and Away" attempt at an Irish accent.
There was no couch jumping during Cruise's 1992 interview about his new wife. Still, all of the hyper enthusiasm and nervous energy was there. "Nicole's always very [sexually] exciting," a laughing and giddy Cruise told Barabara Walters. "The interesting thing about Nicole is that she can surprise me." However, the tables were turned in 2000 when Cruise surprised Kidman — totally blindsiding her by filing for divorce. "Our life together was perfect," she told People. "It was a shock to my system."