Who Is Fernando Alonso, The F1 Driver Sparking Rumors With Taylor Swift?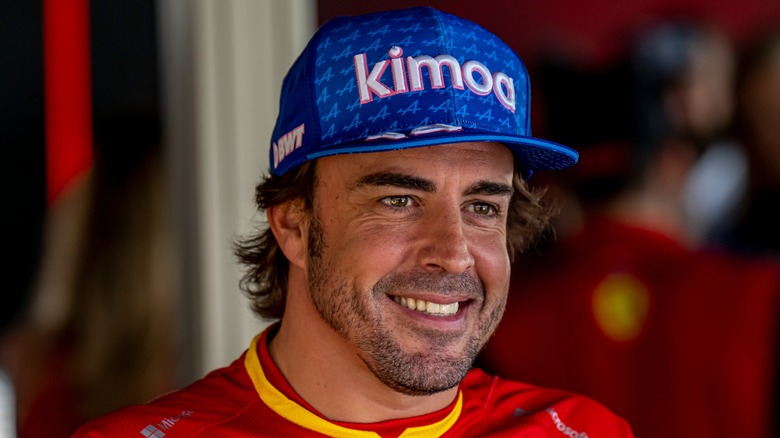 motorsports Photographer/Shutterstock
Just when fans were getting over Taylor Swift and Joe Alwyn's breakup last month, the singer-songwriter made headlines again when there was talk that she was seeing Fernando Alonso. The rumor first started when Deuxmoi shared an Instagram story (via The New York Post) about an anonymous email that read, "A couple of Spanish magazines have been posting about TS and Spanish F1 driver Fernando Alonso. According to them, the couple has been seeing each other for a week now. Nothing serious tho since they are both recently single."
While neither Swift nor Alonso confirmed the rumors, the race car driver did nothing to dispel them. He shared a TikTok of himself winking at the camera while he played Swift's song "Karma." In another video, he is seen working out, with "22" playing, and made a cheeky reference to Swift by writing, "Im lifting 22's," with a winky emoji. Now that he's on Swifties' radar, many are curious to know more about Alonso, and here's more to know about the Formula One driver.
Fernando Alonso was a teenager when he won his first race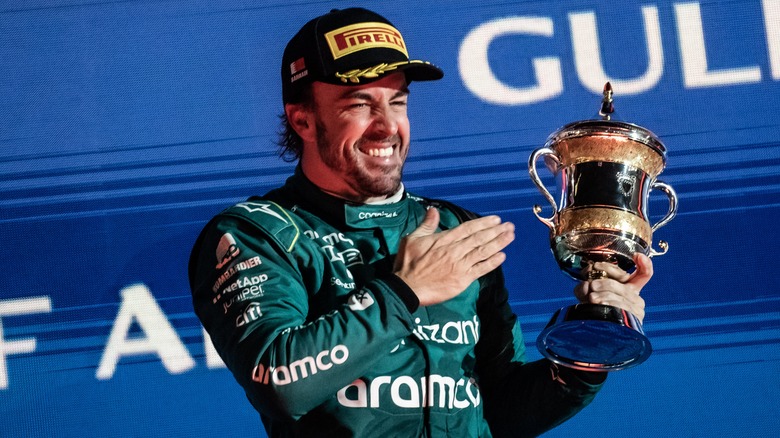 cristiano barni/Shutterstock
Fernando Alonso's love of racing stems back to when he first rode a go-kart made by his father when he was three years old. Since then, he competed in karting competitions and won his first race in 1996. Alonso celebrated a streak of wins at the age of eighteen when he raced in the Euro Open by Nissan in 1999, which led him to hone his skills in Formula 3000 in 2000 and then Formula 1 the following year.
In 2022, Aston Martin announced that Alsonso would be joining their team of racers in 2023, with the racecar driver signing a multi-year deal with the company. "This Aston Martin team is clearly applying the energy and commitment to win, and it is, therefore, one of the most exciting teams in Formula One today," the Spanish driver stated on their website. "No one in Formula One today is demonstrating a greater vision and absolute commitment to winning, and that makes it a really exciting opportunity for me," he continued.
Alonso's passion for racing is apparent and when asked about Taylor Swift, he preferred to focus on his professional life. "I usually keep my personal and professional life apart. I prefer not to comment on it," he stated to Marca, (via the Mirror). If he is indeed dating Swift, the two share something in common, as Alonso has also dealt with a very recent breakup of his own.
Alonso recently broke up with longtime girlfriend Andrea Schlager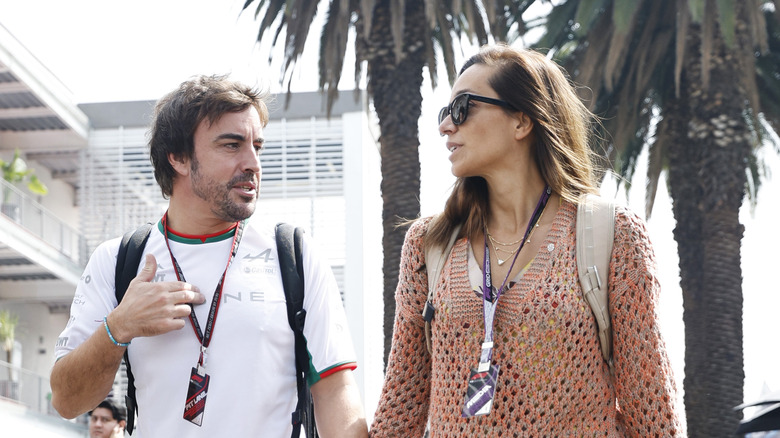 Jared C. Tilton/Getty Images
Taylor Swift is not the only one experiencing a recent heartbreak. As reported by Sports Illustrated, Fernando Alonso announced early in April via an Instagram Story that he and his girlfriend, Andrea Schlager, were parting ways. Sharing a pic of the two, Alonso wrote, "We wanted to tell you that our relationship as a couple ended. We have been lucky enough to share a fantastic time together, and it will continue to be so, but on a different form of affection." The Formula 1 driver continued to tell fans that he and Schlager, who is a sports commentator, would still remain friends and work together.
Alonso's first and only marriage to date was with Spanish singer, Raquel del Rosario, whom he married in 2006 and divorced in 2011. He was also previously engaged to Spanish reporter Lara Alvarez but the two ended their one-year relationship in 2016. In 2018, Alonso took a break from racing and stated, "You dedicate your entire life to Formula One. You have no friends, no family, no free time, no privacy, no wife, no kids, no nothing. It's just full dedication if you want to succeed. So I have other priorities right now," per The Guardian. However, his retirement was short-lived and he won the Daytona 24 Hours in 2019, proving that racing is one of his greatest passions.