Amanda Peet's Husband David Benioff Has His Own Claim To Fame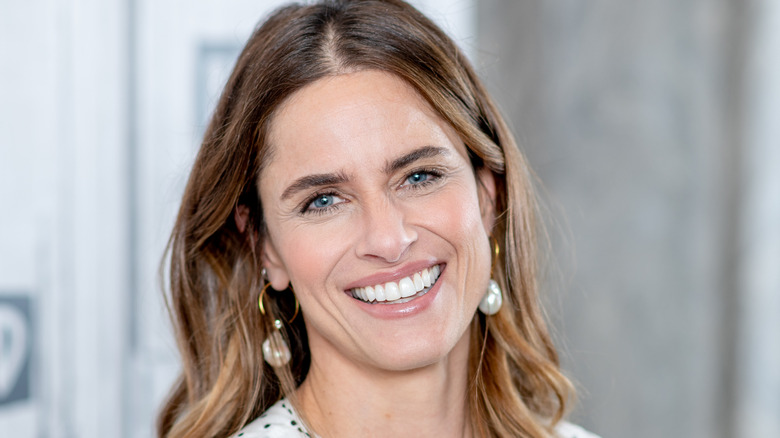 Roy Rochlin/Getty Images
Amanda Peet is one of those rare Hollywood stars who have managed to keep a long-term relationship alive, even amidst the pressures of fame. Peet has been with David Benioff since 2002, a year after the conclusion of The WB's "Jack & Jill," the series that marked her first major role. After four years, Peet and Benioff tied the knot in September 2006, just a few months before they welcomed their first daughter, Frances, in February 2007. 
The "Dirty John" star and Benioff expanded their brood in April 2010 with the addition of Molly and completed their family in December 2014 with the arrival of Henry. Peet and Benioff's relationship has largely unfolded away from the spotlight, with neither being on social media. Before falling pregnant, getting engaged, and getting married, all in 2006, Peet rarely talked about her private life, having refused to comment on it during an interview with the Massachusetts Daily Collegian the previous year. 
When Peet married Benioff, he was perhaps better known for the people he was associated with. In addition to being Peet's husband, Benioff is also the son of former Goldman Sachs chair Stephen Friedman. (Benioff opted to use his mother's maiden name professionally because "he didn't want to be known as the 50th David Friedman in Hollywood," author William D. Cohan told The New York Times.) But that definitely changed in 2011. Even if his name doesn't ring a bell, the show he's responsible for bringing to life certainly will.
David Benioff is the co-creator of Game of Thrones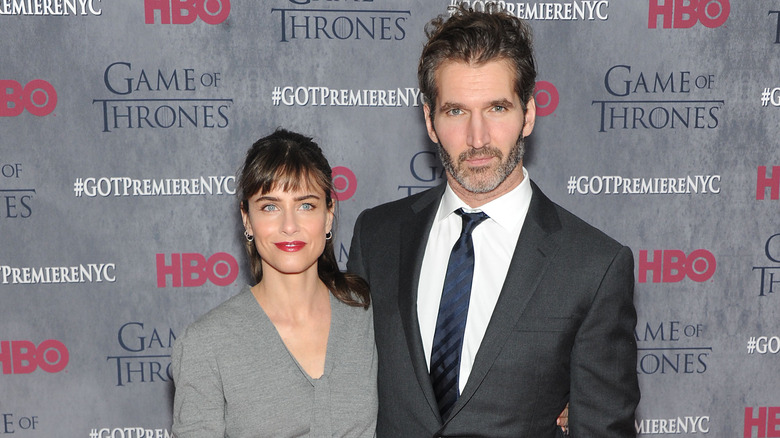 Jamie Mccarthy/Getty Images
When Amanda Peet got married, People announced she had wed her "screenwriter beau," an unlikely headline had they said "I do" five years later. Benioff, along with D.B. Weiss, pitched "Game of Thrones" to HBO in 2006, even though Benioff had never worked on television. "People are hungry for 'Game of Thrones,'" they wrote in their letter to the network. "They are starving for it, and when we give it to them, they will wolf it down."
Even if they believed it, Benioff and Weiss couldn't have predicted what would come next. With record-breaking viewership, the show based on the books by George R. R. Martin became an instant phenomenon — so much so that fans became fervently possessive over its plot. When the "Game of Thrones" series finale came out in April 2019, fans launched a Change.org petition asking HBO for a do-over. "David Benioff and D.B. Weiss have proven themselves to be woefully incompetent writers ... This series deserves a final season that makes sense."
Regardless of criticism, "Game of Thrones" remains one of the world's most popular shows. Aside from the hit series, Benioff was already a known screenwriter in Hollywood, having previously written the book "25th Hour" and then adapting it for the film directed by Spike Lee, in addition to screenwriting "Troy," and "X-Men Origins: Wolverine." Benioff is also set to work on another book-based series, "The Three-Body Problem," for Netflix. 
Amanda Peet threatened to end their marriage over GoT cliffhanger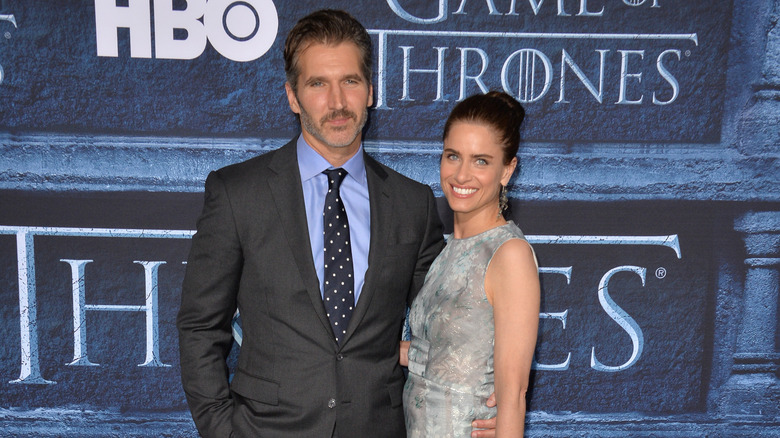 Featureflash Photo Agency/Shutterstock
Every "Game of Thrones" fan felt like throwing their remote at David Benioff and D.B. Weiss for seemingly killing off Jon Snow at the end of Season 5 in June 2015. That also included Amanda Peet. But because viewers felt that the arc of the character portrayed by Kit Harington was incomplete, they immediately started to speculate (or maybe hope) that he wasn't actually dead. Peet was also included in that group. In fact, she jokingly threatened to end their marriage if Benioff didn't revive Show. 
In a February 2016 interview with Today, Peet said she hoped it didn't have to come to that. "I hope I'll stay married after this season begins because if I don't see Jon Snow living and breathing and talking..." she laughed [2m44s]. Ahead of the Season 6 premiere, Peet pressed her husband for videos of the set in hopes of catching a glimpse of Harington. "I told David he can't be on a funeral pyre and he has to be speaking," she told Refinery29 in March 2016.
On April 24, 2016, Peet sat on the couch holding her breath like the rest of us because Benioff takes his job seriously. "It's a little bit like being married to someone in the CIA or something, except for not as important," she said on "Jimmy Kimmel Live!" referring to Benioff's efforts to hide the details. Snow did come back from the dead, and Benioff's marriage remained intact