Halsey And G-Eazy Split After 1 Year Together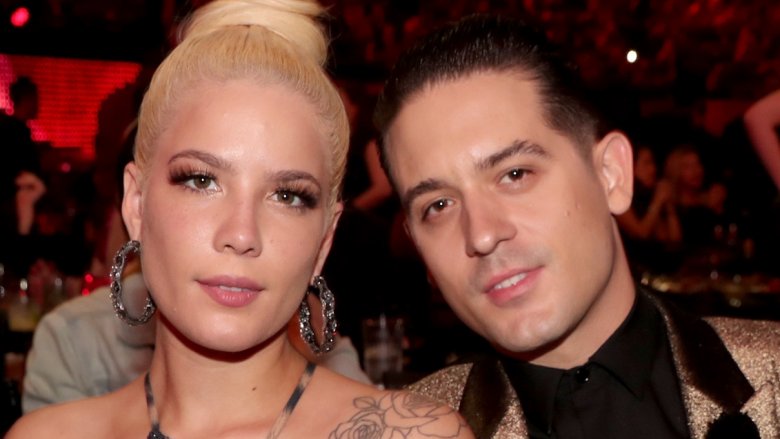 Getty Images
Halsey and G-Eazy are over.
On Tuesday, July 3, 2018, Halsey (real name Ashley Frangipane) took to her Instagram Story to announce that she and the rapper had broken up. "I normally keep this kind of thing private but provided our public nature I feel the need to inform my fans," the "New Americana" singer began, as reported by E! News. "G-Eazy and I are taking some time apart."
Halsey continued, "I'm eager to continue the upcoming passage of time dedicating myself to my art and my career, and the duration of my tour. I wish him the best. Thanks for respecting our privacy at this time."
In addition to her statement regarding her split from G-Eazy, Halsey also reportedly deleted many of the photos of her and her now-ex together from Instagram.
At the time of this writing, G-Eazy has yet to comment on the break up.
Fans had previously wondered if the two had gone their separate ways after Halsey posted a photo of herself with her dog, writing, "Kiss my dog on the forehead and then kiss ur a** goodbye." The caption was in reference to Drake's song "8 out of 10," which has the lyrics, "Kiss my son on the forehead then kiss your a** goodbye."
Halsey and G-Eazy had dated for one year. In May 2018, Halsey opened up about her relationship to E! News while at the Billboard Music Awards. Noting that G-Eazy had been "really persistent" in regards to starting a relationship, Halsey said, "He really wanted to hang out and really wanted me to like him a lot. It took me a while to be like, 'Fine. Okay I like you back.'"
Though she joked that she "got tricked" into their relationship, she admitted, "I'm glad I did."