Serena Williams And Drake Supposedly Had A Low-Key Fling Back In The Day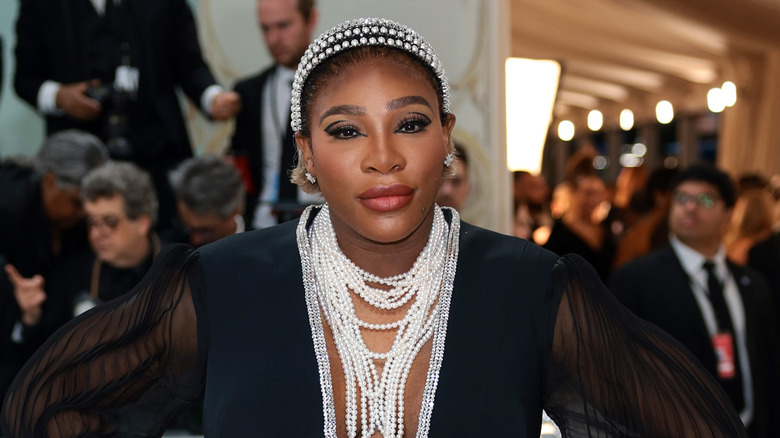 Dimitrios Kambouris/Getty Images
It's no secret that tennis GOAT Serena Williams had somewhat of a stacked roster prior to meeting her now-hubby, Alexis Ohanian. 
Over the years, the athlete has been linked to other well-known names like Common, Amar'e Stoudemire, Jackie Long, Brett Ratner, Keyshawn Johnson, and even (reportedly) her former tennis coach Patrick Mouratoglou. After connecting with Ohanian, Williams herself was surprised that she eventually fell in love with the Reddit mogul. "I'm an athlete; He's a business guy. I'm black. He's white. We are totally opposite," Williams told the New York Times in 2018. "I think we just complement each other. I think we understand hard work in different ways."
But as it turns out, there was someone else who was shocked to learn Williams was marrying Ohanian: Canadian actor turned rapper Drake. The story goes that the tennis pro and the rapper were somewhat of an item for a brief period. But what really went down between the unlikely pair? Here's what we know... 
Drake was one of Serena Williams' biggest cheerleaders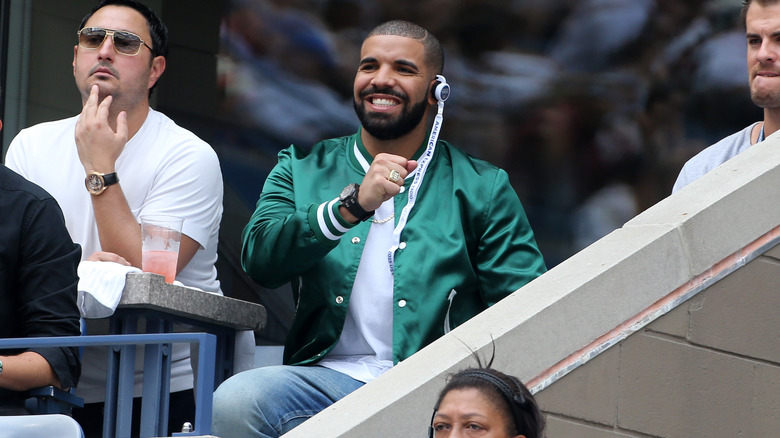 Jean Catuffe/Getty Images
The story goes that, way back in 2011, rapper Drake randomly started showing up and supporting Serena Williams at her tennis matches. But in August of that same year, antennas went up everywhere when Drake penned a tweet that read, "I cannot wait to put it on you and make you sweat ... during our match this weekend." Well, alrighty then! Williams, however, was adamant that the relationship the pair shared was strictly platonic. "We've been friends for, like, so many years. Just like family," Williams told a curious reporter in July 2015 when asked about Drake's attendance at her matches. 
Interestingly enough, however, TMZ caught the so-called platonic pals smooching it up at a fancy Italian restaurant in Cincinnati in late August 2015, only one month after Williams referred to Drake as "family." But that's not all. A source told E! News that Drake was definitely in his feelings regarding the tennis legend. "Drake has always had a huge crush on Serena, so he is on cloud nine and will continue to court her as much as he can," the insider revealed. 
Drake lashed out at Serena Williams' husband in one of his songs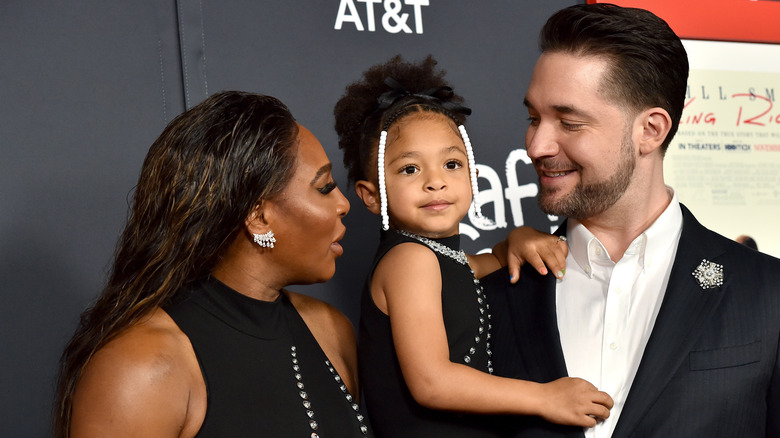 Axelle/bauer-griffin/Getty Images
Sadly, however, it appears "Search and Rescue" crooner Drake wasn't thrilled to learn that Serena Williams had said "yes" to internet entrepreneur Alexis Ohanian in December 2016. It's rumored that his song "Nothings Into Somethings" is about the tennis star. "I'm still posted up where you first found me / Did I just read that you just got engaged on me? / I heard from your friend, you couldn't even tell me / Or better yet, wait on me," he belts out on the track. Ruh-roh. Williams and Ohanian first met in Rome in May 2015, but Williams and Drake were caught canoodling in Cincinnati in August of the same year. We'll let you do the math on that one.
Alas, that wasn't the only track that got people talking. Drake took a direct swipe at Ohanian in the song "Middle of the Ocean."  He rhymed, "Sidebar, Serena, your husband a groupie / He claim we don't got a problem but / No, boo, it is, like you comin' for sushi / We might pop up on 'em at will like Suzuki." Yikes. It should be noted, however, that Williams' hubby served up a shady remark right back to him. "The reason I stay winning is because I'm relentless about being the absolute best at whatever I do — including being the best groupie for my wife & daughter," Ohanian penned in a now-viral tweet. Your serve, Drake.