Body Language Experts Decode Harry's Reaction To Coronation Snub Seating - Exclusive
Wpa Pool/Getty Images
Britain has crowned its new king and, as expected, the historic event was nothing scarce of famous faces. Of the many stars who graced Westminster Abbey, few caught the public's attention like estranged royal Prince Harry, who traveled to the UK without wife Meghan Markle and their two children, Prince Archie and Princess Lilibet. "Buckingham Palace is pleased to confirm that The Duke of Sussex will attend the Coronation Service at Westminster Abbey on 6th May. The Duchess of Sussex will remain in California with Prince Archie and Princess Lilibet," the royal family announced back in April, per the Daily Mail.
In the days leading up to the coronation, questions arose as to what role the Duke of Sussex would play and, most importantly, where he would be seated. Despite initial rumors that the seating arrangements would be made to follow the order of succession, The Sun confirmed otherwise. "There were discussions that the seating could be arranged on line of succession," a source told the outlet. "Instead the decision was working royals only at the front and work back from there. Harry will be a long way from his father."
True to the insider's claims, Harry arrived at Westminster Abbey in the company of his cousins Princess Eugenie and Princess Beatrice, with whom he would later be seated in the third row. Given his former position in the royal family, many have been left wondering: How did Prince Harry really feel about this obvious snub?
Prince Harry was not comfortable in his seat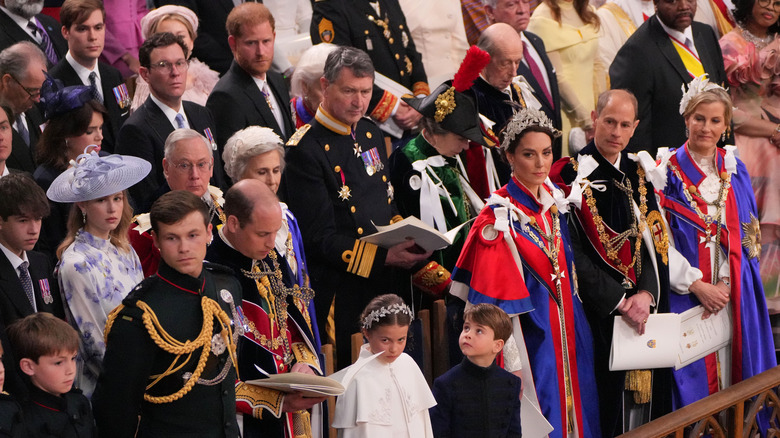 Wpa Pool/Getty Images
Seated a distant third row from his brother William, Prince of Wales, one might expect Prince Harry to have been a tad defiant toward the royal family. Instead, body language expert Mark Bowden told Nicki Swift the prince's body language suggested he was not in his usual defensive state. Nonetheless, he didn't seem too pleased with his seating position. "He takes time to settle into his third-row seat as a non-senior member of the non-working royals. He shifts his weight and adjusts in his chair, showing some level of physical and potentially psychological discomfort," Bowden explained.
Despite his apparent discomfort, however, Harry exuded a sense of pride, showing off some of the medals he received from his late grandmother, Queen Elizabeth II. With this act, Bowden believes the prince demonstrated that he still feels a sense of duty to the monarchy. And, perhaps in his biggest attempt to ease up to his seating position, the prince engaged in a light-hearted conversation with his cousins, letting out heartfelt smiles in between. "Today, Harry seems to play the role of a fun and dutiful family member, balancing the more austere composure of the senior working royals from whom he has been placed at a distance," Bowden added.
Of course, the coronation was not the first time Harry has been snubbed by his estranged family. At Queen Elizabeth's funeral back in September 2022, Harry and his wife Meghan Markle were seated in the second row, beside Princess Beatrice and right behind King Charles and the Prince of Wales, as reported by Page Six. 
Prince Harry tried his best to fit in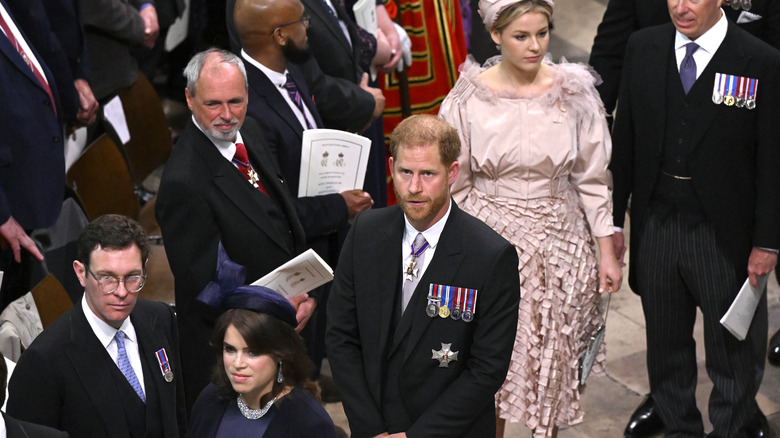 Gareth Cattermole/Getty Images
In the procession leading up to King Charles' coronation, Prince Harry walked into Westminster Abbey alone. While his cousin Princess Eugenie and her husband, Jack Brooksbank, walked ahead of Harry, Princess Beatrice and her husband of three years, Edoardo Mapelli Marza, walked behind him. Despite his solitary status, Harry walked down the aisle chatting with his cousins — a move body language expert and author of "A.W.E.S.O.M.E." Jess Ponce III told Nicki Swift did little to help relax the former working royal. "One could not help, but feel for Prince Harry as he walked into the church," Ponce explained. "He knew that all eyes were on him, and it appeared he did his best to be as comfortable as possible."
And despite his attempt at maintaining a decent composure, Ponce argues that Prince Harry was in fact looking to fit in with the rest of the congregation. "You could see this by him continuously fidgeting with his outfit and him looking around to all sides of him," he added. "He is figuratively and literally trying to sort out his place. Literally alone, he did his best to fit in, although all indications point to a need for an ally."
But, while he might have wanted to fit in with the rest of his family, Harry did not try for too long. Right after the coronation ceremony at Westminster Abbey, Harry jetted back to California where he's expected to join his son Prince Archie's 4th birthday celebrations, per Entertainment Tonight.