Damn Yankees Star Tab Hunter Dead At 86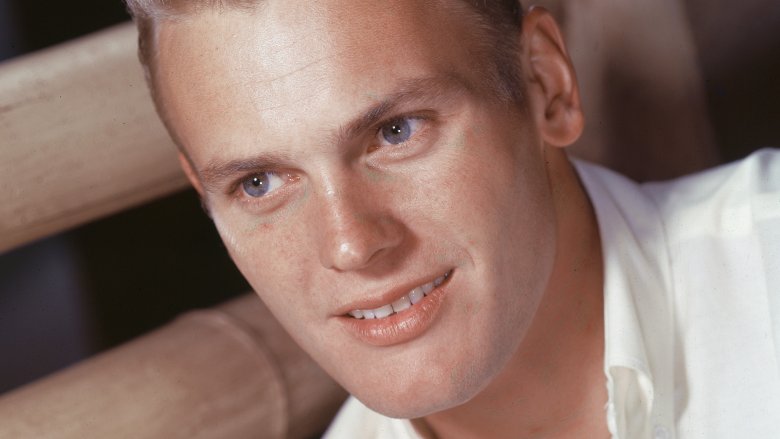 Getty Images
Tab Hunter has sadly passed away.
On Monday, July 9, 2018, the official Facebook page for the Tab Hunter Confidential documentary announced that the legendary actor had died on Sunday evening. He was 86 years old.
"SAD NEWS: Tab passed away tonight three days shy of his 87th birthday," the post read, captioning a side-by-side pair of Hunter's headshots. "Please honor his memory by saying a prayer on his behalf. He would have liked that."
Hunter's longtime partner, Allan Glaser, also confirmed the sad news to The Hollywood Reporter. Calling his death "unexpected and sudden," Glaser revealed that he'd died of a heart attack, which was caused by a blood clot, in Santa Barbara, Calif.
The Hollywood icon first rose to fame as a heartthrob in the 1950s. Best known for portraying Joe Hardy in the 1958 film adaptation of the musical Damn Yankees!, Hunter went on to star on The Tab Hunter Show and famously appeared alongside the drag queen Divine in two movies. In 1957, he released the no. 1 hit record, "Young Love."
In 2005, Hunter officially came out as gay in his memoir, Tab Hunter Confidential: The Making of a Movie Star. "If I had come out during my acting career in the 1950s, I would not have had a career," he bluntly told Pocono Record in 2017. "Not much in Hollywood has changed in 60 years. I really didn't talk about my sexuality until I wrote my autobiography ... I believe one's sexuality is one's own business."
After the news of Hunter's passing broke, a number of celebs took to social media to share their thoughts and express their condolences. "Sad to report that Tab Hunter, the gawjuss gay icon, and true gentleman, has left the building," Harvey Fierstein tweeted. "We shared some good laughs back in the 80's. I was always fond of this dear man."
Meanwhile, Zachary Quinto paid tribute on Instagram. "So sad to wake up to the news of the passing of tab hunter," the actor wrote. Quinto is set to star in the upcoming film Tab & Tony, which will follow Hunter's secret love affair with Anthony Perkins during the 1950s. "I was honored to get to know him in the past year and am so grateful to have experienced his sheer joy and love of life. and what a life! such a rich experience. such a vital and generous nature. and such a pioneer of self-acceptance and moving through this world with authenticity as his guide. he will be missed greatly. may he rest in peace."
Our thoughts are with Hunter's loved ones during this difficult time.