A Look At Vanna White's Relationship With Pat Sajak's Daughter Maggie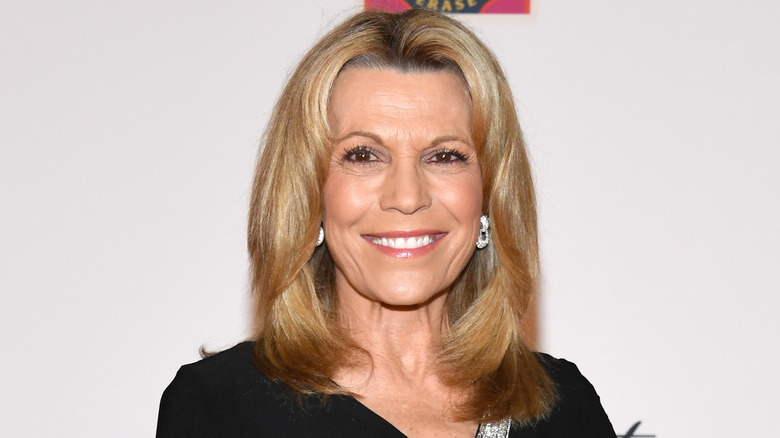 Jon Kopaloff/Getty Images
Pat Sajak has three leading ladies in his life: his wife, Lesly Brown, his daughter, Maggie, and of course, Vanna White. According to Us Weekly, the two co-hosts of "Wheel of Fortune" have worked on the famous game show since 1982. During this time, they have not only gotten to know one another but their families, too. One member of the Sajak family that has become incredibly close with White is Pat's daughter, Maggie.
Maggie grew up on the set of "Wheel of Fortune," with her being just one year old the first time she appeared on the show.As she grew up, she watched her father and White on television and was continuously inspired by them, especially White. She told Yahoo! a sweet memory she had of recreating her dad and White's look. She said, "There were so many fun moments when I was growing up. But one that I really loved, my brother and I pretended to be Pat and Vanna during a close ... It was very cute. We had our little formal outfits on."
The two have formed a stronger bond over the years, as White has been a frequent occurrence on Maggie's social media. In one Instagram post, the two posed in hot pink dresses as Maggie captioned the photo, "I hope my dad got the memo to wear pink." White and Maggie only continued to get closer when the "Wheel of Fortune" kid grown up filled in for the co-host.
Maggie Sajak can always lean on Vanna White
Maggie Sajak can always lean on Vanna White, especially when it comes to "Wheel of Fortune." No one knows the puzzle board on the famous game show better than White. So, when Maggie had to step in for the co-host, she looked to her for some advice.
In 2020, the "Wheel of Fortune" family had a brief health scare after host Pat Sajak had to undergo emergency surgery, per CBS. However, even with Pat missing, the show went on. The network decided to have White host in the meantime, and have Maggie step in for White's role. Leading up to the show, Maggie got some great advice from the expert herself. Maggie told Yahoo!, "So Vanna actually came over to our house the night before we were going to tape. And she was like, okay, so you just walk along the puzzle board. And she gave me a little tutorial on our refrigerator of how to press the letters, and how hard to press, and all of that." While this may have been the first time Maggie stepped in for White, it wouldn't be the last.
Maggie took on the letter board once more in 2023 after White was set to be a contestant on the show, per Yahoo!. Now that she was a little more familiar with how everything worked, Maggie was prepared to take on the job.
Vanna White was proud of Maggie Sajak
Taking on the puzzle board at "Wheel of Fortune" can be a daunting task, and that was the case for Maggie Sajak. But she had nothing to worry about, because she made Vanna White proud. On "Wheel of Fortune," White gushed about the work that Maggie did on the show, saying, "Maggie, I just want to thank you for what a great job you did up here turning those letters." White continued to say that "she did such an amazing job" filling in for her. The feelings are mutual, because after Maggie wrapped filming the show in 2020, she had nothing but great things to say about her co-host, White.
On "Wheel of Fortune," she said, "It's been so much fun. I've learned so much. I love being able to work with Vanna and get advice from Vanna and from my dad behind the scenes." Maggie was super grateful for all the help Vanna gave to her in preparation for taking on the puzzle board.
Maggie even shared some behind the scene photos of her and White on Instagram laughing before taking the stage. She wrote, "Pre-show giggles with @officialvannawhite walking on stage featuring @randyfberke (the best stage manager in all the land)." While she's only been on "Wheel of Fortune" a couple of times, we don't think we've seen the last of Maggie. Which only means more fun moments with her and White!