A Look At Clay Aiken's Relationship History (Including The Mother Of His Son)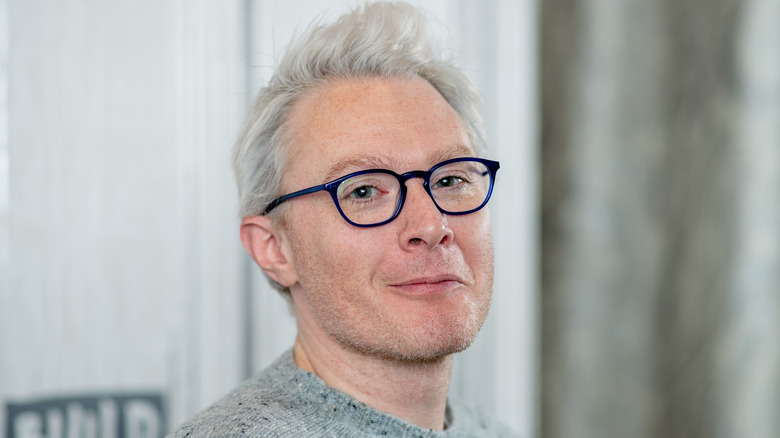 Roy Rochlin/Getty Images
Clay Aiken is full of surprises, as proven by his "American Idol" Season 2 audition, becoming a dad, and addressing rumors by coming out to People. When he arrived at "American Idol," Aiken left the two judges stunned. Paula Abdul was absent, so it was just Simon Cowell and Randy Jackson in the hot seats when the 24-year-old Southern singer walked in shy and swaggered home with a place in Hollywood. And, as Aiken predicted, he became season runner-up.
Ryan Seacrest announced that Aiken was studying at UNC when he packed up his beaten old car, drove to the reality TV studios in Atlanta, and pursued his dreams of pop stardom. "I am the American Idol," Aiken declared before starting his audition. "Really?" an unimpressed and unconvinced Cowell replied. Still, the cynic was forced to eat his words after Aiken belted out a powerful rendition of "Always and Forever" that was worthy of any Southern gospel choir.
"You don't look like a pop star. But you've got a great voice," Cowell admitted. "It's just really wild for me to hear that voice coming out of this–" Jackson began before Aitken interjected, "–little white boy, yeah?" With that, he was off to Los Angeles, and the rest, as they say, is history. Aiken has kept his love life private from his public life, though. So, we're taking a dive into Clay Aiken's relationship history — including the mother of his son.
Who's the baby momma and his famous uncle?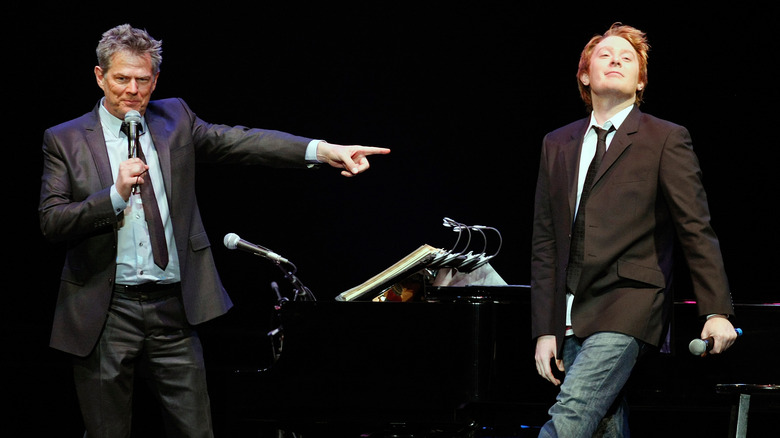 Ethan Miller/Getty Images
Clay Aiken surprised the public by announcing he'd welcomed a son. "At the end of the day, Parker is the most important thing of the year, and of my life, without question," he told People. The question was, "Who's the baby momma?" It turned out to be Jaymes Foster, the sister of David Foster. "She's very close with Clay; they're best friends. It made perfect sense to me that he'd want to have a child with his best friend," David told AP radio (via The Register Citizen). The producer called Aiken a "spectacular father" and his sister "a natural mother," sharing she'd "always wanted a child, so it kind of worked out."
Few were surprised when Aiken came out to People months later. Unfortunately, he was forced out of the closet after Rosie O'Donnell unintentionally outed him while accusing Kelly Ripa of being homophobic. "I cannot raise a child to lie or to hide things," Aiken told People. "I wasn't raised that way, and I'm not going to raise a child to do that."
Like his love life, Aiken, a devout Christian, tries to shield his son from the media glare. However, he does open up about Jaymes. "She was ending a relationship, a marriage, which she had been in for over 20 years," Aiken told ABC. "I've always wanted kids. Being a gay man, it wasn't something for me that was going to be an option either way."
What about the love life?
Clay Aiken isn't married, and it's unclear if he's even in a relationship. Given that Aiken is worth $4 million, per Celebrity Net Worth, you'd think he'd have no shortage of potential partners. Still, he keeps his romance cards close to his chest. According to The US Sun, Aiken dated "Survivor" star Reed Kelly for two years, had an alleged fling with actor Devin Finn and was with guitarist Jeff Walters for a year. He's not been publicly linked to anybody since they split in 2011.
However, one very handsome man crops up a lot on Aiken's Instagram, dating back to 2016. The frequent flyer even became the third wheel to Aiken and Tyra Banks' close relationship after partaking in a holiday sing-along around the piano. And who is the lucky (maybe, perhaps) new boo? No less than "Hamilton" star Thayne Jasperson.
Jasperson is an out gay man and a faithful Mormon — an extremely challenging and complex combination. "Yes, I am attracted to men. It has been a life trial in learning to maneuver," Jasperson told Deseret. "One of the greatest things I've learned is that it is OK. That it won't go away and that it is here to shape, mold me the way our Father has designed for me." Neither star has spoken publicly about being romantically involved, but Aiken's seemingly hinted. "I've been told we never take any pictures together," he commented on a cute pic of them mugging for the camera.