Everything You Need To Know About XO, Kitty's Anna Cathcart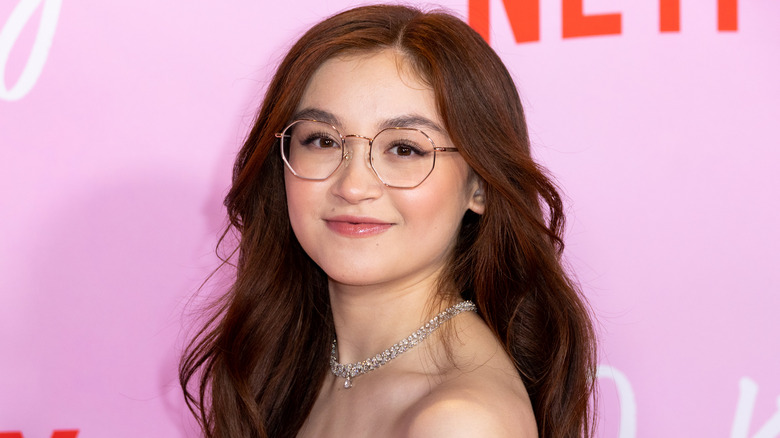 Elyse Jankowski/Getty Images
By the time Anna Cathcart celebrated her 19th birthday in June 2022, the Canadian actor was already a seasoned television veteran. That's not surprising when one considers she landed her first TV role at age 11. Since then, the Vancouver-born actor has built up an impressive roster of screen credits for someone her age: Dizzy Tremaine in Disney Channel's "Descendants" franchise, the title character in the Brat streaming series "Zoe Valentine," and, most memorably, Kitty Song Covey in the Netflix rom-com "To All the Boys I've Loved Before" and its sequels.
In May 2023, Cathcart's career would take a next-level jump with the release of "XO, Kitty" on Netflix. In the spinoff series of the "To All the Boys" movies, the little sister of "TATBILB" protagonist Lara Jean (Lana Condor) is all grown up and at the center of the story. The titular character embarks on her own romantic adventure when she leaves Portland to attend high school in Seoul, South Korea. "It's like the same character, the same girl that we know from the movies, but in a very different light and a very different time in her life, because so many years have passed, and now she's the main character," Cathcart told "CBC Kids News" in 2022.
Reprising the teen matchmaker in her own spinoff is right on brand for this talented young actor, who's already accomplished so much even as her career is just winding up. Keep reading to discover everything you need to know about "XO, Kitty" star Anna Cathcart.
The Disney Channel inspired Anna Cathcart to become an actor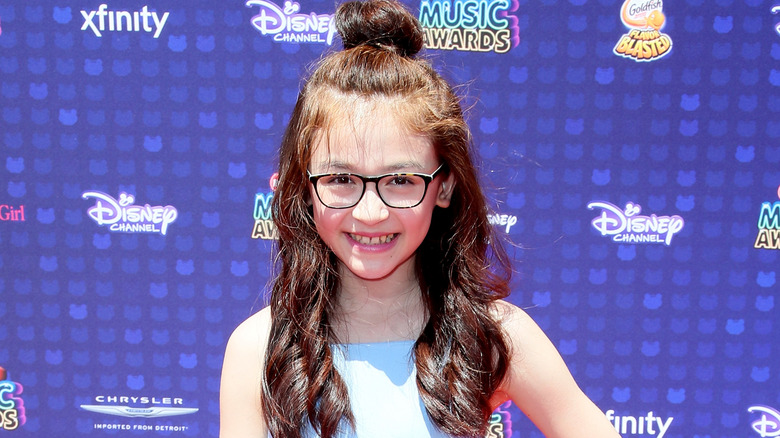 David Livingston/Getty Images
Before she became a TV star, Anna Cathcart was a TV viewer. Like many kids of her generation, her formative years included watching comedies on the Disney Channel, which definitely left an impression. "I got my inspiration for being an actor from watching Disney Channel every single day, and I watch Netflix all the time," Cathcart revealed in a 2018 Instagram post for TigerBeat. Unlike many youngsters who watched those shows, however, Cathcart wasn't simply viewing them as entertainment; she was studying, learning. "That's my acting class," she explained. "I've never really been to acting classes ... and that's where I've gotten my coaching and my acting ideas, just from watching so much TV." 
As Cathcart told Glitter the following year, all those hours spent watching the Disney Channel allowed her to start formulating her own skills as an actor, fantasizing that it was her up there on the screen, trading wisecracks with Miley Cyrus on "Hannah Montana," or cooking up magical shenanigans with Selena Gomez on "Wizards of Waverly Place." But nobody is more surprised than she is that she managed to make onto the other side of the television screen than the "XO, Kitty" star herself. 
"I never thought it could be a reality for me and that it could be something I could do for real," Cathcart gushed. "Sometimes I still can't believe that it is!"
She got her big break in a PBS educational children's show
Acting was an aspiration for Anna Cathcart very early on. In fact, as noted in her bio on the Academy of Canadian Cinema & Television website, she was just eight years old when she landed her first professional acting gig in a TV commercial. A few years later, at age 11, Cathcart was cast in the PBS educational children's series "Odd Squad," focusing on a bunch of kids who run a high-tech spy agency and investigate strange, unexplained phenomena that they wind up explaining via the use of mathematics. Cathcart played Agent Olympia, a role that gave her valuable hands-on experience on an actual set.
Not only did the experience she gained from "Odd Squad" prove to be a building block in ultimately attaining the role of Kitty in the "To All the Boys" franchise, but it also won her a prestigious award in her native Canada. In 2019, Cathcart took to Instagram to announce that she'd won a Canadian Screen Award (the country's version of a combination of the Oscars and the Emmys, honoring the best in homegrown film and television) for her performance in "Odd Squad." 
"Last night was a dream," she wrote, accompanying a photo of herself proudly hoisting her award up in the air. "AHH I WON!! my first Canadian Screen Award for my first ever role! Thank you Olympia for letting me go on this wild journey with you."
Anna Cathcart keeps in touch with her TATBILB co-stars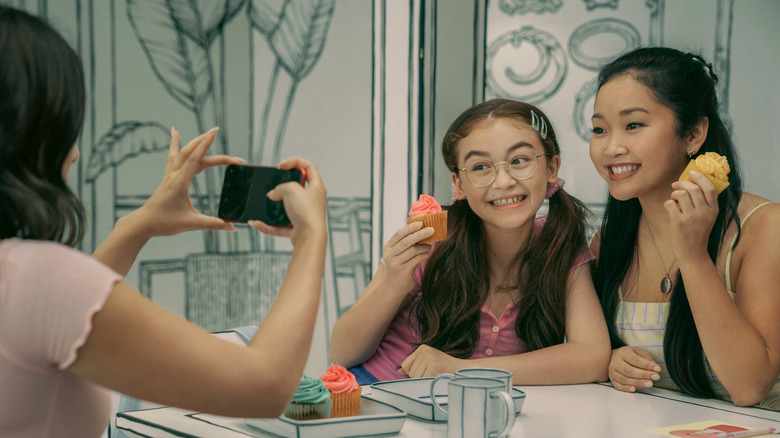 Juhan Noh/Netflix © 2021
When Anna Cathcart was cast as Kitty in Netflix's 2018 rom-com "To All the Boys I've Loved Before," she couldn't have predicted that she'd be playing the role over the course of (at least) six years, reprising the character in two sequels — 2020's "To All the Boys: P.S. I Still Love You" and 2021's "To All the Boys: Always and Forever" — and again as the star of her very own spinoff series, 2023's "XO, Kitty." 
As Cathcart explained in an interview with Vulture, the connection she felt with her make-believe siblings, Lana Condor and Janel Parrish, was both tangible and immediate. "The first day we filmed, me and Lana and Janel were acting like we had already known each other for years," she recalled. "... We became like real-life sisters and would always hang out on and off set. We still keep in contact. We have our Covey sister group chat, and we are always texting. I love them so much."
Indeed, the sisterly relationship that viewers have experienced in the films truly isn't that far off from the actor's offscreen friendship, with Cathcart benefitting from the experience of Parrish and Condor. "They give me advice all the time," Cathcart told J-14 of her co-stars. "I'm really lucky because now I have a whole bunch of big sisters and older siblings that can help me out with stuff."
The XO, Kitty star had her own idea for a TATBILB spinoff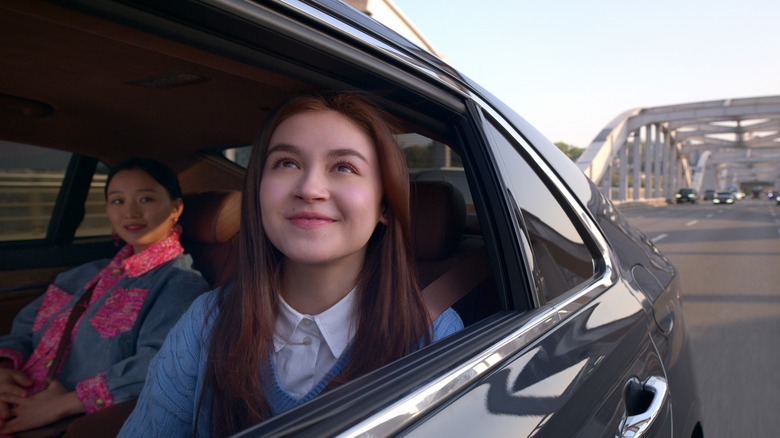 Courtesy of Netflix
Long before Anna Cathcart was approached about playing Kitty in a spinoff chronicling her own romantic adventures, the "XO, Kitty" star actually came up with her own ideas for where she'd like to take her "To All the Boys I've Loved Before" character. Way back in 2019, in fact, prior to the release of the second "TATBILB" movie, Cathcart explained how she'd want to see Kitty's journey continue. 
One idea she'd cooked up, Cathcart told J-14, was to have Kitty shift her matchmaking efforts from her sister to their widowed father, played by "Sex and the City" alum John Corbett. "I think it would be so cute that she's super into her dad's love life," she exclaimed. At the time, Cathcart also envisioned a new love — of sorts — entering Kitty's life. 
"Something I really, really want to happen is that Kitty gets a dog," Cathcart said, sharing her hopes on the storyline that hewed closely to the plot of the book upon which the movie is based. "So this needs to happen, people," she added. "Seriously. My biggest wish, she needs Jamie Fox-Pickle, that's the name of her dog in the book and that's pretty adorable."
Her celebrity crush is a big-screen superhero's alter ego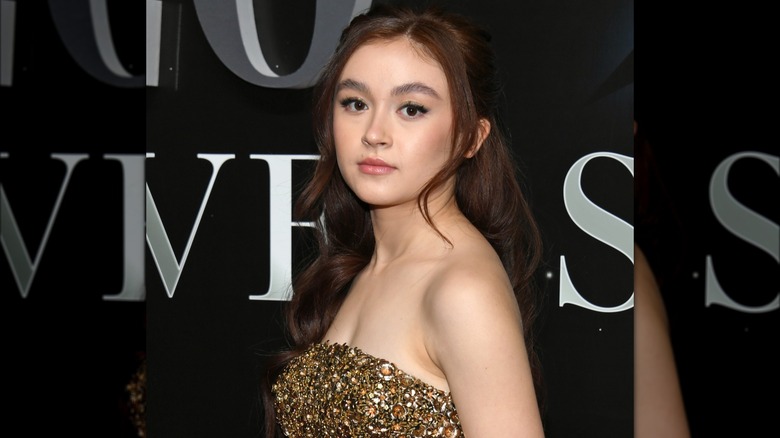 Jon Kopaloff/Getty Images
Anna Cathcart hasn't made much of a secret when it's come to revealing the one celebrity that she crushes on. What makes Cathcart's celeb crush somewhat complicated, however, is that the object of her desire is sort of a combination of an actor and the superhero character that he portrays onscreen — or, to be more precise, that superhero's non-hero, secret-identity persona, as opposed to the superhero himself. 
"My celebrity crush is Tom Holland," Cathcart told "YSBnow" in 2018, before adding some clarification. "But specifically, Peter Parker. Like, I love Tom, but Peter Parker's even better." She muddied the waters just a little bit in an interview with Refinery29 a few years later, when the "XO, Kitty" star was asked to describe the dream acting role she would love to take on. "The lead of a '50s musical set in London, starring me and Tom Holland," Cathcart declared, without clarifying whether Holland would be playing Peter Parker in said musical.
Whatever one may think of Cathcart's revelation, there's no denying that her crushing has been both incredibly specific and amazingly consistent from interview to interview. "I love Tom Holland in general, but specifically in 'Spider-Man,'" she explained in a 2020 social media Q&A with fans. "Peter Parker is like the dream."
Anna Cathcart is crazy about LEGO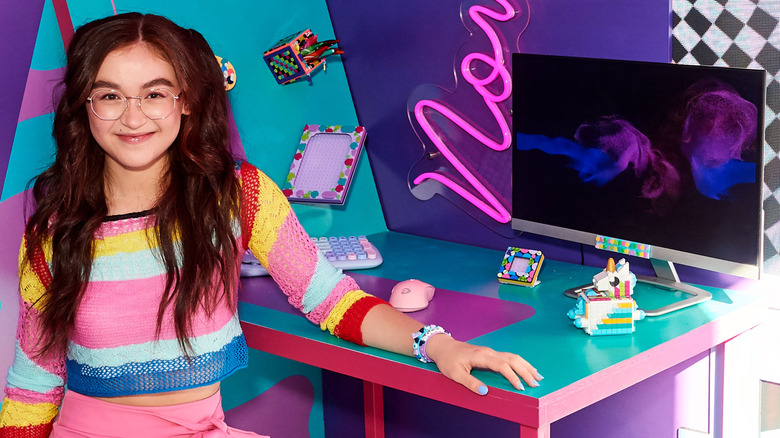 Unique Nicole/Getty Images
While Anna Cathcart hit the promotional trail to plug her "To All the Boys" spinoff series "XO, Kitty," she also discussed a complementary marketing gimmick connected to the project: a partnership with LEGO, featuring a trio of limited-edition "XO, Kitty" posters that can be custom-decorated with LEGO DOTS, tiny LEGO tiles that can be used for a multitude of purposes, from craft projects to, well, decorating posters promoting a Netflix series. 
For Cathcart, teaming up with LEGO was kind of a no-brainer. "I grew up loving LEGO Bricks and LEGO Friends, and all their different lines. I was always begging my mom to bring me to the LEGO store," she gushed in an interview with Game Rant, revealing that she offered input into the posters' color palette as well as the designs themselves. In fact, Cathcart explained, a record player depicted in one of the posters drew inspiration from her own turntable and love of vintage vinyl.
Because there are no specific directions for how one can decorate the posters, the LEGO DOTS can fuel pure creative expression — and, because they're not permanent, can be changed up and completely redesigned, furnishing a poster with a completely different look. "You find who you are in what you love and in how you express that," Cathcart explained to Distractify.
The best advice Anna Cathcart ever received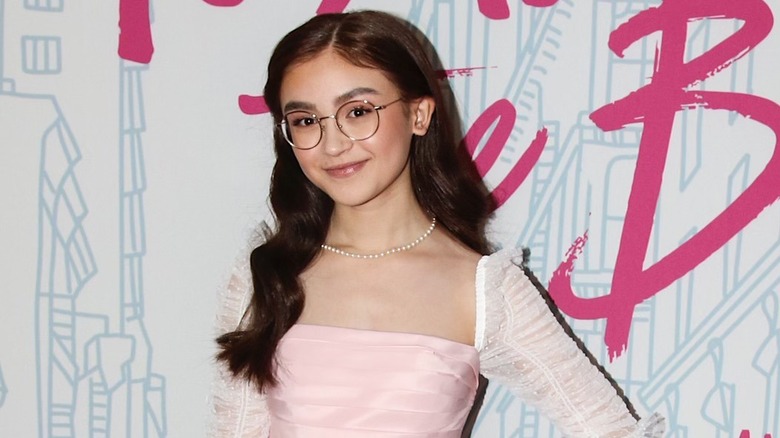 @Sara.cathcart for NETFLIX © 2021
Anna Cathcart's role in "Odd Squad" led to an even bigger opportunity when she landed the leading role in "Zoe Valentine," a web series in which she played a high school freshman still coping with the death of her sister. While the opportunity to be the lead actor on a show was huge, marking a new milestone in her acting career, it also meant she'd be away from her family in Vancouver ("Zoe Valentine" was filmed in Toronto). 
Cathcart was understandably nervous, but her father offered some advice that resonated deeply when he shared the words "carpe diem" and explained the literal meaning to her: seize the day. That, Cathcart explained in a 2019 interview with Glitter, helped her to set aside any anxiety or uncertainty she was feeling and focus on making the most of the opportunity she'd been given. "I'm so, so glad that I took his advice and went for it because it was an amazing experience and it changed my life forever!" she recalled.
Her upbringing, Cathcart added, also helped her to remain grounded while pursuing a career that doesn't always make it so easy. "I'm really close to my family and I'm just a 'normal' kid when I'm at home and not filming," said Cathcart, adding that she was still attending public school at the time. "I think it's really important to stay true to your values and not get too caught up with the many possible distractions in this industry," she said.
She's proud to bring Asian representation to television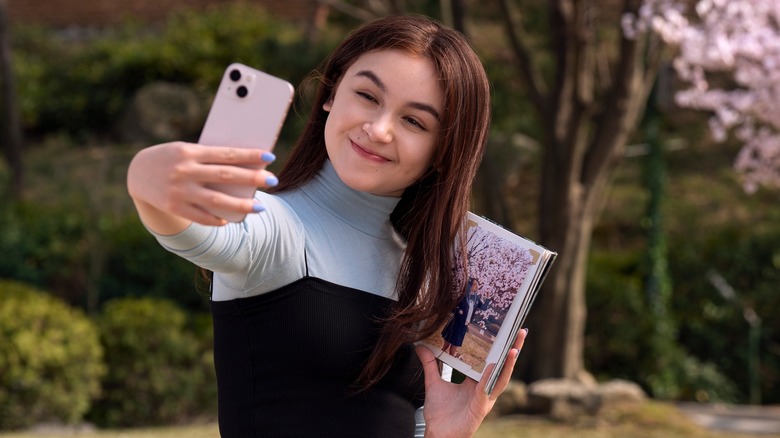 Park Young-Sol/Netflix
There are many reasons for Anna Cathcart to celebrate the launch of "XO, Kitty," but one of those has to do with the strides that the series has made in terms of diversity and inclusion. While that was also true in the "To All the Boys" movies — series lead Lana Condor, after all, is of Vietnamese descent — the Korean setting of "XO, Kitty" allows the opportunity for even more onscreen Asian representation. "It's so exciting to see that happen more and more often," Cathcart told StyleCaster in 2022, adding, "This should be normal. But I love that we are headed in the right direction."
For Cathcart — who is half Irish, half Chinese — being able to see people like herself on television was huge, and she understands the responsibility she has in paying it forward for the generation of young TV viewers who watch her the way she experienced similar diversity while watching the Disney Channel when she was younger. "It's so important for everyone to see someone onscreen that looks like them, no matter what they look like, who they are, or what their race is," Cathcart explained in a 2018 interview with Teen Vogue.
Being part of a franchise that has expanded Asian representation on television has also had a profound effect on Cathcart. "For so many people this meant more than we can even imagine," she told She Does the City in 2021. "It's so cool that I got to be part of something like this."
Anna Cathcart refuses to let Hollywood define her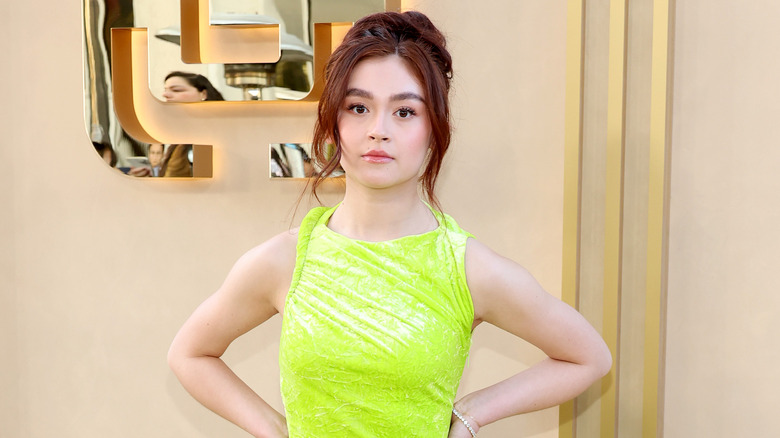 Monica Schipper/Getty Images
Throughout the years that Anna Cathcart was appearing in "To All the Boys I've Loved Before" and its sequels, she was living something of a double existence. One aspect of her life brought her to movie sets and star-studded premieres. Another part of her life was significantly less glamorous: attending public school and living the life of a typical Canadian teenager. Interviewed by Teen Vogue in 2018, Cathcart admitted that her friends jokingly compared her to Miley Cyrus' character in "Hannah Montana," a seemingly average teenager concealing her secret identity as a pop star. 
Yet, as normal as she's tried to keep those non-Hollywood parts of her life, Cathcart is still coming to grips with the fact that she's a celebrity. And, because of the nature of the role she's played in the "TATBILB" movies and again in "XO, Kitty," she's come to realize that she's also role model. It's something she doesn't take for granted. "It's so important for everyone to see someone onscreen that looks like them, no matter what they look like, who they are, or what their race is," Cathcart explained. That's also why she's proud to have been involved in projects that don't try to pigeonhole her as an Asian actor and instead allow her to simply be an actor, not defined by race. 
"I certainly hope that, in the future, having Asian-American leads will not be a big deal," Cathcart added.
The advice that Lana Condor gave her about XO, Kitty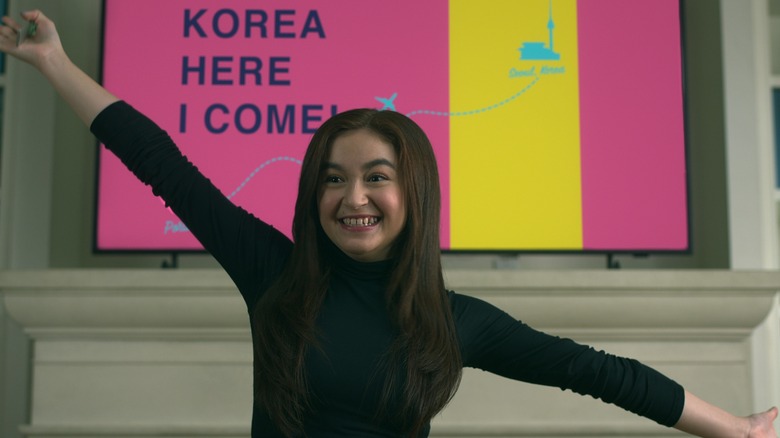 Courtesy of Netflix
Headlining her own spinoff series and then filming it in a far-away land proved to be a heady experience for Anna Cathcart when she spent several months in Seoul shooting "XO, Kitty." Stepping out on her own as No. 1 on the call sheet was also a big adjustment after playing Kitty as a supporting character in the first three "To All the Boys" movies. 
Of course, being the lead actor in a project is something that Cathcart's co-star, Lana Condor, has experienced firsthand, and she was happy to share what she'd learned. Revealing that she'd readily asked her older sister-like co-star for advice, Cathcart explained to J-14, "Lana definitely understands this position to be in, and I've never really done it before. It meant a lot to have her to turn to." 
Being able to lead a show while also playing a character that she's portrayed throughout most of her teen years is also a unique experience, and Cathcart recognizes the rarity of being able to reprise Kitty in this whole new context. "It felt very personal because I feel like I did kind of grow up with Kitty. I've known her since she was little ... and since I was little," Cathcart told Distractify.
Anna Cathcart went from Disney Channel viewer to star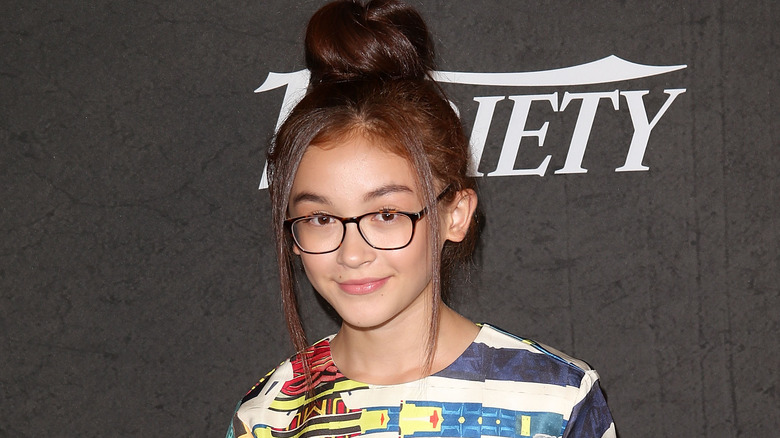 Jesse Grant/Getty Images
Given that watching the Disney Channel is what initially inspired Anna Cathcart to pursue acting, landing a role in a Disney Channel movie franchise was understandably a dream from the beginning. Cathcart's dream became a reality in 2017 when she was cast as Dizzy Tremaine in Disney Channel's "Descendants," in which young actors play the teenage offspring of Disney's most notorious villains (Dizzy is the daughter of Drizella Tremaine, one of Cinderella's oafish stepsisters). 
Cathcart continued to play Dizzy in a few more "Descendants" projects and told Teenplicity in 2018 that she relished the opportunity to work with director Kenny Ortega, a former choreographer whose other Disney Channel projects have included "The Cheetah Girls" movies and the "High School Musical" franchise. "I think it has definitely gotten bigger and better every single time," Cathcart said of being part of the "Descendants" franchise as it grew increasingly popular. "Kenny and everybody really just elevates their work and elevates the sets and the costumes and the musicals and everything!" 
Thanks to her "Descendants" gig, Cathcart has also been able to enjoy the rare and surreal experience of seeing herself replicated as a doll. "IS. THIS. FOR. REAL?!" Cathcart wrote in the caption for a photo she shared on Instagram in 2017, in which her jaw drops while posing with a pair of Dizzy dolls.
The deleted TATBILB scene she wishes made it onscreen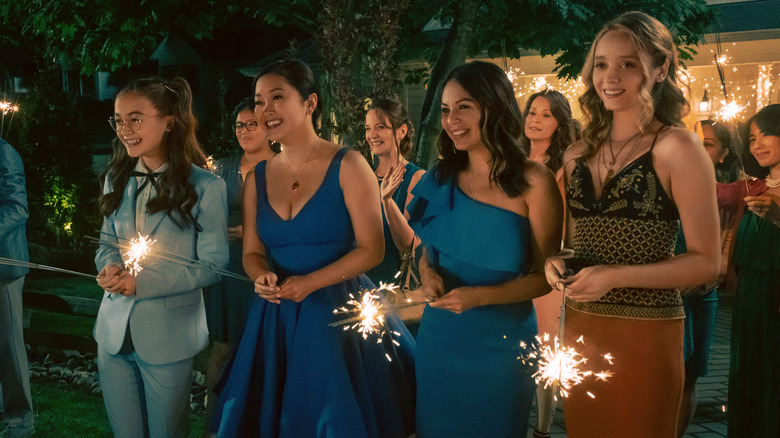 Katie Yu/Netflix
It's no secret that not everything that is filmed for a movie or TV show winds up making it onscreen, and that was definitely the case with "To All the Boys I've Loved Before." 
Interviewed by TigerBeat in 2018, Anna Cathcart recalled a scene that was one of her favorites to shoot but didn't make it into the movie. Cathcart admitted that it's not a particularly compelling scene — her character, Kitty, and sister Lara Jean (Lana Condor) are enjoying some sugary cereal for breakfast. "It was such a simple scene but it was so hard for me and Lana to keep a straight face. We just kept laughing, looking at each other and cracking up," Cathcart explained. "We were eating Lucky Charms and whenever she wasn't looking, I would pick out the marshmallows from her bowl and keep eating. It was really cute! I hope they release it one day."
As for her favorite moment that did make it into the movie, Cathcart singled out the scene in which Lara Jean and Peter (Noah Centineo) are watching the John Hughes classic "Sixteen Candles" — only to have the camera pivot to reveal that Kitty is sitting there, watching it with them. "I really like the pillow fight scene with Noah when they're kind of on a date and then it pans to them and I'm there too, like, the third wheel all the time," Cathcart told BuzzFeed News.
The actor Anna Cathcart would most like to emulate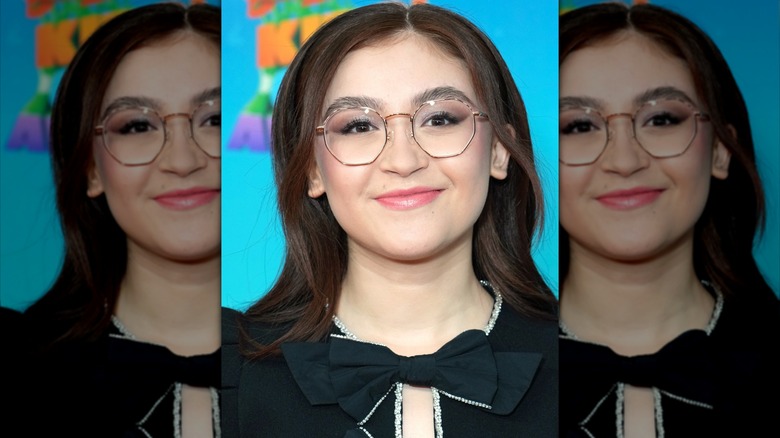 Kevin Mazur/Getty Images
It's been established that Anna Cathcart has become a role model in her own right, but who are her role models? One name came to mind when she was interviewed by Teen Vogue in 2018: Zendaya. 
"She's my queen of all queens," Cathcart said, noting that co-starring alongside the "Euphoria" star would be a dream come true. Beyond Zendaya's impact as an actor and singer, Cathcart said she was also impressed with how the star used her platform. "She's not just a triple threat in the industry," Cathcart added, "she's also an activist and she stands up for what's important to her."
Cathcart also shared her admiration for Zendaya in a 2019 interview with Famous Birthdays. "I think Zendaya is super cool," she said, reiterating her celebrity crush on Tom Holland — aka Zendaya's boyfriend, who also famously co-starred with Zendaya in three "Spider-Man" movies. "So basically, I want to be in 'Spider-Man' because they're both in [it], so that would be like [my] dream role," the "XO, Kitty" star declared, adding that it'd be the "coolest thing ever."