You Might Recognize Lizzy Caplan's Famous Husband Tom Riley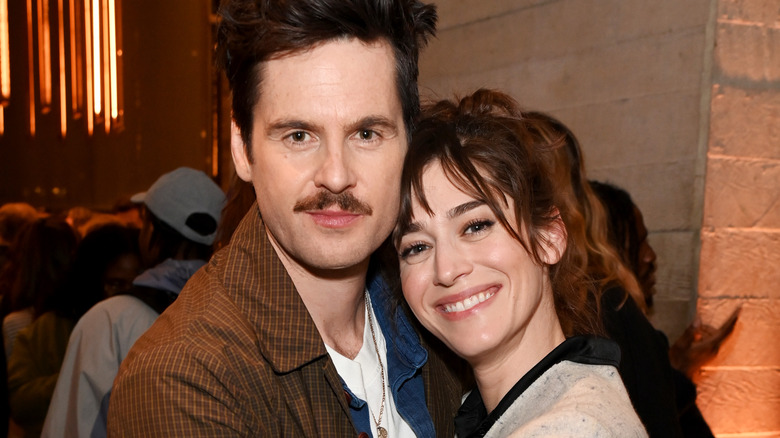 David M. Benett/Getty Images
Nothing about Lizzy Caplan is stereotypical. From her breakout role as Janis Ian (who she once dubbed as "the mean girl with spy plans") in the cult classic "Mean Girls" to her Emmy-nominated role as groundbreaking sexologist Virginia Johnson in "Masters of Sex," Caplan's career has been extraordinary. Even her wedding to Tom Riley was not your run-of-the-mill nuptial fanfare. Caplan and Riley had a destination wedding and tied the knot on the Amalfi Coast, Italy, in September 2017. They had been dating since January 2015 before saying their "I do's" in front of their loved ones and committing their lives together.
It quickly became evident that Riley had a quirky sense of humor after he took to social media to celebrate his love for his wife. He shared a now-deleted photo of their special day on Instagram and wrote, "This one seems fertile. She shall make a satisfactory first wife." Riley's words seem to be bearing fruit. The couple welcomed their son Alfie in 2021. The "Fleishman is in Trouble" star told Grazia, "We got a lot of life in before we had a kid..." But what kind of life did the couple, and more specifically Riley, have before having a child? It turns out that Caplan isn't the only star in the family, and in certain circles, Riley may even be more popular than his wife.
Tom Riley has an impressive résumé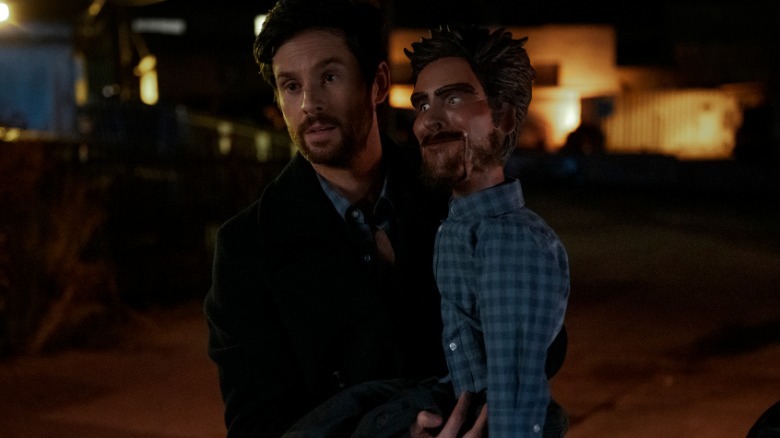 Netflix
Tom Riley delivered a stellar performance in the Netflix series "The Woman In The House Across The Street From The Girl In The Window," starring alongside vet Kristen Bell. He told Looper that he chose the project after some consideration. He said, "It was something that felt original and unpredictable." Riley was also the lead actor in "Da Vinci's Demons," and portrayed Augie Bidlow in "The Nevers." He compared the two characters when he spoke to Vogue Italia (translation via Tom Riley). "Augie is very different from Leonardo, a character out of the ordinary, an absolute genius who flies with fantasy but they have in common the desire for freedom and the feeling, instead, of always being caged," he shared.
Like other Hollywood couples who juggle their busy careers and personal lives, Riley and his wife, Lizzy Caplan, have made it work. She told Grazia, "I like having the common ground. I like that my husband and I can talk about anything that's happened on set and he will know exactly what I'm talking about. The trade-off is that you're both in such an unpredictable line of work... But for me, it's not even a question that getting the understanding that comes with it is worth all of the other stuff." While they complement each other on and off set, there was that one time that Riley did not do his job.
Despite some mistakes, Tom Riley's still 'father of the century'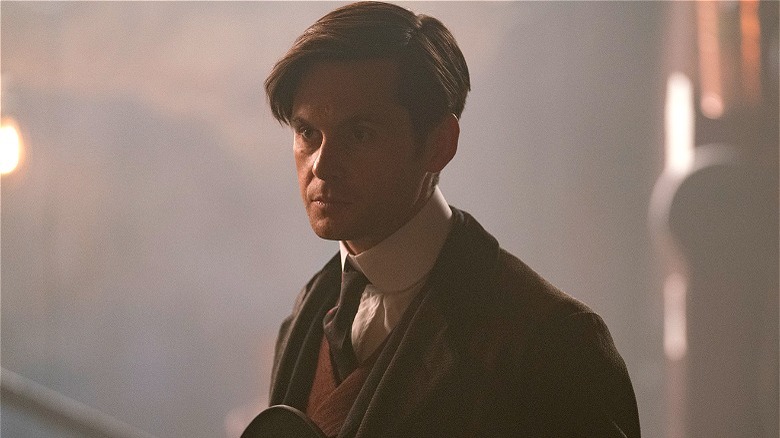 HBO
You may also recognize Tom Riley from his appearances on talk shows. Riley appeared on "Late Night with Seth Meyers," and recounted a story about a "confetti canon" diaper explosion during takeoff. He and Lizzy Caplan divvied up duties when they took their son Alfie Riley on a flight when he was only three months old. Caplan asked Riley to guard the door because it couldn't lock. Riley agreed until the seatbelt sign started flashing and he returned to his seat again. Unfortunately, one passenger decided to ignore protocol and opened the bathroom door. Riley continued, "I can still see it... she's got like poop up her arms, maybe a little bit on her face. And because of the way she's on all fours in front of the toilet, you can't even see the baby. And it just looks like she's eating out of the toilet." One job... Riley had just one job.
Yet, Caplan still called Riley the "father of the century" when she spoke to Grazia. She explained, "The division of labor can really fall to the woman in the majority of cases... It just wouldn't be as fun if we weren't sharing all of it 50-50. We're pretty good at seeing the funny in stressful situations. I do feel very, very lucky." Riley has it all: A thriving career, a son, and a wife who sticks with him through the highs and stinky lows.