Ja Morant Slapped With NBA Suspension After Social Media Behavior Crosses The Line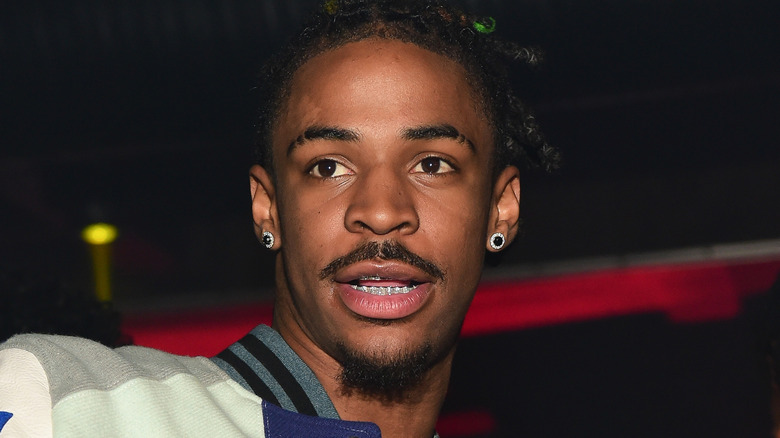 Prince Williams/Getty Images
The hard times just keep coming for Memphis Grizzlies star, Ja Morant. Not only did he lose his chance for a championship ring to the Los Angeles Lakers this year, but he also just got suspended from the NBA...yet again.  
Morant's time with the NBA has been brief, as he was drafted by the Grizzlies in 2019. Since then, he was named NBA Rookie of the Year in 2020, and in 2022 he joined the NBA All-Star team. However, it hasn't been all rainbows and butterflies for the young basketball player. Morant has a long list of controversies behind him that can greatly affect his career. From being accused of beating up a teenager to accusations of threatening a security guard, Morant has had a history of getting involved in troubling situations, even online, per Insider. In May 2022, Morant got into an argument with someone on Twitter after they made comments about the woman he was dating. In one of the now-deleted tweets, Morant responded to the online troll, "It's free to see how hollows feel." Many saw this as the NBA star threatening to shoot the Twitter user. 
While no consequences came from that particular incident online, Morant has been in hot water this year. Trouble followed after he was reportedly spotted not once, but twice, with a gun around people in recent months. With the first occurrence, the NBA temporarily suspended him from some games, but his latest incident may have lasting repercussions. 
Ja Morant suspended for flashing a gun on Instagram Live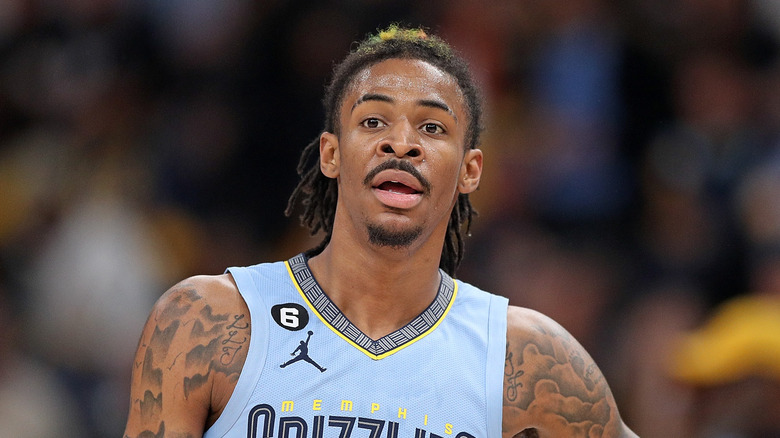 Justin Ford/Getty Images
Memphis Grizzlies star Ja Morant has been in the headlines once again after an Instagram Live video in May 2023. According to CNN, during the broadcast (on someone else's account), Morant reportedly flashed a gun to viewers while in a vehicle with other passengers. The video quickly circulated online. 
The Grizzlies posted their statement on Twitter, sharing, "We are aware of the social media video involving Ja Morant. He is suspended from all team activities pending League review. We have no further comment at this time." NBA spokesperson Mike Bass also acknowledged the NBA is also in the loop, per ESPN. He said, "We are aware of the social media post involving Ja Morant and are in the process of gathering more information." Morant's reps have yet to comment on the suspension.
This latest incident comes mere months after Morant was suspended for eight games without pay in March 2023 after an Instagram Live video showed the Grizzlies star holding a gun in a club. After meeting with NBA Commissioner Adam Silver, Morant shared a statement expressing his remorse at the time. "I take full responsibility for my actions ... I'm sorry to my family, teammates, coaches, fans, partners, the city of Memphis, and the entire organization for letting you down," he said. Silver had also shared that Morant's "conduct was irresponsible, reckless, and potentially very dangerous." However, the commissioner added that Morant "made it clear to me that he has learned from this incident."
Celebrities and athletes call out Ja Morant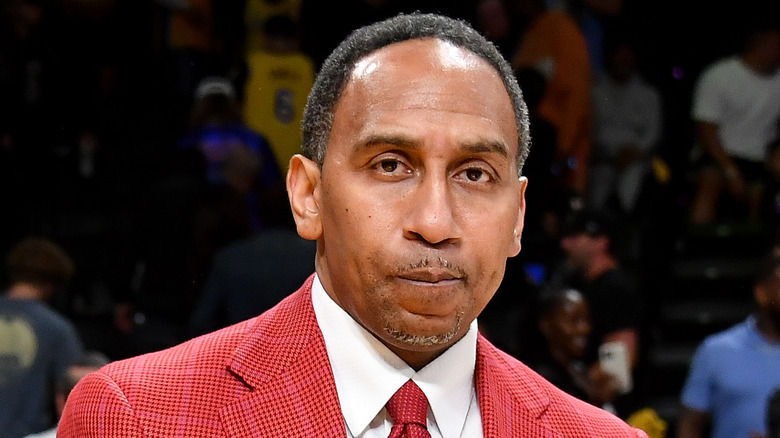 Allen Berezovsky/Getty Images
Ja Morant has been an incredible player on the court, as many have seen his potential to reach the greatness that Steph Curry and Lebron James have. However, with his current trajectory, the Memphis Grizzlies star's own actions may be the downfall of his career. It appears that, after his first suspension for having a gun, the player hasn't quite learned his lesson. Now, with this most recent suspension from the NBA, celebrities and athletes have been quick to call out the basketball player.
NBA commentator Stephen A. Smith had some choice words for Morant's Instagram live behavior, sharing that he was "disgusted," per Yahoo. "This is a man that is universally recognized in NBA circles as being a highly, highly intelligent individual. This is stupidity," Smith said. The host is even more upset that the young NBA star is putting himself in these situations. He continued, "Keep this in mind: this is self-inflicted ... And this second time he's with someone and they literally go Instagram Live, so you're clearly not surrounding yourself with people who are looking out for your best interest." NBA fan and rapper, Fat Joe, echoed the same sentiments and believes Morant's "trying hard to get kicked out the NBA," per Vibe.
Former NBA player Chandler Parsons, who played for the Grizzlies from 2016 to 2019, had thoughts on Morant's conduct as well. "Suspend him all of next season," he tweeted. So, from celebrities to past NBA players and other sports enthusiasts, many seem frustrated with Morant's behavior.