The Real Reason Meghan Markle Doesn't Wear Pants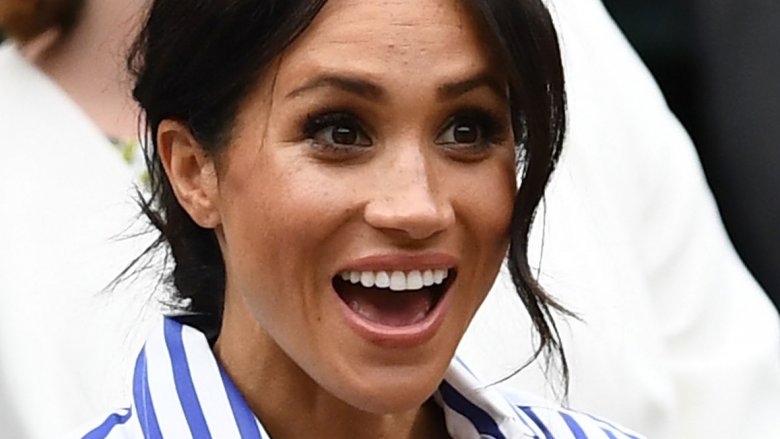 Getty Images
Everybody knows that Meghan Markle is a fashionista. Since her days on Suits, the actress-turned-royal has slayed the style game one perfectly put-together outfit at a time. But since she married Prince Harry, Markle hasn't often been seen rocking what was once a staple in her wardrobe: pants.
Yep, poor Meghan Markle has been, for the most part, cycling through dresses and skirt-top combos for all of her royal public duties with nary a pair of jeans in sight. Apparently, her dear grandmother-in-law Queen Elizabeth II isn't too fond of trousers, according to People. And understandably, Markle, who once rocked a pair of ripped jeans like nobody's business, has been having a rough time adhering to the queen's style guidelines. A source told the celebrity magazine that Markle "has found certain rules in the royal household difficult to understand" and that she "is often asking Harry why things have to be done in a certain way."
The insider added, "I think she finds it a little frustrating at times, but this is her new life, and she has to deal with it."
Fortunately, Markle's been able to don a pair of pants every now and then when she's not in the presence of the queen — like when she wore white silk pants designed by Ralph Lauren to Wimbledon's Ladies' Single Final on Saturday, July 14, 2018 (via Page Six).
Despite all her wonderfully stylish ensembles, Markle has faced criticism in the past for "inappropriate" wear that didn't strictly adhere to royal dress codes. As The List noted, she's been scrutinized for wearing dresses that show off a little too much skin for some people's comfort. For instance, when Markle attended her first Trooping of the Colour in June 2018, she was called out for donning an off-the-shoulder design at a formal event. Prior to that, she'd been scrutinized for wearing a sleeveless dress while meeting with delegates of the Commonwealth.
So, obviously, Markle has some learning to do. Or maybe, just maybe, Markle's daring sense of style will instead influence royal fashion, making old traditions more suitable for the here and now. But if that's going to happen, Markle's probably going to need to curb her spending habits. Page Six reported that Markle spent up to $36,000 on four designer outfits for her two-day tour of Ireland. Yikes!
"She has to rein it in slightly," Dickie Arbiter, a former spokesperson for the queen, told People (via Page Six). "It's a lot of money in 48 hours." That's putting it mildly!