Who Is Emily Deschanel's Husband, David Hornsby?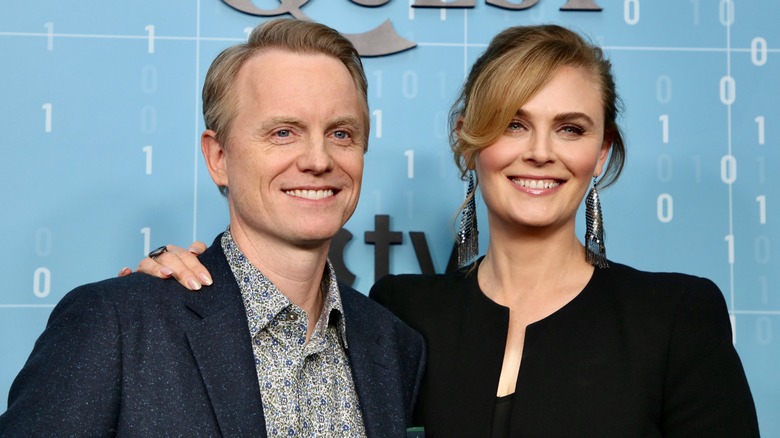 Robin L Marshall/Getty Images
Emily Deschanel may be a more recognizable name than her husband David Hornsby, but fans are likely familiar with his work. 
The couple tied the knot in a low-key ceremony in 2010 where Deschanel's "Bones" co-star, David Boreanaz was in attendance. Ten years after they walked the aisle, Hornsby commemorated the occasion by sharing a photo of the couple's save the date, which had a late '70s theme, to Instagram. Deschanel and Hornsby did not wait long to start their family, as the "Animal Kingdom" actor gave birth to their first child in 2011. Their family continued to grow when they welcomed their second kid in 2015.
Not to be outdone by his famous wife, Hornsby is an accomplished television actor and writer. He even guest-starred on "Bones" years ago! When Deschanel's character Temperance said "I do" to Boreanaz's Seeley on a special episode, Hornsby was brought in to play the character who married them. "I'll give you one hint. The person who is going to marry us is close to one of the cast members," Boreanaz told E! ahead of the episode in 2013. Hornsby is best known for playing Matthew "Rickety Cricket" Mara on "It's Always Sunny in Philadelphia," but he has been involved in many other high-profile shows in some way.
David Hornsby does much more than act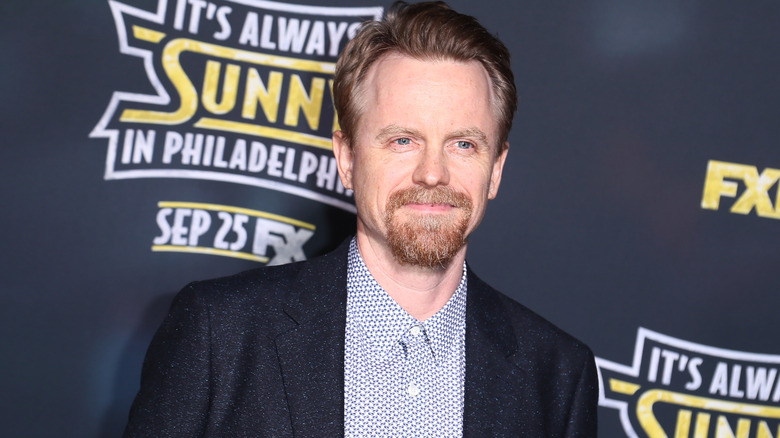 Leon Bennett/Getty Images
Besides playing "Cricket," a disheveled ancillary character on "It's Always Sunny in Philadelphia," David Hornsby also served as executive producer on the hit FX series. He also has over 40 writing credits on the show. In 2017, the character was given his own episode titled "A Cricket's Tale," which came at Hornsby's urging. "Give me one episode guys. It's been 12 years...give me one shot," he jokingly said to After Buzz TV about pitching the episode. His acting credits expand far beyond "Always Sunny," as Hornsby has appeared on numerous shows including "Good Girls" and "The Goldbergs." Plus, he has lent his voice to various animated programs over the years.
In addition to his work in front of the camera, Hornsby has been given the reins to develop his own series on multiple occasions. He created and starred in the short-lived CBS sitcom "How To Be A Gentlemen" in 2011. The following year, in 2012, Hornsby was once again given his own show — the animated series "Unsupervised," a departure from the "Always Sunny" universe. "Trying to show some positive characters in a cynical world. So sue us!" Hornsby said about "Unsupervised" when speaking to TV Guide in 2012. Hornsby later collaborated with "Workaholics" star Blake Anderson on a CBS sitcom in 2017, but that project never made it to air. 
How David Hornsby balances two hit shows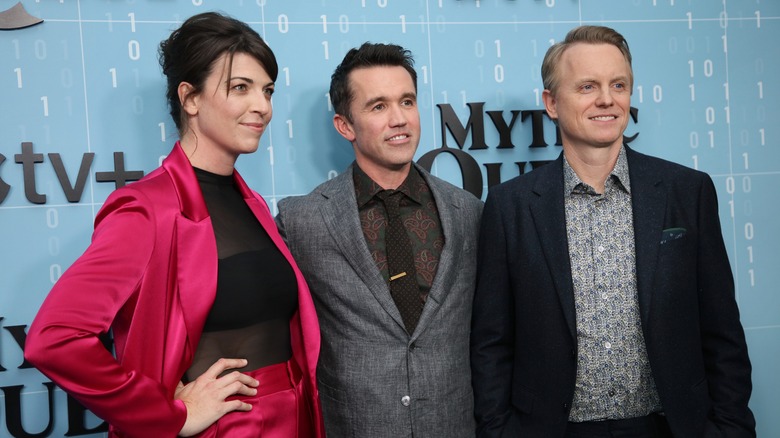 Robin L Marshall/Getty Images
Later, David Hornsby teamed up with members of his "It's Always Sunny in Philadelphia" crew for another popular TV series. Hornsby plays the character David Brittlesbee on "Mythic Quest," which stars and was created by Rob McElhenney, co-creator of "Always Sunny" fame. In addition to McElhenney, "Always Sunny" producers Charlie Day and Megan Ganz also produce on "Mythic Quest."  Similar to his duties on the FX show, Hornsby not only acts but writes and produces on the Apple+ series. 
Currently, Hornsby is balancing both shows, which can be taxing but he manages it well. "Well, you know, in a sense we get a built-in break in that we're not year-round with twenty-four episodes of each show. We're ten episodes," Hornsby told ScreenRant in 2022 while discussing how he balances his workload.
Season 3 of "Mythic Quest" saw Hornsby's character David come into his own, which caused the veteran TV actor, writer, and producer to find parallels in his own life. "Well, similarly, to David, I have sort of an illusion of power behind the scenes as well. I'm realizing," he jokingly told The Mary Sue in 2022 while promoting the show.