What Sarah Michelle Gellar And David Boreanaz's Relationship Was Like In Real Life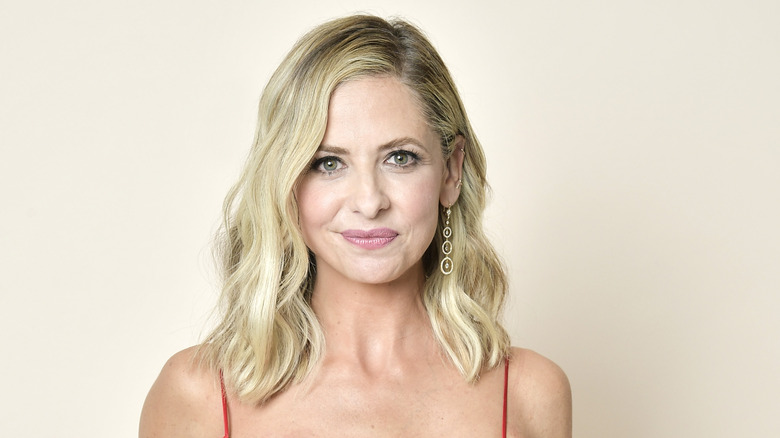 Neilson Barnard/Getty Images
Vampires cowered in fear with the arrival of "Buffy the Vampire Slayer" in the late '90s. The TV show, starring Sarah Michelle Gellar as the titular heroine, launched not just her career but featured many future stars like her on-screen bestie Alyson Hannigan, "The Last of Us" star Pedro Pascal, and the original heartthrob vampire boyfriend,  Angel, played by David Boreanaz. Angel and Buffy's romantic chemistry in the show was one of the core elements of the early part of the series before show creator and director Joss Whedon launched the spinoff series "Angel" with Boreanaz as the lead.
After both supernatural series ended, news surfaced of trouble off-camera for both of Whedon's dramas. "Buffy the Vampire Slayer" actors Charisma Carpenter and Michelle Trachtenberg accused Whedon of inappropriate behavior during filming. Both Gellar and Boreanaz posted supportive messages on social media for the two women, with Gellar adding that she didn't want her name associated with Whedon. There were also rumors of tension while filming between several of the cast mates. "I think that unfortunately, the set we were on and the world we were in was pitting us against each other," Gellar explained in the book "Into Every Generation a Slayer Is Born: How Buffy Staked Our Hearts," by super-fan and author Evan Ross Katz, via Us Weekly. As for her work with Boreanaz, she admitted, "There were times where David could be a handful. He never really was to me, but I'm sure [he was]." 
These are all the details of Gellar and Boreanaz's real-life relationship.
Sarah Michelle Gellar and David Boreanaz grew closer on set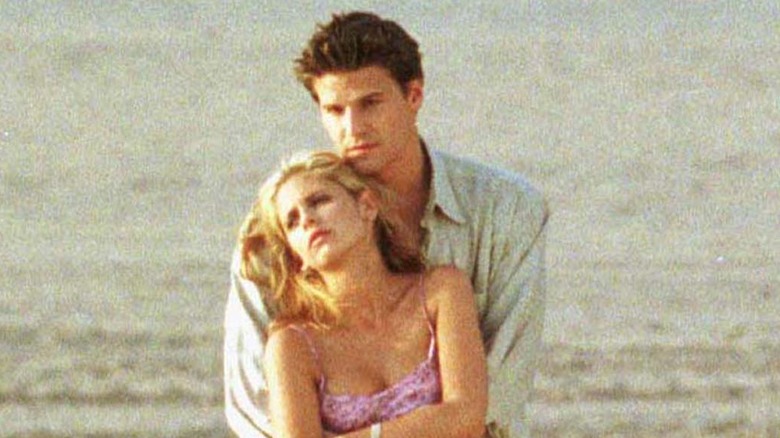 James Aylott/Getty Images
David Boreanaz remembered his first day on the set of "Buffy the Vampire Slayer" and watching Sarah Michelle Gellar film a fight scene as Buffy with intense ferocity. When the scene ended and Gellar introduced herself to Boreanaz, "she was so bubbly and energetic and very kind and there I am just holding my cool," the actor recalled on "The Summit with Josh Horowitz." 
Boreanaz's character Angel was a dark and mysterious vampire, or in his words, often brooding. 26 years later, Boreanaz posted a photo alongside Gellar in an Instagram story and captioned, "TBT: This a grumpy moment or brooding moment." Gellar then reposted the story and wrote that her co-star was "always brooding you were never grumpy."
In 2014, nearly two decades after first working together, Gellar and Boreanaz appeared to still be close. She posted a photo on Twitter with her, Boreanaz, and Emily Deschanel, his co-star on the TV series "Bones." According to Gellar, her TV sitcom "The Crazy Ones" was filmed on the same lot as "Bones" and Boreanaz would sometimes text her to join when there was a great catering spread for his show. "David and I will always have a connection. We'll always stay friends," Gellar told HuffPost Live. That same year, Gellar participated in an open discussion on Reddit and dished on one of Boreanaz's better qualities. "I can say that David honestly smells very good and continues to smell very good," Gellar wrote.
When Sarah Michelle Gellar and David Boreanaz went different ways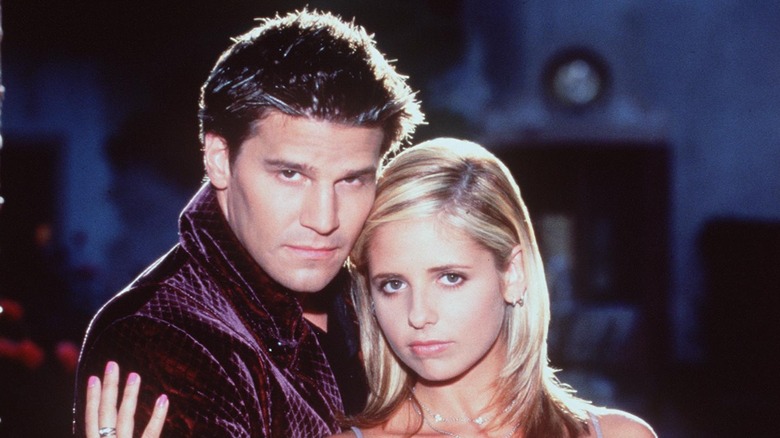 Getty Images/Getty Images
During an interview to promote both a new season of "Buffy the Vampire Slayer" and the debut of "Angel," the pair talked about what it would be like to put an end to their popular on-screen relationship. "It's incredibly scary to be split up from each other because we've always had that sort of security," Gellar told The WB. During the interview, the two actors also showed a bit of their real-life chemistry, filled with banter. For example, regarding the character arcs of both shows, Boreanaz asked, "you can get a new boyfriend but I can't get a new girlfriend? It doesn't make any sense." Gellar quipped right back, "Yes. It makes complete sense." She then sarcastically added about Boreanaz, with a coy smile, "We never argue." In another interview with E! News, Gellar joked that her character Buffy would get a new boyfriend sooner than Angel getting a new girlfriend. As for their body language, Gellar showed a high level of comfort with her arm on Boreanaz's arm while playing with his suit jacket.
Gellar continued the bittersweet goodbye between these two actors at the 1999 Teen Choice Awards. At the end of her acceptance speech for being crowned as viewers' favorite TV actress, she dedicated the award to her fictional partner and real-life costar who was off to the next chapter in his career. "This is to my Angel. I miss you already David," Gellar told the audience.