All The Tea On Season 15 Of The Real Housewives Of Atlanta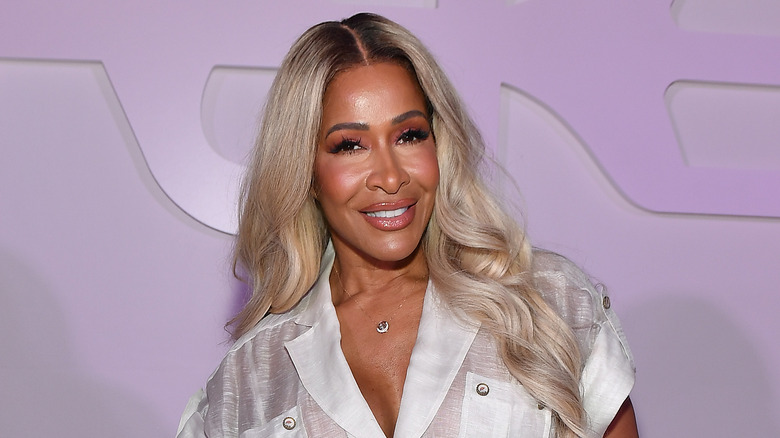 Paras Griffin/Getty Images
They say that everything is sweeter down South, but when it comes to the ladies of "The Real Housewives of Atlanta," Southern manners are replaced by serious shade. Since "RHOA" debuted in 2008, the series has continued to be a success — highlighting the lives of affluent Southern belles living in and around Atlanta. Though cast members have come and gone, one thing remains true — the ladies lucky enough to hold a peach have maintained their status by providing endless drama and entertainment. Even Beyoncé is a fan of the show — when she famously quoted Kenya Moore's catchphrase "'Gone With the Wind' fabulous" in an interview clip.
Season 15 of the hit series debuted in May 2023, and from the looks of the intense trailer — fans should brace themselves. There's no burying the hatchet with this group of women, and long-standing feuds promise to make the upcoming season an explosive one. Kandi Burruss, Kenya Moore, Shereé Whitfield, Drew Sidora, Marlo Hampton, and Sanya Richards-Ross will all return to our television screens as main cast members. "The fabulous ladies of 'The Real Housewives of Atlanta' are trying their best to get to a healing space," the press release for Season 15 reads. "However, with friendships on the brink, accusations causing a fuss, and divorce news that's all too much, will these women be able to channel positive vibes?" As of this writing, fans will have to keep watching to find out, but in the meantime, we're breaking down all the tea that's to be expected on Season 15 of "The Real Housewives of Atlanta."
A She by Shereé success story
Prince Williams/Getty Images
Shereé Whitfield is the only cast member of Season 15 to have been an OG, after being introduced to viewers in Season 1 in 2008. From her very first season as a Housewife, Whitfield's dream of starting her own clothing brand was a focal point on the show — but not always in a good light. Super fans may remember her friend Dwight Eubanks calling her first She By Shereé fashion show a "fashion show with no fashions." 
Whitfield previously caught some serious shade from her fellow castmates and viewers after years of talk and no action with her line prompted doubt. When asked by Andy Cohen on the Season 10 Reunion episode when she expected to launch her designs, she became a meme when her response went viral. "Probably more September for, uh ... that is ... spring/summer," she answered confusingly. 
Whitfield did eventually launch her collection in 2022, finally pulling off a fashion presentation 14 years in the making, with over 20 looks that emphasized lifestyle and athletic wear. It was finally a fashion show with fashion, and even Eubanks was there to see it come together. While her site launched directly after the Season 14 Finale aired, the "RHOA" star was under fire again when it crashed shortly after due to heavy traffic. There's no doubt the fashion designer's line will be a main storyline in upcoming episodes after Season 15 Episode 2 featured Kenya Moore paying her friend a visit at the She By Shereé warehouse. 
Kenya Moore finds love again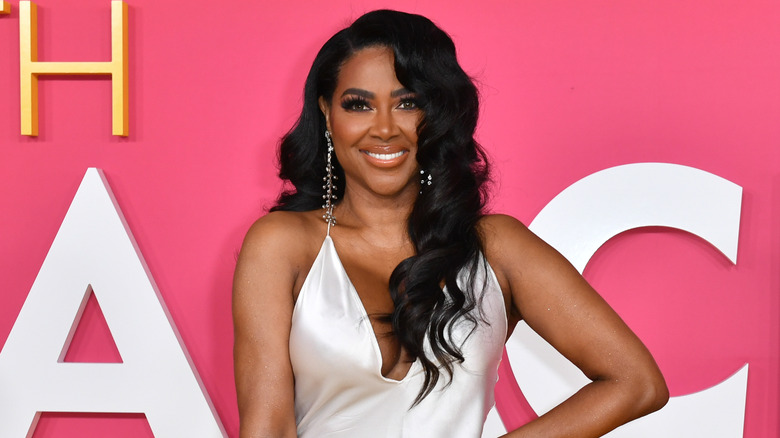 Aaron J. Thornton/Getty Images
Kenya Moore's love life has been full of ups and downs. The former Miss USA, who joined the cast of the "RHOA" in Season 5, had a few boyfriends over the years before she met her ex-husband Marc Daly in 2016. The pair had an instant connection and after just six months of dating, they shocked fans by tying the knot in a secret ceremony in St. Lucia in June 2017. At the time, the Kenya Moore Hair Care founder was pregnant with her daughter Brooklyn, whom she gave birth to the following November. 
Moore's marriage to Daly was short-lived, however, as the two split up in 2019. The "RHOA" star's ongoing divorce battle has been a highlight of the show, and Moore has even referred to it as "the world's longest divorce" on "Watch What Happens Live." Part of the reason for the prolonged proceedings is due to the couple's lack of a prenup. 
Season 15 brings new beginnings for Moore, as viewers will get to see her find love again with Kale Me Crazy founder Roi Shlomo. "I just feel good. Like, I just feel more alive," she told Shereé Whitfield in Season 15 Episode 2. "I feel like I'm ready to date." She went on to gush about the new romance, admitting, "I'm, like, kind of crazy about him. He's been very kind to me, he's funny, he makes me feel alive — and he's not bad on the eyes."
Can Shereé Whitfield's new man be trusted?
Kenya Moore isn't the only "RHOA" star whose search for Mr. Right led her to a few Mr. Wrongs. Shereé Whitfield's dating history has been a major storyline on the show as well, including her tumultuous romance with ex-convict Tyrone Gilliams. She was previously married to former Atlanta Falcons player Bob Whitfield, but the two filed for divorce in 2007 after 14 years together, prior to the first season of the show debuting. Shereé's unhealthy relationship with the former NFL athlete was revealed in Season 10 Episode 16, when Bob asked his ex-wife if he had ever choked her. When she confirmed he had, he responded, "Could you still breathe?" saying he didn't remember the incident and adding, "I didn't choke you hard enough."
After ending things with Gilliams in Season 14, Shereé is back on the market in Season 15. She's dating fellow reality star Martell Holt, who appeared on "Love & Marriage: Huntsville." However, during the explosive premiere, cast mates questioned whether Holt was faithful to Shereé. Kenya Moore called him out during the episode after she revealed he had previously DMed her in the past. Shereé isn't letting her fellow Housewives' opinions affect her, however, and though she isn't calling him her boyfriend (yet) she told Entertainment Tonight, "He's such a good guy, we're still great friends — we're still hanging out — we enjoy each other's company. When we're together, we laugh like crazy, and that's one of the things I really like about him."
If you or someone you know is dealing with domestic abuse, you can call the National Domestic Violence Hotline at 1−800−799−7233. You can also find more information, resources, and support at their website.
Pressure on Kandi Buress and Todd Tucker's marriage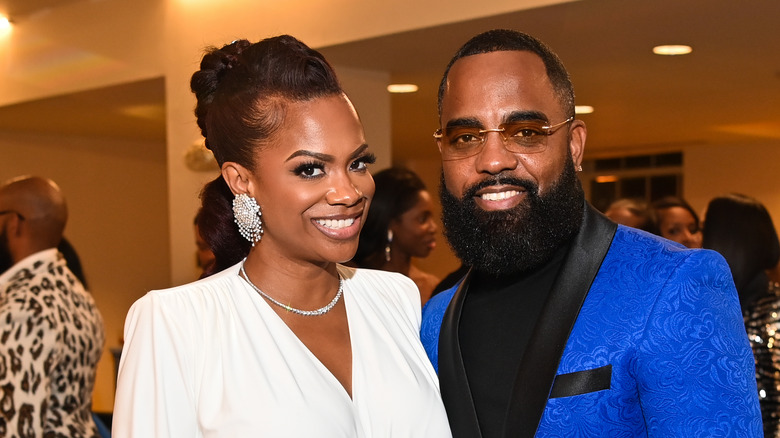 Prince Williams/Getty Images
Former Xscape lead vocalist Kandi Burress makes her return to Season 15 as the longest-standing "RHOA" cast member. Having joined the cast in 2009 for Season 2, she reportedly is the highest-paid of all the peach-clutching ladies, according to the tell-all book "The Housewives: The Real Story Behind the Real Housewives" by Brian Moylan. Over the decade that she's been on reality television, we've seen her blossom into the successful entrepreneur she is with her booming business of bedroom toys, Bedroom Kandi.
While filming "RHOA" in Season 4, Burruss met her husband Todd Tucker, who was working as a line producer. The two went on to get married in 2014 and welcome two children together, in addition to their children from separate partners (Burruss's daughter Riley and Tucker's daughter Kaela.) Their marriage has had its ups and downs on the show, especially when it came to Tucker's strained relationship with Kandi's mother, known to fans as Mama Joyce. She previously called her son-in-law an "opportunist" and criticized him for not being good enough for her daughter.
While Tucker and his mother-in-law are on better terms going into Season 15, he's feeling the pressure in his marriage. In the premiere episode, Burruss revealed that Tucker's recent delve into the movie production space has limited their time together as a family. "I'm trying to do so much, and I know he wants his dreams to come true as well," she said on the episode. "But I don't know how to make it all work."
Former Housewives make cameo appearances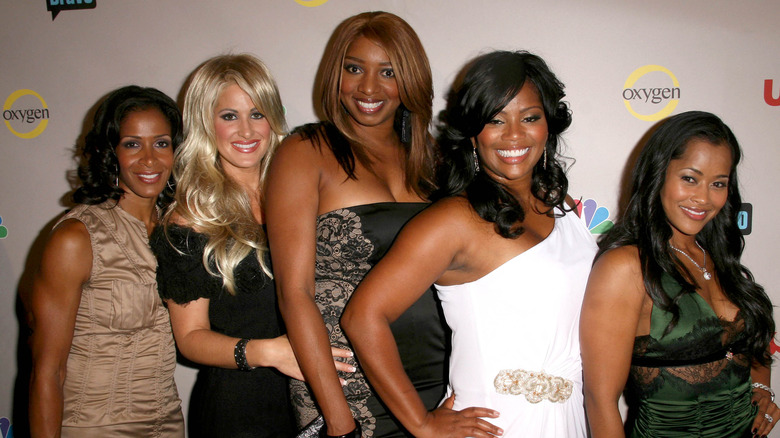 s_bukley/Shutterstock
Season 15 of the "RHOA" will see some familiar faces — including former Atlanta Housewives. The trailer for the newest installment of the series featured former cast members Kim Zolciak-Biermann, DeShawn Snow, and Cynthia Bailey making cameo appearances. Kim Zolciak-Biermann was an OG Season 1 cast member and went on to hold her peach for five seasons before leaving the show and getting her own spin-off series "Don't Be Tardy" on Bravo in 2012. The show lasted eight seasons and documented her life alongside her then-husband Kroy Biermann and their children. 
Snow was also a Season 1 cast member alongside Zolciak-Biermann, but her nice-girl personality didn't fare well with viewers. After not being asked back for Season 2, Snow revealed to Essence, "[A producer] called and said that I was 'too human for a circus show' and that because the show did so well, they are about to pump up the drama and they didn't think that I would fit in." Aside from her brief Season 15 cameo, the former "RHOA" star left reality television behind. Snow has made a name for herself by becoming a children's book author.
Model Cynthia Bailey's cameo return comes after the former Housewife left the franchise in 2021 after being a full-time cast member since Season 3. Since leaving the show, she has kept herself busy by starring in several roles in television and film, including the Lifetime film "Cruel Instruction." She also appeared on "The Real Housewives Ultimate Girls Trip" in 2021 which aired on Peacock.
Drew Sidora's family emergency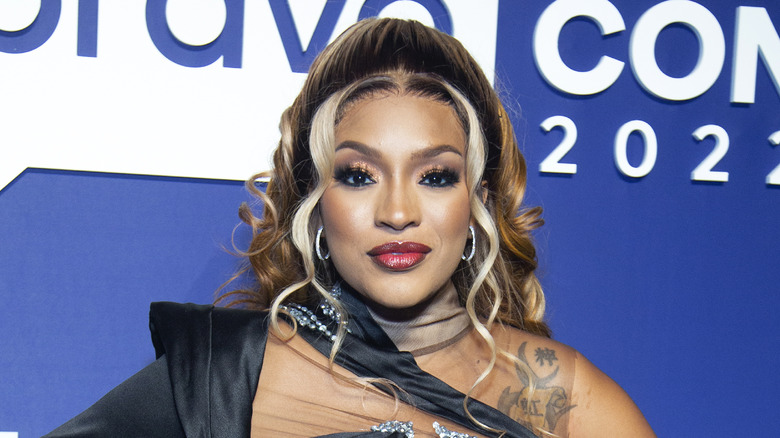 Santiago Felipe/Getty Images
Drew Sidora joined the cast of the "RHOA" in 2020 for Season 13, but she's no stranger to the spotlight. Before being handed a peach, Sidora worked as an actor and producer. The reality television personality has appeared in "White Chicks," "Step Up," and "Never Die Alone." Season 15 promises to be a difficult one for the actor, however, as she opened up about her family life. In Season 15 Episode 2, she admitted to having a breakdown over her father's battle with Alzheimer's. 
"I've been going through it with my dad," Sidora said to her ex-husband Ralph Pittman in the episode. "I think I've been pretty strong through it, but literally, when I go back to Chicago, it's like, 'Oh, wow, Daddy's in a nursing home... He's in a wheelchair, which is still so crazy to me that my dad's in a wheelchair because when he went in, he was still walking." Sidora revealed that her father is still able to recognize her, and it helps when she plays him her music. The "RHOA" star returned to the studio and collaborated with "Real Housewives of Potomac" star Candiace Dillard Bassett for their soul track "Affirmations Pt. II," which is set to release in May 2023.
In a preview clip for Season 15, Episode 3, Sidora admitted she was nervous about singing again. "People haven't always been supportive of my music because they would always see me as an actress, but nothing is going to stop me from achieving my dreams," she said in a confessional interview.
A spotlight on Drew Sidora and Ralph Pittman's divorce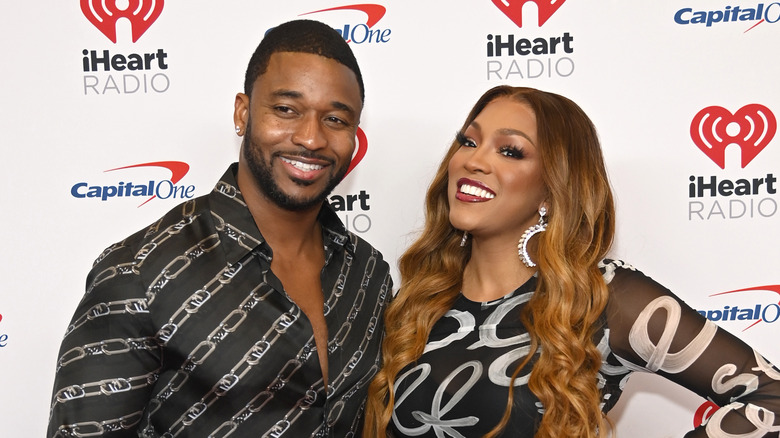 David Becker/Getty Images
Season 15 of the "RHOA" presents a lot of obstacles for Drew Sidora, and not just with her immediate family. The singer's marriage with her ex-husband Ralph Pittman will be one of the main storylines, as the pair filed for divorce in March of 2023 after nine years of marriage. Pittman is petitioning for joint custody of their two biological children. Sidora also has an 11-year-old son, Josiah, from a separate relationship. She spoke to Today in 2022 after Season 14 showed the couple in counseling. "I don't think any marriage is perfect, but it holds us accountable to say, you know, we don't want to keep showing up like this, so we're doing the work," she admitted.
In the shocking teaser for Season 15, Sidora and Pittman are seen again in couple's therapy. "Ralph has moved out of the bedroom. I have no more tears to cry," she admitted. Her ex-husband is then seen saying, "Who hasn't filed for divorce?" The news of their divorce will play out in the upcoming episodes as the trailer shows Sidora's cast mates discovering the news of the divorce online. 
Former "RHOA" Porsha Williams appeared on "Watch What Happens Live" following the news and offered her condolences to Sidora. "My reaction to any of these girls on these shows doing a divorce in public, automatically, my heart goes out to them. Because I had to do it on TV," she admitted, adding that she had reached out to Sidora and was praying for her.
Marlo Hampton's feuds with Kandi Buress and Kenya Moore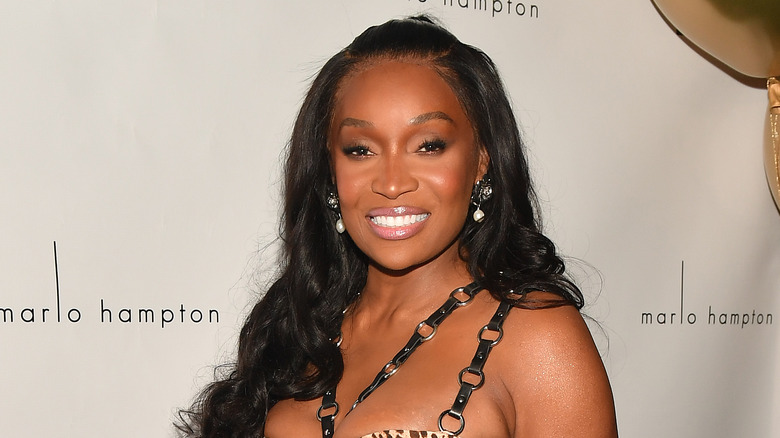 Paras Griffin/Getty Images
Marlo Hampton is known for her fiery temper and being the first to throw shade on the "RHOA." She's usually at odds with at least one member of the group, and if the Season 15 trailer is any indication of what's to come — Hampton is not afraid of any confrontation. Season 14 saw Hampton's on-and-off (but usually off) friendship with Kenya Moore reach new lows, with her and Moore unable to communicate well and constantly throwing digs at each other. The star admitted that fans won't see a reconciliation between the two women in Season 15. "There's no hope," she told ET when asked about the future of their friendship.
Hampton admitted that she's also feuding with castmate Kandi Burruss. Their beef may stem from rumors that the former Xscape singer spoke about Hampton's criminal record while filming, mentioning a past incident when Hampton reportedly wielded a knife on a woman's face. "Our biggest fight was bigger than that," Hampton told ET, "But I mean, majority of all the girls always try and use my history against me, and I'm just letting them know: I'm not there anymore. So, I need you to know that that was my past, this is my future and if you can't accept that, kiss my new edges."
Kiss her edges, indeed. But don't get it twisted — Hampton's on the path of self-work. She admitted in the interview that she's working with a life coach to help improve her quick temper.