The Real Reason Pete Davidson Could Afford Ariana's $93K Ring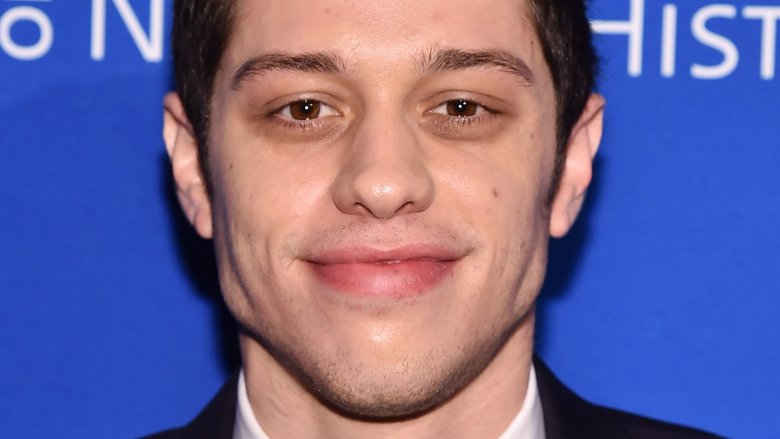 Getty Images
Pete Davidson isn't exactly scraping by in the comedy world, but he's no millennial Bill Murray.
While Davidson boasts a regular gig on Saturday Night Live and has had small parts in movies like Trainwreck and Set It Up, it's unlikely that he just had $93,000 handy to throw down on an 3-carat diamond engagement ring for Ariana Grande.
Let's go over Davidson's finances real quick: He reportedly makes $15,000 for each episode of SNL that he appears on, which could snag him a potential $315,000 a year if he appeared in all 21 episodes of any given season. That's certainly not anything to sneeze at, but it's doubtful he'd be able to comfortably spend $93,000 on a piece of jewelry with that kind of money. So just how could Davidson have purchased a huge ring for Grande on his salary? Well, he may have used his celebrity status to snag a cheaper price tag.
According to the New York Post, celebrities often receive discounts for engagement rings in exchange for publicity. "It adds a huge value, not only to the brand, the designer — such as Neil Lane or anyone, but of course it's going to drive prices up," Tracey Khan, publicist for jewelry designer Neil Lane, explained to the paper.  
Elaborating on the influence a celebrity engagement can have on the jewelry industry, Khan noted how big of an impact Madonna's engagement ring once caused. She recalled how people would go to the store demanding, "I want Madonna's ring. It's a Neil Lane sparkler. I don't care how much it is!"
A source told the Post that many big-name jewelers partake in this practice, as they know that the public will want to learn all about a celebrity's ring and may want the same piece of jewelry for themselves. "Tiffany does it, Bulgari, Cartier, Harry Winston, every big jeweler," the insider said. "[The information] finds its way to the media."
But while it's entirely possible that Davidson snagged a discount due to his fame — and Ariana's — it's still not off the table for Davidson to have paid full price for the sparkler. To the Post, Diamond District jeweler Mr. Flawless speculated that it may have been an "organic deal," as, while Grande is surely a superstar, she comes with a history of some bad press — like that time she made headlines in 2015 for licking donuts at a bakery.
Considering that Greg Yuna, the jeweler who designed Davidson's ring for Grande, claimed he had no idea who the ring was for, maybe Davidson really did pay full price. Of course, it's impossible to know the details of Davidson's jewelry deal unless we hear it from the comedian himself.