The Medical Condition Harrison Ford's Daughter Georgia Lives With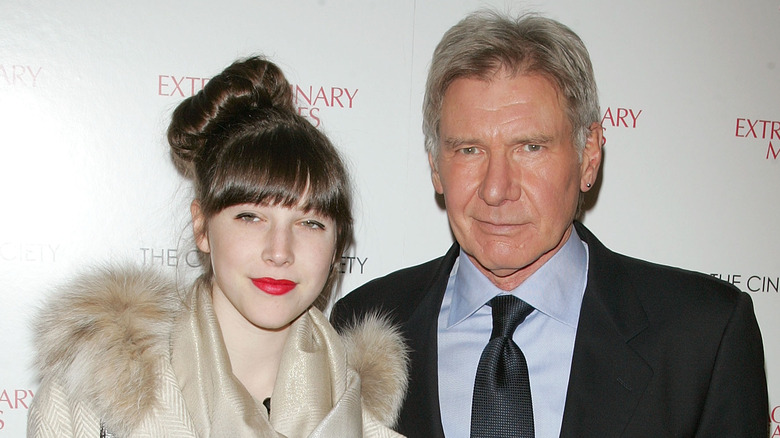 Jim Spellman/Getty Images
If there's one actor who knows how to make a blended family work, it's Harrison Ford. The "Indiana Jones" star shares five children with three different women and he first became a father at just 25 years old. He shares his sons Benjamin and Willard with his first wife Mary Marquardt, whom he married before he became a huge film star. He went on to have his son Malcolm and only daughter Georgia with his second wife, Melissa Mathison. After marrying Calista Flockhart, Ford adopted her son, Liam.
Ford has often spoken about fatherhood in the press but it's his special relationship with Georgia that is touching. She's the only one of his kids that followed in his footsteps as an actor, landing her first role in "American Milkshake" at 23 years old. However, her early life wasn't easy, as she suffered from a mysterious condition that took many doctor visits to finally diagnose.
Georgia Ford was diagnosed with epilepsy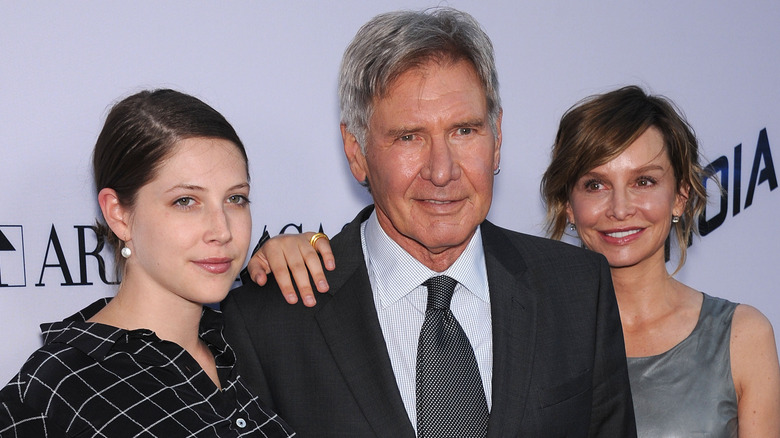 DFree/Shutterstock
Harrison Ford lived through a parent's worst nightmares — knowing that his daughter Georgia was suffering from seizures, but having no idea what was causing them. In 2016, during the Finding a Cure for Epilepsy (FACES) gala, Ford revealed that Georgia experienced her first seizure as a child while at a sleepover, which was diagnosed as being brought on by migraines, per ABC News. During his speech, Ford shared that his daughter had another "big one" and recalled, "I said to myself, 'This is Los Angeles, we have some of the best doctors in the world, they must know what's wrong with her.' But nothing was diagnosed as epilepsy." After suffering another seizure in London, Ford finally got the answer he was looking for. "Dr. Orinn Devinsky, who is a dear friend, made the diagnosis: epilepsy. He prescribed the right medication and therapy; she has not had a seizure in eight years."
Ford previously opened up in 2010 about how epilepsy has affected him. "There's a history of epilepsy in my family and I'm really aware of what a devastating affliction it can be. It not only affects the person who suffers from epilepsy, but it affects their entire family and it's really important to talk about it," he said, per the Epilepsy Foundation. He added that he hopes there will be a cure soon and the "Star Wars" actor continues to actively support FACES in hopes of eradicating epilepsy.
Harrison Ford auctioned off Star Wars memorabilia to help epilepsy research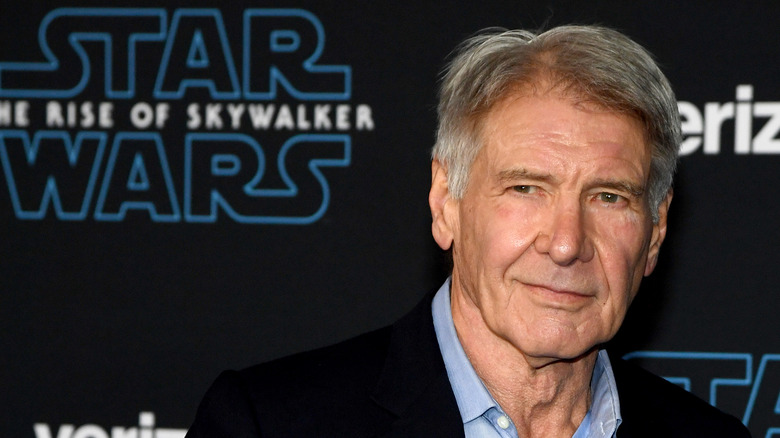 Ethan Miller/Getty Images
Harrison Ford is doing whatever it takes to help find a cure for epilepsy. In 2022, People reported that the Han Solo portrayer donated the jacket he wore in "Star Wars: The Force Awakens" to auction off for the NYU Langone Center and the FACES foundation. The jacket came with a fresh signature from Ford and started off at $18,000. "I was wearing it throughout the film. Dr. Devinksy really wanted this jacket, and it fits him like a glove," Ford joked about the doctor and friend who diagnosed his daughter, Georgia. Unfortunately for Dr. Devinsky, but thankfully for the cause, the jacket sold for a whopping $191,000, per Entertainment Weekly. "We are incredibly appreciative of Harrison Ford's and Lucasfilm's generosity to support the FACES research and clinical epilepsy programs at NYU Langone Medical Center. A phenomenal success!" Dr. Devinsky raved.
Georgia lives a pretty private life but was last seen with her father on May 10 out and about in Los Angeles. According to Hollywood Life, the two were shopping in West Hollywood ahead of his latest film, "Indiana Jones and the Dial of Destiny." Ford cherishes his relationship with his one and only daughter and has previously stated of her, "I admire her perseverance, her talent, her strength. She's my hero. I love her."