WWE Wrestler Brian Christopher Lawler Dead At 46 Following Arrest
Brian Christopher Lawler, a former WWE wrestler known as Grand Master Sexay, was pronounced dead on Sunday, July 29, 2018.
According to People, the Tennessee Bureau of Investigation revealed that Lawler was found hanging in a cell at Hardeman County Jail on the morning of Saturday, July 28. He quickly received medical assistance, but, unfortunately, Lawler ultimately could not be saved. "Corrections officers administered CPR until paramedics arrived," TBI shared in a statement obtained by the magazine. "Lawler was transported to Regional One Medical Center in Memphis where he died Sunday afternoon."
According to TMZ, Lawler had been placed on life support on Saturday night. His family, including father WWE icon Jerry "The King" Lawler and brother Kevin, were reportedly with him when he passed away the next day. Lawler was 46 years old.
TBI has since launched an investigation into Lawler's death. However, the Bureau does not suspect that any foul play was involved.
Lawler's brother, Kevin, spoke out about his sibling's passing on Facebook on Sunday, July 30, writing, "Lots of different stories and rumors about my brother today. But as of 30 minutes ago he has officially passed. I love U and will miss U my brother! A very sad day today. Words can't describe."
WWE also released a statement addressing Lawler's death. "WWE is saddened to learn that Brian Christopher Lawler, who is best known in WWE as Too Cool's Grandmaster Sexay, has passed away. Lawler, who is the son of WWE Hall of Famer Jerry 'The King' Lawler, competed during the height of the Attitude Era," the organization shared in a message on its website. "WWE extends its condolences to Lawler's family, friends and fans."
Lawler was previously arrested on July 7. TMZ reported that cops tried to pull him over after they saw him "speeding and swerving." Lawler allegedly failed to stop for police. When he finally did pull over for the authorities, he allegedly smelled of alcohol and had an open 12 oz. can of booze in his car, which prompted his immediate arrest. Lawler was charged with driving under the influence, driving with a revoked license, and evading arrest and was booked in Hardeman County Jail, where he remained until his hospitalization.
His bail had been set at $40,000.
Lawler had a history of running into trouble with the law. In June 2018, he was arrested in Memphis, Tenn. after he allegedly left a hotel without paying the bill (via TMZ). He was reportedly charged with theft of services under $1,000. According to Cleveland 19 News, Lawler had attempted to pay the hotel with a company credit card that didn't have enough money on it to cover the cost of his room.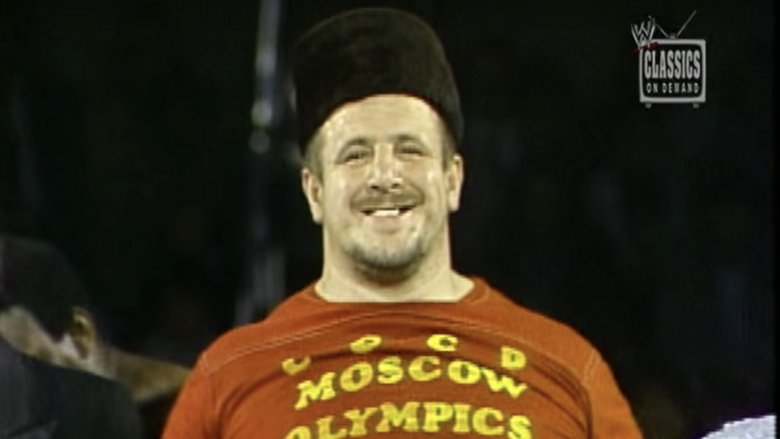 Unfortunately, Lawler wasn't the only WWE star to have passed away on July 29, 2018. That same day, Josip Nikolai Peruzovic, who was known as Soviet character Nikolai Volkoff in the ring, also died. According to ESPN, Peruzovic's wife shared that he'd had heart problems, and, when she attempted to give him his medication, he was unresponsive. Peruzovic, whose wrestling partner had been the Iron Sheik, was 70 years old.
Our thoughts are with both Lawler's and Peruzovic's loved ones during this difficult time.
If you or anyone you know is having suicidal thoughts, please call the National Suicide Prevention Lifeline at 1-800-273-TALK (8255).