Nikki Bella Calls Off John Cena Wedding — Again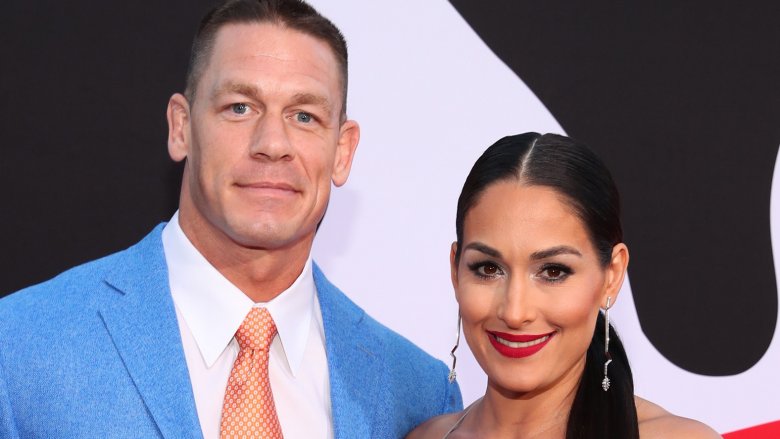 Getty Images
Pro wrestling couple Nikki Bella and John Cena have canceled their wedding plans once more.
During the season finale of her reality TV show Total Bellas, Bella ended her engagement to her longtime love — just weeks before the pair were set to marry. As reported by People magazine, her decision appeared to be sparked by Cena's absence at an appointment at their wedding venue in Napa, Calif. Bella's twin sister, Brie, filled in for Cena instead, but she made her opinion known in a talking head interview that Cena should have been there. "John should be here, not me," Brie said. "Your wedding is around the corner."
Following a "miserable" time at WrestleMania, where Cena had proposed to her a year earlier, Nikki Bella later revealed to her sister that she may want to call off her engagement to Cena again. Though Brie Bella's husband, Daniel Bryan, suggested that she simply postpone her wedding, Brie noted that Cena might see the delay as a bad sign for his relationship.
And unfortunately, that appeared to be the case, as some time later Bella shared that Cena had given her just one day to figure out what she wanted to do. "It's tough 'cause he's like fighting really hard for me. ... The tables have kind of turned," Bella said in the episode. Referencing the couple's earlier breakup in April 2018 — and their later reconciliation — she added, "I didn't give myself long enough the first time we broke up because I got so excited he wanted kids."
Crying, Bella continued, "I feel like I've ruined everyone's fairy tale. My heart hurts so bad."
Admitting that the situation "sucks," Bella revealed that she was "just so exhausted and done" after trying to make her relationship with Cena work for years. Accepting that she wanted to break up, Bella shared that she was "afraid" to say that things between Cena and her were over.
"I just don't want to hurt him," she said. "It's just hard when you love someone so much and care for them so much, but you just can't do it anymore. It's not his fault, it's not my fault. We've had this amazing love story, and it's just come to an end."
She went on, "He's wanted a very strong career, and he has that now," adding, "But unfortunately, to have that, he's lost the woman of his dreams."
Cena and Bella previously ended their engagement weeks before their wedding in April 2018. "While this decision was a difficult one, we continue to have a great deal of love and respect for one another," the pair told Us Weekly in a statement. "We ask that you respect our privacy during this time in our lives."
Their decision to go their separate ways was influenced, in part, by their busy schedules and their different life goals. For instance, while Bella wanted to be a mother, Cena didn't want to have children. However, he later changed his mind in order to make his relationship with Bella work, telling Bella that he'd be willing to undergo surgery to reverse his vasectomy so that they could have kids together. By June 2018, Cena and Bella had reconciled.
But, as we all know, their blissful reunion wouldn't last for long. The following July, Bella revealed in a YouTube video that she and Cena were "just friends." However, she offered hope for the future of their relationship, stating, "We're working on each other and trying to work on us, and we talk every day."
Still, it will likely take some time before the pair can move on, if they can at all. According to TMZ, Bella has been shopping for her own home in San Diego, Calif. So, if the two decide to patch things up, we doubt they'll be heading down the aisle anytime soon.