Lauren Sanchez Had A Star-Studded Love Life Before Jeff Bezos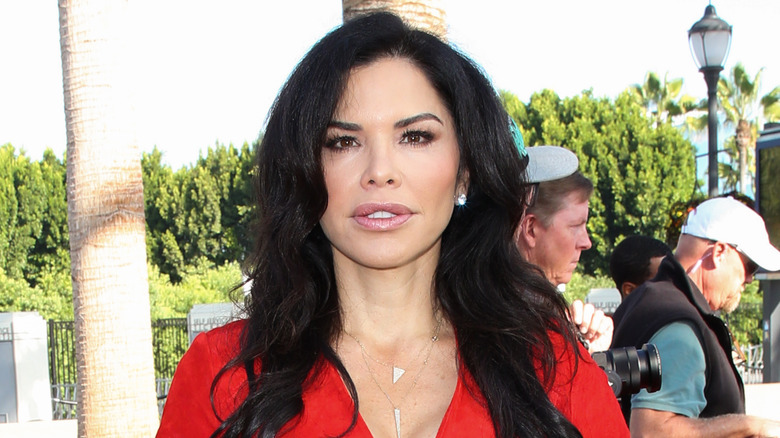 Paul Archuleta/Getty Images
Congratulations are in order for business mogul Jeff Bezos and news anchor turned helicopter pilot Lauren Sanchez, as a source confirmed to People on May 23 that Bezos did, in fact, put a ring on it, and the couple is now engaged to be married. Amidst the engagement news, Bezos and the blushing bride-to-be were photographed celebrating on his private luxury mega yacht off the coast of Cannes, France, while Sanchez proudly rocked her larger-than-life sparkler. Ooh la la!
As you may recall, Bezos and Sanchez first went public with their romance in January 2019 amid the mogul's high profile and tumultuous divorce from the mother of his four children and his former wife of 25 years, MacKenzie Scott. "After a long period of loving exploration and trial separation, we have decided to divorce and continue our shared lives as friends," Bezos and Scott revealed in a joint statement posted on Twitter. 
Alas, Sanchez's relationship history is a tad more lengthy than Bezos'. As it turns out, Sanchez led a star-studded love life prior to her relationship with the billionaire. Here's everything we know about Sanchez's stacked dating roster pre-Bezos.
Lauren Sanchez's roster includes many successful men in various industries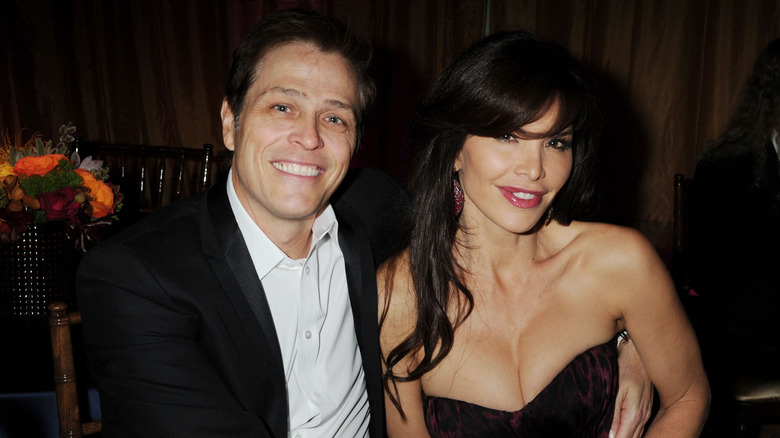 Jeffrey Mayer/Getty Images
Sports broadcasters, professional athletes, and talent agents! Oh my! Before her whirlwind courtship and subsequent engagement to Jeff Bezos, Lauren Sanchez was linked to a plethora of relatively successful and high-profile men working in various industries.
The story goes that while working as a lowly intern at a local Los Angeles television station, Sanchez met and first got engaged to sports broadcaster Rory Markas. Alas, the couple never made it down the aisle. A former friend of Sanchez's claimed to Page Six that Sanchez dumped Markas after switching jobs. Sadly, in 2010 Markas was found dead in his home after suffering a heart attack. Still, Sanchez wasn't done with men in the sports industry just yet. Following her engagement to Markas, she married and had a son with former NFL player Tony Gonzalez in 2001. Unfortunately, that relationship didn't go the distance either. Fast forward to 2005, and Sanchez tied the knot with talent agent Patrick Whitesell. Sanchez and Whitesell went on to have a son and a daughter in 2006 and 2008, respectively. 
But that's not all. Over the years, Sanchez has also been romantically linked to former professional footballer Anthony Miller, former Los Angeles Lakers player Derek Fisher, and actor Henry Simmons. Then, in 2016, Sanchez met Bezos (via her then-hubby Whitesell), and the rest is history.
Jeff Bezos seems unbothered by Lauren Sanchez's lengthy roster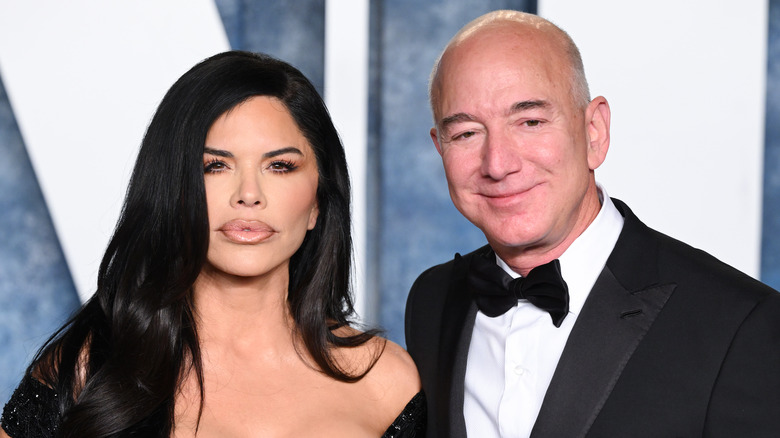 Karwai Tang/Getty Images
It appears, however, that Jeff Bezos has no qualms about Lauren Sanchez's lengthy star-studded relationship history. In fact, he and the father of Sanchez's son Nikko, Tony Gonzalez, seem to get along swimmingly. In October 2021, Sanchez and Bezos were spotted having lunch with Gonzalez and his wife at an upscale Italian restaurant in New York City. And the foursome also opted to ring in 2022 together while aboard a yacht in St. Barts, along with Gonzalez and Sanchez's son.
Furthermore, it seems Sanchez makes time for Bezos' four children, as well. "On a typical Saturday, we hang out, we have dinner with the kids, which is always fun because you never know where the conversation is going to go with this many kids," she told The Wall Street Journal in January about how the couple juggles the seven children between them. "We are the Brady Bunch," she declared. And there ya have it, folks.