Mila Kunis Gets Real About Husband Ashton Kutcher's Former Marriage To Demi Moore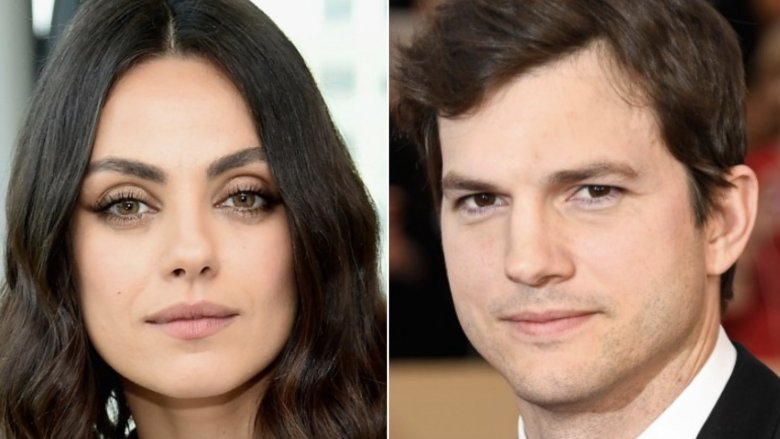 Getty Images
Bad Moms actress Mila Kunis is speaking out about husband and former That '70s Show co-star Ashton Kutcher's past relationship with Hollywood icon Demi Moore.
Appearing on the podcast WTF with Marc Maron, Kunis addressed her partner's first marriage to the Ghost star. "They had, like, a normal, real relationship," Kunis shared (via People). "They had three kids they were raising. It was, like, a normal life."
Remarking on Kutcher's bond with Moore's children with her ex-husband and movie star Bruce Willis — daughters Rumer, Scout LaRue, and Tallulah Belle — Kunis shared, "He was younger but he loved those kids."
As fans may remember, Kutcher and Moore first met back in 2003, later making their red carpet debut as a couple that June at the premiere of Charlie's Angels: Full Throttle (via E! News). After Moore called Kutcher her "soul mate" in a 2005 interview with Harper's Bazaar (via People), the two married in a secret wedding months later when Kutcher was 27 years old and Moore was 42.
However, the two clearly weren't meant to be, as Moore announced their divorce in November 2011, following rumors that Kutcher had been unfaithful in their marriage. "It is with great sadness and a heavy heart that I have decided to end my six-year marriage to Ashton," she said in a statement at the time, as obtained by E! News. "As a woman, a mother and a wife there are certain values and vows that I hold sacred, and it is in this spirit that I have chosen to move forward with my life. This is a trying time for me and my family, and so I would ask for the same compassion and privacy that you would give to anyone going through a similar situation."
Their divorce was later finalized in November 2013. Not long afterwards, Kunis and Kutcher were spotted together, and the pair later welcomed their first child, daughter Wyatt Isabelle, in October 2014 before marrying the following July. They've since had another child, son Dimitri Portwood.
Despite Kunis and Kutcher's fast-moving relationship, the actress denies that they were anything but friends during their time together on That '70s Show, on which she and Kunis played love interests Jackie Burkhart and Michael Kelso, respectively. Kunis told Marc Maron that there were "no feelings whatsoever" when they'd acted together on the show.
"It's the weirdest story that nobody believes but it's the God's honest truth," she said. "You know, he and I talk about it and we're like, 'God.'"
What's more is that Kunis doesn't believe that a relationship with Kutcher would've worked out had they tried to date any earlier than they had. Why? Well, she insists that they were just two very different people back then. "Had we connected [in the past] would we have connected? No," she admitted to Marc Maron. "The people that we were back then would never be together."
Still, that doesn't make Kunis any less sad that, in hindsight, she lived all that time without her husband by her side. "But it's just such a bummer that we missed out on 20 years together," she said. "I look back and I think, 'We could have spent 20 years together.'"
However, she knows that everything worked out for the best, as she told Maron, "We would have never been together if we didn't both go what we went through in order to be the people that we were when we met."
We're just happy that Kunis and Kutcher wound up together in the end — we couldn't imagine a more perfect celebrity couple.