The Wild Paternity Scandal Over Anna Nicole Smith's Daughter Dannielynn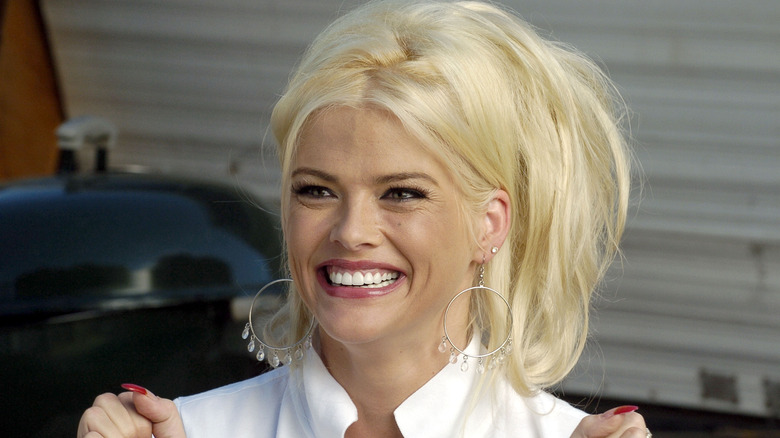 L. Cohen/Getty Images
Anna Nicole Smith's life was filled with unbelievable moments, both good and bad. At one point, the former Playboy model was caught in the midst of a paternity scandal over her daughter, Dannielynn.
The "Be Cool" actor announced the exciting news of her pregnancy with Dannielynn on her website. This would be Smith's second child, as she had a son named Daniel from a previous marriage. The Playboy model gave birth to Dannielynn in September 2006. What was supposed to be a time of joy turned into tragedy as Smith lost her first son to an accidental drug overdose just days after welcoming Dannielynn. According to People, a statement on Smith's website shared, "On Sept. 7 Anna Nicole gave birth to a healthy 6 lb., 9 oz. baby girl. Her son Daniel was in the Bahamas with her to share in the joy of his baby sister when he passed away suddenly on the morning of Sept. 10." Although the actor asked for privacy, she did not get it.
Instead, Smith was bombarded with questions about who Dannielynn's father was. At the time of her birth, the model had listed her lawyer, Howard Stern, as the father. But Smith's ex, Larry Birkhead, wasn't convinced. Birkhead felt so sure that he was the dad that he ensued into a lengthy court battle regarding a paternity test for the young child.
Anna Nicole Smith hit with eviction notice amid paternity scandal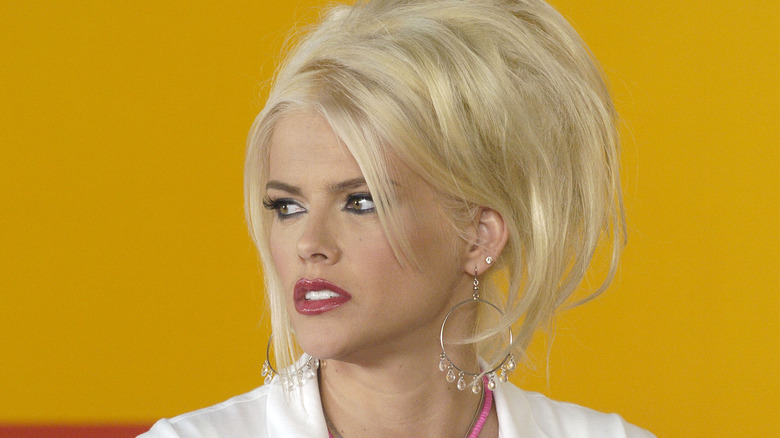 L. Cohen/Getty Images
Anna Nicole Smith had no days to rest following the birth of her daughter Dannielynn. According to People, the Playboy Model was given an eviction notice from developer Ben Thompson shortly after giving birth. Thompson claimed he purchased the Bahama home the model was staying in as a favor. The developer alleged Smith was supposed to purchase the home from him, but Smith claimed otherwise. Thompson told People, "She said it was a gift. I never said that. I don't have that kind of money." The eviction notice only complicated things with Dannielynn's paternity test.
Smith was adamant about not allowing a test to be taken, and if she were to return to California due to the eviction, it would potentially speed up the process. Larry Birkead, who claimed he was the father of Dannielynn, had requested for the California court to require Smith to submit the paternity test. Birkead's lawyer was not going down without a fight. She said, "We're going to get that paternity test. It may not be today, it may not be tomorrow, but I'm not going away."
Even going into 2007, Smith still refused to do the test. TMZ had released AOL messages between the "Illegal Aliens" actor and Birkhead where he had messaged the Playboy model, saying, "[S]how up for the test with the baby," to which Smith responded, "[D]on't think so...u wish." But Birkhead eventually got what he wished for.
Larry Birkhead is Dannielynn's father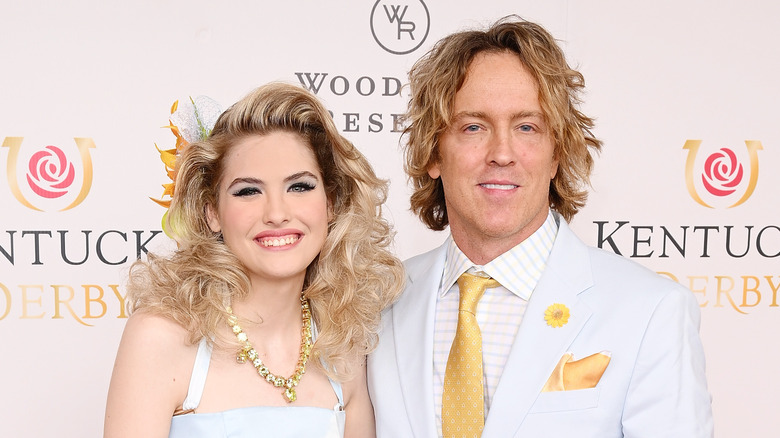 Daniel Boczarski/Getty Images
Months into the paternity scandal, Anna Nicole Smith tragically died of an accidental overdose. Smith's unexpected death only fueled Larry Birkhead's pursuit of a paternity test now that Dannielynn was without a mother.
In April 2007, Birkhead got the news he had been waiting after a DNA test confirmed he was the father of Dannielynn. At the time, Birkhead told reporters, "I hate to be the one who told you this, but: I told you so." Howard Stern, who Smith had alleged was Dannielynn's father, was gracious about the final results. Stern shared, "We're gonna do what we can to make sure that the best interests of Dannielynn are carried out. And I'm going to do whatever I can to make sure that he gets sole custody." Birkhead did get sole custody and has raised Dannielynn since.
As she has grown up, Dannielynn has looked uncannily similar to Smith as she and her father remain close. In 2022, Birkhead celebrated his daughter's sweet sixteen and shared a sentimental post about Dannielynn. As noted by E! News, he wrote, "Sixteen years ago my beautiful baby was born...Many people thought the odds were stacked against you, but maybe that was geared more towards me than you. Through tragedy, turmoil and a couple of baby tantrums-today you shine bright and are so accomplished. So proud to be your Dad!" Despite everything that Birkhead and Dannielynn have been through, the two will always be by each other's side.