How Jada Pinkett Smith Really Felt About Will's Steamy Scenes With Margot Robbie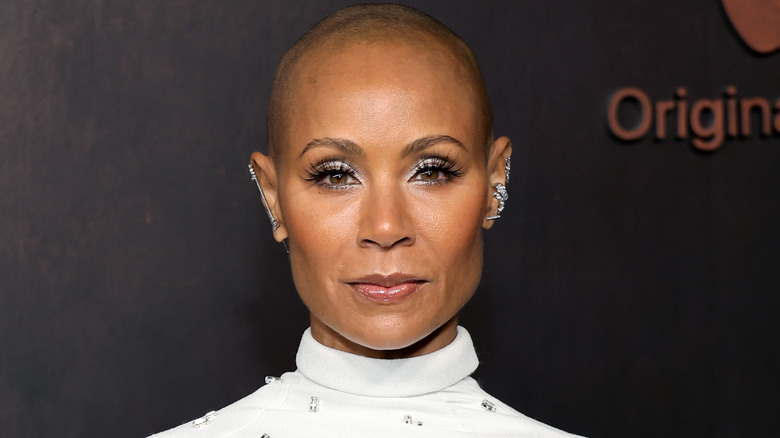 Matt Winkelmeyer/Getty Images
Margot Robbie and Will Smith have some intense chemistry. If you have ever doubted it, just take a look at the 2015 film they co-starred in titled "Focus." The two actors share intimate scenes during the film, leaving viewers questioning whether their connection was only for the camera.
Robbie has continuously gushed about her co-star, revealing that their bond was immediate and genuine. She shared with Red Carpet News TV, "When we walked into the room, we just really got along, and that continued throughout the shoot, and that made every scene exciting and fun. And it's not really something you can manufacture." The actor's chemistry had to have helped when filming the intimate scenes of "Focus," but it wasn't as hot and steamy as people might have thought. Will revealed to E! News, "...with a love scene when you look at it, it looks like it's hot, but a love scene is like this it's like cameramen and people standing around...it's like really really awkward." 
While it may have been awkward, the film convinced viewers otherwise. So, with those intimate moments Robbie shared with Will on camera, many have wondered how Jada Pinkett Smith felt about the steamy scenes.
Jada Pinkett Smith was anything but jealous of Margot Robbie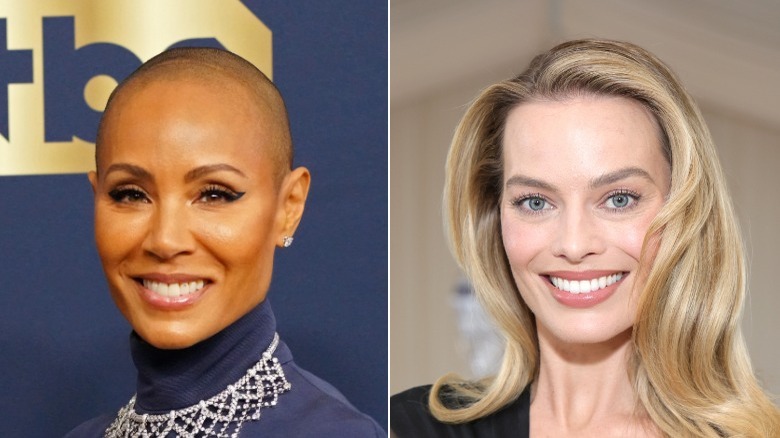 Jeff Kravitz & Kevin Mazur/mg23/Getty
Jada Pinkett Smith and Will Smith have been married for more than 25 years, and their relationship has been anything but easy. As noted by Us Weekly, Jada had even engaged in an affair — or should we say "entanglement" – during the course of the marriage. There is a constant temptation for the two A-list actors as they star and interact with some of Hollywood's most eligible singles, including Margot Robbie. When Robbie starred in "Focus" alongside Will and shared those steamy scenes, many thought Jada would not be happy with the chemistry the two had. But, it turns out, Jada encouraged her husband to keep up with a "hot" Robbie.
Will told E! News, "When Margot got hired for the gig... and [Jada] saw that Margot was young and hot and in shape, she said, 'Boy, don't embarrass me, get in shape now.'" So, Will hit the gym, sometimes alongside Jada, as "The Matrix Revolutions" actor wanted to ensure her husband was fit enough for the job. Will shared, "[Jada] was like, 'Do not let that girl smash you onscreen.'" Clearly, the "Hitch" actor's preparations worked, as Smith and Margot had fans convinced there was something more going on. Their chemistry in the film even resulted in the two being involved in a relationship rumor that spread like wildfire.
Will Smith and Margot Robbie were at the center of romance rumors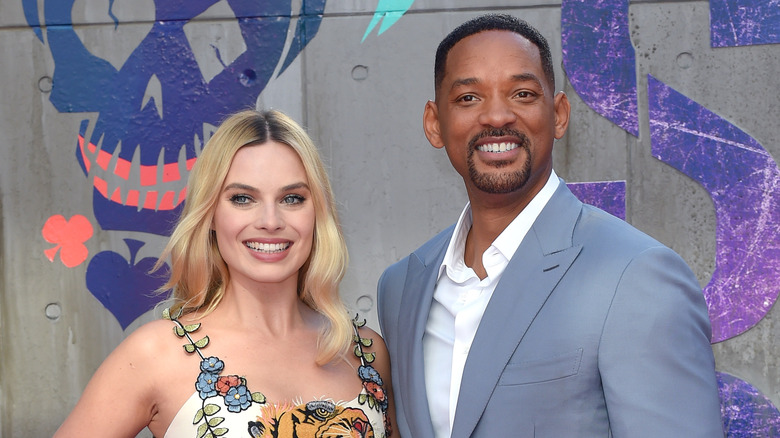 Karwai Tang/Getty Images
Jada Pinkett Smith was supportive of Margot Robbie starring alongside Will Smith in "Focus," but that might have changed as time went on. This is because the two costars became the focus of some romance rumors. According to E! News, it all started when Will and Robbie posed together for pictures in a photo booth. Although the photos captured them smiling and laughing, one particular image showed the two lifting their shirts, which raised eyebrows given Will's marital status. These photos caused the news outlet, Star Magazine, to claim the two were involved in an affair. However, there wasn't any truth to it. A source told E! News, "These pictures were commissioned by production. The entire cast and crew saw them taken."
But, the damage was already done, as the rumor about the supposed romance spread like crazy. It got so bad that Robbie herself had to address the gossip, per Entertainment Tonight. The "Barbie" actor shared in a now-deleted tweet, "Been working non-stop, just catching my breath. There's absolutely no truth to the ridiculous rumor in Star mag...It's disappointing that goofing around on set could be taken so out of context." Although Jada has never commented on the supposed romance between her husband and Robbie, she's probably not happy about it, even if it's just rumored.