Kim Kardashian Slammed By Fellow Celebs After Bragging About Weight Loss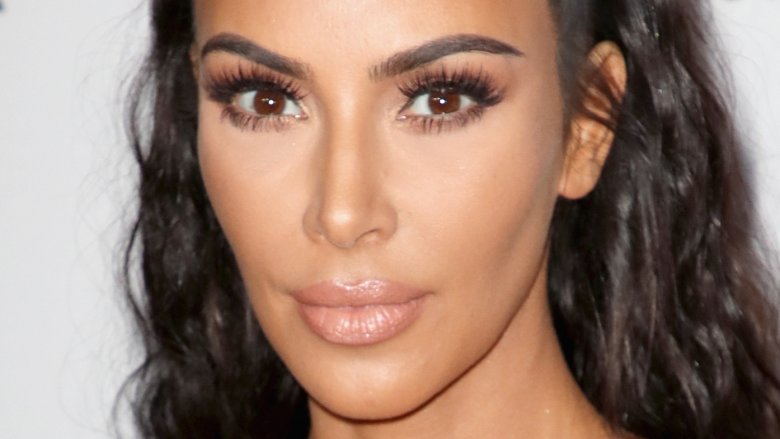 Getty Images
Reality TV star Kim Kardashian West is causing controversy yet again with her reaction to being called "anorexic" by her sister.
In videos shared by Kardashian West, the KKW Beauty mogul's sisters Khloé Kardashian and Kendall Jenner praise her for her recent weight loss (via Pop Crave). Smiling, Jenner tells Kardashian West, "I'm really concerned. I don't think you're eating," much to the social media star's delight. In another clip, Khloé Kardashian refers to her older sister as "anorexic," complimenting her on her body. And, throughout the videos, Kim Kardashian West is clearly thrilled with their comments and even prompts them to keep showering her with flattery.
But while Kardashian West may appreciate her sisters' reactions to her new 119-lb. figure, there are plenty of people who find them, well, inappropriate. After she posted the videos to social media, many fans expressed outrage at the Keeping Up With the Kardashians stars' apparent insensitivity to those with anorexia, an eating disorder in which sufferers often restrict their food intake in serious and potentially life-threatening ways. Two people upset at the Kardashians were Shameless actress Emmy Rossum and Brooklyn Nine-Nine's Stephanie Beatriz.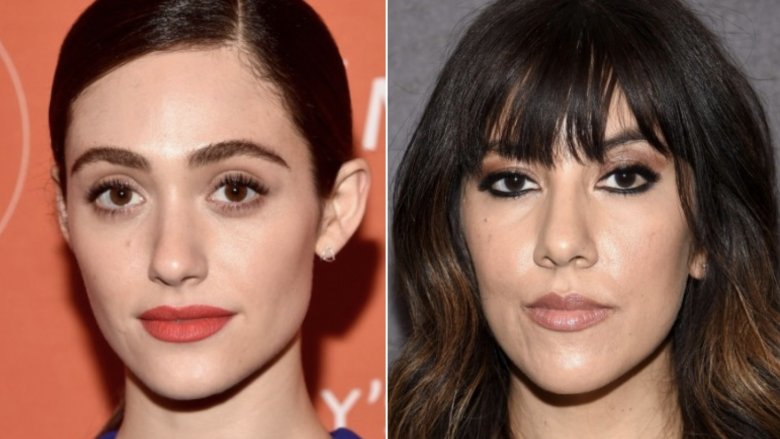 "The only time I was 119 pounds is when I had MONO. On a magazine shoot and everyone was 'freaking out over how good' I looked," Rossum shared on her Instagram Story on July 31, 2018 (via Us Weekly). "I had lost ten pounds and was gaunt and sick and felt faint ... It totally messed with my head."
Noting that no one ever knows what someone else is dealing with, Rossum continued by giving some advice to her fans. "If you're having a tough time with body image, I promise you're beautiful and this feeling will pass. Today is just a moment."
Similarly, Beatriz expressed shock out Kim Kardashian West's videos. "Kim Kardashian saying what she weighs and her sisters complimenting her being so skinny is like eating my brain [right now]," she wrote on her own Instagram Story (via People). She added that she'd only weighed 119 lbs. once before in her life — and it was the result of bad circumstances.
"It was right in the middle of a terrible relationship, and intense eating disorder, and I thought that I could be thinner and look even better," Beatriz explained. "Everyone kept complimenting me on how I looked, and I felt desperate to stay at that weight. It sucked."
Unfortunately, this isn't the first time that Kim Kardashian West has sparked outrage online over social media posts about weight loss. On one occasion, in May 2018, Kardashian promoted "appetite suppressant lollipops" from Flat Tummy Co. on her Instagram account, and people, including The Good Place star Jameela Jamil, were quick to call her out on it (via Women's Health). Calling Kardashian West a "terrible and toxic influence on young girls," Jamil tweeted, "MAYBE don't take appetite suppressors and eat enough to fuel your BRAIN and work hard and be successful.... And to have something to say about your life at the end, other than 'I had a flat stomach.'"
With over a decade in the spotlight, Kardashian West must be used to all the backlash by now, but, man, that had to hurt.