The Untold Truth Of Zombie Boy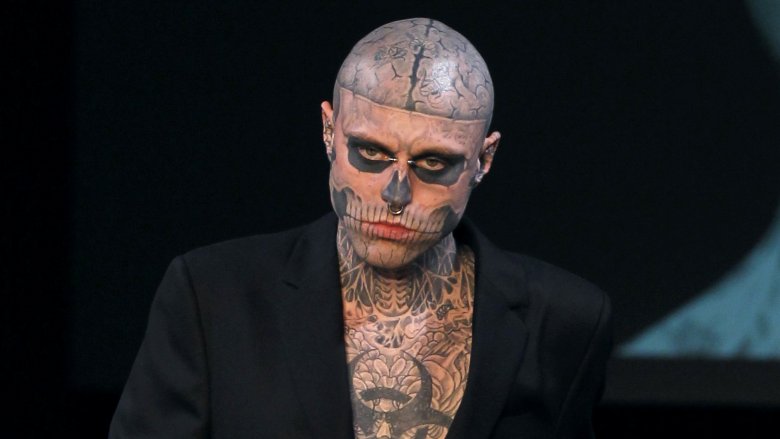 Getty Images
Rick Genest, the fashion icon and artist best known as Zombie Boy and Rico the Zombie, was found dead near his home on Aug. 1, 2018. He was 32 years old.
Throughout his life, Genest had beaten the odds. The star dedicated his existence to artistic expression after being diagnosed with brain cancer as a teenager and followed an unconventional path to fame that led him in and out of homelessness. His monumental career was seemingly built on a series of near-misses and good luck. In 2010, Genest was discovered by Lady Gaga's stylist, Nicola Formichetti, and subsequently cast in the singer's video for "Born This Way," which transformed him into an international star. He later served as the face of Jay-Z's fashion label, Rocawear, landed a coveted L'Oreal campaign, and appeared alongside Keanu Reeves in 47 Ronin.
Despite his fame, Genest seemed most at home on the fringes of society, and he rejected traditional standards of beauty and success. "Zombies, to many, represent a pervasive xenophobia. As in my life, I was often out-casted, hated or misunderstood," he told Wonderland in 2012. From freak shows to the pages of Vogue, Genest never strayed far from his punk Montreal roots. Here's the untold truth of Zombie Boy.
His death could remain a mystery forever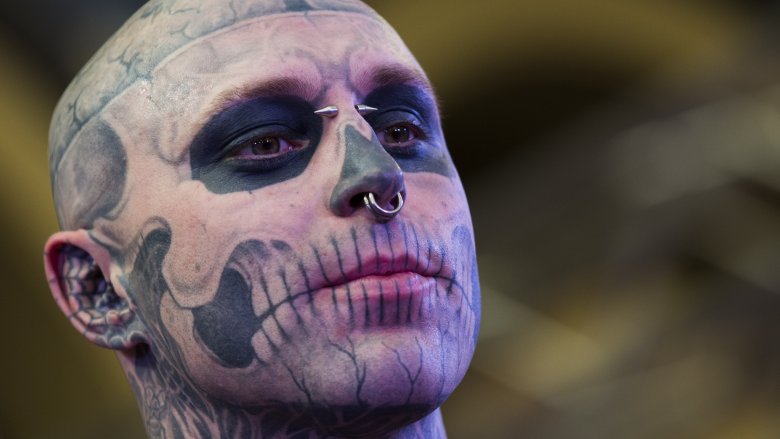 Getty Images
As of this writing, there is still controversy surrounding the cause of Rick Genest's death. What is known is that he died after falling from a third floor balcony at his girlfriend's apartment building in the Plateau-Mont-Royal neighborhood of Montreal, according to iHeartRadio. What is unknown is whether the fall was accidental or intentional.
Initial reports indicated "an apparent suicide," which prompted Genest's one-time collaborator, Lady Gaga, to tweet how "beyond devastating" it was to learn that Genest took his own life. However, Genest's family and his manager, Karim Leduc, pushed back on that conjecture, and according to USA Today, Gaga deleted her tweet and apologized for drawing such a conclusion.
"He's not someone who, we feel, would commit suicide," Leduc told People. "He's not someone who would do something like that because he's very thoughtful of others ... even though he was going through some very difficult, emotion[al] periods at the time, he hung on." Leduc also asserted that Genest "didn't leave any notes" and that "his blood came out completely clean," indicating that he "was sober" at the time of his death.
Was this a dark joke or a grim prediction?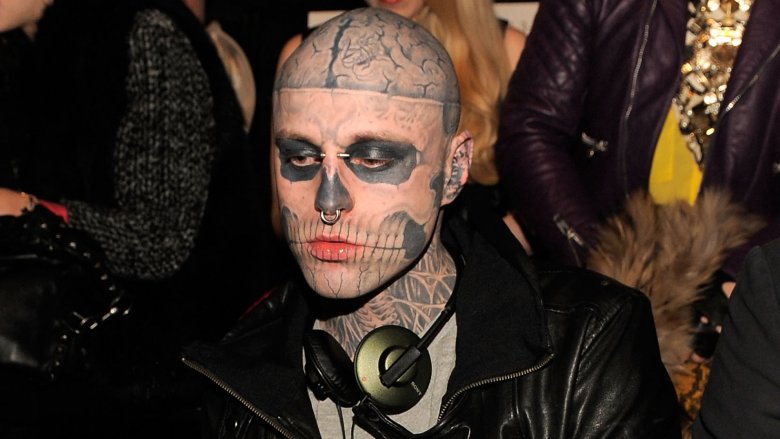 Getty Images
Regardless of exactly how or why Rick Genest died, the eccentric star had indicated that he knew he was not long for this world. On the day his death was announced, FIV Fashion Magazine published an undated interview it conducted with him. Among some amusing revelations — Genest claimed he had a bit of blank canvas left on his body for some more tattoos, but it was "after-dark real-estate territory" — the illustrated man also shared a dark prediction for his own future.
Asked where he sees himself in 20 years, Genest said, "Logical reasoning leads me to believe that I will by then in-turn be the worm food." Granted, this interview was full of cheeky moments like the aforementioned tattoo bit and the following answer to a question about his favorite food: "Worms are great for snacking and candy-corn everyday keeps the doctor away." However, it's hard to retrospectively view his macabre 20-year plan, especially in light of his tragic young death, with anything but a cold sense of foreboding.
He will be immortalized in bronze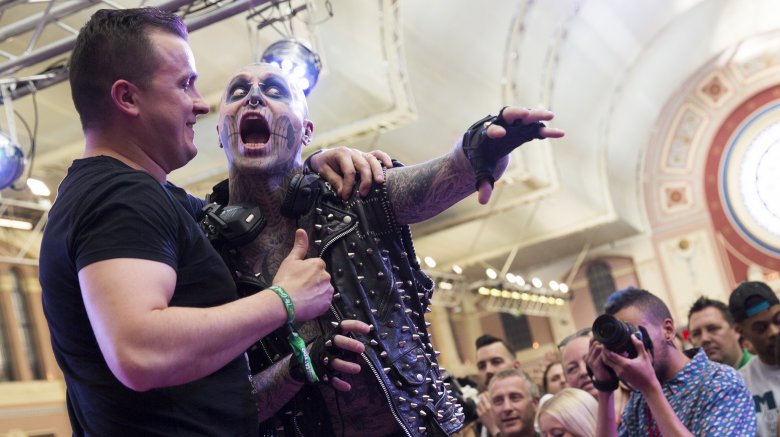 Getty Images
According to The Guardian, about five months before Genest's death, controversial artist Marc Quinn announced an ambitious new commission: a "3.5-metre bronze sculpture" of Zombie Boy. The piece, set to stand in the entry of the new Medicine Galleries at the Science Museum in London, will debut in the fall of 2019 as part of Quinn's "ongoing exploration into individuals who have modified their torsos, addressing identity issues," reported The Art Newspaper.
Asked why Genest was the inspiration for this particular project, Quinn replied, in part, "What I love about Rick is that his body is at the crossroads of popular street culture, deep philosophical meaning, and medicine." Though Quinn had previously sculpted a more life-size version on Genest for a 2010 project called Body Alteration, it's unclear how Genest felt about Quinn's plans for the scaled-up piece. However, an interview with Genest's longtime friend Tamara Annis offers a clue.
Following his death, Annis told CBC Radio that her late friend possessed a "gentle-natured" spirit and never actually courted fame. "At times he would get a bit frustrated or disheartened when people saw him as a muse, as sort of a commodity, not the person of who he was," she added. "Like his famous quote — he did not do this to be famous; he did this to be himself."
The tattoos came after beating cancer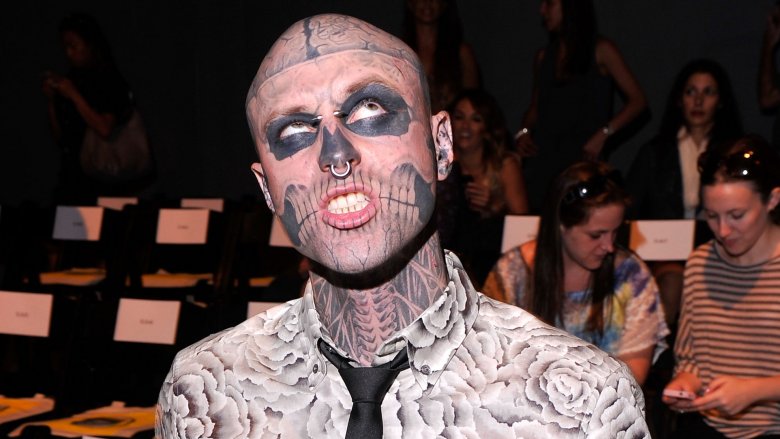 Getty Images
In his Tedx talk, Genest admits that he started having blackouts as a teenager and was later diagnosed with a brain tumor located behind his optic nerve. He had two options: receive a surgery that would leave his face disfigured or receive a surgery that had only been successfully completed in North America once. If there was proof that Genest was destined to become a model, it's the fact that he chose the risky surgery and survived. According to the Daily Star, nearly 50 percent of his brain was removed.
Genest claimed his surgery made him think about the fragility of life and consider the type of person he wanted to become (hint: that person was a zombie). Shortly after treatment, the model got his first tattoo: a pirate's skull and crossbones inked on his 16th birthday. According The Guardian, he gradually commissioned more tattoos, until he met Frank Lewis, who helped him create the idea of a full-body tattoo with the theme of a rotting corpse. At age 21, he had that infamous skull inked on his face with zero apprehensions.
"Everyone has a different idea of what is beautiful," he told the Evening Standard in 2012. "It's not as if it's a real corpse. It's art. I'm a work in progress. I like being a freak. That's my ambition."
He was dubbed 'Zombie' as a teen runaway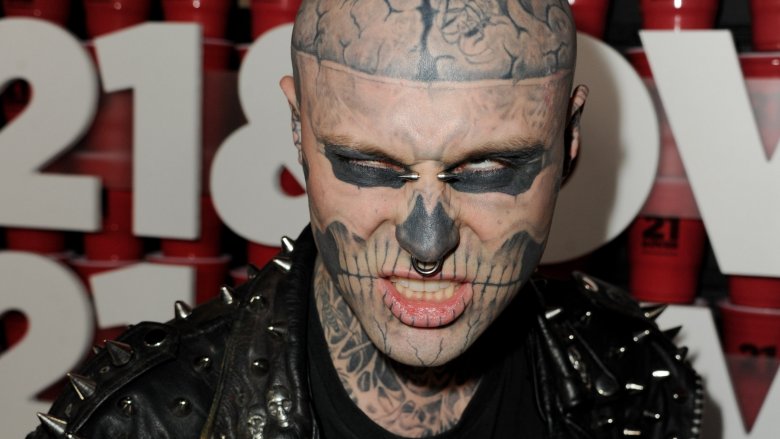 Getty Images
In his TEDx talk, Genest admitted that he felt like an outcast most of his life. He was raised in a strict, religious family that supposedly wouldn't let him participate in most school celebrations. He wasn't even allowed to carve pumpkins at Halloween because his parents saw it as a Pagan ritual. He fell into the Goth crowd in high school (which he claimed was "the least favorite of all subcultures") and eventually had a falling out with his father that prompted him to run away from home. Genest became a 17-year-old runaway living in squats and on the streets of Montreal. That's when he says he earned the nickname "Zombie."
Genest told the Evening Standard that he was given the nickname from fellow street-dwellers who found out about his brain surgery, though he said it also may have something to do with his taste in metal music (via the Daily Star). He wasn't officially dubbed "Zombie Boy" until 2008, when the UK magazine Bizarre found his images on MySpace and asked him to do a photo shoot. According to The New York Times, the magazine printed the name "Zombie Boy" alongside his pictures, and he went with it.
Homelessness let him live in the moment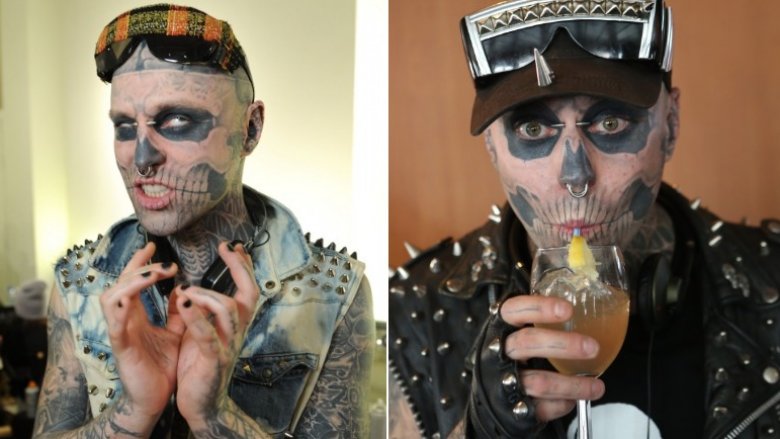 Getty Images / Getty Images
Even after fnding fame, Genest maintained his nomadic lifestyle. In an interview with Wonderland, the star admitted that he was "living out of [his] backpack; working odd jobs, meeting cool people..." While many find the idea of homelessness frightening, Genest said it allowed him to remain entirely in the moment. He was living like a pirate or one of the lost boys from Hook, which he cited as an influence. 
He talked to the Evening Standard about the five or so years he spent on the streets dodging cops and enjoying the Montreal punk scene. "It was awesome. We were living on the streets, sleeping on the roofs, hitchhiking from city to city, from party to party," he said. "We were young and living from day to day."
To make ends meet, Genest had a few unique jobs. He squeegeed cars for cash and also performed in a "traveling circus-freak show" called Lucifer's Blasphemous Mad Macabre Torture Carnival (via WWD). As part of the performance, he had to lie on a bed of nails.
Getting to his first runway show wasn't easy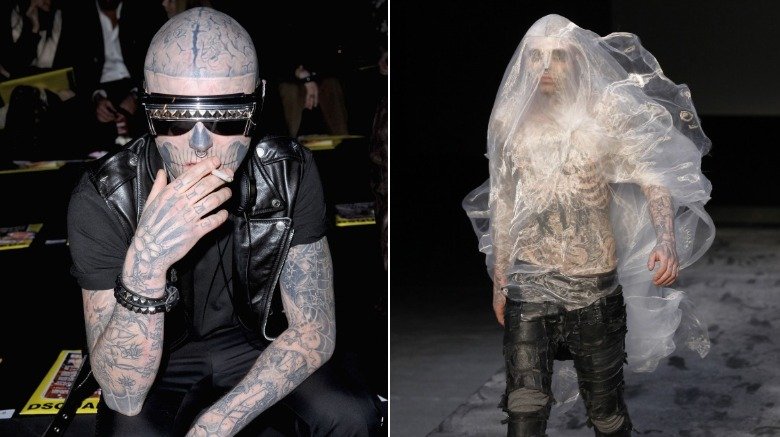 Getty Images / Getty Images
Genest's path to fame was unlikely. If it wasn't for Lady Gaga's stylist, Nicola Formichetti, Zombie Boy may never have left Montreal. In fact, Zombie Boy reportedly couldn't even get a passport because he racked up $10,000 to 20,000 worth of fines for sleeping on the street while he was homeless.
In an interview with Hint, Formichetti admits that he was a longtime fan of Genest. He'd spotted an image of the model on Google and looked him up on Facebook after realizing his tattoos weren't just makeup. Formichetti, who was serving as an artistic director for French fashion house Mugler, wanted Genest to walk in its debut men's collection. Formichetti paid Genest's massive fines in order to fly him to Paris for the show.
"I remember thinking I have to do this, I just have a gut feeling, I have to work with this guy. Everyone said he's a freak, why would I want to do that to a luxury brand? I didn't listen to anyone and just went," Formichetti said, adding, "It took him so long to tell us [he was homeless]. Oh my god, he was so emotional. He was crying and saying how this was going to change his life. It was a beautiful moment."
Formichetti thought Genest's look was so inspiring that he decided to transform the collection to reflect the model's dark aesthetic.
He put American Horror Story in some pretty hot water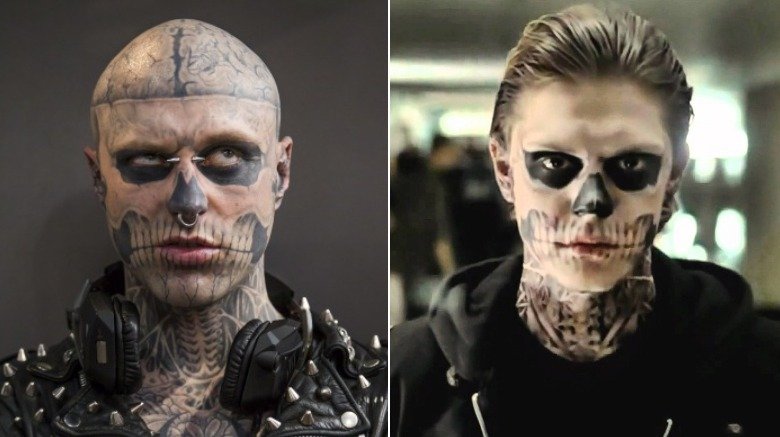 Getty Images / FX
Being faced with a massive, costly lawsuit is possibly the only thing scarier than a season of FX's Emmy-winning series American Horror Story. Unfortunately, the network had to learn this the hard way when actor Evan Peters' makeup closely resembled Genest's copyrighted tattoos. 
Even casual fans of American Horror Story probably remember Evan Peters' striking Season 1 look. In the climax of Murder House, Peters dons corpse makeup during a haunting school shooting scene. According to The Hollywood Reporter, Fox worked on a settlement with Genest to avoid a full-fledged lawsuit over the look, which could have cost the network hundreds of thousands of dollars in copyright infringement charges and editing to obscure Peters' skeletal makeup in future airings. The two parties came to an undisclosed agreement in October 2012.
Genest told the magazine, "...I was not approached by Fox to license what I consider to be the use of my likeness or my copyrighted body art in American Horror Story." He added, "However, I understand that there was no intent to connect me with the character in their show, and I am pleased that I have come to a resolution of this matter with Fox."
He avoided public transportation because of his appearance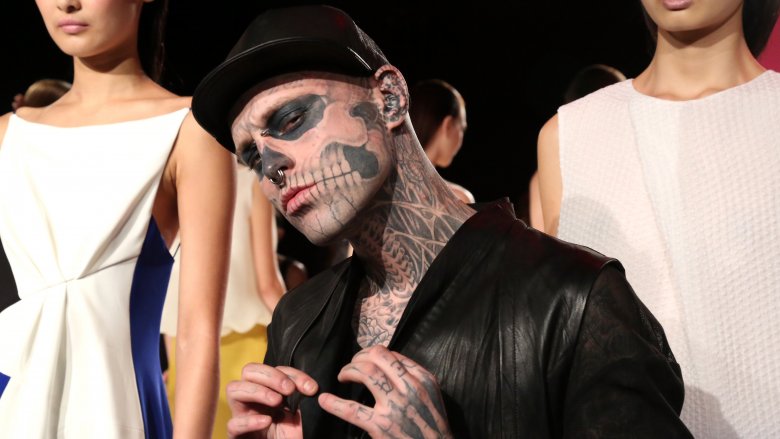 Getty Images
Genest may have been friends with Lady Gaga and turned heads in the pages of Vogue, but turning heads in public gets kind of old. Not every reaction to his tattoos was kind. Genest told the Mirror that people generally left him alone, but "old people" tended to get bent out of shape. For this reason, he found it really hard to use public transportation.
"Not all taxis stop for me even if there is a light on. It can be hard to catch a ride sometimes," he said. "I don't use transportation because everyone stares at me and their eyeballs fall out."
Despite this, Genest claimed he only regretted a single tattoo (though, he wouldn't say which one that was.) After all, his polarizing look was the reason behind his success — and he wanted even more body modifications to bolster his ghoulish appearance. The model told Wonderland that he hoped to sharpen his teeth like a reptile and tattoo his eyes green.
Dermablend discovered him on the streets – literally
Genest spent a lot of his time in the Montreal streets, so it only makes sense that he was discovered literally on the street by L'Oreal, who used him in its "Go Beyond The Cover" campaign for its Dermablend brand.
In an interview with Makeup.com, Genest revealed that he was randomly spotted walking down the street in Montreal by Dermablend's marketing director, who approached Genest and asked him if he wanted to come back to the studio and shoot an ad. Genest agreed, and to the studio they went, but it was quite an undertaking.
The process of covering up an entire body of tattoos is — like you'd expect — extremely tedious. Three makeup artists reportedly spent more than four hours covering Zombie Boy's body with Dermablend Leg and Body Cover. According a behind-the-scenes look, it took about four tubes before the job was done, but the results were so captivating that Genest became a spokesman for the brand.
He was self-financing his music career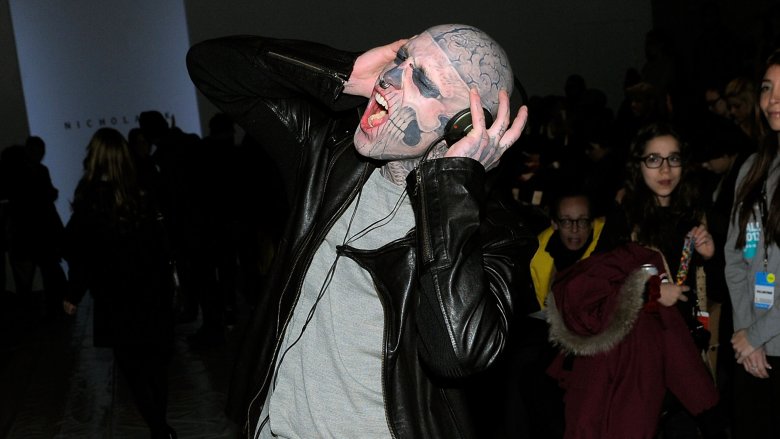 Getty Images
Genest may be most famous for his extensive modeling work, but he also launched a music career in 2015. Much like his campaign with Dermablend, it was a total fluke that worked out. Genest met his co-collaborator, Mike Riggs, the former guitarist for Rob Zombie, by accident.
In an interview with Bloody Disgusting, Riggs admitted that he sought out an artist called Zomboy while he was working on material for the next Scum of the Earth album. He contacted Zomboy's managers and the artist agreed to collaborate. Unfortunately, he wasn't actually talking to Zomboy — he was talking to Zombie Boy. Riggs decided to go with it anyway. Why not?
Genest had embodied a do-it-yourself punk attitude from his days on the Montreal streets. This prompted him to self-finance his eponymous music project with Riggs (via Scene 360). Riggs claimed the album was darker than his usual music, surrealistic and "nightmarish at times." 
Unfortunately, if you want to hear the album, you're pretty much out of luck. It's unclear if anything beyond a medley of six recorded songs has or will be released.
He's a two-time Guinness World Record holder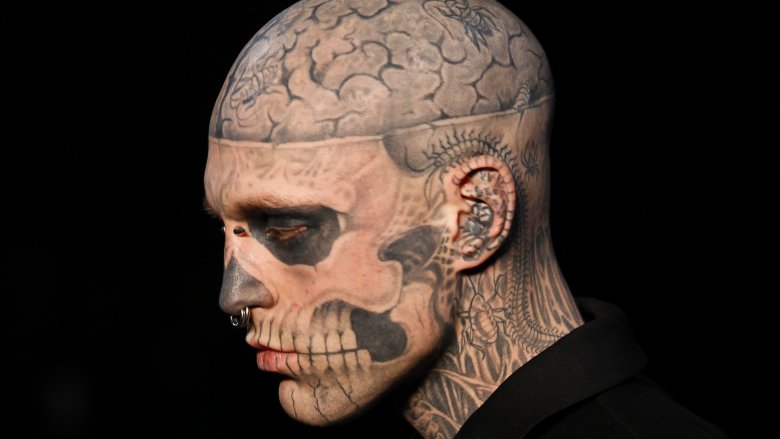 Getty Images
Genest's striking tattoos didn't just land him in the pages of numerous fashion magazines — it landed him in The Guinness Book of World Records. Zombie Boy currently holds two world records: one for the most insects tattooed on the body and one for the most bones tattooed on the body.
According to Guinness World Records, Genest had 176 insects tattooed across his arms, torso, back, and head, including cockroaches crawling up his neck, a centipede wrapped around his ear, spiders on the back of his head and spiderwebs near his orbital bone. As for the other record? He has 139 human bones tattooed on his body.
Surprisingly, Genest doesn't hold the record for most tattooed man. That title belongs to Lucky Rich, who initially had colorful tattoos across his whole body, but later covered 100 percent of his skin in black ink (including his gums and eyelids — ouch!). He's now getting a third round of white designs over the black tattoos. 
Fame never changed him
Most of us expect the models gracing the pages of Vanity Fair and Vogue to have a nice car — or at least any car — but Genest wasn't your average celebrity. Though he put his days on the streets behind him, the star lived in a modest, fourth-floor apartment in Montreal. 
"I still don't have any material possessions," he told the Mirror in 2016. "I live in the same place I always lived by the train tracks, I don't have a washing machine or a car. I barely have lightbulbs. I'm happy with my bike, toaster and microwave. I'm a drifter and always will be. I have enough to tip my waitress and that's fine with me."
Instead of possessions, Genest focused his effort on his friends, family, and paying it forward. He reconnected with his mother and described their relationship as "closer than ever." According to Entertainment Tonight Canada, he began working with The Home Depot Canada's Orange Door initiative to help support homeless youth. He also continued to support the Welcome Hall Mission, a homeless shelter he visited as a teen (via The Washington Post).
If you or anyone you know is having suicidal thoughts, please call the National Suicide Prevention Lifeline at 1-800-273-TALK (8255).