Presidents And First Ladies With Big Age Differences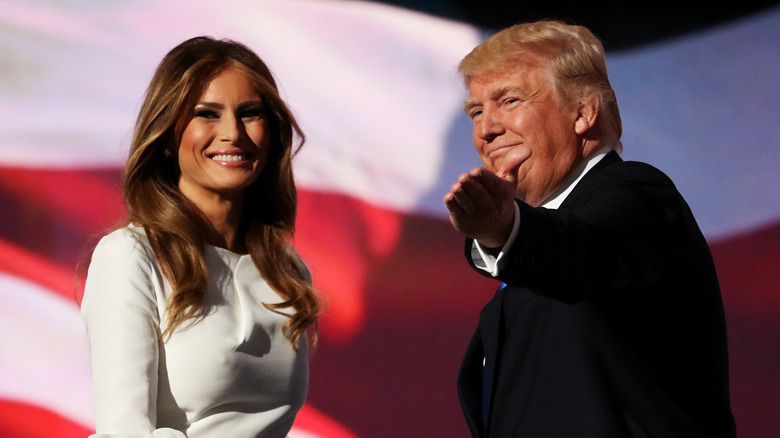 Joe Raedle/Getty Images
For hundreds of years, presidents have filtered through the White House, assuming their esteemed role as leaders of the free world. Ever since George Washington took the oath of office in 1789, presidents have taken the leadership position with dreams of making change and building a legacy. Though they promise to leave the United States in a better position after their four-year term, they must constantly battle the court of public opinion. After all, no job is more criticized than that of the United States president. Wars, recessions, nationwide protests, and pandemics, are just some of the many challenges presidents have battled while in office. Not to mention the pressure that comes with living under the harshest spotlight in the world, with every decision delivered under the weight of a nation. 
On the arm of these world leaders is none other than the first ladies (and in the future, potentially some first men.) These individuals are expected to keep up appearances and support the president through all endeavors, while also taking on their own projects. Just like the presidents, the women of the White House have carried their own legacy. While many have gone on to be remembered for the social issues they've championed while in office, they've also endured their fair share of criticism. While no first lady is alike, many follow a pattern — they are often much younger than their husbands. And so, we're taking a look at presidents and first ladies with big age differences.
The largest White House age gap is 30 years
The president and first lady with the largest age difference to date (as of this writing, at least) are President John Tyler and his wife Julia Tyler who had 30 years separating them. President Tyler had formerly been the vice president to President William Harrison before the latter died unexpectedly shortly after taking office. John was previously married to his first wife, Letitia before she died at the age of 51. 
Julia caught the eye of her husband after her wealthy parents brought her to the capital for the social season. After unexpectedly losing her father in a naval gun explosion, John, who was recently widowed, comforted Julia in their shared grief. The couple married when Julia was just 24 years old, and their age gap quickly became the topic of public conversation. The criticism was overshadowed as Julia was remembered as an outgoing and supportive first lady. She was once quoted as saying, "Nothing appears to delight the President more than ... to hear people sing my praises," per The White House. 
President Tyler's legacy includes the annexation of Texas as a state in 1845, as well as his repeated use of the presidential veto. He was the first president to use the override, establishing a critical system of checks and balances. The former president died at the age of 71 in 1862, survived by his wife whose death came in 1889.
Grover and Frances Cleveland's 27-year age difference
Not far behind President John Tyler and his wife Julia, President Grover Cleveland was 27 years senior to his wife Frances Cleveland. The former Democratic president was one of few to assume the role of an unmarried bachelor when he entered the White House for his first term at 47 years old. His sister, Rose, took on the role of the first lady by default, much to her own dismay. Rose is remembered for her desire to pursue her educational goals, rather than her eagerness to assume social responsibilities.
President Cleveland married his wife Frances in 1886. The pair met her through her parents, as her father was a law partner to her future hubby for years. That said, Grover certainly took cringeworthy age gap relationships to new levels — the former president had known his wife her entire life, even gifting her a baby carriage after her birth. The former first lady took on the role at just 21 years old, the youngest to ever assume the position. The nation loved her, and she is remembered as being an excellent hostess who held weekly receptions at the White House. 
President Cleveland was the only president to have left the White House after serving his term and return to the role four years later. He is not remembered as being one of the nation's greatest leaders — but he did leave an impact in regard to the executive branch. He is often recognized for his use of executive privilege, including the deployment of federal troops during the Pullman Strike and his decision to send warships to Panama. 
Benjamin Harrison was 24 years older than his second wife
President Benjamin Harrison is among the ranks of presidents with decades between their wives. In 1983 the former leader of the free world married his first wife, Caroline. The two crossed paths after President Harrison studied under Caroline's father in college. It would be decades later that Harrison assumed the presidency, and while his political career began to rise, Caroline was a dutiful mother to the pair's two children. However, his first wife was actually one year older than him, and isn't the subject of this particular slide. 
The former Republican president took office in 1889, after receiving 100,000 less popular votes than Grover Cleveland. He went on to be remembered for his foreign policy, helping to establish the first Pan-American Congress, as well as his strengthening of the Navy. He attempted to run again in 1892 but lost to his predecessor, Cleveland. 
Caroline died in The White House in the midst of her husband's second presidential campaign. Prior to her death, she had invited her niece, Mary, a recent widow, to move into The White House and serve as her social secretary. Three years after Caroline's death, a 32-year-old Mary married the man she knew as her uncle — a 62-year-old Harrison. The union was so controversial that his children — both of whom were older than their new step-mom — did not attend the wedding ceremony. Harrison died five years later, in 1901. 
Donald Trump's third marriage to Melania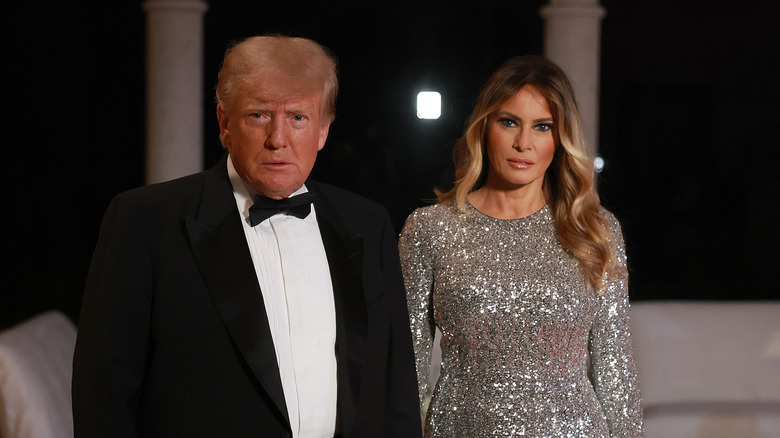 Joe Raedle/Getty Images
President Donald Trump has been the center of endless controversy ever since he went from a celebrity personality to the leader of the United States. And his relationships with women are one of the many things he's received criticism for. The former president has been married three times, but his longest marriage — and current, as of this writing — is with the much younger former model, Melania Trump. With 24 years between them, the couple has one of the biggest age gaps of all presidents and first ladies.
The Slovenian model moved to the United States for work in 1996. She met Trump two years later after they were introduced at a party during New York Fashion Week. The two tied the knot in 2005 and welcomed Barron, their first and only child together, a year later. Trump also shares Donald Jr., Eric, and Ivanka with his first wife Ivana, and another daughter, Tiffany, with his second wife, Marla Maples.
Trump had quite a polarizing presidential term, with many Americans either supporting him wholeheartedly or despising him. While his handling of the COVID-19 Pandemic was heavily criticized, his administration pointed to the country achieving the lowest unemployment rate in 50 years as proof of Trump's success. As for Melania, her approval rating with the American people was ranked the lowest of any first lady in history. Based on a poll conducted by SSRS for CNN, the former first lady had a 47% disapproval rating at the end of her term.
Dolley Madison was a social butterfly
President James Madison and his wife Dolley make the list of notable age gaps with James 17 years Dolley's senior. The couple married in 1794, a few years after the former first lady lost her first husband to yellow fever. The founding father dealt with his own loss as well, after previously getting his heart broken by a medical student that he met through his friend Thomas Jefferson. 
The former president began his first term in 1809 and served until 1817. He is widely regarded due to his writing of The Federalist Papers alongside Alexander Hamilton and John Jay. The Princeton graduate is known as "The Father of the Constitution" for helping to draft the document and get it ratified. He is also credited with the first 10 amendments, known as the Bill of Rights.
Dolley was one of the most well-liked first ladies of all time. She had a lively personality and was receptive to everyone, but it wasn't just her charm and outgoing personality that left a mark on history. The first lady played an integral role in saving important documents from the White House when British troops set flame to the mansion during the War of 1812. In addition to documents, she rescued gold, silver, and a famous portrait of President George Washington during the invasion. She continued to be an important fixture in American politics even after her husband's death in 1836, and she was even awarded an honorary seat in Congress to witness debates.
Woodrow Wilson met Edith shortly after his first wife died
Following close behind James Madison and Dolley, President Woodrow Wilson and First Lady Edith had a sizeable age gap with Woodrow 16 years older than his wife. The pair were both widows when they met in 1915, with the former president crossing paths with Edith just six months after his first wife, Ellen, passed away. The two tied the knot the same year, despite advice from Woodrow's colleagues that the quick marriage would cause unfavorable opinions among the American public.
Woodrow's presidency was characterized by his declaration to enter the United States into World War I in 1917. After Germany signed the Armistice ending the war a year later, the Princeton graduate formed the League of Nations. He also shepherded the 19th Amendment, which allowed women to vote for the first time. His legacy also included overseeing laws that put an end to child labor, as well as advocating for better pay and working conditions for railroad workers.  
While the nation was in crisis, Edith became the face of rationing during the war. The first lady opted for used clothing, set a precedent for "meatless Mondays," and even borrowed sheep to tend to the White House lawn in an effort to save money. After Woodrow suffered a stroke in the fall of 1919, Edith assumed the role of his secretary and shielded the severity of his illness from the public. She became known as the "first woman to run the government" and made several important decisions for the executive branch during her husband's second term.
John and Jacqueline Kennedy charmed a nation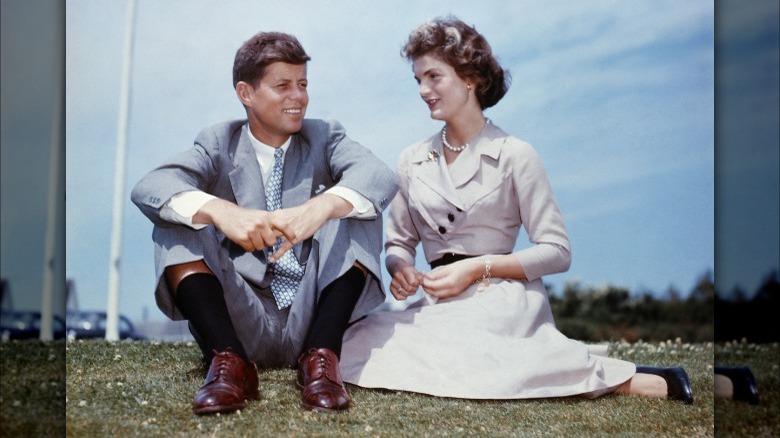 Bettmann/Getty Images
One of America's favorite White House pairings was none other than President John F. Kennedy and First Lady Jacqueline Kennedy. President Kennedy was 12 years older than his wife, whom he met in 1951. The couple tied the knot the following year and went on to have two children together, Caroline, and John F. Kennedy Jr. Before Kennedy assumed his role as President in 1961, he and Jacqueline had already weathered their fair share of storms. Their marriage was characterized by hardships, including fertility issues that led to a stillborn, as well as their fourth child dying just 39 hours after he was born. Kennedy infamously had a wandering eye as well, with his rumored affair with Marilyn Monroe continuing to make headlines even decades after his death. 
The Democratic president made huge strides in the Civil Rights Movement, and he also worked to slow the spread of nuclear weapons with the test ban treaty of 1963. However, his time in office was cut short as he was tragically assassinated while riding in the back of a motorcade in 1963. At just 34 years old, and with the eyes of the nation upon her, Kennedy became a widow — but she was also a symbol of strength and courage in her time of grief. She is remembered as having a passion for arts and history, leading her to establish a White House Fine Arts Committee which worked to restore important artifacts of the country's past.
The Reagans went from Hollywood to Washington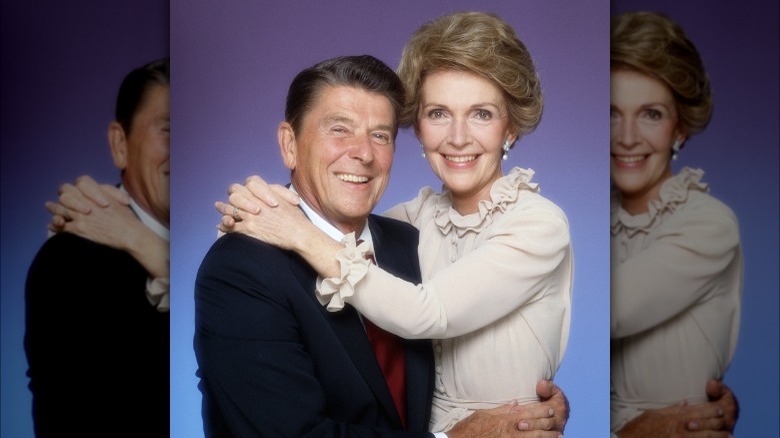 Harry Langdon/Getty Images
President Ronald Reagan and First Lady Nancy Reagan (née Davis) have gone down in history as one of America's most star-studded couples. The two had all the ingredients of a show-stopping pairing, with President Reagan and his political career and Nancy's career as a famous actor and Broadway star. Though Ronald was over 10 years older than his wife — the age gap did little to hinder their close relationship. The two met in 1949 after Nancy reached out to Ronald — who was president of the Screen Actors Guild at the time, (and an actor himself) over issues relating to an actor who shared her name. The actor in question had ties to the Communist Party and Nancy didn't want to be entangled in the controversy. 
The pair hit it off and eventually went on to wed in 1952. Twenty-nine years later, Ronald became president and served two terms. Just months after his inauguration, he was almost assassinated during his time in office, but he quickly recovered from the gunshot wound. The former president is credited with growing the economy and strengthening the country's defense, as well as cutting government spending and taxes. 
As a huge advocate against drug and alcohol misuse, Nancy went on to champion her own initiatives during her time in the White House. In 1985, the former first lady hosted 17 countries for a White House conference on curbing drug and alcohol use among young people. 
Michel Temer is 42 years older than his wife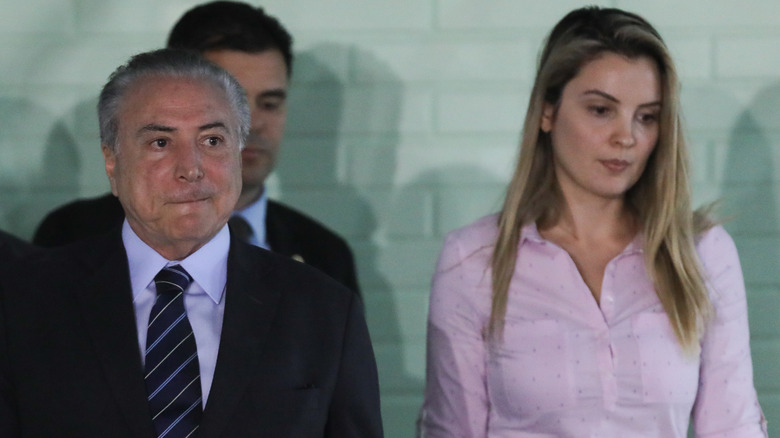 Bloomberg/Getty Images
While the 30-year-age gap between President John Tyler and First Lady Julia Tyler may be the largest for former White House couples, the same can't be said internationally. Brazilian President Michel Temer tops the list overall for the largest age gap, with 42 years separating him and his younger wife, Marcela. The former president met his wife when she was 19 and he was 60, and the two quickly tied the knot in 2003 after less than a year of dating. 
Marcela became the topic of heated discussion when the Brazilian publication, Veja, featured her in a 2016 profile piece. Depicting her in a passive yet positive light, the publication focused on her style and beauty — as well as her apparent life of pure luxury and indulgence. The decision was ill-timed given that Brazil was experiencing its worst economic crisis in 100 years — something that was deeply felt by those with the least. 
Additionally, President Dilma Rousseff, who was impeached before Michel took over the role, had seemingly received the opposite treatment from the Brazilian tabloids. "There are attitudes toward me that wouldn't exist with a male president," she told Brazilian journalists amidst her impeachment trial, per The Washington Post. Michel served as president from 2016 to 2018 and was replaced by his successor, President Jair Bolsonaro.
President Joe Biden is 9 years older than Jill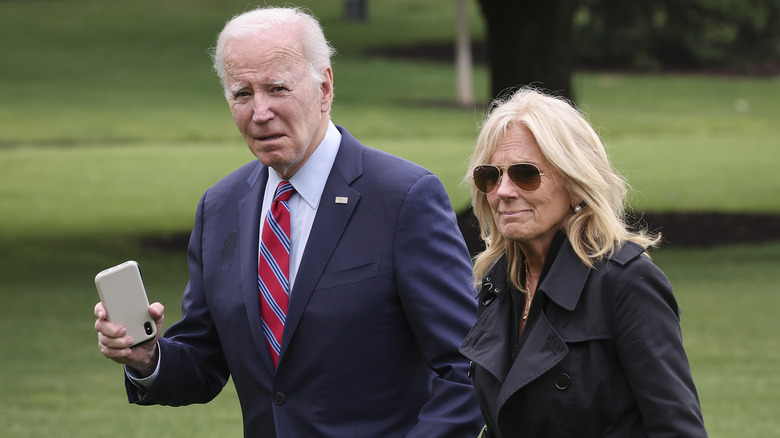 Win Mcnamee/Getty Images
President Joe Biden and First Lady Dr. Jill Biden have the smallest age gap of all presidential couples on this list, with President Biden being nine years older than his wife. The couple has had a long history together, and it hasn't been without its hardships. His first wife, Neilia, and their one-year-old daughter Naomi, tragically died in a car accident in 1972. He became a single dad to their two sons, Beau and Hunter until Jill entered his life. 
In 1975, Joe met Jill, and the two went on to tie the knot in 1977, and four years later, they welcomed their daughter, Ashley. In his 2007 memoir "Promises to Keep" (via Oprah Daily), he noted, "[Jill] gave me back my life ... She made me start to think my family might be whole again." The former first lady has stood by her husband's lifelong political career, including his presidential campaigns in 1988 and 2008. 
When Joe was elected in 2020, the duo traded their titles of former vice president and second lady, for those of acting president and first lady. The Pennsylvania native took over the nation during the gripes of the COVID-19 Pandemic and set vaccine goals to ensure that a vast majority of adults were fully vaccinated against the virus. He also passed a bill (currently being fought in court) to eliminate millions of dollars of student debt. Jill has continued her career as a community college educator while she serves as first lady, and has championed several White House initiatives to end cancer.
The French first lady is 24 years older than her husband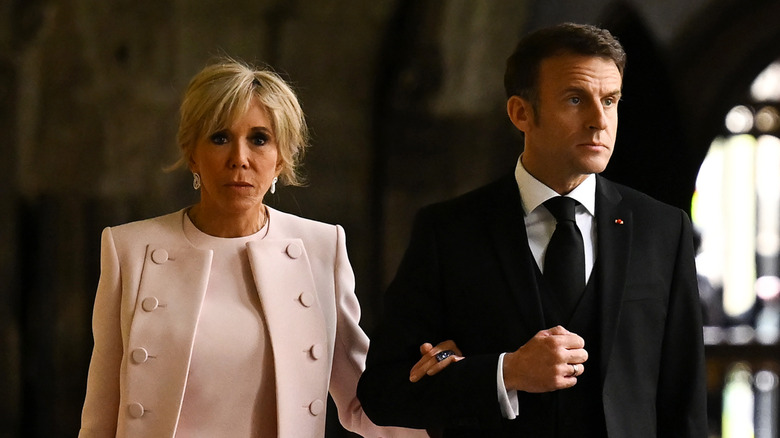 Wpa Pool/Getty Images
Out of all the presidential pairings listed, French First Lady Brigitte Macron is the only first lady to be older than her husband. Brigitte is 24 years older than French President Emmanuel, whom she met in 2007 while working as a high school teacher. The documentary "Brigitte Macron: A French Novel" (per The Times) claimed that Emmanuel had first admitted he was in love with his teacher, Brigitte when he was just 16 years old. Emmanuel's parents allegedly pleaded with her to hold off on a relationship until he turned 18, to which she reportedly said, "I can't promise you anything." 
Brigitte has no regrets about the way her relationship with her husband evolved, telling Elle France (via ABC News), "Of course, we have breakfast together, me and my wrinkles, him with his youth, but it's like that. If I did not make that choice, I would have missed out on my life." 
Emmanuel was first elected president in 2017 and was reelected again in 2022. He is credited for his work to diminish the economic impact of the COVID-19 Pandemic by spending trillions on furloughs and tax breaks. The president also put controversial labor law reforms into action in France, leading to a lower unemployment rate amidst protests from worker's unions. Brigitte has championed her own initiatives while serving as first lady, including founding the LIVE (Institute of Vocations for Employment) project in 2018 for job-seekers over the age of 25.