Who Is NHL Star Sergei Bobrovsky's Wife, Olga Dorokova?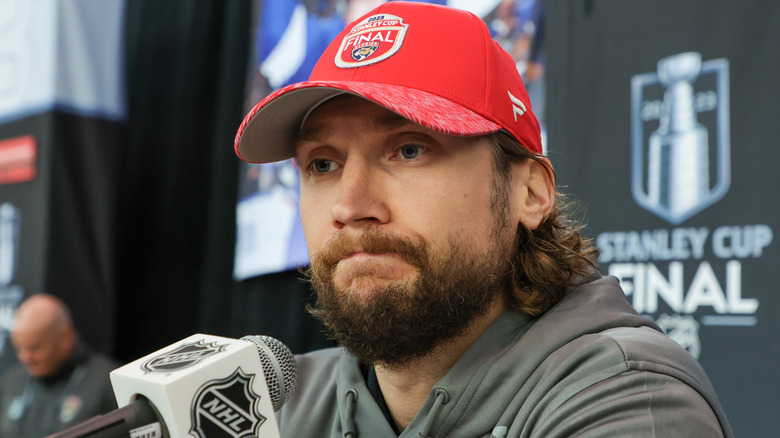 Ethan Miller/Getty Images
Anticipation is building for the 2023 National Hockey League Stanley Cup Finals. As fans know, the Florida Panthers will be facing off with the Las Vegas Golden Knights, per ESPN. One of the key players of the Panthers is goalie Sergei Bobrovsky, who previously played for the Philadelphia Flyers and Columbus Blue Jackets. According to the NHL, this will be Bobrovsky's first time playing at the Stanley Cup. Fans have high expectations of Bobrovsky, who's been praised for his abilities on the ice. Chris Pryor, a former scout for the Flyers said, "The talent was there and he put the work in to make himself a goalie. His work ethic was extraordinary."
While Bobrovsky's athletic journey has been closely followed, less is known about his personal life. As it turns out, he has had the support of his wife, Olga Dorokova, for years. The couple tied the knot in August 2011. So, what else is there to know about Dorokova?
Olga Dorokova couldn't come to the United States
The start of Sergei Bobrovsky and Olga Dorokova's relationship was challenging, as Dorokova was prohibited from coming to the United States. In an Instagram Q&A (via Current Affairs), she noted she was nearly broke, unmarried, and had no financial security in her hometown. Because of her travel limitations, Bobrovsky would meet Dorokova in Canada and in places where the Philadelphia Flyers played. In a 2011 interview with Puck Daddy's Dmitry Chesnokov (via Yahoo), Bobrovsky explained, "She was never approved for a U.S. visa. People at the U.S. embassy thought that we did not have any relationship."
Bobrovsky and Dorokova have maintained a low profile with their romance. In fact, they initially kept news of their marriage under wraps. Bobrovsky said, "We plan to have a big wedding reception next year where there will be a lot of friends. And right now we just couldn't get everything organized on time." With pre-season training, the timing wasn't quite right to host a larger ceremony. He added, "There were just our parents at the registry office with us." Bobrovsky also shared that before he and Dorokova officially tied the knot, they enjoyed a honeymoon in the Greek islands.
Olga Dorokova and Sergei Bobrovsky have a daughter
As reported by WPLG Local 10, Sergei Bobrovsky and Olga Dorokova welcomed their daughter Carolina in October 2021. Apparently, her birth coincided with the last days of Panthers training camp. As a new father, Bobrovsky had a lot to juggle in his personal and professional life. But his wife was right by his side to help. While Dorokova took care of their kid when Bobrovsky was gone, the pair took turns with parenting duties. When the NHL star returned home, he gave Dorokova a break and stepped in. He said, "She hasn't slept for five days. We're going to figure it out. It's a nice problem to have."
While Bobrovsky's life as an athlete is incredibly busy, he and Dorokova cherish their time together off-season. They travel and go to museums and concerts together, per Florida Hockey Now. They also like to unwind in Miami in the summertime, per Venice. Bobrovsky and Dorokova won't miss an opportunity to celebrate a special occasion during game season. In an interview for SovSport.ru (via The Hockey Writers), Bobrovsky talked about his birthday festivities, which occurred around the same time as a game. He said, "My wife Olga cooked a tasty cake, we had a dinner at home and drank some tea."