Facts Of Life Star Charlotte Rae Dead At 92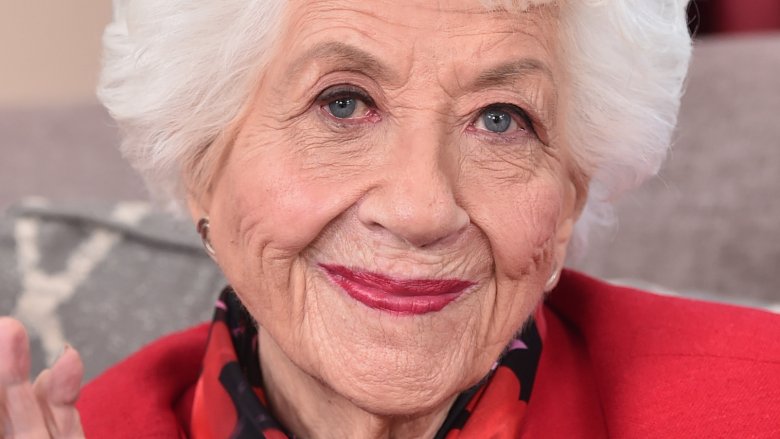 Getty Images
Charlotte Rae, who was best known for her portrayal of Edna Garrett on Diff'rent Strokes and The Facts of Life, has sadly passed away.
On Sunday, Aug. 5, 2018, the beloved actress died in her Los Angeles home while surrounded by her loved ones following a battle with bone cancer, NBC News reports. She was 92 years old.
At the time of this writing, further details surrounding Rae's death have yet to be revealed. However, as her son, Larry, told the news outlet, "I don't know how old you are, but when we were younger, we used to call it dying of old age."
As Nicki Swift previously reported, Rae announced her bone cancer diagnosis in April 2017. "I'm not in any pain right now," she told People magazine at the time, having also revealed she'd undergone six months of chemotherapy to beat pancreatic cancer in the early 2010s. "I'm feeling so terrific and so glad to be above ground. Now I have to figure out whether I want to go have treatment again to opt for life. I love life ... I'm grateful for the life I've already had."
After the news of Rae's passing broke, a number of fans, celebs, and former Facts of Life co-stars took to social media to share their thoughts and express their condolences. "You all already know my heart is heavy yet," Kim Fields tweeted. The Real Housewives of Atlanta alum, who played Dorothy "Tootie" Ramsey on the show, continued, "Sorry, no words at the moment just love and tears... and yeah, smiles."
Meanwhile, Mindy Cohn, who portrayed Natalie Green on the sitcom, shared a photo of herself with Rae on Instagram. "She was my champion, a teacher, a proud example of the tenacity and perseverance needed to live as a creative, along with your talent and gifts," she wrote in part, adding, "I wish you the happiest of homecomings."
In addition to her work on The Facts of Life between 1979 and 1986, which earned her an Emmy nomination in 1982, Rae appeared on a number of TV shows throughout her six-decade career, including The Love Boat, ER, and Pretty Little Liars. The actress also earned two Tony nominations for her roles in the 1966 musical Pickwick and the play Morning, Noon and Night three years later. In 2015, she released her autobiography, The Facts of My Life, and appeared for the last time on-screen in the Meryl Streep led movie, Ricki and the Flash.
According to Entertainment Tonight, Rae is survived by her son, Larry, and her sister, Miriam Guten.
Our thoughts are with Rae's loved ones during this difficult time.