Kanye West And Bianca Censori Have A Bigger Age Gap Than We Thought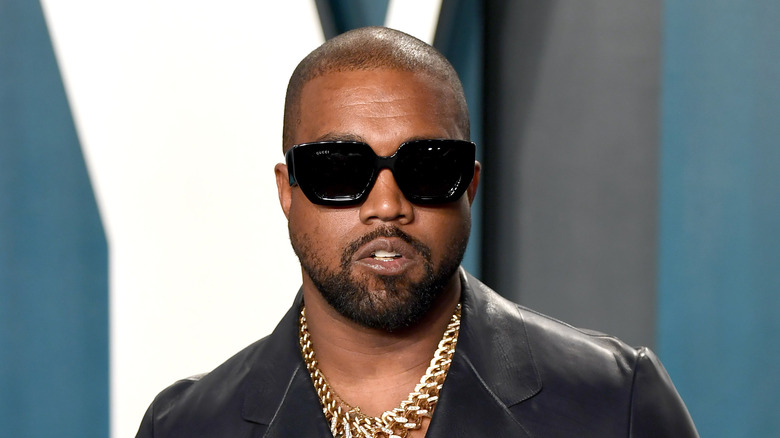 Karwai Tang/Getty Images
Kanye "Ye" West and Bianca Censori are no strangers to making headlines. The new couple has sparked tons of conversation about their relationship, and surprisingly it hasn't been about their significant age gap. For years, the "Flashing Lights" rapper has dated women around the same age as him, and it wasn't until after he divorced Kim Kardashian that his preferences began to change. 
West's younger age preference started when he began seeing Irina Shayk, who was eight years his junior, which doesn't seem too bad compared to some Hollywood couples. But, the Grammy-winning musician only continued to go for younger and younger women. After Shayk, West went on to date Julia Fox — who is 12 years younger than the musician. The real reasons behind his decision to find younger partners are up in the air, but he once revealed he only listens to youthful people. West shared in an interview, "I only listen to people who are younger than me! These are the only people with ideas. You cannot give me any advice!" Seeing as Censori's much younger than West, they probably get along great — but their age gap is probably bigger than you think.
Kanye West is 17 years older than Bianca Censori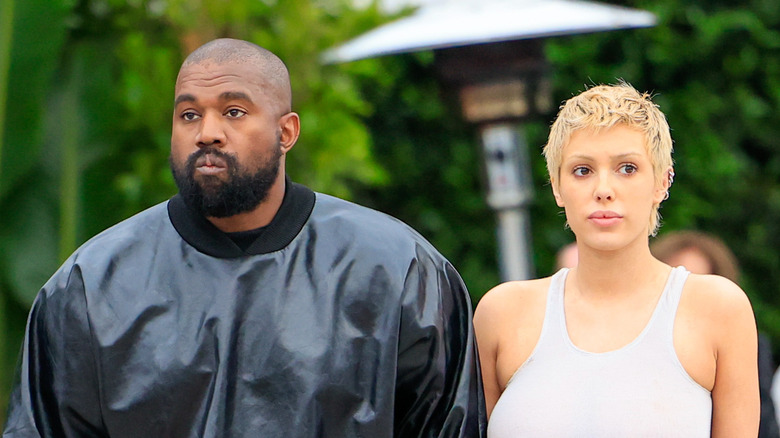 Rachpoot/bauer-griffin/Getty Images
What's a nearly 20-year age gap, right? Apparently, it doesn't mean much to Kanye "Ye" West and Bianca Censori. According to People, the couple first connected in January 2023. At the time, Censori worked as an architectural designer for West's company, Yeezy. When they started to spark dating rumors, Censori was 28 years old, and West was 45 years old. This means there is a 17-year age gap between the two, and mind you, the "Gold Digger" rapper will turn 46 in 2023. So, technically Censori and West will actually have an 18-year age gap soon! It seems wild to think that the couple has anything in common, but as we have previously learned, West only likes listening to younger people. And he may have to listen to Censori for a bit longer.
According to TMZ, the musician and architectural designer had a wedding ceremony shortly after they started dating. Although, it's unclear how official this "marriage" is as they never obtained a marriage license. Still, it seemed authentic enough to have West sporting a wedding ring following the ceremony. Not just that, but Censori confirmed her marriage to the rapper after someone asked her for her number, as noted by the Independent. When someone asked for her number, Censori said, "I'm married!" Even with the age gap, Censori and West are taking big steps in their relationship.
Kim Kardashian dislikes Bianca Censori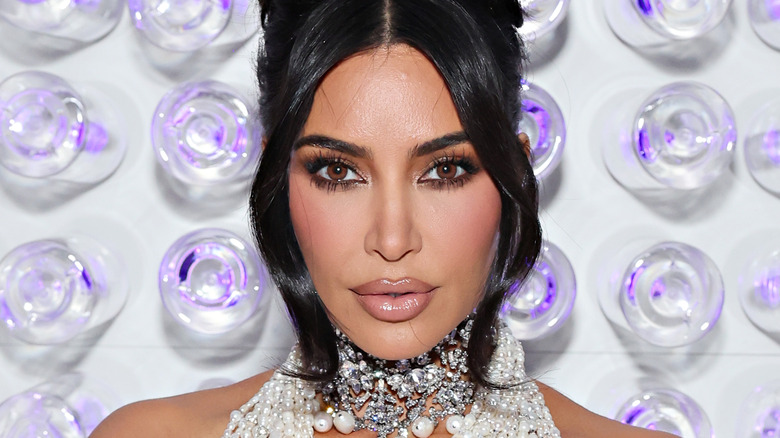 Cindy Ord/mg23/Getty Images
Kanye "Ye" West and Kim Kardashian were married for six years and have four children. So, the reality star is bound to feel some type of way about the musician's latest marriage to Bianca Censori, and she does. As a source told Page Six, Kardashian has never liked the architectural designer and has long suspected she wanted something more from West than just an employee paycheck. The source went even as far as to say that Kardashian "hates" her. They shared, "She's pretty. And Kim hates pretty girls." Ironically, another source revealed to Page Six that Censori has done work to look like the SKIMS creator. They shared, "[Kim] has a bad opinion of her. This woman has done stuff to make herself look like Kim." Clearly, the reality star is not happy with her ex-husband's new beau, and their speedy marriage might have been a shock to Kardashian.
West introduced Censori to his kids just weeks after first being spotted with the Yeezy designer. While the "Heartless" singer wasn't particular about who he brought around his children, Kardashian, on the other hand, has been selective. The reality star revealed on "Today" that she waited six months to introduce the kids to her ex-boyfriend, Pete Davidson. The SKIMs creator probably wished West would have followed in her footsteps, but clearly, he didn't.