Eva Mendes Has Regrets About Her On-Screen Kiss With Johnny Depp (Spoiler: The Reason Isn't Shady)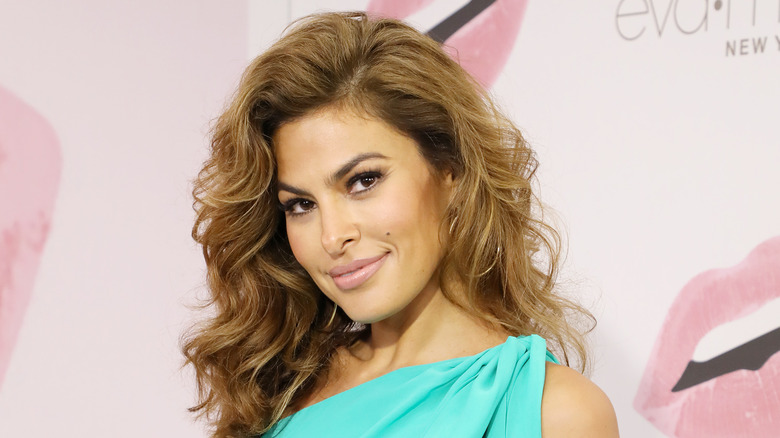 Alexander Tamargo/Getty Images
They say never kiss and tell, but Eva Mendes is ready to share all the deets about her peck with "Pirates of the Caribbean" star Johnny Depp. Mendes is a certified expert when it comes to on-screen kisses. The "Hitch" actor has smooched with some of the most well-known men in the industry, from Will Smith, Nicholas Cage, and Will Ferrell, to many more.
Of course, not all of Mendes' on-screen romances have come easy. She once revealed to Oprah how nervous she was to kiss Smith. Her nervousness led her to eat her favorite comfort food, which just so happened to include tuna, onions, and smashed-up Doritos. While it's not exactly what one should eat before kissing, it didn't seem to affect the on-screen smooch. When asked about the kiss, Smith shared that his "Hitch" co-star was "absolutely wonderful." Still, Mendes continues to get nervous about any intimate scene and has called them "nerve-wracking," per OK! If you think about it, it is incredibly awkward to kiss someone you barely know, especially when that person is famous!
Still, it's surprising that Mendes gets nervous about on-screen kisses. And if you thought that her nervousness peaked when she kissed Smith, her fear was 10 times worse when she had to kiss Depp. And it turns out the actor actually regrets her kiss with Depp, but not for the reasons you may think.
Eva Mendes wishes she kissed Johnny Depp for longer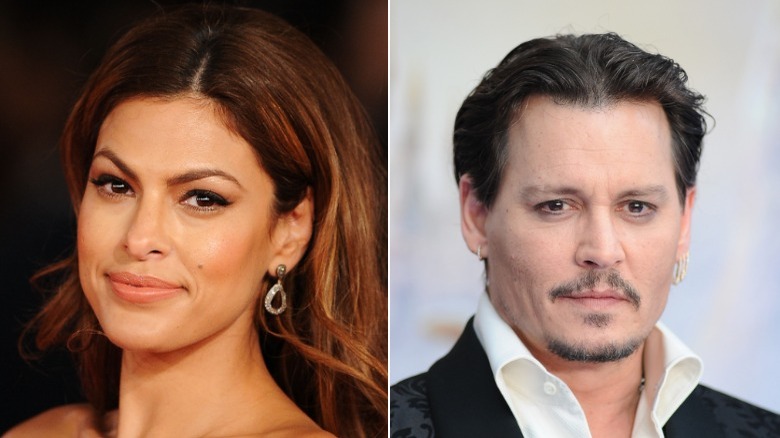 Pascal Le Segretain & Jeff Spicer/Getty
Johnny Depp has been a heartthrob since the actor graced the big screen for his first movie role in "Nightmare on Elm Street." Even celebrities have had a crush on Depp, and Eva Mendes was just one of many. However, very few get the opportunity to come face-to-face with their celeb crush, let alone kiss them. But Mendes is one lucky actor because she was lucky enough to kiss Depp while filming "Once Upon a Time in Mexico."
Although that was a memorable moment in her career, Mendes does regret one thing about the on-screen kiss. She wished that it was longer. As noted by Digital Spy, she once shared, "All of my screen kisses were the best, though I regret not kissing Johnny Depp for longer. I was so intimidated by him. It was the first time I had worked with an actor who I had crushed on as a little girl." Talk about being nerve-wracking!
Depp has never mentioned the kiss, but Mendes has continued to share how tense it was to work with the actor. She told Phil Star, "Working with Denzel and Johnny was the same thing; it was just as nerve-wracking." The actor admitted she gets incredibly "nervous" filming a kissing scene because it is so "intimate." Nervousness and all, Mendes is one of the few that can say she kissed her childhood hearthrob even if she does wish it lasted a little longer.
Eva Mendes went from kissing Johnny Depp to marrying Ryan Gosling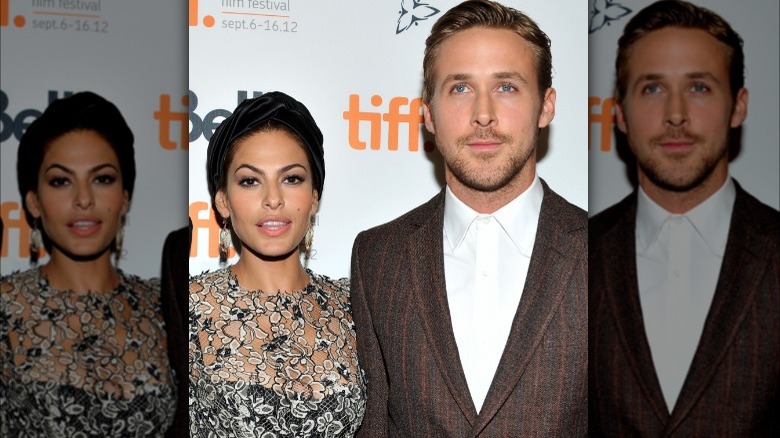 Sonia Recchia/Getty Images
Eva Mendes is living many people's dreams. Not only did she get to kiss Johnny Depp, but the "Hitch" actor has gone on to marry one of the biggest heartthrobs in the industry, Ryan Gosling. According to People, the A-list couple first met in 2011 and welcomed two kids before reportedly tying the knot in 2022. The two have been extremely private about their love life and have limited what they share about their family with the public. Mendes even told a fan on Instagram, "My man and my kids are private." Still, there are a couple of things we know about the couple, including who is the jealous one in the relationship.
Mendes is incredibly stunning and has kissed some of the most handsome men in the entertainment industry, but surprisingly it isn't Gosling that is jealous but the other way around. According to Us Weekly, the couple faced a rough patch in 2013. A source told the outlet, "He can be moody, and she's insecure. She sees a text from a mystery number and assumes he's talking to other girls." The "Hitch" star was reportedly distant from the "La La Land" actor and had even shut down any mention of his name. However, it seems the couple has been able to get past this, and their relationship is stronger than ever.