Catherine Zeta-Jones Signed An Ironclad Prenup When She Married Michael Douglas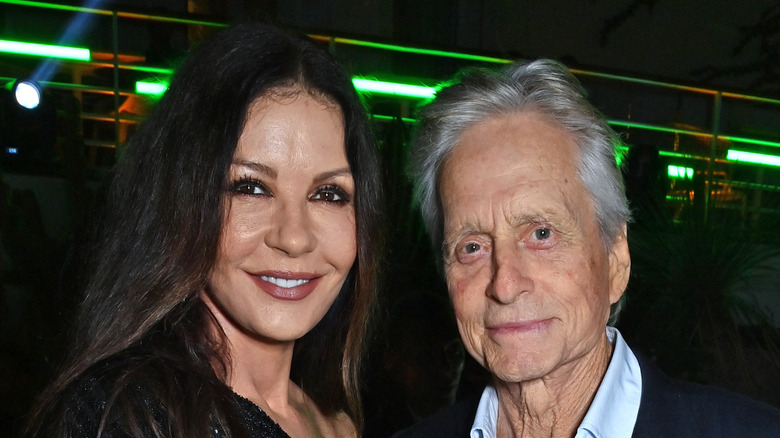 David M. Benett/Getty Images
A prenup may not be the most romantic thing to discuss before marrying the love of your life, but for Hollywood stars Catherine Zeta-Jones and Michael Douglas, it's a necessity. The two actors started dating in 1999 and got married in November 2000. Prior to Zeta-Jones, Douglas was married to Diandra Luker for over 20 years and when they got divorced, he had to pay her a hefty sum of around $45 million, as well as their Santa Barbara home, per Harper's Bazaar.
Not to make the same mistake again, Douglas and Zeta-Jones made sure to hammer out an agreement prior to their wedding. According to The Guardian, the process wasn't entirely smooth. It was reported that the "Chicago" star wanted over £3 million for each year they were married plus a home of her own. Douglas reportedly pushed back but in the end, they came to an agreement that had Zeta-Jones well protected if they should ever divorce.
Catherine Zeta-Jones reportedly has an infidelity clause in her prenup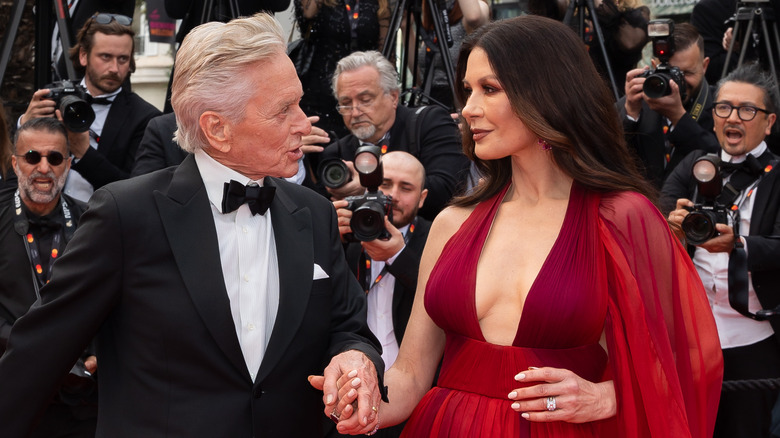 Marc Piasecki/Getty Images
Catherine Zeta-Jones is hoping for the best but preparing for the worst. The Daily News claims that if Michael Douglas cheats and the two divorce, Zeta-Jones would receive $5 million on top of $2.8 million for every year they were married. That's quite a hefty sum, even for Michael Douglas, who is estimated to have $350 million to his name, per Celebrity Net Worth.
Although Zeta-Jones has accumulated her own wealth over the course of her career, she believes that signing a prenup was fair to Douglas, who has amassed a fortune. "I think prenups are brilliant. If I were marrying someone of lesser fortune who was 25 years younger, I'd be doing exactly the same thing. Why should Michael be in a position where half of his fortune, which he's worked bloody hard for, should land in someone else's lap?" she said in an interview with Vanity Fair (via the New York Post). Despite reports of Zeta-Jones and Douglas fighting over the prenup details, the "Wednesday" actor stated that it "wasn't a nasty experience." As for talk over her marrying Douglas for money, she shared, "I'm very lucky. I have my own money. I'm self-sufficient, and I think it's good for our relationship. I've never had a cent from any guy, and I'm very proud of that." While the two actors are still happily married, one blip in their relationship had them thinking about separating.
Catherine Zeta-Jones and Michael Douglas were separated at one time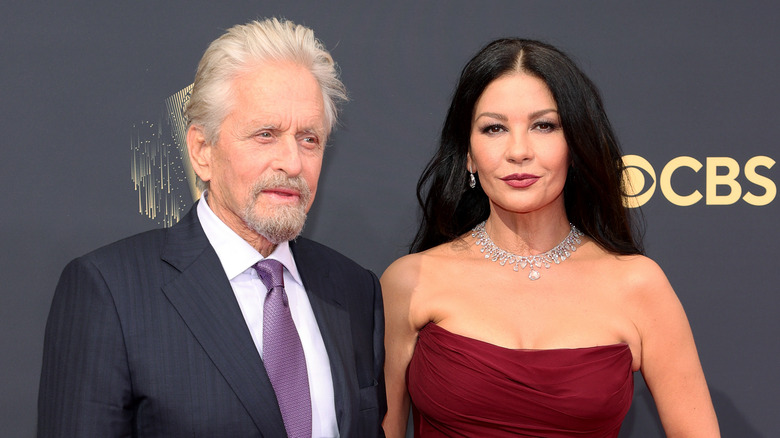 Rich Fury/Getty Images
Marriages are not easy by any means, especially if you're one of Hollywood's most prolific couples. In August 2013, the Daily Mail reported that Catherine Zeta-Jones and Michael Douglas had separated after 13 years of marriage. "Catherine and Michael are taking some time apart to evaluate and work on their marriage. There will be no further comment," their rep announced in a statement. The two never filed for legal separation so there was no mention of divorce at the time.
The following September, it appeared that Douglas and Zeta-Jones reconciled. "We're working things out, talking, and we'll see how she goes," the "Basic Instinct" actor told People. In 2015, he opened up about the separation on "The Ellen Show" and shared, "If both of you are willing, you know, to do it. It can't be a one-way street. But I'm crazy about her and yeah, I think every couple has their difficult times. The only problem is, as you well know, we're all in the public eye, and it tends to get a little more exposed than most. But we're back stronger than ever." It seems as if they're still going strong, their brief separation was a minor bump in their marriage, and the two remain happily together.