Whatever Happened To Akon?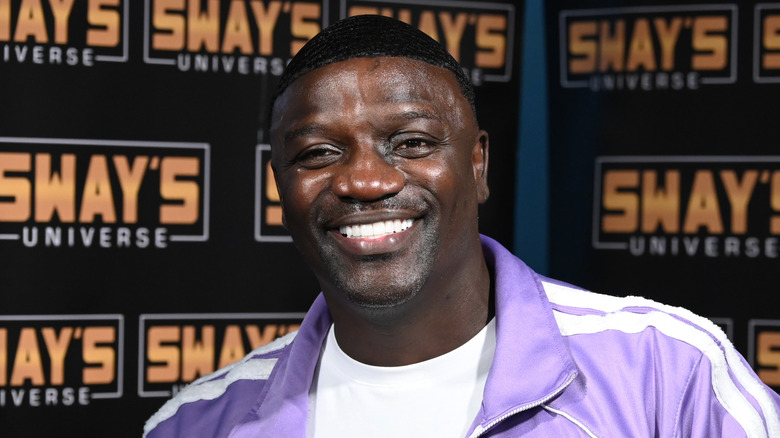 Slaven Vlasic/Getty Images
Senegalese-American Akon was one of the most inescapable R&B stars of the '00s. He racked up more than a dozen hits on Billboard's Hot 100 — including two number ones and the helium-voiced "Lonely" — picked up five nominations at the Grammy Awards and was courted by everyone from Gwen Stefani and Wyclef Jean to 50 Cent and Eminem.
The man born Aliaune Damala Bouga Time Puru Nacka Lu Lu Lu Badara Akon Thiam also produced songs for megastars Whitney Houston, Lionel Richie and Michael Jackson, formed the Kon Live record label which helped to launch the career of Lady Gaga and even founded his own Konvict Apparel clothing line.
But take a quick look at his discography and you'll notice that Akon hasn't enjoyed chart success since David Guetta collaboration "Play Hard" in 2013. And you have to go back to 2010 for his last solo hit. So how has the once-ubiquitous singer fallen out of favor? And what's he been up to over the last decade? From body doubles and bold new looks to controversial comments and city-building plans (yes, you read that right), here's a look at Akon's remarkable recent life story.
Akon got a little too musically ambitious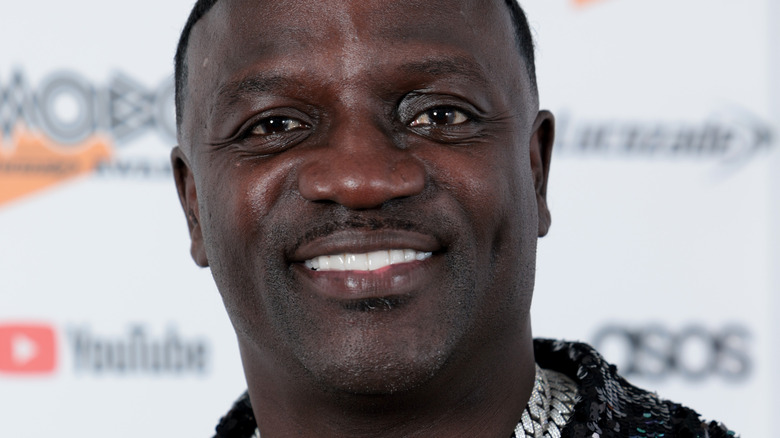 Shane Anthony Sinclair/Getty Images
In 2015, seven years after his last studio effort "Freedom," Akon announced that he'd be making up for lost time by releasing his comeback LP in no fewer than four different versions. In a move which echoed the strategy for Shania Twain's "Up," the singer revealed that "Stadium" would hit the shelves as a house record as well as an urban, island and world music one. Perhaps biting off more than he could chew, though, not one of the proposed versions ever saw the light of day.
But this idea obviously stuck with Akon. After founding yet another record company, Akonik Label Group, in 2019, the Senegalese-American revealed that he'd be tweaking the concept. This time around, he planned to release four completely different albums, each one pursuing a different genre. And so far, he appears to be sticking to his word.
In October later that same year, Akon dropped two studio efforts, the Latin American-themed "El Negreeto" and the Afrobeats-inlfluenced "Akonda." In December 2019, the project continued with the hip-hop-oriented "Konnect." Unfortunately, perhaps due to the lengthy hiatus or the prospect of consuming so much Akon music in so little time, all three records failed to chart. And the proposed fourth entry, the reggae-tinged "Jamakon" has yet to see the light of day.
He launched his own solar lighting initiative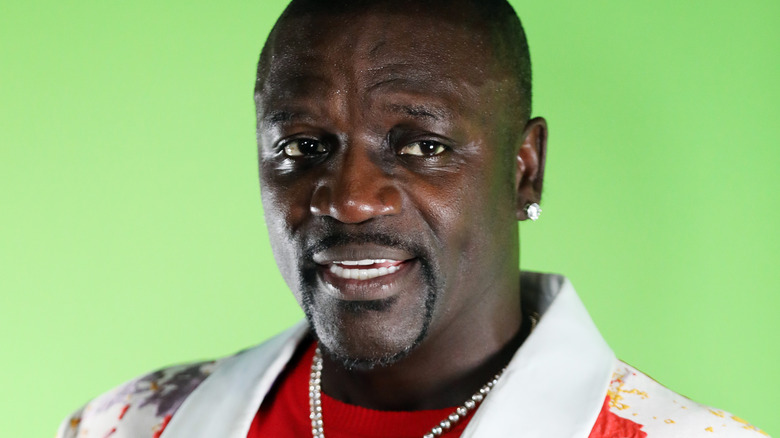 Tristan Fewings/mtv 2019/Getty Images
There can't be many stars who can lay claim to scoring two number ones on the Hot 100 and launching their own solar energy initiative. But Akon has never been one to go by the book. In 2014, the "Locked Up" singer joined forces with political activist Thione Niang and entrepreneur Samba Bathily to co-found Akon Lighting Africa, which, as its name suggests, was designed to help illuminate the continent using natural means.
Akon was inspired by the childhood he spent in the electricity-free Kaolack Region of Senegal. The project, whose solar-power equipment was provided by Bathily's Solektra INT firm, has since gained significant traction. It now has more than 5000 employees and has benefited more than 28 million Africans in 25 different countries including Mali, Sierra Leone and Benin.
And Akon didn't stop there. At New York City's United Nations Sustainable Energy for All Forum, the team revealed they'd be setting up a Malian solar academy which will teach locals the necessary knowhow. Bathily said, "We have the sun and innovative technologies to bring electricity to homes and communities. We now need to consolidate African expertise."
Akon became an actor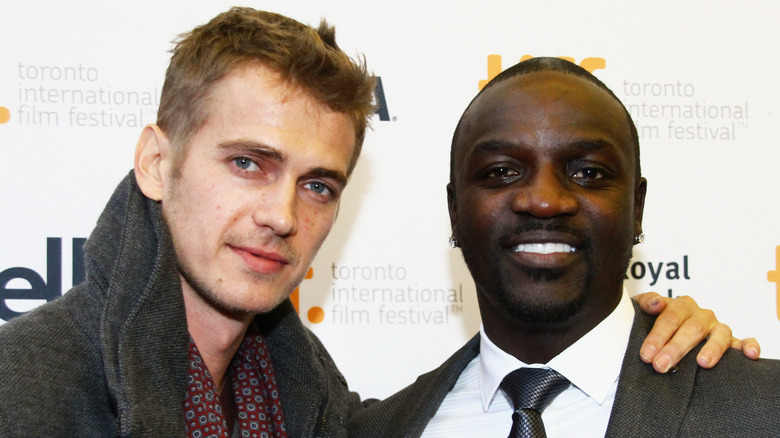 Jeremychanphotography/Getty Images
Although Akon has been notably absent from the Hot 100 over the last decade, you may well have seen him on the big screen, or more likely the small screen in a straight-to-VOD affair. Yes, in 2012 the man of many talents added another string to his bow when he made his acting debut in the Nigerian-American action film "Black November."
Akon starred alongside Mickey Rourke, Kim Basinger and fellow moonlighter Wyclef Jean as a kidnapper for the liberation group known as United People's Front for the Emancipation of the Niger Delta People of Nigeria. The singer must have been impressed as two years later he was once again cast as a criminal in the Hayden Christensen-starring "American Heist."
The Senegalese-American then got the chance to showcase his comic timing, appearing in "Taken" spoof "Tooken," The Lonely Island's musical biopic parody "Popstar: Never Stop Never Stopping" and royal comedy "An American King," the latter of which he took top billing in. In 2021, Akon got festive by joining the ensemble of Nick Cannon's Christmas movie "Miracles Across 125th Street."
Akon launched his own cryptocurrency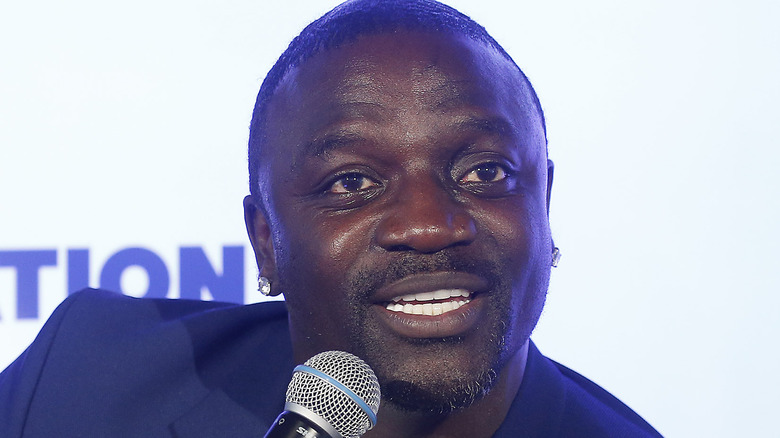 Richard Bord/Getty Images
At the 2018 Cannes Lions International Festival of Creativity, Akon announced he'd be joining the cryptocurrency revolution with his very own, Akoin. And he insisted that this latest endeavor was far from a get rich quick scheme. In fact, the Senegalese-American believed that it could change an entire continent.
The "I Wanna Love You" singer told the press (via Page Six), "I think that blockchain and crypto could be the savior for Africa in many ways because it brings the power back to the people and brings the security back into the currency system and also allows the people to utilize it in ways where they can advance themselves and not allow government to do those things that are keeping them down."
Unfortunately, Akon's plans didn't exactly come to fruition. After launching at a price of $0.28 in 2021, the cryptocurrency's stock has now fallen to just a few cents. And this alarming crash wasn't the only problem that dogged the proposed game-changer. 
He was accused of neglecting crypto investors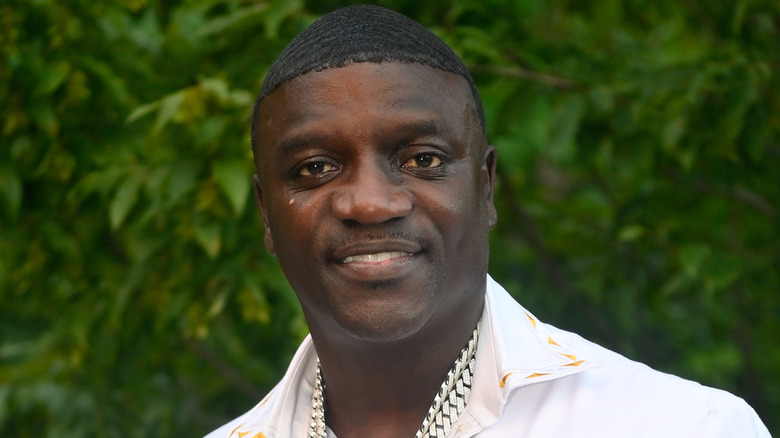 Prince Williams/Getty Images
Three years before Akon's pun-titled cryptocurrency launched, the singer set up an initiative to help raise the necessary costs. The Token of Appreciation campaign offered an incentive to anyone thinking of pledging money: each dollar donated would be rewarded with four tokens which could later be converted to Akoin.
Within a year, the Token of Appreciation had raised nearly $300,000. But in 2021, the cryptocurrency's administrators reneged on their initial promise, offering donors either a refund or an Akoin MasterCard with a matching value. And things got even messier a year later when the BBC revealed that several of those who'd chosen the former option were still waiting for their money. A man named Marcus said, "I did genuinely believe in the ecosystem that they were looking to build. Every now and again I'd put in a few thousand pounds ... I didn't ask for the refund, they offered the refunds. The refund was meant to come a few weeks later. We are now over a year."
When asked about the problem, Akon accepted full responsibility but said he would do everything in his power to ensure that the refunds were actioned. He added, "Even if I gotta go in my own pocket. I'm dead serious. I would do a world tour just to pay them all back."
Akon planned to build a city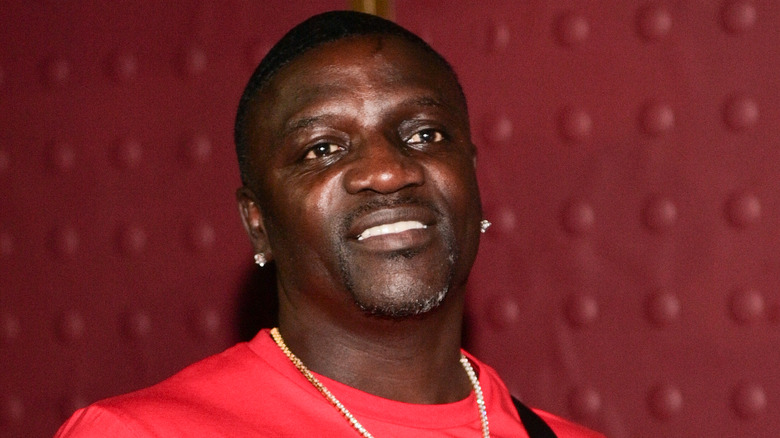 Prince Williams/Getty Images
A new cryptocurrency wasn't the only endeavor that Akon confirmed at the 2018 Cannes Lions International Festival of Creativity. Inspired by the Wakanda metropolis in "Black Panther," the "Don't Matter" singer also announced his staggeringly ambitious plans to build an entirely new city in his homeland of Senegal.
Within two years, Akon had unveiled architectural drawings of the development which would include a university, solar power plant, police station, waste facility, shopping mall, ocean resort and hospital. And he revealed that he'd already laid the city's first stone in the coastal village of Mbodiène roughly 100 kilometers from the nation's capital, Dakar.
The chart-topper told the press he hoped that Akon City would serve as an alternative to any African-Americans struggling with life in the States. He said (via The Guardian), "The system back home treats them unfairly in so many different ways that you can never imagine. And they only go through it because they feel that there is no other way. If you're coming from America or Europe or elsewhere in the diaspora and you feel that you want to visit Africa, we want Senegal to be your first stop." In 2021, the singer announced that Uganda would also be getting its futuristic city following a successful meeting with the country's president Yoweri Museveni.
Akon's city plans derailed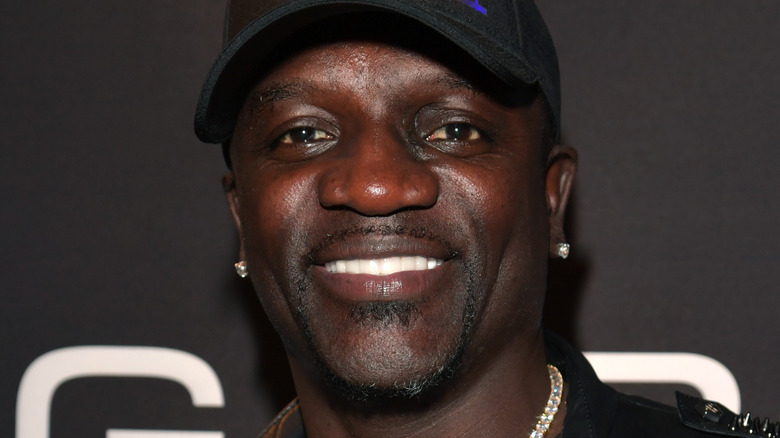 Lester Cohen/Getty Images
While Akon could definitely talk the talk about his plans to build a futuristic self-titled city in Senegal, he's yet to walk the walk. In fact, two years after announcing the hugely audacious project and not a single brick has been laid. Unsurprisingly, locals remain skeptical that it will ever get off the ground.
In an interview with the BBC, a Senegalese reporter at the site, Borso Tall, remarked, "I'm only here in the presence of goats. It's completely empty ... no sign of building just a long line of green trees and red earth." A nearby resident also expressed doubts, commenting, "We thought we could work on it but at this pace, maybe our children will."
Speaking in central London, Akon acknowledges that he should have waited a little longer before spreading the word, claiming that the pandemic and unreliable construction firms have hindered building work so far. The "Sorry, Blame It On Me" singer, who claims he wants to spend his retirement years in Senegal's Akon City, is still confident that his dream will be realized, though. He said, "We're trying to get the city built as fast as possible ... We want the big skyscrapers. My goal is to try to build something that people deem impossible in Africa, right?"
Akon alienated his female fan base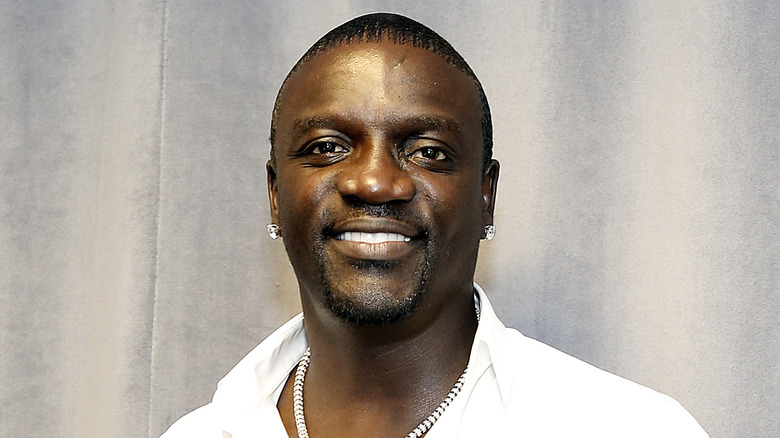 John Lamparski/Getty Images
Akon didn't exactly do himself any favors in 2022 when he launched into a full-blown sexist tirade during an appearance on "The Joe Budden Podcast." The "Belly Dancer (Bananza)" singer not only argued against gender equality but stated that the female population needed to "understand their roles."
The hitmaker, who was born in Missouri but grew up in Senegal, began his rant by noting the differences between women in Africa and America: "The women [in Africa] treat you like a king. They're not competing with you, they're not fighting for equality because they understand that men and women could never be equal ... Here [America], even if you say the word 'role' to a woman here, they get offended."
Akon continued to alienate half of his fan base by adding, "Everybody has a role, that is infrastructure to life and if a woman doesn't understand her position and the role that she plays in life, everybody is confused ... As a woman, her role is to support the man. The men, we are the kings and the divine of this universe, a woman can never compare to the man. They have to understand that here in America." He then showed a staggering lack of scientific understanding when he claimed that men could reproduce without women with the use of an incubator.
Akon defended Kanye West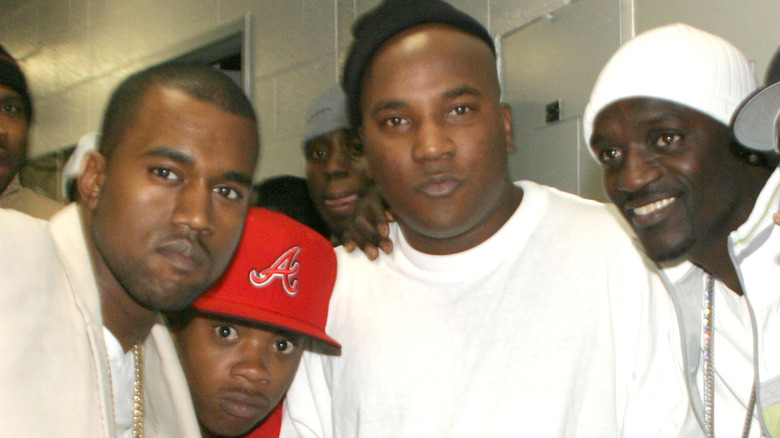 Shareif Ziyadat/Getty Images
Akon once again misjudged the mood in 2022 when he stood up for the ever-controversial Kanye West in an interview on "Club Shay Shay." Referring to the array of problematic comments his fellow rapper made, the "Locked Up" singer argued that it was all just a political ploy: "From our knowledge, his next plan is to run for office, right? Who was his main endorser? [Donald] Trump. In order for Kanye to have a shot, he needs to have a piece of that base. This is how he's getting it. And he knows this!"
The Senegalese-American appeared to acknowledge he was wading into tricky waters, also noting, "I'm always defending the people that nobody wants to defend. I'ma always defend Kanye West because I always believe in life and opinion is just an opinion." However, soon after, and following the backlash over West's praise of Adolf Hitler, Akon did something of a U-turn on the whole debacle.
Indeed, speaking to Channel 4 News, the hitmaker claimed it was the concept of free speech rather than West himself he was supporting and he actually believes the superstar is currently in a bad place: "Anyone that knows me knows that me and Kanye are nowhere near the same. We have totally different views. I would never, in any circumstance, hold the same position as Kanye in that matter ... Honestly, it's very irresponsible to interview him, I don't believe that anything he says people should take to heart."
He has questionable views on fatherhood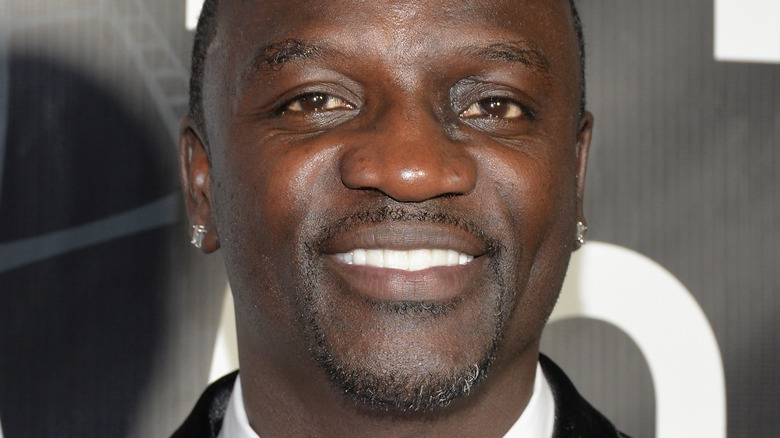 Michael Tullberg/Getty Images
Akon's support of traditional gender roles also got him in hot water during a conversation on "The Zeze Millz Show." Referring to the fact Nick Cannon has 12 children with six different women, the "Lonely" singer argued the comedian was simply fulfilling his duties as a man: "That's how life is supposed to be. Why not? He's rich ... he's responsible. He takes care of every one of those children, and the baby mothers with it. And they hurt for nothing and they live comfortably."
The dad of nine insisted he didn't think financial stability was the only important aspect of fatherhood, but later contradicted himself by adding, "The reason why it's people like me can't spend every single day and minute with their children is because the mother's job is to be there with the children. I'm the man, my job is to provide comfort, so the mother could provide and raise those children to be like me."
And just to ensure that the Father of the Year award was definitely off limits, the star almost scoffed at the question of whether he attended each of his children's school recitals. Akon replied, "No, that's a white man's thing. Who gives a f*** about a recital? No, seriously. Listen, my job is to raise my kids, to be responsible, to be understanding, to protect their mother, to give a hand with their father, and to assist with family planning, and to be responsible adults." 
Akon got in trouble with the law... again
Tiffany Rose/Getty Images
Proud ex-convict, or should that be ex-konvict, Akon found himself in trouble with the law again in 2023. This time it was for an involvement with cryptocurrency, but not the Akoin version that the chart-topper had himself launched. No, the "I Wanna Love You" singer was one of eight celebrities charged by American regulators for promoting crypto assets without declaring they'd been compensated to do so.
Akon joined Lindsay Lohan, Jake Paul, Soulja Boy, Ne-Yo, Kendra Lust, Lil Yachty and Austin Mahone in the naughty club after the Securities and Exchange Commission discovered they'd all received payments from crypto asset entrepreneur Justin Sun. In a press statement (via ITVX), its Division of Enforcement's Gurbir S. Grewal said, "As alleged in the complaint, Sun and others used an age-old playbook to mislead and harm investors by first offering securities without complying with registration and disclosure requirements and then manipulating the market for those very securities."
Although Akon neither denied or admitted to the charges, he did agree to pay over $400,000 to settle them, an approach used by all the other famous faces involved bar Soulja Boy and Mahone.
Akon admitted to body swapping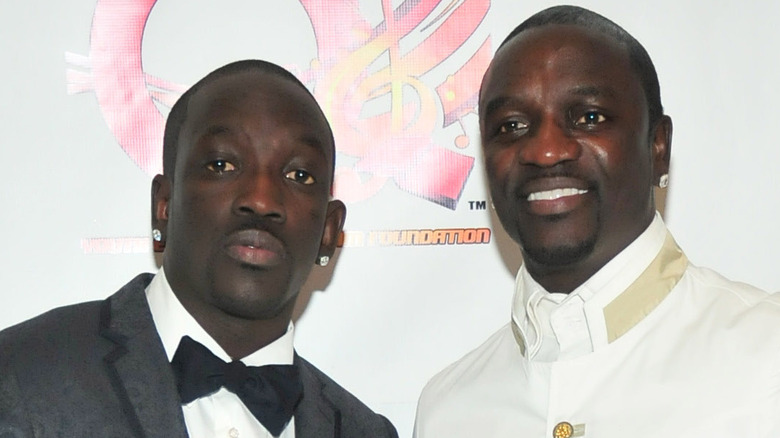 Prince Williams/Getty Images
We all know about the rumors that Melania Trump had a lookalike stand-in for certain engagements. But if true, at least all her doppelganger had to do was stand silently. Akon's very real double had to perform on stage to pull off the trick.
Yes, during an appearance on "The Morning Hustle," rapper T-Pain claimed that during his '00s heyday, the Senegalese-American tasked his brother Abou Thiam with pretending to be him whenever he had two shows booked at the same time. To his credit, instead of denying this charade when invited onto the same show, Akon held his hands up: "Bu started off as my hype man when we were on the road ... We were booked so [much], and I was like, 'Man, all this money I'm leaving on the table. We cannot leave all this money on the table!'"
We can only presume that Abou mimed to backing tracks whenever he impersonated his sibling as according to Akon, he's completely tone deaf. However, that hasn't stopped him from establishing his own career in the music industry. Not only does Abou have his own BUVISION label, he's also now Columbia Records' Executive Vice President.
Akon has a bold new look
In 2022, Akon became the talk of the internet after a photo emerged of the singer showcasing a bold new look. The Senegalese-American, who was joined by rappers Fat Joe and Ja Rule in the Dubai-based snap, proudly displayed the results of the hair transplant surgery which cost a cool $7,500. But some followers appeared to believe that he should have asked for a refund.
Luckily, the "Smack That" singer seemed to take all the jesting in his stride, responding to several unflattering memes comparing him to a Lego brick by tweeting, "Yo this Akon hairline challenge is the funniest s*** I've ever seen. You guys got me rolling!! Send more please!!!"
Indeed, rather than pretending his new do was all natural, Akon has been refreshingly transparent about the hair procedure he traveled to Turkey for, telling all about how he suffered in the name of vanity: "The painful part is in the beginning when they gotta numb you up," he said (via The U.S. Sun). "That number ain't no joke. They stick a needle like this big, non-stop."
Akon plans to extend Michael Jackson's legacy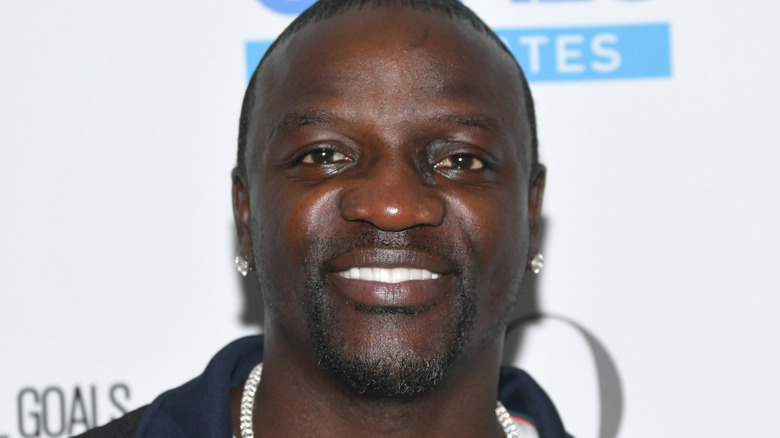 Mike Coppola/Getty Images
In 2022, Akon disclosed that he and late friend Michael Jackson had planned to launch a number of music universities across the African continent before the King of Pop's untimely death. In an interview with TMZ, the "Smack That" singer also revealed that more than a decade on, he wants to bring their idea to fruition.
Akon said (via Yahoo! News), "The schools haven't happened yet, it was just a conversation that we had but it's something I do want to follow-up on." And if the hitmaker's ambitious plans to create his own Akon City are ever realized, then he also plans to name its educational district's first school after Jackson.
In another chat with HipHopDX, Akon, who contributed to the 25th anniversary reissue of "Thriller" before Jackson's passing and the posthumous LP "Michael," opened up about the nature of their friendship: "Mike was just an amazing person man, I wish people had a chance to understand and really experience the person the way I did. We had like a good two years together where we just hung out practically four, five times a week, right? Real conversations and he would shock you, the kind of s*** that he like, the kind of s*** he would say."