Caitlyn Jenner Breaks Her Silence On Sophia Hutchins Romance Rumors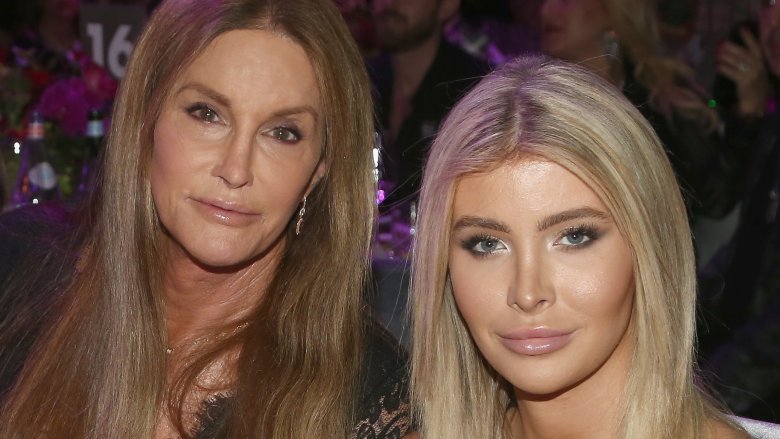 Getty Images
Former Olympian and reality TV star Caitlyn Jenner has finally spoken out about her relationship with Sophia Hutchins ... though she didn't exactly clear up the gossip surrounding them.
In an interview with Variety, Jenner commented on the dynamic of her bond with Hutchins, a 22-year-old transgender woman who serves as the executive director of Jenner's organization, the Caitlyn Jenner Foundation. But the 68-year-old didn't provide too many details. "We are not going to get into that," Jenner said when asked about rumors that she and Hutchins are dating. However, Jenner did admit that she and Hutchins are "very close."
"We do a lot of things together. We're kind of inseparable," Jenner shared. "We're the best of friends."
Hutchins was actually at Jenner's Malibu home when the Variety interview took place, and she even helped Jenner recall certain details, like what movie they last saw (I, Tonya). So, we certainly believe Jenner's assertion about how close she and Hutchins are, but we're still not sure we buy that the two aren't, in fact, a couple. After all, they did attend the ESPYs together in July 2018. And earlier that month, Hutchins appeared to confirm that she and Jenner were dating when she answered fans' questions on her Instagram Story, as captured by The Mirror.
When asked if she was in a relationship, she replied, "Oh yes!" along with a heart eyes emoji. Then, when a follower asked, "R u and Caitlyn dating? Also do you have any pets?" she wrote, "Of course! We have our little Bertha." Hmm... certainly sounds like Jenner and Hutchins are together, doesn't it?
But that wasn't even the most suggestive remark Hutchins made. In response to a fan asking if she and Jenner were getting married," she answered with two bride emojis. Then, when questioned about if she were engaged, she said, "I'll show you the ring when I am."
If Jenner and Hutchins get married, their wedding would mark Jenner's fourth marriage. She was previously married to Chrystie Crownover, Linda Thompson, and Kris Jenner.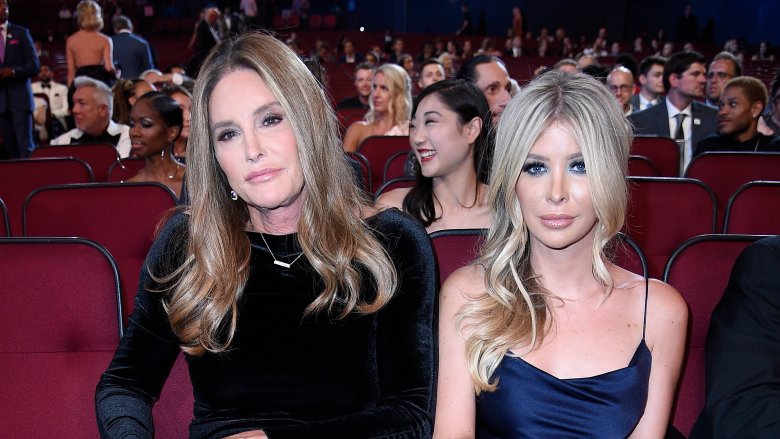 However, to Caitlyn Jenner's credit, she did previously open up about her dating life during her reality TV series I Am Cait back in March 2016, and she seemed unsure of what the future would hold for her. "To be honest with you, I can't see myself dating women in the future," Jenner, who transitioned in 2015, said at the time (via People). "I've been there. Done that. I have three very strong ex-wives. I just don't see it."
She continued, "If there was a female in my life, it would be more like a friendship than it would be a serious relationship."
So, could Hutchins — whom Jenner was first rumored to have started dating in October 2017 — have changed the reality star's mind about entering another relationship with a woman? Well, it definitely seems that way, and we're not the only ones who think so. A source told Heat magazine, "Cait really sees herself spending the rest of her life with Sophia" (via the Mirror).
Referencing Jenner's now-broken relationships with her former stepchildren, Kourtney, Kim, Khloé, and Rob Kardashian, the insider noted, "She lost her support system when she fell out with her family and these days, it feels like Sophia's the only person she can count on."
Regardless of what's really going on between Jenner and Hutchins, we're just happy that Jenner has found someone in her life that makes her happy — even if that means the two are simply BFFs and not romantic partners.
Still, we're not losing hope that Jenner and Hutchins may one day end up together ... or come forward about a secret relationship that had occurred behind the scenes. One thing's for sure though: If they ever do decide to date — or admit that they've been romantically involved this whole time — we'll probably first hear about it on social media. Those two ladies just can't quit using Instagram. But, to be fair, who can?