Ashley Jacobs Reveals Surprising Breakup From Thomas Ravenel
Southern Charm stars Ashley Jacobs and Thomas Ravenel have reportedly ended their relationship — this according to comedian and self-proclaimed reality TV expert Kate Casey.
On her podcast Reality Life with Kate Casey, Casey shared that Jacobs had told her all about her alleged split with Ravenel. And it'd seem that Jacobs is in a tricky situation, as she attempts to navigate life post-breakup, especially since she'd apparently believed that she and Ravenel were going to be together forever.
"[Ashley] told me that she broke up with him and that she blocked his number. But she's in this weird position because she changed her licensing or she got licensing to be a nurse in South Carolina," Casey recounted (via OK! Magazine). She added that the California native had thought that she "was going to set up a new life, away from Santa Barbara, in another state across the country."
As Town & Country noted, Jacobs had previously moved from Santa Barbara, Calif. to Ravenel's home in Charleston, S.C. in August 2017. At the time, the pair had only been dating for three months.
But according to Casey, Jacobs probably should have seen a breakup in her future, as Ravenel's not exactly known for settling down. Referring to Ravenel's former relationship with Kathryn Dennis, as well as to his legal troubles and past jail time, Casey said, "She of course did this hoping that she would ultimately be in a loving relationship with someone who has had two children with a woman he never ended up marrying, has served time in prison, and has all these allegations against him."
As fans of Southern Charm know, Ravenel previously spent time behind bars for cocaine distribution. After pleading guilty to the crime in 2007, he was ordered to resign from his position as South Carolina Treasurer and was sentenced to 10 months in federal prison, followed by three years of probation (via People). Since his release, he's been hit with multiple assault allegations, including claims of inappropriate physical and sexual behavior.
And now, as he's being investigated by South Carolina police for an alleged "sex offense" and "forcible rape," he'll likely no longer have Ashley Jacobs in his corner.
Regarding Jacobs' relationship with Ravenel, Casey stated, "She's told me that they've broken up, and that she has no intention of getting back together with him and I hope that's true."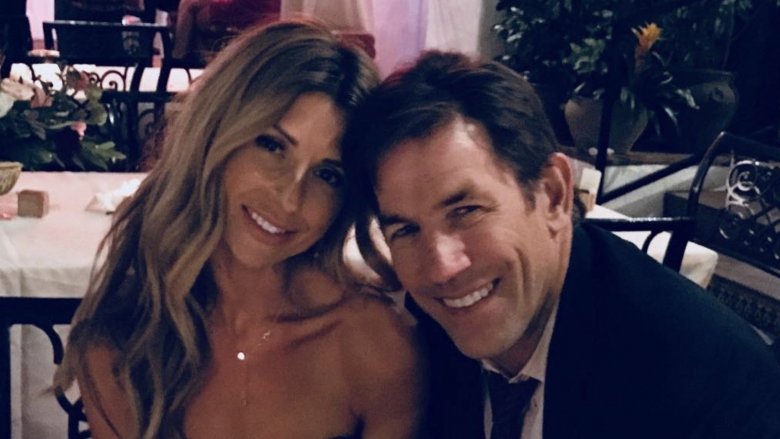 Jacobs and Ravenel have certainly had their ups and downs over the course of their relationship — and many of their Southern Charm cast members have called them out for it. During the reality show's reunion episode, the show's stars tried to get Jacobs to see how cruel he was to her. Cameran Eubanks called the pair's relationship "volatile," while host Andy Cohen shared that he'd heard that Ravenel had allegedly thrown food at Jacobs in front of a restaurant. In response, Jacobs said that Ravenel hadn't thrown the food at her directly and that she'd caused him to get angry after she'd acted like "a brat."
Even Ravenel's ex Kathryn Dennis — who, to put it mildly, is not a fan of Jacobs — spoke out about how bad their relationship was (via People). "I feel bad for you, and I'm watching you be me years ago," she said. "I'm watching it unfold right before me."
Eventually succumbing to tears after the show, Jacobs later admitted in a backstage video that she may have been "a little brainwashed" when she first met Ravenel. Still, at the time, she was determined to stick with him, stating, "He's my best friend and I'm not ready to throw in the towel, despite but everybody else says. I'm really happy."
Sounds like something finally made Jacobs change her mind about her romance with Ravenel, and, well, we can't help but feel like it's for the best. Maybe Jacobs took Cameran Eubanks' words to heart when she said, "Save yourself and go back to California and give yourself a nice life while you can." Let's hope Jacobs does just that.