WWE Legend Jim 'The Anvil' Neidhart Dead At 63
Former WWE legend Jim "The Anvil" Neidhart, who was also known as the father of WWE superstar and Total Divas cast member Natalya Neidhart, has sadly passed away.
On Monday morning, Aug. 13, 2018, the pro wrestling superstar died in his Florida home after allegedly suffering a medical emergency, TMZ reports. He was 63 years old.
"Preliminary information indicates that [Neidhart] fell at home, hit his head, and succumbed to his injury," the Pasco Sheriff's Office told the media outlet. Emergency dispatch audio obtained by TMZ has revealed that authorities were called at around 6:30 a.m. to treat a man suffering from seizures. "They think he might be Signal 7," the dispatch operator can be heard saying in the clip. As the gossip rag noted, this is a code used for the deceased. 
The Pasco Sheriff's Office added, "No foul play suspected. No additional information to release at this time."
Pro wrestler and politician B. Brian Blair first revealed the news of Neidhart's passing on Twitter, writing, "So sad to announce the passing of my friend and longtime colleague, Jim 'The Anvil' Neidhart. Your thoughts and prayers for the family are deeply appreciated!" Shortly after, PWP Nation confirmed the report.
Neidhart played professional football with the Oakland Raiders and Dallas Cowboys before getting his start in pro wrestling in 1979, the WWE noted in its official statement. During the '80s and '90s, he and his brother-in-law, Bret "The Hit Man" Hart, became WWE superstars as founding members of the tag team, The Hart Foundation. The Florida native, who hadn't competed in the WWE since 1997, was a two-time tag team champion. More recently, he made regular appearances on his daughter's hit reality TV series, Total Divas.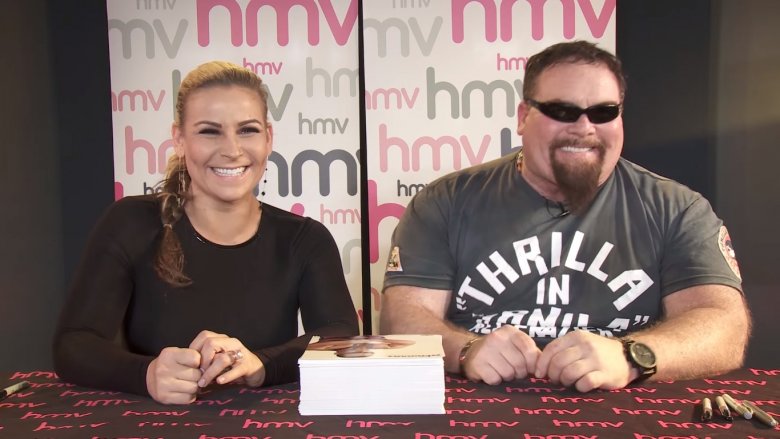 After news of Neidhart's passing broke, a number of fans, celebs, and former colleagues took to social media to share their thoughts and express their condolences. "I've worked with hundreds in the wrestling business. Jim 'The Anvil' Neidhart was no doubt one of the most underrated of all time," WWE pundit Vince Russo tweeted. "Great wrestler, great entertainer, phenomenal human being. Thank you for all you did for us." Meanwhile, Smash from the pro wrestling team Demolition wrote, "It is terrible I just heard Jim Neidhart passed away. I just pray for his family to get through this. Jim was a great friend and I will really miss him."
"Stunned and saddened," brother-in-law Bret Hart shared on Twitter, captioning a snapshot of the two together. "I just don't have the words right now." At the time of this writing, Neidhart's famous daughter, Natalya, has yet to publicly comment on her father's death.
According to People magazine, Neidhart is survived by his wife, Ellie, and their three children: daughters Jennifer, Natalie [Natalya], and Kristen.
Our thoughts are with Neidhart's loved ones during this difficult time.