Celebrities Who Cried Unexpectedly In Interviews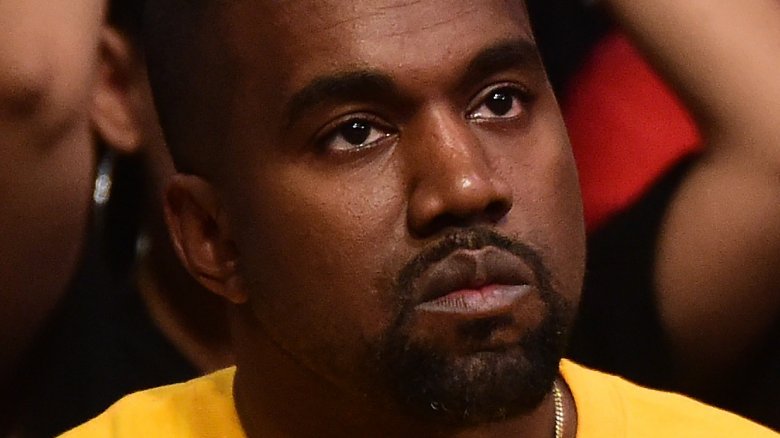 Getty Images
Since we sometimes view celebrities as larger than life, we often fail to realize that they are human beings with human emotions just like the rest of us. And if they're brave enough to shed tears in front of a televised audience, you know it is about something truly important.
Whether it be reflections on the loss of a loved one, a fan who touched their hearts and lives forever, or the heartbreaking end of a long relationship, celebrities prove that, regardless of fame and fortune, a good cry never hurt anybody.
For the record, we can't blame anyone (much less a celebrity) who breaks down and cries while talking to Oprah. Crying while talking to Oprah is pretty much a given. So sit back, grab a tissue, and take a look at some of the many stars who have dropped their stoic fronts and unexpectedly turned on the waterworks during interviews. 
Justin Bieber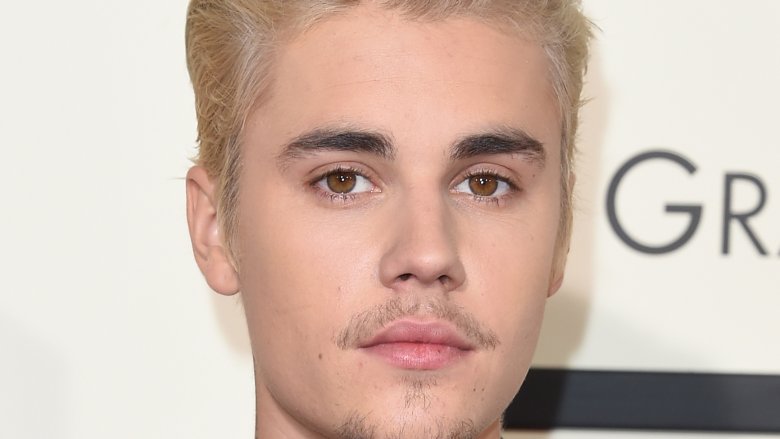 Getty Images
Justin Bieber's reputation as a bad boy is well-earned, but for one superfan, he was an inspiration. In February 2012, the pop singer first met 6-year-old Avalanna Routh after he learned she was battling brain cancer. Per Hollywood Life, his team "thought his visit would be a quick meet and greet," but the pair formed an instant bond, spending countless hours (and television appearances) together "like they had known each other forever." They even had an adorable pretend wedding where the singer affectionately dubbed her "Mrs. Bieber."
Tragically, Routh succumbed to an atypical teratoid rhabdoid tumor and passed away on September 26, 2012. "Just got the worst news ever. One of the greatest spirits I have ever known is gone. Please pray for her family and for her," Bieber tweeted after learning about Routh's passing. "RIP Avalanna. I love you," he added. Three days later at a concert in Glendale, Arizona, Bieber dedicated the song "One Less Lonely Girl" to Routh as the audience was shown images of his young fan on the screen behind him.
Discussing their first meeting during an interview for his Believe movie, Bieber "completely broke down in tears," according to Hollywood Life. Touched by the love and spirit of Routh, Bieber paid tribute to his super fan on the one-year anniversary of her death. "Will never forget my girl. RIP Avalanna #mrsbieber," he tweeted. We're not crying; you're crying. 
Tracy Morgan
On June 7, 2014, a truck plowed into the back Tracy Morgan's limousine bus on the New Jersey Turnpike, leaving the 30 Rock star in critical condition with severe, life-threatening injuries, and his friend, comedian James McNair, dead.
Morgan sat down for his first interview after the tragedy with Today's Matt Lauer a year later, and the comedian quickly turned emotional. Morgan claimed he had no recollection of the accident, and spoke through tears about his recovery, saying, "I can't believe I'm here. I can't believe I'm in front of you. I can't believe I'm just here, and just seeing the tragedy that happened ... it touches me."
Remembering his friend who died in the fatal crash, Morgan said, "Bones heal, but the loss of my friend will never heal." He thanked his 30 Rock costar Tina Fey for helping "get his spirits up," and revealed how he's coping with life after the accident and the lasting injuries he suffers: "I have my good days and my bad days, where I forget things ... there are times where I got the headaches and the nosebleeds."
Selena Gomez
Per Metro, Selena Gomez's long battle with Lupus resulted in the singer undergoing a secret kidney transplant in 2017. The world became aware of the operation after Gomez posted an Instagram photo of herself in the hospital holding hands with her best friend and donor, Francia Raisa. "I'm very aware some of my fans had noticed I was laying low for part of the summer and questioning why I wasn't promoting my new music," Gomez explained in the post. She then revealed the need for the surgery and publicly thanked her "family and incredible team of doctors." However, the bulk of her thanks went to Raisa, who Gomez says "gave me the ultimate gift and sacrifice."
A month later, Gomez and Raisa sat down with Today's Savannah Guthrie for an exclusive interview that quickly turned emotional. "My kidneys were just done. ... That was it," Gomez said, wiping away tears. "I didn't want to ask a single person in my life to [donate a kidney]. The thought of asking someone to do that was really difficult for me — she volunteered and did it." When asked if she felt her best friend saved her life, Gomez responded, "Because she did. That's it."
Rihanna
Rihanna has sat firmly atop the music scene for more than a decade now, but in 2009, her relationship with Chris Brown almost brought her rise to a screeching halt. On the eve of the Grammys that year (per TMZ), the Barbadian hitmaker suffered horrific injuries after Brown brutally attacked her during an argument. Although Brown plead guilty to assault, according to US Weekly, he only received "five years probation, community service and one year of domestic violence counseling."
Three years after the incident, Rihanna appeared on Oprah's Next Chapter and grew emotional when discussing her mixed feelings about her former boyfriend. "It was a weird, confusing space to be in," Rihanna told Winfrey in an excerpt released by ABC. "Because as angry as I was, as angry and hurt and betrayed, I just felt like he made that mistake because he needed help and who's going to help him? Nobody's going to say he needs help. Everybody's going to say he's a monster without looking at the source, and I was more concerned about him."
Ariana Grande
Learning a loved one has died can be a traumatic experience, but it can be much worse when you have to appear on national television the next day. This is exactly what happened to Ariana Grande in 2014 when her beloved grandfather died the day before her scheduled appearance on Good Morning America.
Per Daily Mail, Grande remain composed "until the very end when Robin Roberts offered her condolences." The visibly shaken pop singer then became overcome with emotion when "Ryan Seacrest placed a reassuring hand on her shoulder," and Roberts offered up a hug.
Grande addressed her grandfather's passing on Twitter the same day, calling him her "favorite person to ever exist." She even explained her decision to appear on the show so soon after his death. "Only reason I made this twelve hour trip is grandps told me he wanted me to always be professional & fulfill my business commitments
," she tweeted.
Katy Perry
In a 2013 interview with Billboard, Katy Perry revealed the abrupt end to her short-lived marriage to Russell Brand left her with suicidal thoughts, and in her 2012 documentary film, Katy Perry: Part of Me, audiences saw the marriage crumble on screen.
Per Daily Mail, the couple spent too much time apart while Perry was on tour, and the documentary didn't shy away from showing the pain she was suffering as a result. In one particular scene, Brand is adamant that he wants children, but Perry wasn't "quite ready." While back on tour, Brand sends her a text bringing up children again, to which she replied, "I will be a mother when I decide to be a mother, but not right now. A baby can't have her baby."
Brand's follow-up text was to tell her that he filed for divorce, causing Perry to break down. 'I'm a romantic ... and I kinda believe in this fairytale," she said in a later scene. "If you can believe in something great, you can achieve something great," Perry continued. "I have that same belief system with everything, from my career to my personal life. And I will do everything it takes to not fail, and I did everything it took, but it still failed."
Nicki Minaj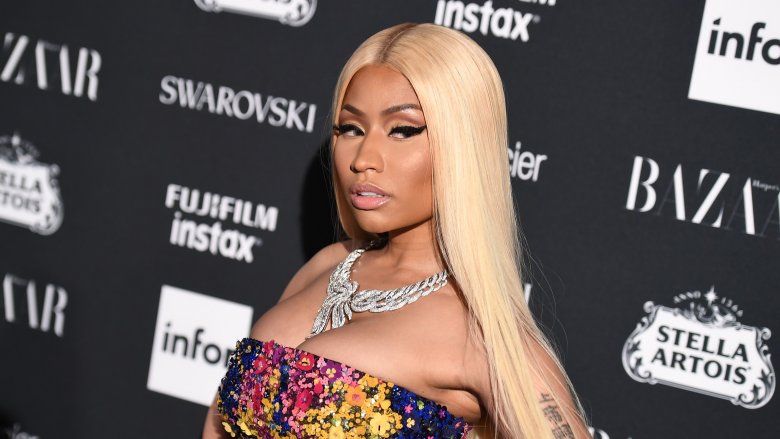 Getty Images
During her 2014 interview with Angie Martinez on Power 105.1 (per Rap-Up), Nicki Minaj opened up about her breakup with her boyfriend of 12 years, Safaree "ScaffBeezy" Samuels. Minaj stated their "relationship was based off of love," and she admits to still missing him doesn't know how she plans to "function without that person in my life."
Despite rumors that the relationship ended because she cheated with Meek Mill, Minaj broke down in tears revealing that it was the pressures of her career and the music industry that drove them apart. "If I wasn't a rapper, we would have children, be married, and be living happily ever after," an emotional Minaj said. "And that's what we're both sad about because we know that this sh*t is what did it."
Also denying the cheating rumors was Samuels himself, who set the record straight on Twitter, in case anyone had any doubts. "Cheating was never the issue. ppl grow apart and it is what it is.. and thats all ill say about that.. a lot can happen and change in 12 yrs," the Jamaican-American rapper and songwriter said. He continued, "You all see a public figure. I'm with the real person. we will always love each other no matter what. peace n thats the last ill say bout it."
Britney Spears
Britney Spears' 2002 interview with ABC's Diane Sawyer was tough to watch. Spears reflected on a year where she experienced several professional heartbreaks and a very personal and public one – getting dumped by Justin Timberlake.
With his "Cry Me A River" music video and public comments, Timberlake made it clear that Spears cheated on him, an allegation that Spears didn't exactly deny. "I'm not technically saying he's wrong, but I'm not technically saying he's right either," Spears attempted to explain. She claimed, "I thought that I was gonna be with him for the rest of my life," and added that she wasn't interested in casual sex. "You don't go around sleeping with people," she said. Okay...
Although we might not know the truth of what happened, Spears was clearly emotional during the interview. "I'm embarrassed. Can we stop?" begged Sawyer through tears.
Pharrell
There was a time when you couldn't escape Pharrell's infectious hit, "Happy", and when the hitmaker sat down with Oprah in 2014 on Oprah Prime, he couldn't escape the happy crying. Per Buzzfeed, Oprah played "a video of people all over the world dancing and singing to the song," leaving Pharrell to ask as he wiped away tears, "Why am I crying on Oprah?" We hope that question was rhetorical.
The usually stoic Pharrell realized his song had become a source of joy and happiness the world over. "It's overwhelming because it's like I love what I do and I just appreciate the fact that people have believed in me for so long that I could make it to this point to feel that," he said.
After the interview, Oprah tweeted, "@Pharrell this was one of the most sincere humbling moments I've ever experienced during an interview. HAPPY tears. #OprahPrime" To which Pharrell replied, "Wow...@Oprah, I am speechless. All of your kind words are overwhelming."
Kanye West
Kanye West has been known to get emotional on stage and in interviews, usually when he feels disrespected in some way. However, during a sit down with BBC Radio One's Zane Lowe in 2015, an unusually vulnerable West became emotional remembering his British fashion tutor, the late Professor Louise Wilson, who died of breast cancer at the age of 52.
Per The Telegraph, West "paid tribute to Wilson's determination to inspire success." He recalled the last time he saw her over dinner at his favorite restaurant in London. "She said, 'So many students, they don't give it their all. ... Soon as they do anything halfway good at two years old, three years old, their parents clap.' ... She just looked at me and said, 'Kanye, don't clap," he said on the verge of tears. "I didn't know we were gonna lose her. ... She told me, she said, 'Thank you for the times where, you know, we came to performances, and this has, like, really meant a lot to me...'" he added before breaking down in tears and being comforted by Lowe.