Inside Meghan Markle's Relationship With Her Mother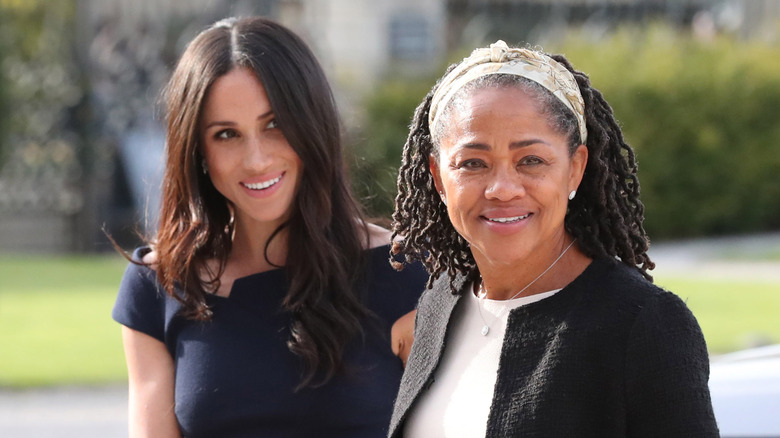 Wpa Pool/Getty Images
Years before she was making headlines, Meghan Markle was growing up in Los Angeles with divorced parents. Thomas Markle, a TV lighting director who worked on shows like "Married... With Children," and yoga instructor Doria Ragland were married from 1979 to 1987. But as Markle told Vanity Fair, she stayed close to both of them. "What's so incredible, you know, is that my parents split up when I was two, [but] I never saw them fight," she recalled, explaining that she still went on family vacations with both parents. "My dad would come on Sundays to drop me off, and we'd watch 'Jeopardy!' eating dinner on TV trays, the three of us," the actor added, marveling at how they were "still so close-knit."
She also wrote an essay for Elle about how her parents had taught her how to understand and accept her identity as a mixed-race child. "I was too young at the time to know what it was like for my parents, but I can tell you what it was like for me — how they crafted the world around me to make me feel like I wasn't different but special," Markle wrote, sharing an anecdote about how her dad bought two different sets of dolls so that he could combine the white family and Black family and give her one that looked like her reality.
Keep reading to find out more about the most divisive member of the British royal family and her close relationship with her mother.
Meghan witnessed her mother experience racism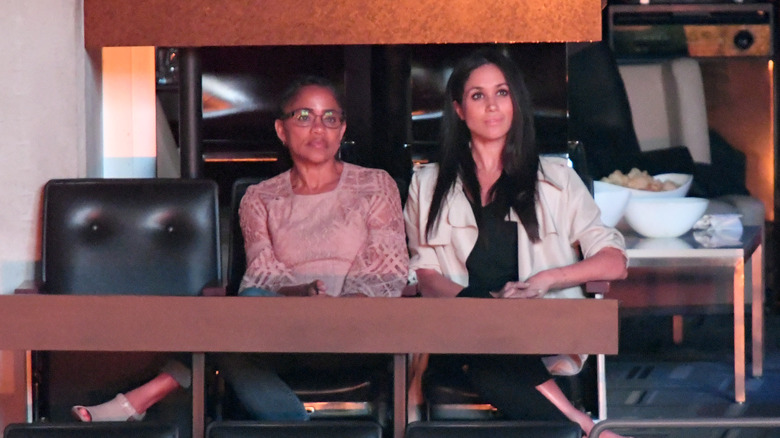 Karwai Tang/Getty Images
Ever since Meghan Markle started dating Prince Harry, she became a lightning rod for racist abuse. Harry had to release an official statement condemning the scrutiny she had faced only a few months into their relationship, speaking out against "the smear on the front page of a national newspaper; the racial undertones of comment pieces; and the outright sexism and racism of social media trolls and web article comments."
But Markle had already witnessed racism in her childhood, growing up with a Black mother and witnessing the Rodney King protests as an 11-year-old in 1992 Los Angeles. "They had let us go home [from school] during the riots and there was ash everywhere," she remembered in her Vanity Fair interview, recalling how she saw the ash settle on their lawn. "Oh, my God, Mommy, it's snowing!" she remarked at the time. "No, Flower, it's not snow," her mother, Doria Ragland, answered. "Get in the house."
Markle has also spoken about seeing her mother called the N-word in front of her as a college student. "We were leaving a concert and she wasn't pulling out of a parking space quickly enough for another driver," she recalled in an essay for Elle about growing up as a mixed-race kid, revealing how shocked she was by the incident. "It's okay, Mommy," she told Ragland, trying to soothe her mother. "I shared my mom's heartache, but I wanted us to be safe," Markle added.
Her mother inspired her humanitarian work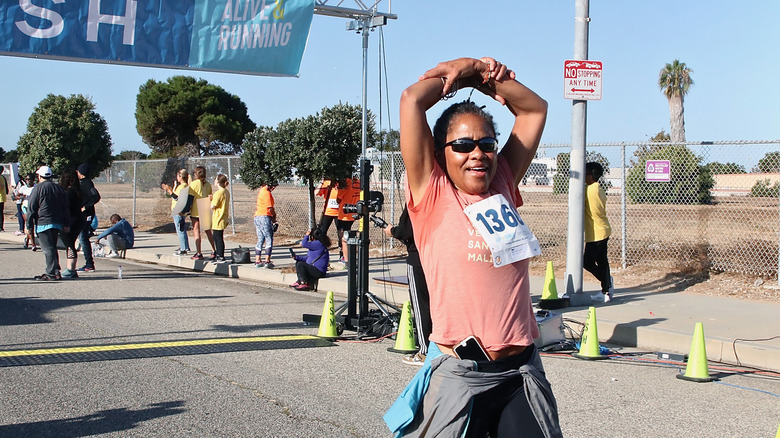 Robin L Marshall/Getty Images
Meghan Markle has always admired her mother's free spirit. In a list of the women who changed her life that Markle wrote for Glamour, she revealed that Doria Ragland is a yoga teacher who does social work, cares for elderly people, and runs marathons. "For me to watch this level of life-long sensitivity to nurturing and caregiving, but at the same time my mom has always been a free spirit," she wrote, describing her mother's look at the time: "She's got dread locks and a nose ring." Markle also compared the relationship between herself and her mother to a couple of best friends. "We can just have so much fun together, and yet, I'll still find so much solace in her support," the actor insisted.
And she's spoken repeatedly about how her mother has inspired her own philanthropy and love for social work, especially after one trip to the Caribbean when Markle was a child. "I must have been about ten years old when we visited the slums of Jamaica. I had never seen poverty at that level," she explained in an article for her old blog The Tig, recalling how frightened she was by the conditions around her. "Don't look scared, Flower," Ragland reportedly told her, urging her not to look away. "Be aware, but don't be afraid."
Doria Ragland had problems with the paparazzi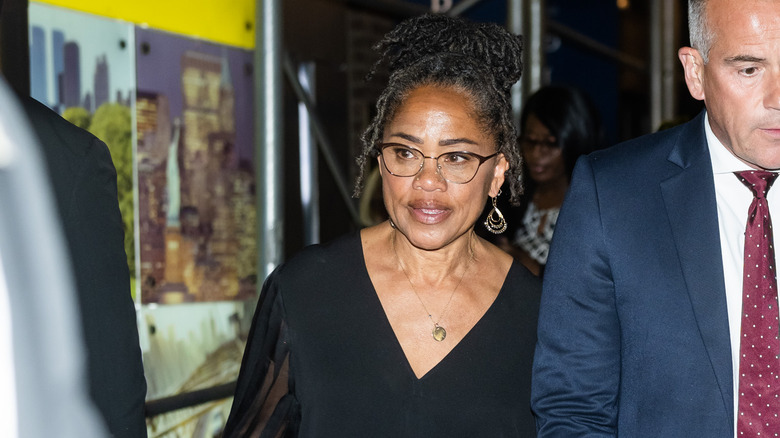 Gotham/Getty Images
From the moment that Meghan Markle was publicly linked to Prince Harry, the media turned its attention to her mother. Doria Ragland was the target of racially motivated headlines in the UK: as Vanity Fair noted, one British tabloid targeted her majority-Black neighborhood in Los Angeles and claimed that Ragland "still lives in Crenshaw, surrounded by bloodbath robberies and drug-induced violence." The Daily Star also claimed that Prince Harry "could marry into gangster royalty," alleging that Meghan's background was shady and declaring that the prince's new girlfriend was "from a crime ridden Los Angeles neighborhood."
She also couldn't leave the house without pictures being taken of her. As Ragland revealed on the Netflix documentary series "Harry & Meghan," she felt "stalked by the paparazzi" at the time. "I felt unsafe a lot. I can't just go walk my dogs. I can't just go to work," she reflected, sharing how her whole life had been irreversibly changed. "There was always someone there waiting for me." Although she had no problem with Harry as a son-in-law and father to her grandchildren, Ragland confessed that she had a difficult time, and added that "the last five years have been challenging." Despite constant harassment and offers from the press, she never gave in to their demands or gave any exclusive tell-all interviews.
Only one parent attended the royal wedding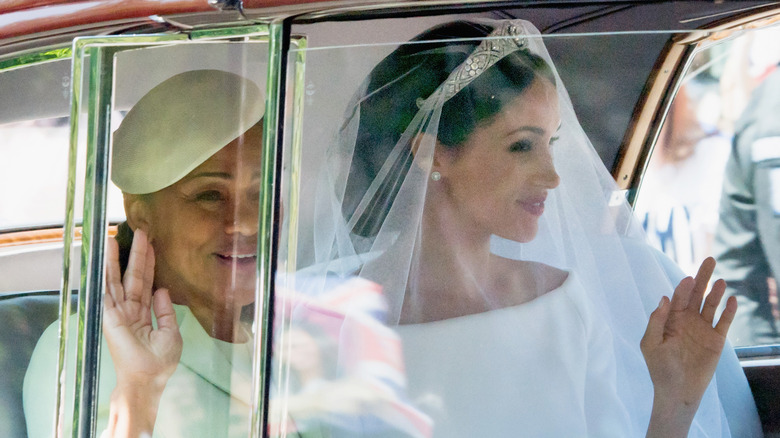 Samir Hussein/Getty Images
When Prince Harry started to think about proposing to Meghan Markle, he knew that he had to ask one person first. As an anonymous source told People, Harry asked Doria Ragland for permission before he got down on one knee. Luckily, she was already fond of him and later revealed in the "Harry & Megan" documentary that she was impressed by his good looks and manners at their first meeting. "And they looked really happy together," Ragland continued. "Once it was announced that they were together, it seemed kind of like a novelty."
Although Ragland was praised online for her elegant appearance at the royal wedding, where she sat across from Queen Elizabeth in pastel green, she was actually the only member of Markle's family in attendance. Thomas Markle was initially meant to give his daughter away but as he told TMZ, he wasn't able to come for two reasons: he had experienced a heart attack shortly before the planned date and controversy over some photos he had helped stage with the paparazzi. Meghan confirmed that he would be absent in an official statement on Twitter only two days before the ceremony, writing: "I have always cared for my father and hope he can be given the space he needs to focus on his health." Thomas later told TMZ he "will always regret not being able to be there and not being able to hold my daughter's hand."
She criticized Meghan's dad for talking to the press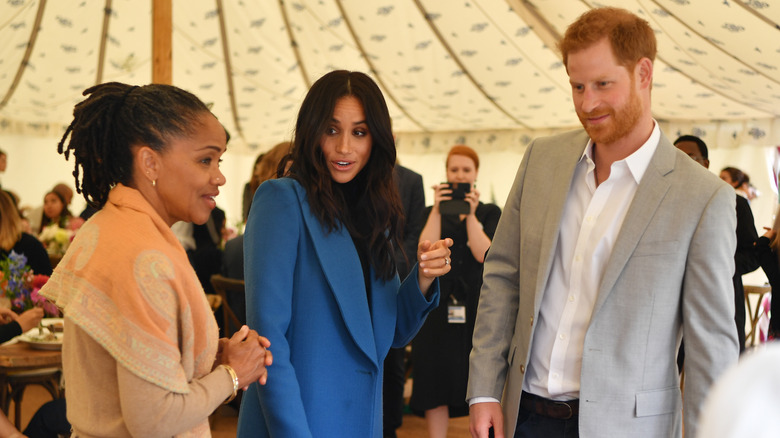 Wpa Pool/Getty Images
After the controversy around Thomas Markle making money from staged paparazzi photos, he decided to give a series of incendiary interviews about his famous estranged daughter where he insulted her and the royal family. In 2018, he told the Daily Mail that "it would be easier for Meghan if I died," insisting that Meghan Markle was ungrateful for everything he had given her as a child. "She became the woman that she is today thanks to everything I did for her," Thomas added. "And did I get any recognition for it? Any thanks? She doesn't even speak to me now. How cold is that?"
Meghan later admitted that she had been hurt by him running to the press in her interview with Oprah, where she compared his betrayal to her mother Doria Ragland's support. "Look, they've hunted my mom down," Meghan pointed out, insisting that both parents had been pursued by journalists. "And you've never heard her say a word. She's remained in silent dignity for four years, watching me go through this."
And Ragland was equally disappointed in her ex-husband, as she revealed in their Netflix documentary, "I felt sad that the media would run with this. That he would capitalize," Doria commented. "Certainly, as a parent — that's not what you do. That's not parenting."
Doria Ragland is a proud grandmother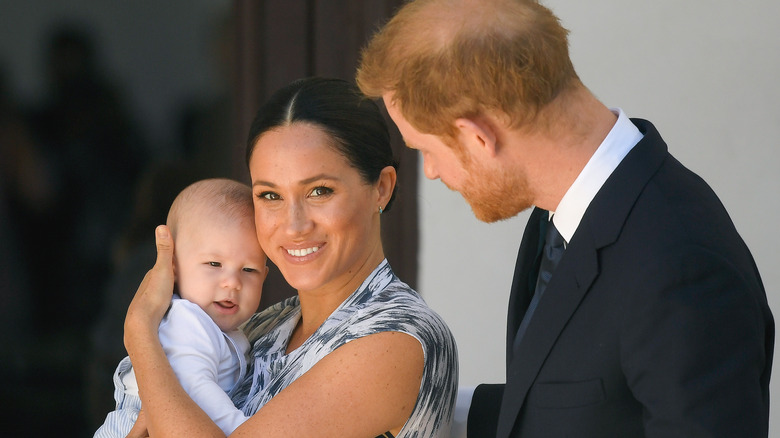 Pool/samir Hussein/Getty Images
After the birth of Meghan Markle and Prince Harry's first son, Archie, Doria Ragland became a proud grandmother. But when they moved to Montecito, California, to raise their second child, Lilibet, she was able to really start helping her daughter with child care. "She's been helping out at the house and her hands-on support is a major bonus," an inside source told Us Weekly, revealing how she had been taking care of her grandkids.
Like their many celebrity friends and aristocratic family members, Ragland also gave the royal couple a lot of toys for their new babies. "They've had lots of lovely gifts sent from friends and family members including Doria, but the most special thing she's provided is her time," the source continued, adding that they were very happy to have the help, especially from Ragland. "Meghan's so grateful to have her mom to lean on, and Harry just adores her."
And she also showed off her love for her grandchildren through a sweet gesture with her accessories in May 2023, when Ragland attended the Women of Vision awards to celebrate her daughter. Keen observers quickly spotted that the yoga instructor was wearing gold jewelry engraved with the names Archie and Lilibet.
Meghan's mother helped her after her miscarriage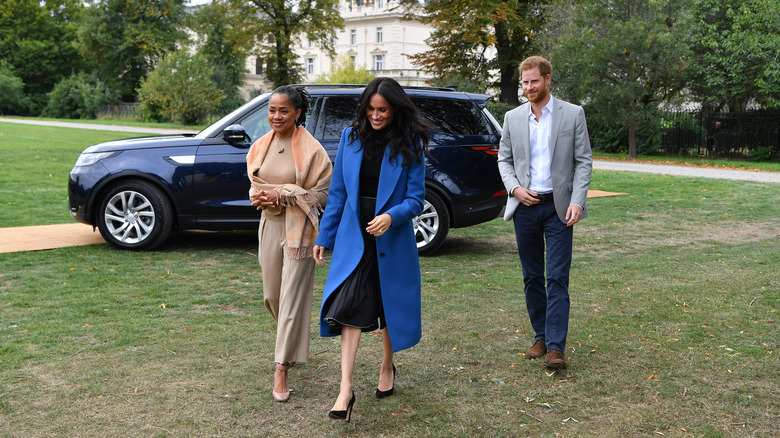 Wpa Pool/Getty Images
In 2020, Meghan Markle revealed that she had a miscarriage after giving birth to her first child, Archie, in an article written for The New York Times. She had started experiencing cramps after changing his diaper and realized that she would need to be rushed to a hospital. "I knew, as I clutched my firstborn child, that I was losing my second," Markle wrote, recalling her fear and pain in that moment. "Hours later, I lay in a hospital bed, holding my husband's hand. I felt the clamminess of his palm and kissed his knuckles, wet from both our tears."
An anonymous source told Us Weekly that Markle's mother had been a huge source of support after the miscarriage. "She's guiding Harry and Meghan — helping them heal and come to terms with their painful loss," the insider revealed, adding that Markle would still struggle to move past the tragedy, even with her mother's help. Doria Ragland also reflected on that time in the couple's Netflix documentary, praising her daughter for going public with the news and sharing her trauma with the world. "I thought she was brave and courageous. But that doesn't surprise me because she is brave and courageous," Ragland declared.
They were in a terrifying car chase in 2023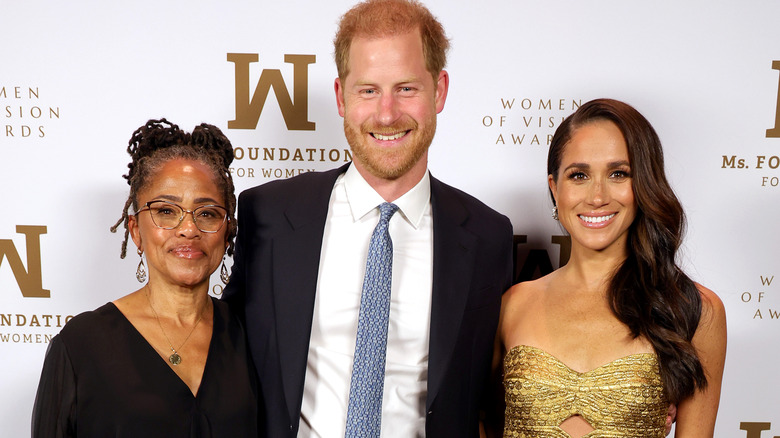 Kevin Mazur/Getty Images
In 2023, Doria Ragland found her name in headlines yet again when she was involved in a two-hour car chase through New York thanks to the paparazzi following her daughter and son-in-law.
Ragland had been attending the Women of Vision awards where Meghan was presented with a prize by Teresa C. Younger, who stated that Markle's "connection to community through the lens of learning, healing, and inspiring have helped define her as a cultural catalyst for positive change." Prince Harry was also at the event and all three of them ended up being followed through the city's streets for hours that night, according to the couple's spokesperson.
"This relentless pursuit, lasting over two hours, resulted in multiple near collisions involving other drivers on the road, pedestrians and two NYPD officers," the spokesperson insisted, per NPR, explaining that they felt like their safety had been endangered by reckless driving and that the couple didn't want pictures from those photographers to be spread around. "While being a public figure comes with a level of interest from the public, it should never come at the cost of anyone's safety." Eric Adams, the mayor of New York, also condemned the paparazzi for potentially putting bystanders at risk. The NYPD confirmed that the chase involved the royal couple and Ragland, but clarified that nobody was injured.