Meghan Markle's Go-To Move For Avoiding Embarrassing Wardrobe Malfunctions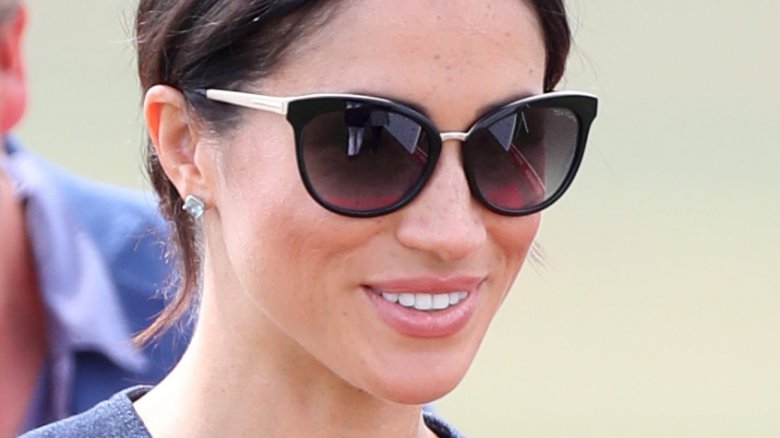 Getty Images
Meghan Markle, former Suits star and the Duchess of Sussex, is a pro when it comes to her personal style. And, having evolved from red carpet fashions to everyday royal wear, Markle's managed to snag a few style tricks along the way.
Etiquette expert Myka Meier spoke with The Sun about Markle's styling habits and filled fans in on just how Markle and her sister-in-law, Duchess of Cambridge Kate Middleton, appear perfectly put-together at all times — even when Mother Nature attempts to sabotage their looks. According to Meier, who founded Beaumont Etiquette, Markle and Middleton often don "body suits and clothes that actually increase static so it's much [harder] for something to fly up."
So, when the women, who are expected to follow tradition and wear dresses while performing their royal duties, need to travel somewhere rather windy, they'll reportedly wear some kind of undergarment to effectively make their skirts stick to their bodies. And, in doing so, they'll be able to avoid any embarrassment that'd stem from their skirts moving with the wind and exposing them.
When not throwing on special undergarments , Markle and Middleton may wear heavier fabrics to meet the same end — especially when arriving at an airport, where it's exceptionally windy. The queen herself, on the other hand, is reportedly said to have weights added to the hems of her dresses to prevent any unfortunate reveals.
However, that's not the only trick that royal women make use of to avoid awkward situations. They'll also sometimes don hats while on airport runways in order to keep their hair in place. "Just like the dresses fly up, so does your hair," Meier told The Sun. "Right when you walk off the aeroplane those are the first photos that go viral, so the hat is often used right when they walk off for that reason."
And, we imagine, that Markle, Middleton, and the queen make good use of extra-hold hairspray, as well.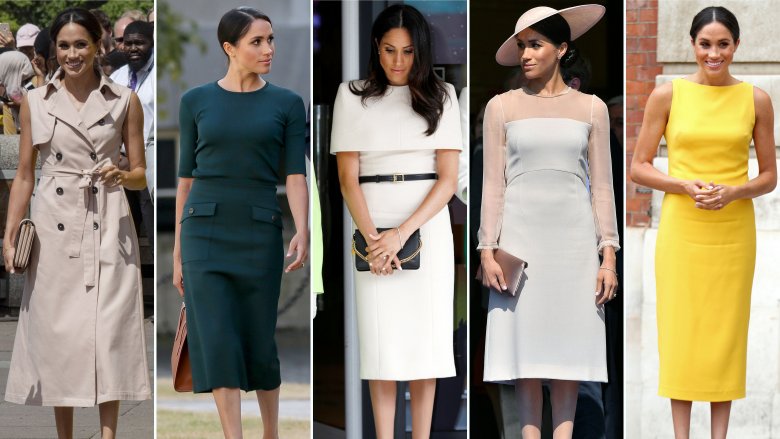 Having only been a royal since marrying Prince Harry in May 2018, Meghan Markle better get used to wearing static-causing undergarments, heavier clothes, and weighted skirts quickly, as her husband has reportedly banned her from wearing suits. According to the Daily Express, Harry told Markle she could not wear a "tuxedo-style suit" when they visit Australia together in October, as it's apparently not "traditional enough."
However, Markle's new wardrobe rule may have come more from Queen Elizabeth II than Harry, as the queen reportedly hates it when women wear pants.
A source told the Daily Express, "Meghan is being told she needs to stop dressing like a Hollywood star and start dressing like a Royal."
But, while Markle may follow Harry's orders this time around, we doubt she'd be able to swear off of suits forever — it just doesn't seem to be in her nature to simply do as she's told. After all, her father-in-law, Prince Charles, has given her the nickname of Tungsten for a reason —  she is "tough and unbending, just like the very strong metal," as reported by the Daily Mail.
So, while Markle does follow royal tradition every now and again, she doesn't appear to be one to go with the status quo for long — especially when her passion for fashion is involved. People magazine reported that Markle, who once wore clothes like ripped jeans, has "found certain rules in the royal household difficult to understand" and is "often asking Harry why things have to be done in a certain way."
As such, we wouldn't be surprised to hear of Markle starting a campaign that'd promote royal women wearing trousers at public events. Honestly, if anyone could shake up the decades-old traditions of Britain's royal family, it's Meghan Markle. Remember that time she helped lead the charge against Ivory Clear Dishwashing Liquid for their sexist advertisements when she was just 11 years old? Clearly, the woman knows how to leave her mark.