RHONJ: Here's Who Joe Giudice Really Believes Turned Him In To The FBI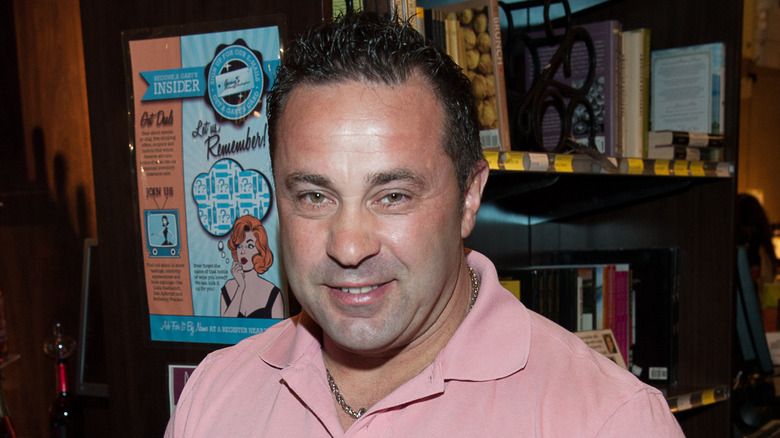 Dave Kotinsky/Getty Images
In July 2013, Joe Giudice and his wife, Teresa Giudice, were indicted on 39 counts of fraud and tax charges. The then-married couple decided to take a plea deal in order to serve less time behind bars, and in 2014, they both pleaded guilty. "Today, I took responsibility for a series of mistakes I made several years ago. I have said throughout that I respect the legal process and thus I intend to address the court directly at sentencing," Teresa said in a statement at the time, according to E! News, adding, "I am heartbroken that this is affecting my family—especially my four young daughters."
Joe was sentenced to 41 months behind bars, while Teresa received a sentence of 15 months. The judge overseeing the case allowed Teresa to serve her time before Joe so that one of them could be at home to care for their four kids. In the aftermath, Teresa has pointed fingers at some of her well-known pals, accusing them of going to the feds with information. Back in 2016, Teresa said that she believed that former RHONJ stars Caroline Manzo and Jacqueline Laurita had something to do with her and Joe being investigated, People previously reported. Flash forward to 2023, however, and it seems that both Teresa and Joe have new information — and now, Joe thinks he knows who really turned him in to the FBI.
Joe Giudice claims he got intel that puts Joe Gorga front and center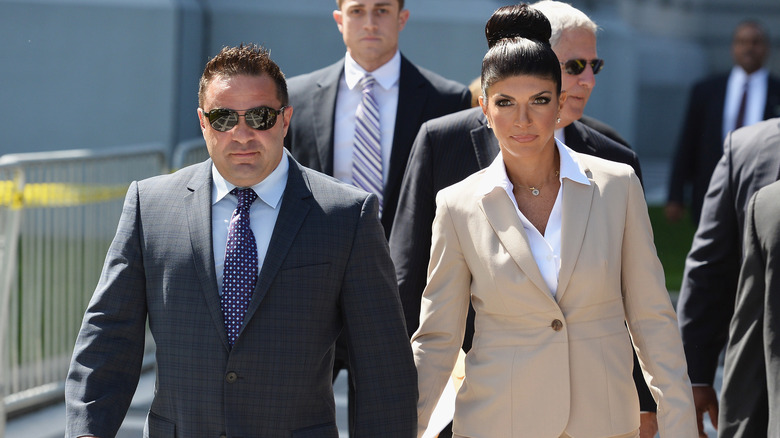 Mike Coppola/Getty Images
Joe Giudice was released from prison in March 2019 and forced to move to Italy after being deported. "Mr. Giudice has finished serving his federal prison sentence and was transferred early this morning from the Bureau of Prisons to a facility in western Pennsylvania which houses immigration detainees," his attorney James Leonard Jr. told People at the time. By 2021, Joe had moved to the Bahamas to make it a bit easier for his kids to visit him — he would be in the same time zone and just a 4-hour plane ride from Newark International Airport. In the time since, Joe and Teresa Giudice, who announced their split in December 2019, have had a lot of time to think about what happened to them, and they've received some additional information about who may have actually turned them in or assisted the feds in the case — and Joe believes that his ex-wife's brother, Joe Gorga, was behind it.
"When they came on the show, they were very good friends with my ex-partner's attorneys, which went to the feds, which I think Melissa and Joe were involved," Joe said on the June 12 episode of the "Behind the Velvet Rope" podcast, referring to Joe Gorga and his wife, Melissa Gorga. "They went to the feds to feed them all this information," Joe Giudice said, claiming that a friend of his — an "ex-FBI guy" — told him so.
Teresa Giudice & her ex-husband are on the same page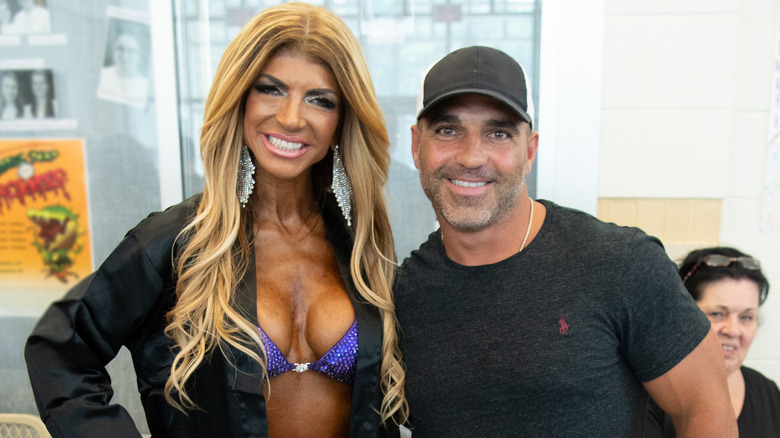 Dave Kotinsky/Getty Images
On the "Real Housewives of New Jersey" season 13 reunion, Teresa Giudice told Melissa Gorga her take on how she and her now ex-husband ended up under investigation. Teresa claims that her on-again pal Jacqueline Laurita filled her in on what really happened. "Jacqueline told me so much s**t that you and my brother were doing. Joe's ex-partner, he didn't go to jail because he outed me. They were hanging out with him and they were speaking with him," Teresa said, according to E! News. Melissa denied having any knowledge of Joe Giudice's "ex-partner" and reminded her sister-in-law that she made the same accusations about former RHONJ star Caroline Manzo. "I take that back. I think you did," Teresa responded, accusing Melissa of being the reason behind the investigation and her subsequent jail time. 
The third part of the RHONJ reunion, which aired on Bravo on June 13, was hard to watch for many fans. Ultimately, Teresa's relationship with her brother remained fractured, and there wasn't any resolve to their ongoing feud. "I will never say never. You're my only sister. I am not happy with you, I am upset with you. I will always love you," Joe Gorga said (via People), to which Teresa replied, "No. You honor me when I'm alive, not when I'm dead. Now! Honor me now." It's unknown how things will shake out for season 14 of the show, but Teresa has made it clear that she has no interest in speaking to Melissa ever again.