The 2018 VMAs Red Carpet Ranked Best To Worst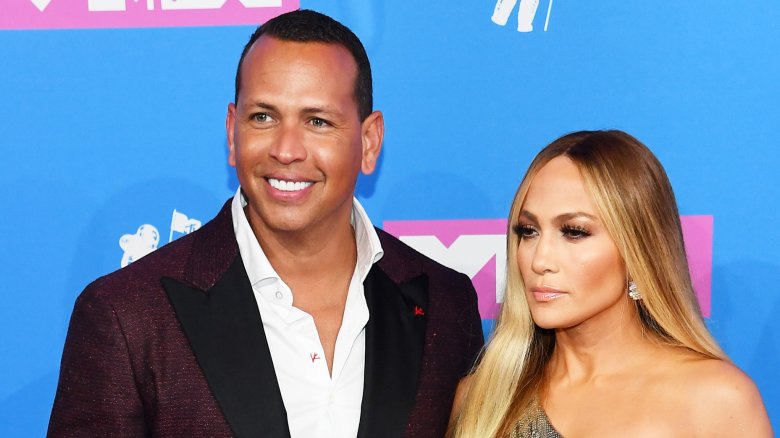 Getty Images
The MTV Video Music Awards have always been a hotbed of high fashion combined with high risk, whether in terms of avant-garde style or simply the threat of a wardrobe malfunction. The 2018 VMAs lived up to the hype in terms of bold fashion choices — complete with bright colors and a whole lot of very visible skin.
Show opener Cardi B did not disappoint in her first post-baby appearance on the Radio City Music Hall red carpet at the Aug. 21, 2018 show. VMA veteran Jennifer Lopez slayed as usual, while Stranger Things star Millie Bobby Brown made a statement of her own.
Just about every performer and presenter brought their big fashion game to the music industry's big night. Here are the top looks of the 2018 VMAs, ranked best to worst. Some of the results are predictable because there are people like J.Lo who can make trash bags look couture, and then there are the hot messes — here's lookin' at "YOU," Morgan Saint. Without further ado, let's get to the fashion.
Millie Bobby Brown is the youngest adult ever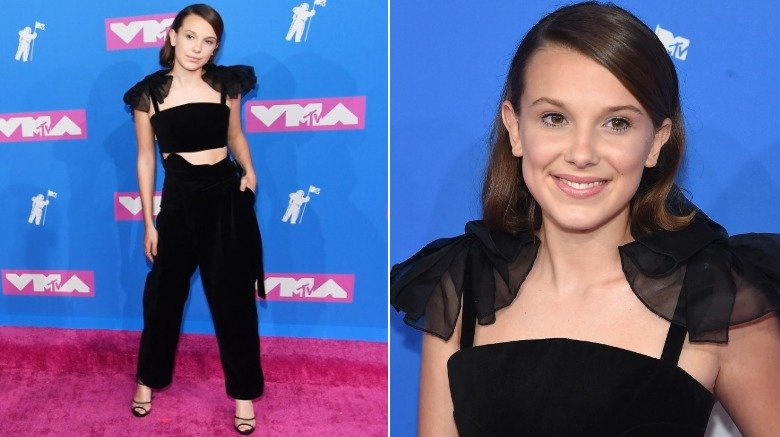 Getty Images
Millie Bobby Brown looks so pretty and age-appropriate, but she also somehow looks like an adult at the same time, because at just 14, she manages to look more put-together than the "grown-up" celebs sharing the VMAs red carpet.
The Stranger Things star rocks a black Rosie Assoulin two-piece ensemble of trousers and a flutter-sleeve crop top, Us Weekly reports. She keeps the accessories minimal, with open-toed clear heels accented by black piping. Brown boasts a deep side part in subtle brown curls. Her makeup is as natural as can be without being barefaced. We love the light contouring, the pink lips, and that '60s doll-like mascara on her bottom lashes.
We just hope this doesn't mean the actress is in a rush to grow up. Keep embracing your youth, Millie!
Jennifer Lopez dazzles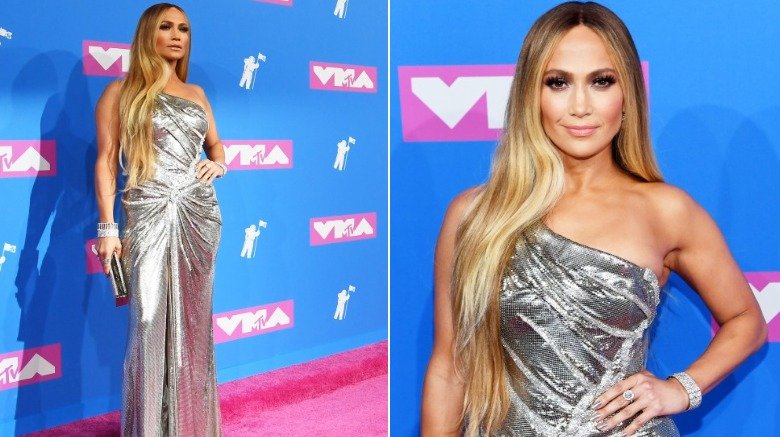 Getty Images
Jennifer Lopez, winner of the night's big MTV Video Vanguard Award, has been rocking the VMA red carpet for close to 20 years, and she still looks incredible. The 49-year-old quintuple threat (singer, actress, dancer, designer, producer) shines bright in a silver Versace gown, complete with gathering on the sides, a thigh-high slit, silver Jimmy Choo heels (and even a matching mani-pedi!), and Tiffany diamonds.
Lopez wears her long hair down, and her makeup emphasizes her signature glow, with lots of lashes, bronzer, and lip gloss. There's a reason this woman is an entertainment icon.
Olivia Munn's self-conscious sparkle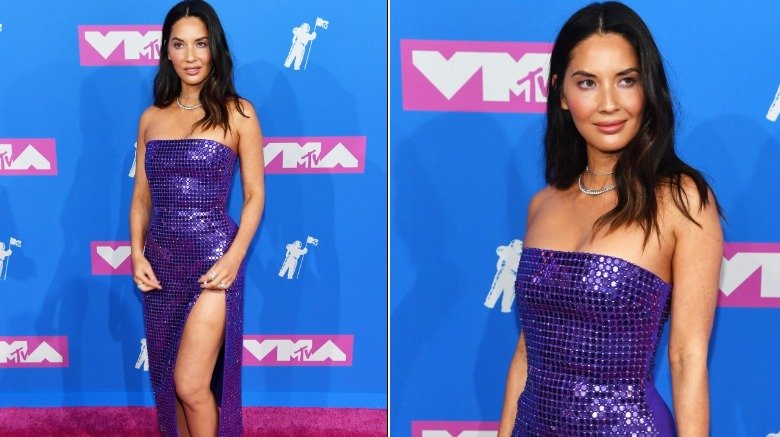 Getty Images
Olivia Munn keeps it simple with a strapless, sequined indigo number with a sky-high slit. It's just fancy and funky enough for the VMAs red carpet, but simple enough to not look pageant-like. The X-Men: Apocalypse star pairs the look with a simple diamond necklace, subtle silver choker (if you don't look closely, you may miss it!), and simple heels.
Munn's hair and makeup are understated. The actress wears her signature brunette locks in beachy waves with a slightly off-center part and keeps her cosmetics just a step beyond natural — defined brows, subtle contours, peachy pink blush, and a shade of deep pink on her preternaturally plump pout.
Munn looks fantastic, but she loses points because she doesn't look confident. In a lot of her red carpet shots, she seems to be fidgeting with the slit on her gown, perhaps to ensure she avoids a wardrobe malfunction. The slit doesn't seem high enough to put her at that high a risk for a flashing incident — unless she plans to bust out some Psylocke moves — but we can sympathize with her concern.
Camila Cabello's feeling blue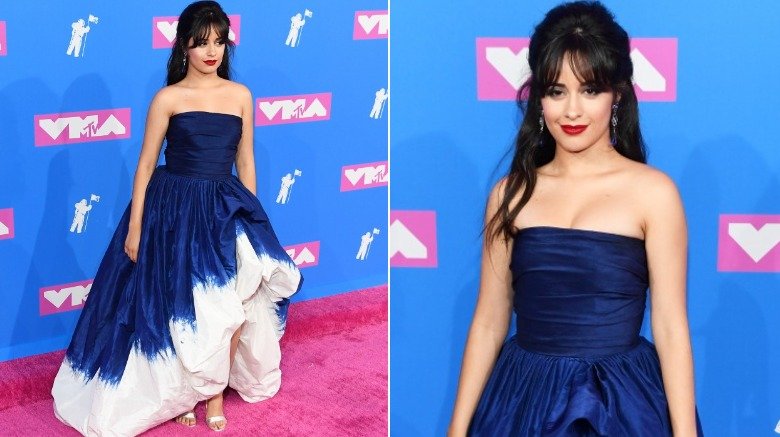 Getty Images
Camila Cabello's hair and makeup are flawless — she's really rocking that red lip, and her face is framed beautifully by the glorious dark mane of hers. From the neck down, though, things get as confusing as her departure from Fifth Harmony.
The "Never be the Same" crooner sports a strapless number in a quasi-navy blue ombre, dark at the top and getting just a hint lighter before the blue meets the white base of the asymmetrical, white, high-low bubble hem. Yes, you read that right: Not just a bubble hem, which would be abhorrent enough on its own, but an asymmetrical, high-low bubble hem. There's a lot going on here, and none of it should work, but somehow, it's not a total disaster.
Paired with delicate earrings and silver heels, Cabello manages to take a dress that would otherwise look like a crumpled up tissue used to clean up spilled ink and make it look great ... even though it really, really shouldn't.
Cardi B's big comeback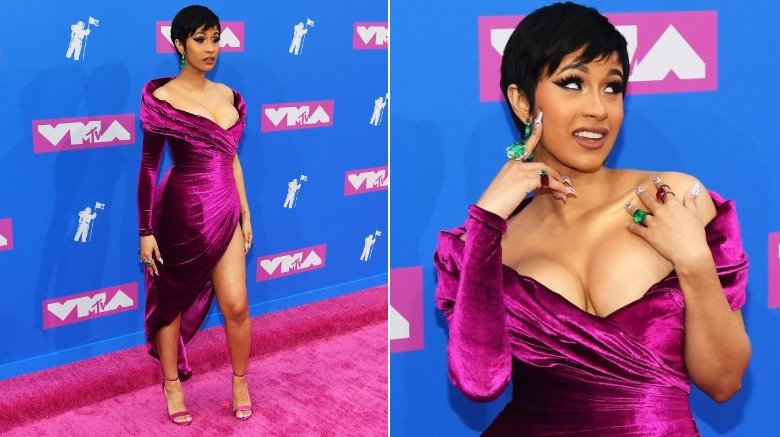 Getty Images
Rapper Cardi B made her first appearance on the red carpet since welcoming daughter Kulture Kiari in July 2018, and it seems motherhood went to her head — literally. The 25-year-old worked the room with a hairstyle that evoked images of Kate Gosselin embarking on an edgy phase.
The "I Like It" rapper flaunts some serious cleavage and curves in an off-the-shoulder fuschia velvet gown with an asymmetrical hem and heels to match. Bardi accessorizes with green earrings and glam cocktail rings in coordinating shades of emerald and violet. Aside from major lashes, Cardi's makeup is simultaneously heavy yet somewhat understated. She opts for her usual contoured look and a subtle plum lip. Bottom line: She looks amazing!
The only disappointment from the hitmaker is her hair: Her short style makes her look like she wants to speak to a manager, not break down to "Bodak Yellow."
Noah Cyrus and Lil Xan's sad state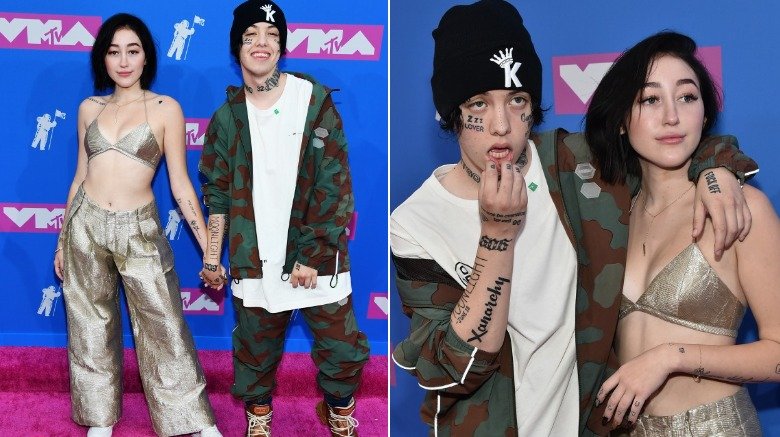 Getty Images
Noah Cyrus is 18 and Lil Xan is 21. They made their red carpet debut as a couple at the VMAs, and if their moms were watching at home, they're probably reminiscing about the days when they could pick out their clothes for them. 
Cyrus' outfit on its own isn't terrible, if generic: A metallic triangle bikini top, matching pants, and white kicks. It's when it's combined with her boyfriend's ensemble that it begins to look sad. Lil Xan rocks camo-patterned sweats, a white tee, boots, and a matching hoodie. In case his face tattoos aren't enough, he periodically pulls his lower lip down so the world can really see all the poor choices that went into his current look.
Cyrus hails from Nashville, while Lil Xan is originally from Redlands, Calif., but together, the "Live or Die" couple looks like two trailer park kids with big dreams but slim chances of ever leaving Florida.
Amber Rose is making us sad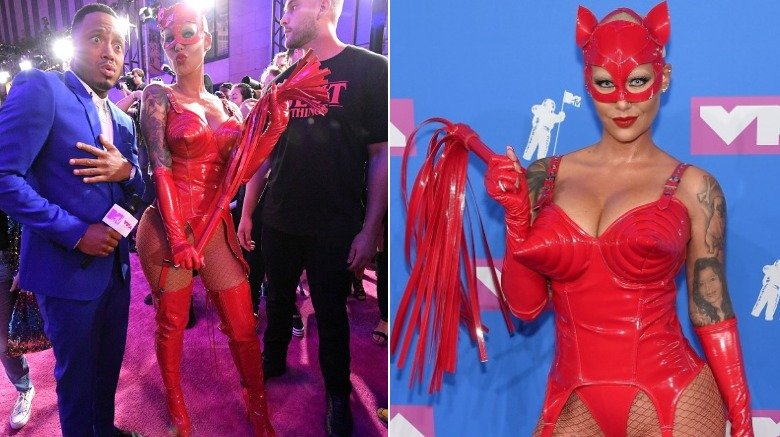 Getty Images
We were hesitant to include Amber Rose on this list, because it's exceedingly obvious that that's precisely what Amber Rose wants to happen. That's got to be why she wore this. She wants everyone to talk about her for something.
Rose, who's a published author and a charming podcaster, doesn't have much to promote right now, so here she is in a skintight red vinyl bodysuit (with very high cut legs and a torpedo bra), matching thigh-high boots, fishnets, a mask with cat ears, and a riding crop. She accentuates all that scarlet with ice-blue contact lenses, red lipstick, smoky eyes, and her signature buzz cut bleached to blonde.
She doesn't look any better or worse than usual — she's always genuinely stunning — but it's just sad at this point. Someone please get this poor woman some Powerade, because her thirst is bordering on dehydration.
Sky tried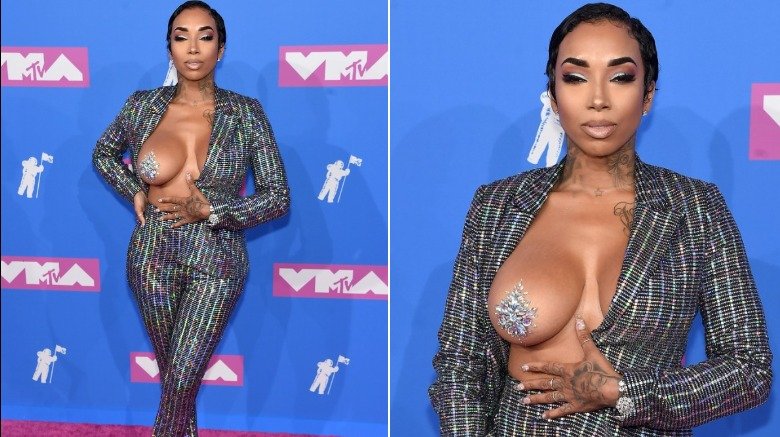 Getty Images
Remember how Lil' Kim wore her legendary lavender jumpsuit, wig, and pastie at the 1999 MTV VMAs? Even Diana Ross knew it was instantly iconic. It seems like that's what Sky was going for 19 years later, and it just didn't work. 
The sparkly, striped pants and blazer are fine. Her makeup looks awesome. Even the one visible pastie is good, but because she feels the need to hold her jacket shut on one side, it gives the impression that something went really wrong before she hit the red carpet. Did she only have one pastie? Was her outfit not tailored properly? We're betting she ran out of attention-grabbing ideas at the last minute and didn't have as much latex handy as Amber Rose.
Nicki Minaj evokes peasants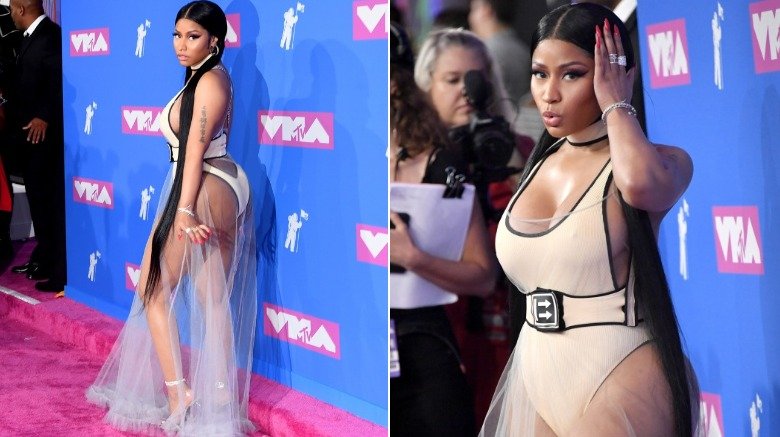 Getty Images
Nicki Minaj was one of the very last stars to arrive at the VMAs, and it's hard to believe that it was because she was getting ready. She's basically wearing a swimsuit with a hole in the back, a belt in the front, a see-through cover-up, and heels, accessorizing with simple hoop earrings and some rings. Her hair looks great, her manicure is amazing, and her makeup is flawless. The "Chun-Li" rapper is always beautiful.
However, Minaj, who has toned down her style in recent years, seems pretty miserable. The rapper's ensemble as a whole reeks of the same kind of desperation she's been oozing throughout her promotion of Queen, which, to her chagrin, debuted at No. 2 on the Billboard charts behind Travis Scott's Astroland. There are a lot of elements to Minaj's efforts here, and while some of it works (the jewelry and subtle makeup), this gown (question mark) is as unflattering as her continued support of a convicted sex offender.
Morgan Saint's major sin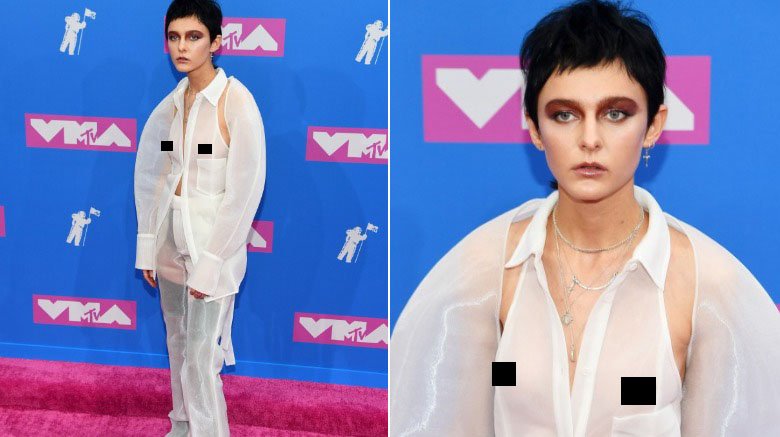 Getty Images
Morgan Saint made her VMA red carpet debut a memorable one, but for the wrong reasons. 
The "Glass House" singer wears a head-to-toe see-through white suit with no bra or shirt underneath, though her pants reveal some swanky lingerie and black thigh-high boots beneath the sheer, snowy fabric. Saint's nipples are on full display with not a pastie in sight. Saint adds to the look with silver necklaces, a cross earring, her signature spritely short black hair, muddy eye makeup, and a panic-stricken expression that says, "God, this looked so much better in the hotel."
Saint, a Parsons graduate, previously boasted to Paper magazine, "I am very involved in all aspects of my vision and story ... I definitely wouldn't do this if I didn't make everything myself ... Visual art is equally as important to me, so I wouldn't feel satisfied as an artist if I had someone else figuring out a way to tell my stories visually." 
That means she has no one to blame for this hot mess but herself. Maybe next time relinquish some control to a stylist — or at least a seamstress who can give a quick hem.