Actress Hilary Swank Marries Boyfriend Philip Schneider In Secret Wedding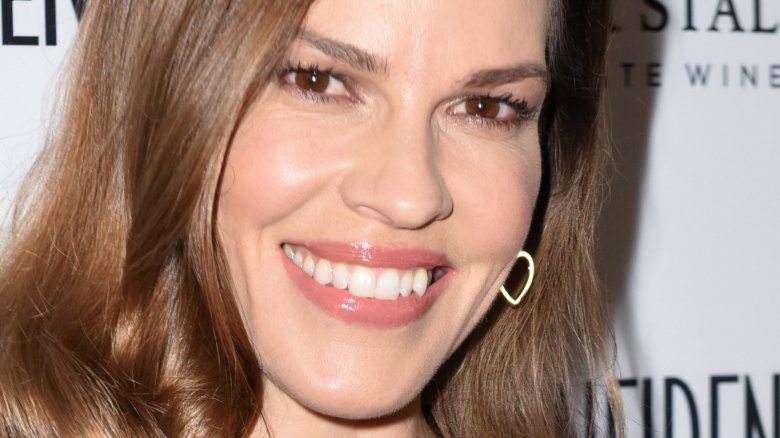 Getty Images
Congratulations are in order for P.S. I Love You star Hilary Swank!
The actress secretly married her boyfriend Philip Schneider at the Saint Lucia Preserve in Carmel, Calif. over the weekend of Aug. 18, 2018, as she revealed to Vogue magazine. "It's a stunning private community surrounded by 20,000 acres of conservancy and an intimate redwood grove populated with trees that are over 800 years old," Swank described. The location was also the perfect spot for their wedding because of its proximity to Swanks' family. Swank wanted her father to walk her down the aisle, and, due to his lung transplant three years earlier, he is unable to fly.
Swank and Schneider — who met on a blind date set up, in part, by Supernatural actor Misha Collins' wife years earlier and got engaged in 2016 — tied the knot in front of close family and friends. Swank looked beautiful on her big day, wearing a wedding dress designed by Elie Saab Couture that featured "25 meters of Chantilly lace, eight meters of silk chiffon, and six meters of organza silk." In total, the gown took about 150 hours to create, 70 of which are said to have been spent on the embroidery alone.
Law & Order: SVU's Mariska Hargitay served as Swank's maid of honor, while Schneider's father, Phil, served as his best man. "It was timeless. There is just no other way to describe it," Swank said of her wedding. "I was overwhelmed with such gratitude and thanks to be marrying the man of my dreams and to see all the people we love together in the middle of such a profound setting. It was truly a dream come true."
Following the ceremony, the newlyweds and their guests celebrated their marriage at a reception in a 100-something-year-old barn that was decorated with string lights, candlesticks, and floral arrangements. At one point during the night, Swank and Schneider performed a Ginger Rogers and Fred Astaire-inspired number to Moby's song "In My Heart." 
Congrats again to Swank and Schneider!