Madonna Hits Back At Aretha Franklin VMAs Tribute Hate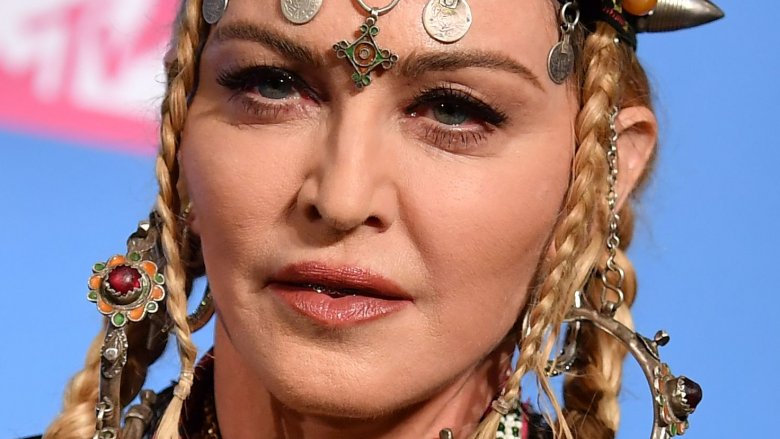 Getty Images
"Material Girl" singer Madonna is not happy with how many people have reacted to her tribute to the late music icon Aretha Franklin at the MTV Video Music Awards on Monday, Aug. 20, 2018.
Following criticism for her speech about Franklin, Madonna took to Instagram to defend herself, and, according to her, her remarks at the VMAs were never actually meant to be a tribute. Posting a photo of herself with pop star Camila Cabello, whom she'd presented with the Video of the Year moon person, Madonna stated that MTV had simply asked her to give out the award — not honor Franklin. She said the network had later requested that she "share any anecdotes" she had that were "connected to Aretha Franklin."
"I shared a part of my journey and thanked Aretha for inspiring me along the way," Madonna wrote. "I did not intend to do a tribute to her! That would be impossible in 2 minutes with all the noise and tinsel of an award show. I could never do her justice in this context or environment." Addressing the hate she received as a result of her speech, Madonna added, "Unfortunately most people have short attention spans, and are so quick to judge."
Madonna then shared her appreciation for Franklin, writing, "I love Aretha! R.E.S.P.E.C.T." She also wrote, "I Love Camilla! Congrats! I LOVE my dress! AND. I love-L O V E," noting that "there is nothing anyone can say or do that will change that."
As Nicki Swift previously reported, Madonna was heavily criticized for what most thought was a tribute to Franklin, who'd passed away from pancreatic cancer on Aug. 16, 2018. During her speech, she talked about how she'd performed Franklin's hit song "(You Make Me Feel Like) A Natural Woman" during an audition when she was younger — and that it helped kick off her career in the music industry.
"I could see that they didn't take me seriously, and why should they? Some skinny-a** white girl is going to come up here and belt out a song by one of the greatest soul singers who ever lived? A capella?" Madonna told the VMAs crowd (via Harper's Bazaar). "I said, 'B****, I'm Madonna.' No, I didn't. I didn't say that. Because I wasn't Madonna yet. I don't know who I was. "
After recounting how she'd lived in Paris for some time before returning to the States, she said, "So. You are probably all wondering why I am telling you this story. There is a connection, because none of this would have happened, could have happened, without our lady of soul. She led me to where I am today. And I know she influenced so many people in this house tonight. In this room tonight. And I want to thank you, Aretha, for empowering all of us. R-e-s-p-e-c-t. Long live the queen."
"So instead of an actual tribute to Aretha you let Madonna talk about herself for 30 minutes?!" another user tweeted. "@MTV our beautiful black queen deserves better."
As noted by Entertainment Tonight, Madonna has a quite a history of making controversial tributes to music legends. For instance, at the 2009 MTV Video Music Awards, Madonna gave a speech about the late Michael Jackson that — like her Aretha Franklin speech — focusly mainly on herself. "Michael Jackson was born in August 1958. So was I," she stated, in part. "Michael Jackson grew up in the suburbs of the Midwest. So did I. Michael Jackson had eight brothers and sisters. So do I."
Yikes. She also received hate for her cringeworthy performance of Prince's "Nothing Compares 2 U" and "Purple Rain" with singer Stevie Wonder, which failed to wow viewers.
Maybe it's time we just stop asking Madonna to pay tribute to society's favorite artists. After all, we can't get mad at her for lackluster speeches and performances if we don't give her a platform.