Shady Things Taylor Swift Did To Get To The Top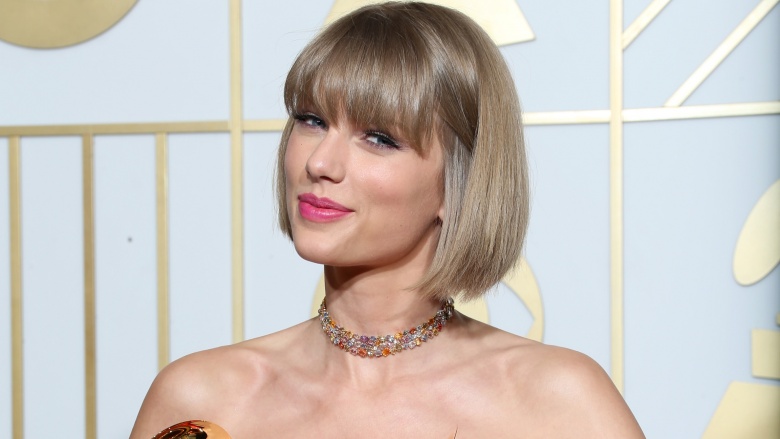 Getty Images
How did Taylor Swift get to the top of the pop game? She started out as a country star, then stirred up drama with just the right people along the way.
She had a lot of early financial help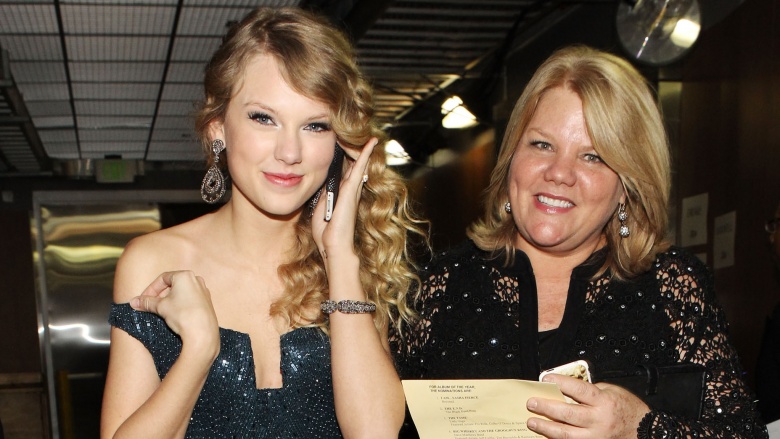 Getty Images
Taylor Swift loves the narrative of growing up on a humble Christmas tree farm and ascending to become one of the richest pop stars on the planet, but that's only partly true. The New Yorker reminds us, "Her mother worked in finance, and her father, a descendant of three generations of bank presidents, is a stockbroker for Merrill Lynch. (He bought the tree farm from a client.)" When Swift was 14, her father transferred to Merrill Lynch's Nashville offices, and when his little girl signed with Big Machine Records, her father bought a large stake in the company.
She dragged out the Kanye thing forever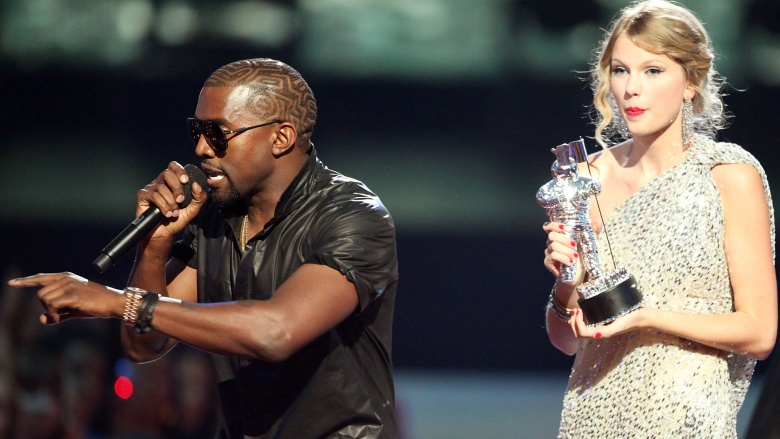 Getty Images
Everyone remembers when Kanye West interrupted Swift at the 2009 MTV Video Music Awards, especially Swift. After the incident, she gave numerous interviews about the feud, including one with MTV News in which she said she "accepted [West's] sincere apology." Even though she forgave, she never forgot. In March 2013, Vanity Fair revealed that Swift keeps a framed photo of the infamous moment in her house. In 2015, she and West supposedly reconciled at the Grammys. The following year, West even claims to have cleared a lyric about Swift with her team for his song "Famous." Swift denied that, then dissed him at the 2016 Grammys. Tay, that's enough. Turn the page.
She enlists tokens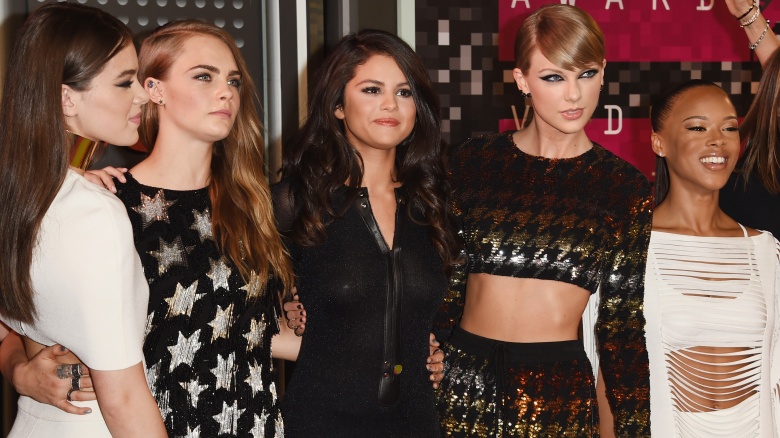 Getty Images
In April 2015, when fans and press noticed that Swift's squad was overwhelmingly caucasian, she added Empire star Serayah McNeill to a photo op. The following month, McNeill and fellow it girl Zendaya appeared in Swift's "Bad Blood" music video. A few months later, Swift spelled McNeill's name incorrectly in another otherwise carefully crafted Instagram post. But they're totally BFFs, you guys.
She started a fifth harmony feud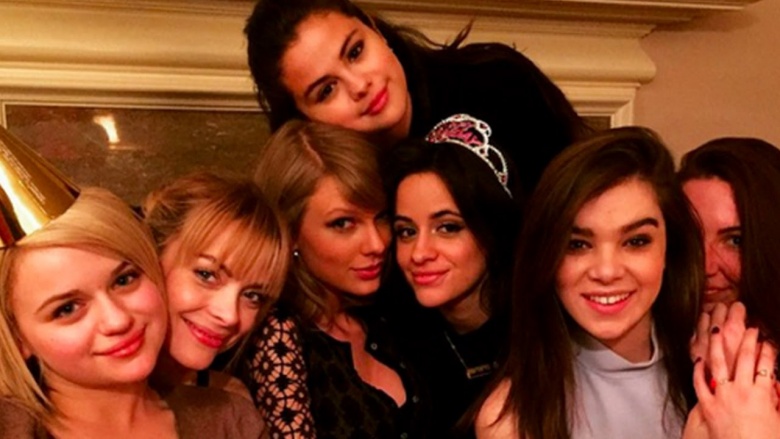 Camila Cabello is arguably the most popular and recognizable singer in the girl group Fifth Harmony. Swift threw Cabello an 18th birthday party in March 2015...and didn't invite a single one of Cabello's bandmates. The move led to rumors of beef within the girl group for months, with whispers among fans that Cabello was preparing for a solo career and leaving her X Factor groupmates behind.
She shades her exes (and their new girlfriends)
After her breakup with Joe Jonas in November 2008, Swift made a YouTube video holding a Joe Jonas doll, remarking, "This one even comes with a phone so it can break up with other dolls." She followed up by shading Jonas' subsequent girlfriend, Camilla Belle, in "Better With Revenge," singing, "She's an actress / She's better known for the things that she does on the mattress." In 2010, Swift released "Dear John," rumored to be about her brief relationship with John Mayer. When Mayer told Rolling Stone in 2012 that the song "humiliated" him, she told Glamour that Mayer was "presumptuous" for assuming a song with his first name in the title was about him.
https://www.youtube.com/watch?v=9NyEWGAlFr8
She makes friends do her dirty work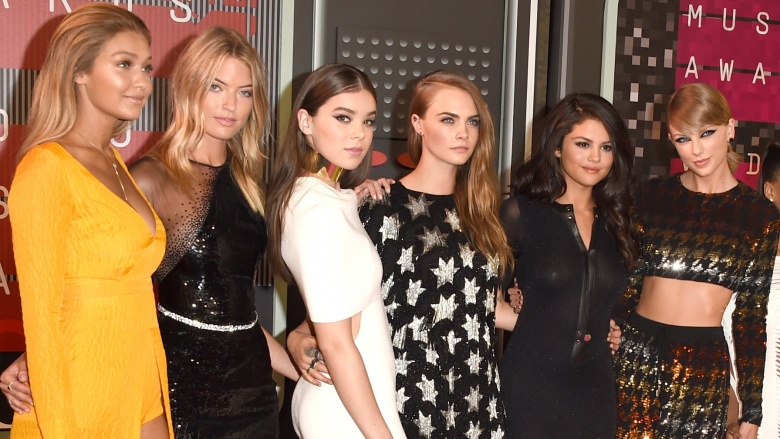 Getty Images
When Swift wanted to set the record straight about her relationship with Harry Styles, she didn't do it herself. She had a friend tell Vanity Fair about it. Styles and his own squad have yet to comment on the relationship at all. When Grizzly Bear keyboardist Ed Droste launched a Twitter tirade against Swift, she never responded, but model friends Gigi Hadid and Martha Hunt did. (Incidentally, that's the last time Hunt was in a headline.)
She threatened to sue her own guitar teacher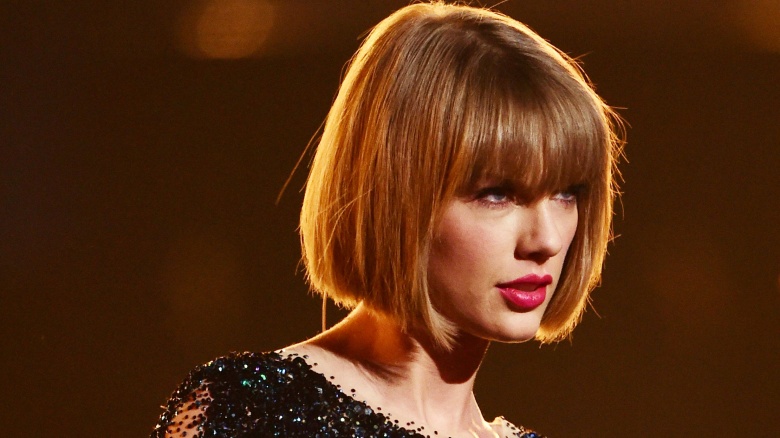 Getty Images
Computer tech Ronnie Cremer taught Taylor Swift to play guitar—a fact she states herself in a 2009 promotional DVD, but when Cremer launched the website itaughttaylorswift.com in 2015, she and her team threatened to sue him. The New York Daily News obtained an email from Swift's legal team, TAS Rights Management, to Cremer that claims his website "incorporates the famous Taylor Swift trademark in its entirety and suggests TAS's sponsorship or endorsement of your website. The Domain Name and your use of the Domain Name are also highly likely to dilute, and to tarnish, the famous Taylor Swift trademark." Cremer told the paper he felt "bullied" by Swift's team and fans.
She capitalizes on communities she's never helped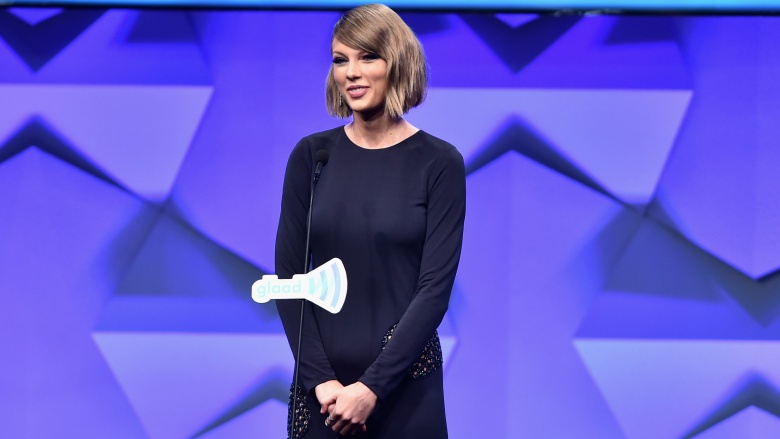 Getty Images
Swift has never publicly spoken about LGBTQ rights, same-sex marriage, or anything remotely controversial, probably to avoid alienating the conservative country fan base that created her. She did sing the lyric, "You can want who you want / Boys and boys and girls and girls" in "Welcome to New York" in 2014 after same-sex marriage became legal. That line was apparently enough to earn her a spot as a presenter at the GLAAD Media Awards in 2016. Were actual activists unavailable?
She ripped off an artist
Getty Images
In December 2015, after Swift declared herself a champion for artists' rights in a public feud with Apple over music streaming, she seemed to change her tune when visual artist Ally Burguieres requested compensation for work Swift appropriated without permission on social media. Rolling Stone said Swift's team complied when Burguieres asked for her art to be deleted from Swift's Instagram account, but Tay's team also made it clear that it thought Burguieres' gripe was ridiculous.
Burguieres told Rolling Stone she made numerous attempts to contact Swift and her team and was ignored until her open letter went public. The letter said, "After months of effort, I received an offer from you and your team that mentions no credit to me as the artist of the design, but does include payment of a 'four-figure' amount, with the stipulation that I must donate it all." Swift's reps told Rolling Stone there was no charity requirement and snidely added, "Notwithstanding the huge publicity this has generated for Ms. Burguieres...Ms. Swift's office made a fair offer of payment well above a reasonable licensing fee for the short time that the fan art was posted online...these actions make it clear to us that this is just an unfortunate effort to extract more money and more publicity."
She threw Katy Perry under the tour bus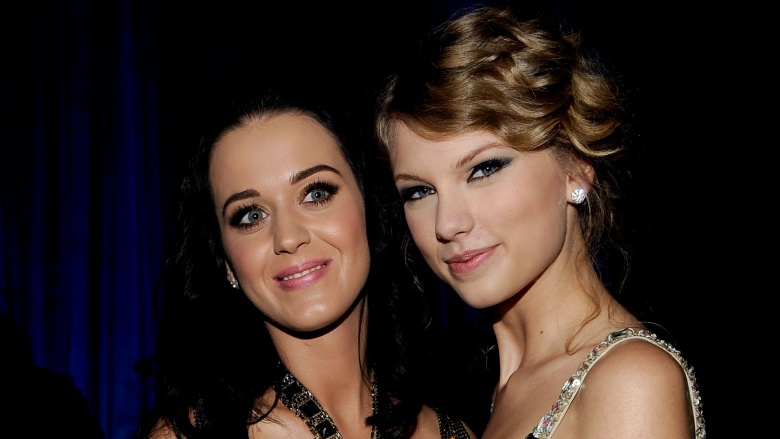 Getty Images
Swift strongly hinted to Rolling Stone that her smash song, "Bad Blood," was about fellow pop star Katy Perry, who allegedly headhunted Swift's backup dancers during a tour (and who was dating Swift's ex, John Mayer, at the time). "She basically tried to sabotage an entire arena tour," Swift fumed. "She tried to hire a bunch of people from under me." Let's remember, the workers in question were not Swift's indentured servants and wouldn't leave unless they actually wanted to, but that matters not to Swift. To her, Perry alone was responsible.
She commandeered Nicki Minaj's social statement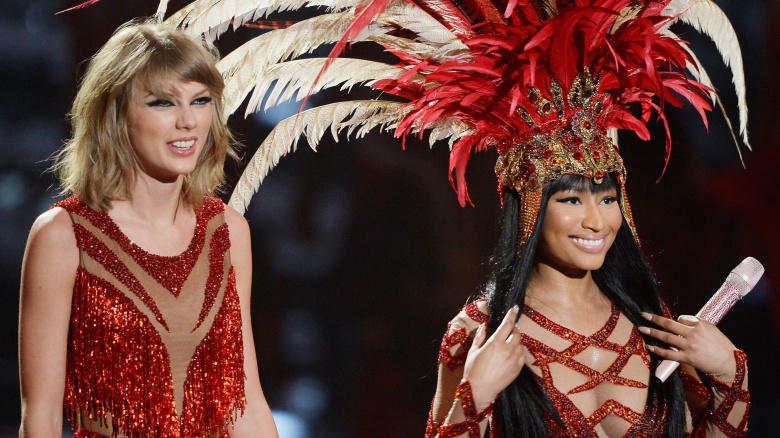 Getty Images
When Nicki Minaj tweeted about the 2015 VMAs snubbing "Anaconda" in favor of videos celebrating slimmer and whiter women, Swift, completely unprompted, retorted, "I've done nothing but love and support you. It's unlike you to pit women against each other. Maybe one of the men took your slot." Swift took Minaj's valid criticism of racial bias and made it all about herself. She later apologized and the pair even performed together at the VMAs, but not before her actual nemesis, Perry, tweeted, "Finding it ironic to parade the pit women against other women argument about as one unmeasurably [sic] capitalizes on the take down of a woman."