Jon Gosselin Fuels Speculation With Pic Of Daughter
Former Jon & Kate Plus 8 star Jon Gosselin's Instagram page has sparked some major rumors about his famously large family — specifically, that something big has happened in regards to his and his ex-wife Kate Gosselin's custody agreement.
On Friday, Aug. 24, 2018, Kate Gosselin took to Instagram to share a photo of six of her eight children — twins Cara and Madelyn as well as four of the sextuplets Joel, Aaden, Leah, and Alexis — on their first day of school. Notably absent were daughter Hannah and son Collin. But while fans already know that Collin attends a different school than his siblings, as he has special needs, there was no apparent reason for Hannah to be missing from the photo. What gives?
Well, on Monday, Aug. 27, father Jon Gosselin posted a picture of Hannah on his own Instagram account, showing her on her first day of classes. "Congrats Hannah on your first day of school, proud of you. I admire your bravery starting fresh!!!" he wrote in the caption. "I Love you very much and we have worked really hard to get here. Dedication has really paid off. I'm so happy you integrated yourself into the community, you made friends all summer and now you will grow and graduate with them."
He continued, "I'm honored to be your father!!! Love you, Dad #newbeginnings."
Hmm... seems like Hannah, unlike her siblings, lives with her dear ol' dad. And it would definitely appear that she's no longer attending the same school as her fellow sextuplets, as she's not wearing a uniform. Could Hannah have moved in with Jon to start public school in the area?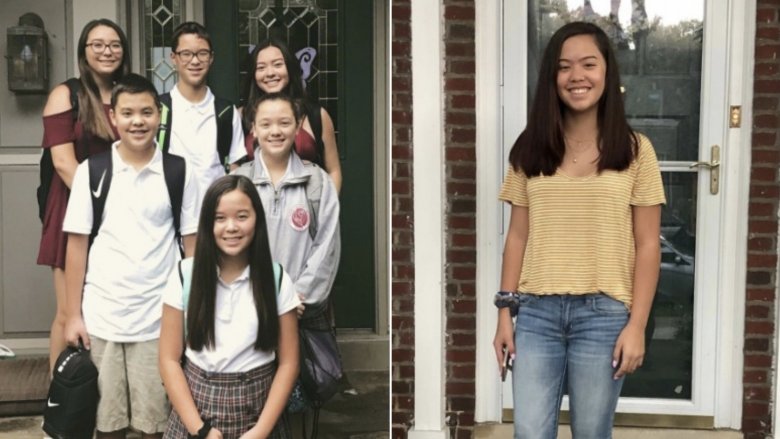 According to a video Jon posted on Instagram Live, which was captured by Radar Online, Hannah is indeed living full-time with her father, despite Kate having previously had primary custody of her (and her siblings). "She permanently lives with me," Jon told his followers when asked about Hannah's presence on his social media.
A look back at Jon's Instagram shows that he may have celebrated winning custody of Hannah back in May 2018, as a caption from that time states, "Thank you to everyone for all the love and support this week!!!" He also noted that he and Hannah forgot to take a photo together that day, so it'd seem that the date marked an important moment for them.
However, the details of Jon and Kate's custody agreement are a little fuzzy to us outside the family, as a source told People that Kate still "maintains full custody" of all of her kids, including Hannah.
It's difficult to figure out the truth here, but, regardless, Hannah seems to have a stronger connection to her father than her brothers and sisters do. So, it'd make sense that she'd be staying with Jon instead of Kate. In 2016, Jon spoke with Entertainment Tonight and recalled a time when Hannah didn't want to return home to her mother's house. "She just didn't want to go home. She wasn't getting out of the car, she just had a fear, and I wasn't going to discuss it at the end [of the] driveway," he said. He then texted his ex to let her know that he was going to take Hannah back to his home because she "explained she was really stressed out and all this stuff." But Kate didn't take the change of plans so well, and she allegedly phoned the police and filed a police report against the father of her children.
Of course, we don't know the dirty details of the incident, so it's hard to know who was really in the wrong, but, no matter what, we feel for Hannah. No kid should have to see their parents fighting.
We'll be keeping our eyes peeled for any other big changes to the Gosselin family. Will any other children move in with their father? We'll just have to wait and see.